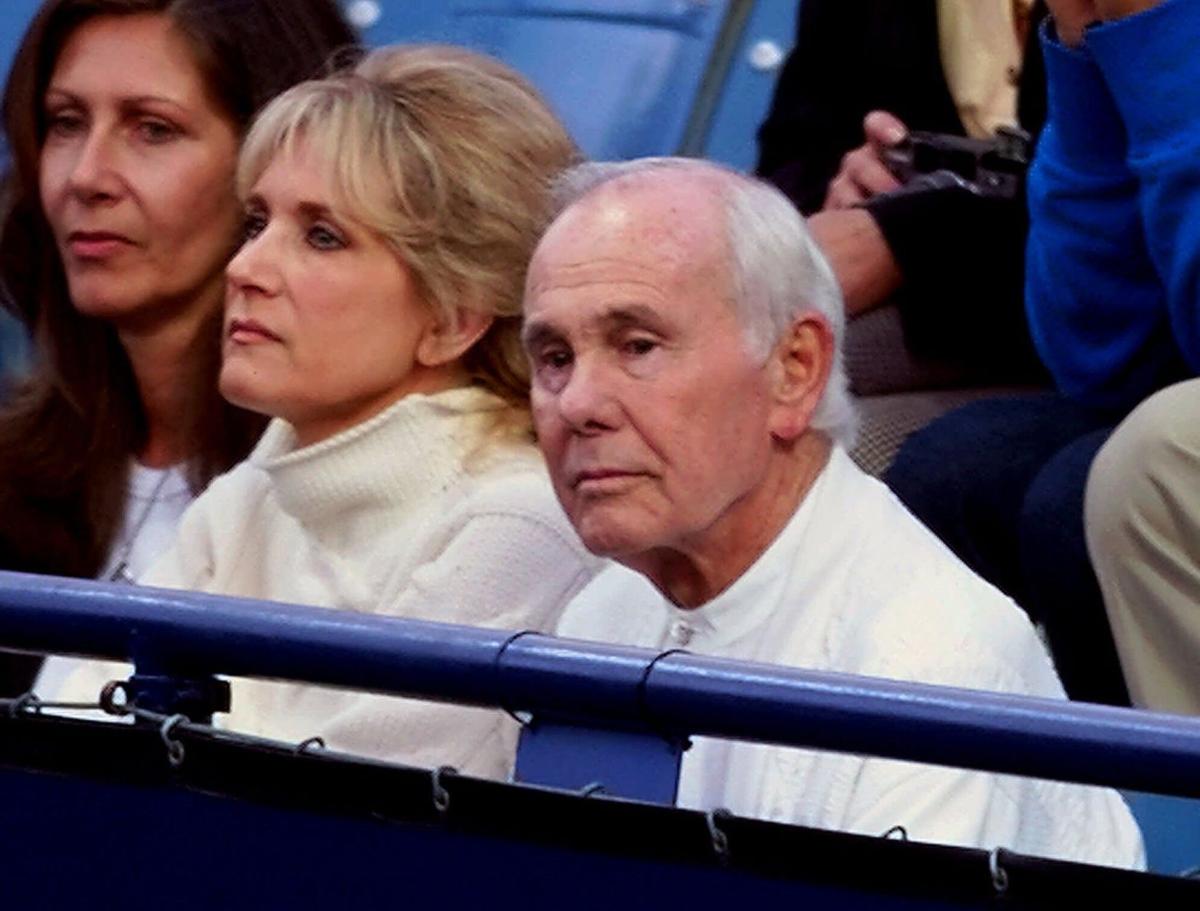 To borrow a phrase, and now heeerrrre's Johnny.
• It's 1985. Johnny Carson has just married his fourth wife, the former Alexis Maas. The Carsons, his brother Dick, his lawyer Henry Bushkin and Bushkin's then-girlfriend Mary Hart of "Entertainment Tonight" are on a cruise in Italy eating a sumptuous dinner. Alex Carson says something innocuous to her new husband that for some reason he doesn't like. "Johnny looked her straight in the eye and said 'We've been married for three weeks. If you say something like that again, this marriage won't last another three weeks.' "
• It's 1989. Ruth Carson, Johnny Carson's mother, dies. Carson's way of telling his lawyer Bushkin is to call and announce "the wicked witch is dead." Carson doesn't go to the funeral. But then he didn't go to his father's funeral a couple years before either. "The only time I want to go to a funeral is when I want to make sure the [expletive] is dead."
• Earlier, in one of his first official acts as Carson's lawyer, Bushkin accompanies Carson and a couple of other minions on a secret mission to break in to a secret love nest his second wife, the former Joanne Copeland, has rented for her assignations with what is obviously a secret boyfriend. Carson doesn't know who it is and the ignorance is driving him crazy. His new lawyer justifies the breaking and entering (a doorman was bribed) by saying that it was Carson's money that rented the place so what they were doing wasn't illegal.
Sure enough, when they explore the place, they find pictures of Joanne and former New York Giants football player and Monday Night Football stalwart Frank Gifford all over the place. His new knowledge is enough to convince him to file for divorce. As much of a "player" as he himself remains his entire life, the lifelong philanderer sits on the couch and weeps pitiably.
This is not the Johnny we saw on television every night for 30 years. It isn't even a Johnny Carson that any of us in his faithful audience could have imagined. But he can be found on almost every other page of Henry Bushkin's "Johnny Carson" (Houghton Mifflin Harcourt, 294 pages, $28) one of the most shocking and revealing books I've ever read about the business of contemporary Hollywood fame. It's a tell-all book that must now be seen as unique in the invidious history of celebrity tell-alls.
We are by now acquainted with family members and ex-marital and business partners taking to books as instruments of grievance. Among the more famous in history were "Mommie Dearest" by Joan Crawford's daughter, the memoirs of J.D. Salinger's daughter Margaret and ex-lover Joyce Maynard and Anna Kashfi's "Brando for Breakfast" about her ex-husband Marlon Brando.
In all those cases, interest was heightened by their subjects' different degrees of removal from the world of fame and publicity despite their renown – in Salinger's case, almost total; in Brando's case, extreme and legendary.
In Carson's case, we have probably the greatest example of hiding in plain sight in the history of American fame. He was one of the most visible and seemingly open of Americans – arguably the most famous and certainly most powerful performer in his time ever created by American television (even more so than Oprah Winfrey would become) – who, nevertheless, remained almost completely unknown and elusive to those who watched him nightly.
We knew, every night, that we were getting only the tip of the iceberg. We also knew that notwithstanding all of those divorce jokes, we knew nothing about what lay beneath the water line. Or how cold this iceberg could truly be.
And now we know. It is as discomfiting as such knowledge could be. The information we are getting is from a man whose 18-year relationship with Carson was of unmatched intimacy – lawyer, tennis partner, companion, manager, business partner, confidante and, most importantly, "fixer" and "cleaner." Bushkin was the man in charge of sopping up every one of Carson's messes which, for a drinker, habitual philanderer and man capable of instant coldness and cruelty, were never likely to be small or infrequent.
It was, we learn, Bushkin's job, for instance, to visit Carson's alcoholic son Rick – who later died in a 1991 auto crash – in the "military psychiatric ward of New York's Bellevue Hospital after joining the Navy, drinking heavily and exhibiting 'suicidal tendencies' " after being shipped to Alaska.
"Can I see my Dad?" Rick asks Bushkin.
"Your Dad thinks if he came there would be a million cameras and it would turn into a publicity spectacle that would just impede your recovery," Bushkin explains without "much conviction."
To my knowledge, we have never had a book like this before – a monumentally powerful celebrity renowned for almost completely eluding our time's darkest and most obscene scrutiny suddenly revealed in harrowing intimacy and emotional autopsy by the man who for almost 20 years kept most, if not all, of his financial, psychological and professional secrets.
It's an appalling book on its face. And don't, for a minute, think that I didn't devour it as soon as possible as almost any longtime Carson fan is likely to.
Carson actually called Bushkin his "best friend" once in an interview. Why on earth would a lawyer in such a sensitive position mount such a posthumous betrayal of his friend between covers?
Their relationship – as apparently most of Carson's important ones did – ended badly. In Bushkin's case, there was a total professional dissolution followed by bitter lawsuits.
It's the claim of Bushkin – whom Carson on the air usually referred to jokingly as "the bombastic Bushkin" – that he loves Carson's memory and thinks his suspicious and unsentimental old friend "might have appreciated my attempt to paint an accurate portrait of the most thrilling, fun, frustrating and mysterious relationship of my life."
That is in championship contention for either the Hollywood record in naivete or disingenuousness. Such total exposure of such a legendarily private man by a once-trusted lawyer can be seen only as an act of revenge. Unfortunately, that doesn't make it dubious in its accuracy.
The book is spectacularly crass, especially when it doesn't know that it is. You can understand why Carson valued his tennis partner and legal and professional gladiator so much. But the man reveals himself constantly while opening up Johnny Carson's dark side to what is bound to be widespread horror. And what he reveals is that, unlike his client, he seems to have almost no discernible higher qualities whatsoever.
That, however, doesn't mean that Bushkin isn't enormously shrewd and emotionally insightful. He's both, which is what Carson once needed in a partner/fixer/cleaner friend.
Bushkin, in his brutal disingenousness, brings us more news about Johnny Carson's nature than we have ever had before – the actual texture and living tissue of his personality, as horrifying and dismal and frigid as it could sometimes be.
It is, I suppose, a crucial piece of showbiz revisionism – a kind of gleaming, dark obsidian masterpiece of personal betrayal.
What we'll see now as word gets out is whether any of those whose reputations were made by Carson – Bill Cosby, David Letterman, Joan Rivers – have the stomach to say anything about it at all, pro or con.
Here is a book just made for flogging on TV – cable networks, talk shows etc.
The number of those likely to do so, given the inevitable disillusionment of reading it, may turn out to be minimal.
Just as its number of readers inside show business – especially among Carson friends and associates – will assuredly be maximal.