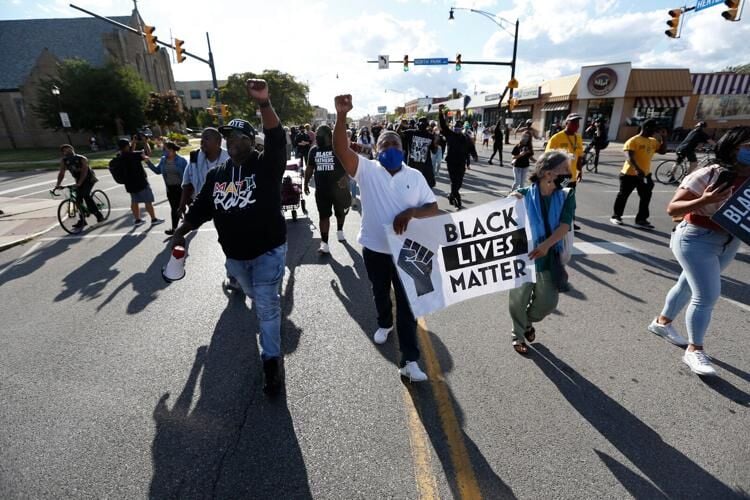 During one of the summer's many demonstrations in and around Buffalo, some protesters spotted something disconcerting: a man carrying a gun.
But he was not taking part in the demonstration. He was working, protecting a local television journalist.
And while the sight of an armed man making sure no trouble befell a TV reporter may have surprised people who spotted him, the practice is not new or limited to Western New York.
It received some attention this fall when a protester in Denver was shot by an armed security guard protecting a KUSA-TV television reporter covering dueling protests. KUSA is owned by Tegna Inc., the media company that also owns WGRZ-TV (Channel 2), the local NBC affiliate.
According to a CBS station in Denver, Matthew Dolloff, 30, the armed security guard protecting a KUSA reporter, was charged with second-degree murder following the shooting. Dolloff's lawyer has said he acted in self-defense. Video shows Keltner shooting pepper spray at Dolloff before he was shot by the security guard.
According to published reports, Denver officials have said Dolloff wasn't licensed as a security guard there as required. Security guards there reportedly also are required to undergo training, get an FBI background check and renew their license annually.
Like many local stations, KUSA has hired private security to protect staffers at protests. The practice has increased because of hostility toward the news media, including in Buffalo.
During one demonstration this summer, some protesters were outraged when they saw a security guard with a gun protecting a local TV reporter.
After covering a September protest on Hertel Avenue, WGRZ reporter Liz Lewin went to Twitter to describe a threatening situation she experienced after demonstrators spotted the security guard who was protecting her.
"I'm proud to be a journalist," she wrote. "I'm proud to be a member of the WGRZ team. I'm proud to be a woman of color & and I'm proud to be a Buffalonian… but I'm sad BLo. While (on) our job … we were verbally accosted, bullied and forced to leave."
The incident and Lewin's tacit acknowledgment of the armed man protecting her, leads to an obvious question: Are armed security guards hired to protect reporters at other local stations?
The general managers of Buffalo's TV stations are reluctant to talk about it.
WKBW-TV (Channel 7) General Manager Marc Jaromin said the station doesn't use security as standard practice.
"We evaluate individual assignments and coverage moments," he wrote in an email. "I believe we've used licensing security as 'quiet' backup less than a handful of times this year, maybe three.
"In my time here, we have only, and will continue to only, use licensed off-duty police officers."
WIVB-TV (Channel 4) General Manager Brien Kennedy wouldn't go into any detail about his station's security plans.
"We obviously take security very seriously, but I won't provide details about our security plans," said Kennedy.
Channel 2 General Manager Jim Toellner declined comment. That wasn't unexpected since he runs the local Tegna station and the company potentially could be the subject of a lawsuit over what occurred in Denver.
According to sources, the stations believe security guards are necessary at times because TV reporters are focused on getting stories and often unable to look out for their own safety. They are more vulnerable than print reporters because they have more visible cameras and microphones. If they are assigned a photojournalist, the camera personnel will be looking through a lens and unlikely to see any danger.
According to sources, the security personnel used by TV stations in Buffalo are generally off-duty police officers or retired prison guards who are licensed to carry weapons.
Any security guard who works in New York needs to be licensed and has to take an eight-hour course and then a 16-hour course initially and an eight-hour course once a year if they are unarmed. If they are armed, then they have to take a 47-hour course, then an eight-hour course annually. Police or peace officers don't need to take the state training course as the courses are provided as part of their employment.
According to a source, stations can ask for security guards to be hired with the choice of having them carry a weapon or be unarmed. However, the security company may not be able to fulfill the request if the right personnel isn't available.
In a brief telephone interview, Buffalo Police Capt. Jeff Rinaldo said the stations don't need to tell authorities when they hire security personnel.
"It's no different than any other business," said Rinaldo. "There is no requirement to notify police that they hired security."
I am told reporters are often told they must accept security at times even if they don't want it.
One reporter who wished to remain anonymous said: "We don't have a choice."