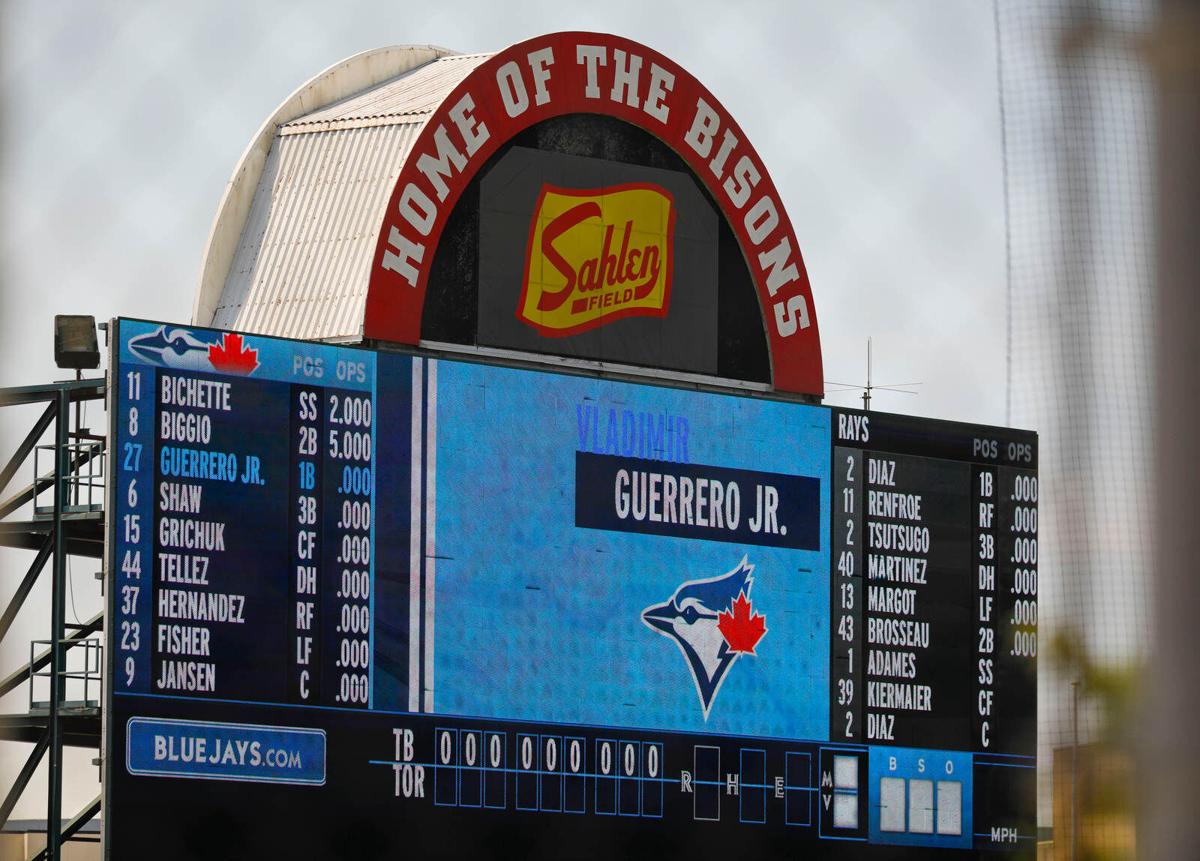 If you are one of the Western New Yorkers who envisions Buffalo getting a great deal of national TV exposure because – thanks to a variety of pandemic-related circumstances – the Toronto Blue Jays are playing 25 home games at Sahlen Field, you better root hard for the Jays to have a terrific season.
And even all the attention a surprising Jays team would get still might not be enough to entice baseball's traditional TV carriers to put many Toronto games on nationally in the United States.
The most national exposure for Buffalo will be via streaming and a cable package of all games, which require a paid subscription that reduces the number of viewers watching. All the games will be closed to the public and no tickets will be issued for any game.
The primary exposure for Western New York will be for regional TV coverage of the Jays games against the two New York teams that enter the area through cable on YES (Yankees) and SNY (Mets) and via the Canadian cable coverage of the Jays into Southern Ontario.
In addition, Jays home games will enter the markets of visiting teams. But in this shortened season, there are only six visiting teams – the Miami Marlins, Tampa Bay Rays, Boston Red Sox, Baltimore Orioles and the New York teams.
Baseball's TV plans for its 60-game regular season haven't been finalized on several of its carriers, but the Jays aren't getting much national love early in scheduling.
That's understandable. The Jays, after all, are a Canadian team.
Baseball ratings for regular season games are driven by the markets of the two teams playing. The Canadian market doesn't count in American TV ratings, which likely makes the Jays less attractive to American rights-holders.
A very preliminary look at the schedules shows that 10 home games at Sahlen Field will enter the New York City area via the Yankees and Mets packages, all but one in September.
However, so far the Jays have only one scheduled national game at home – the Aug. 14 game with Tampa Bay at 6:30 p.m. And that game is being carried on cable's FS1, which generally doesn't get high national ratings. Some Western New Yorkers are still trying to find it on cable systems.
The Jays also have one road game against Miami on the FS1 schedule announced at 6:30 p.m. Aug.29.
They don't have any national games scheduled on the bigger Fox broadcast network, which is carried by local affiliate WUTV.
The two cable channels carrying the most Jays games are the Yankees channel YES and the Mets channel SNY.
A YES spokesman said the Jays seven home games against the Yankees in September will not be blacked out. Overall, YES carries 10 Jays games, including three in Yankee Stadium.
The Jays home games against the Yankees are Sept. 7-9 and Sept. 21-24. The games at Yankee Stadium are Sept. 15-17.
Similarly, the Jays' three home games against the New York Mets on Sept. 11-13 carried on SNY won't be blacked out.
Because of the shortened season, YES and SNY reportedly won't be losing any games to a local New York City channel this year. In some past years during 162-game seasons, WNYO carried some games via the New York stations that were removed from the YES and SNY schedules.
The national schedules of cable's TBS, ESPN and MLB Network haven't been finalized and often are done only a week or two in advance so things could change.
But based on the Fox and FS1 schedules, Western New Yorkers shouldn't expect many Jays national games on TBS, ESPN and MLB Network to showcase the area.
The Jays aren't on any of the five Sunday afternoon games announced by TBS. The Jays didn't appear on the Turner channel at all in 2019. And TBS isn't carried on Canada's top cable system, Rogers.
The preliminary ESPN schedule doesn't include any Jays game in the early part of the schedule, either. However, that could change if they play well. In years past, ESPN carried at least one Jays game but this is a different season so that may not apply.
The early MLB Network schedule for the first week of the season included a telecast of a Jays home game against Washington at 4 p.m. Thursday that is now going to be played in Washington's National Park because Sahlen won't be ready in time. MLB Network doesn't have any scheduled Jays games after that, but it is early.
You might think one network would consider carrying a Jays game at Sahlen Field as a novelty, especially if the Jays have a good season.
But even that could be a long shot.
Naturally, the one area that Sahlen Field will be getting national exposure is in Canada.
That isn't to say the games being played here has initially been a big story north of the border. On Friday, CBC gave the story about 30-60 seconds of coverage on its 6 p.m. newscast.
Long gone are the days when the Jays have been carried by one of the Canadian broadcast channels that enter Western New York via cable or with a decent antenna.
The Jays games are carried in their home country by cable's Sportsnet, with the possibility of some games being carried by the broadcast channel Citytv because both are owned by Rogers Communications.
Sportsnet isn't available in the United States and Citytv isn't on Buffalo's cable systems. Sportsnet also can only be streamed in Canada, though some Americans have found a way to get around that.
I am told Sportsnet isn't allowed to make any deals with any local Buffalo channels or Spectrum to bring more games into Western New York.
According to sources, that would have been a long shot anyway because the Yankees and Mets would have to approve the deal, broadcast network affiliates are restricted from preempting too many of their network programs and the rights fee might be too high for any station or Spectrum to meet even if they were allowed to make a deal.
ESPN most likely will be the place that Sahlen Field gets the most national attention, when SportsCenter plays highlights of Jays home games.
And then, there are the streaming options and the Extra Innings package. It may come at a price that many will be unwilling to pay but the games are available nationally, which will give Western New York some attention.
MLB.TV holds the American rights to streaming. All Jays games are carried by it and on the Extra Innings package carried by cable and satellite providers. The cost is around $50 or $60 for this shortened season.
The four teams whose games are blacked out from those packages are understandably the Yanks and Mets – whose games come in Western New York through their cable TV channels anyway – and ridiculously the Cleveland Indians and Pittsburgh Pirates.
MLB.TV isn't streamed in Canada.
While we are on the subject of baseball, the Fox schedule carried by WUTV kicked off Saturday with a Yankees game in Washington. It includes two more Yankee night games against Boston on Aug. 1 and Aug. 15.
The Mets also have three Fox games, starting with a 7 p.m. game Thursday against Boston. The Mets also have two Saturday night games on Fox in September – a Sept. 19 game against Atlanta and a Sept. 26 game against Washington.
Stay tuned in
Get the latest information on hit TV shows and more with our weekly newsletter!