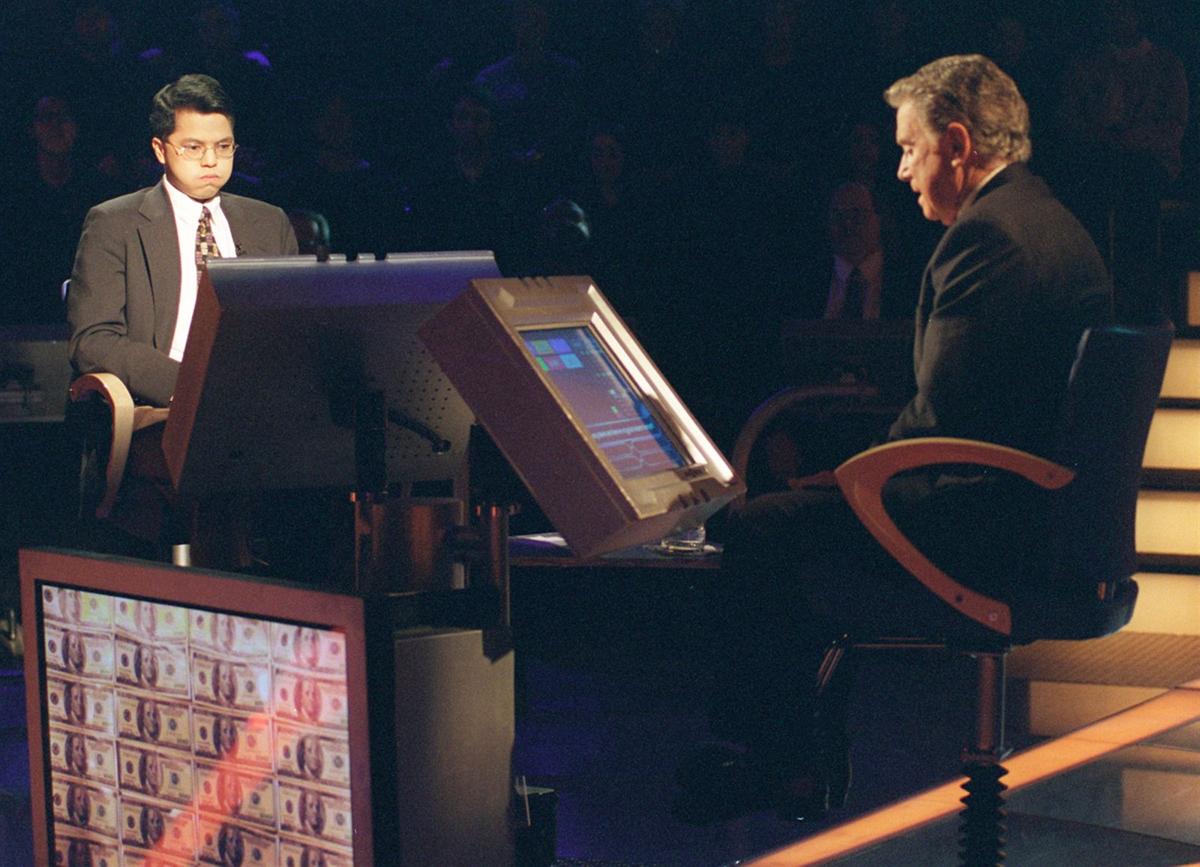 I am always impressed by people who write tributes to TV legends that include memories of being with them.
After the death of Regis Philbin at age 88 over the weekend, one of the best tributes came from John DiSciullo, the former promotions man at WKBW-TV (Channel 7) who now works at WBBZ-TV.
Channel 7 was the local ABC affiliate that carried the syndicated "Live with Regis and Kathie Lee" for most of its run and ABC's "Who Wants to Be a Millionaire."
You should head to Facebook to read DiSciullo's tribute and watch the attached 10-minute video of him interviewing Philbin.
DiSciullo said Philbin inspired him and added he always introduces himself as Regis to get a laugh.
DiSciullo's post got me thinking about columns I had written about Philbin over the decades. Of course, I needed to head to The News' library to refresh my memory over an interview I did with Philbin 30 years ago.
In June of 1990, I interviewed Philbin for 45 minutes in a Buffalo hotel. I described him "as relaxed and at ease" as he is on his show. The interview holds up today as a history of his career before "Millionaire."
I noted he discovered that the secret of success is being himself. For instance, he charmed audiences by calling himself ugly.
"I can't stand to look at myself," he said.
Philbin claimed, "I'm kind of an unknown quantity. I never had a press agent."
He was his own press agent.
After graduating from the University of Notre Dame and doing a stint in the armed forces, Philbin began his TV career as an NBC page.
Six months later, he saw his future. "I went to a gypsy fortuneteller, who told me, 'You are going on a trip,' " said Philbin. He was hired as a stagehand at a Los Angeles station.
"I wanted to work on camera, although I never thought I would have enough talent or guts," he said.
He became a radio and TV newscaster in San Diego and signed to do his first of a dizzying number of talk shows. He was working on a similar show in Los Angeles when he was hired as a second banana by Joey Bishop for a 1967 to 1969 ABC late-night talk show.
"I went to see him reluctantly," Philbin said. "I'd always been my own host. We hit it off, and I said to myself, 'Look what happened to Ed McMahon and Hugh Downs.' "
Philbin eventually broke Downs' record for being on television for the most hours.
After a three-year run ended, Philbin returned to host more local daytime shows in Los Angeles. When Grant Tinker became the head of NBC, he asked Philbin to go national for a second time in 1981.
"What an honor. I was Grant Tinker's first choice at NBC," Philbin said. Already unamused by a daytime failure featuring David Letterman, NBC affiliates didn't share Tinker's enthusiasm. The show was called pablum by critics and quickly died.
"They tried to script it for me," said Philbin. "It wasn't live."
"Right now, I do 14 minutes at the top of the show," Philbin explained. "A half-hour show was only 22 minutes without commercials. If I went over 3½ minutes, guys were going crazy."
"What general managers don't seem to understand is the co-host should be a broadcaster, not a movie star or a starlet. It has to be someone who is willing to give of themselves in conversations and talk honestly about what they did last night, whether it be nothing or a ball they attended."
After the NBC debacle and a stint at Lifetime, Philbin returned in 1983 as a morning show host in New York that was a forerunner of "Live." Gifford was his third co-host. The show went national in 1988.
It arrived at the right time, when viewers had tired of being educated by Phil Donahue and Oprah Winfrey about issues, and others had been turned off by sleazy talk shows like Morton Downey Jr.'s.
"I didn't mean it to be an antidote," said Philbin, whose show nonetheless premiered with an ad campaign that promised "Fun Without Controversy."
"This is the same show that I started doing in San Diego in the '60s," said Philbin. "Two stools and a guest. Every time I had a local show by myself, it was No. 1 in the time period in the market. Twice I was offered a national show and they changed the format and doomed it to failure. This time, I was insistent on its remaining the same show."
His insistence worked to perfection.
One of my favorite Philbin stories came from Les Moonves, the now disgraced former CBS leader, who in May of 2000 was having trouble competing with the runaway "Millionaire" success.
After praising Disney at a meeting of advertisers for finally replacing Gifford, Moonves ran an old clip of "Diagnosis Murder" to show that CBS was way ahead of Disney. In the episode, Philbin shot Gifford.
"Unfortunately, we shot the wrong person," cracked Moonves.
In other words, Philbin was killing him.
A week earlier, at a breakfast meeting with a group of about 40 TV critics Moonves said he loved the headline that week in the trade newspaper, Variety: " 'Jesus' Beats Regis." Part 1 of a CBS miniseries knocked off ABC's ratings juggernaut that Sunday.
Philbin was in Buffalo for the March of Dimes Gourmet Gala in March 1990. He acknowledged that Gifford's pregnancy had been great for ratings.
"Lucy (Ball) once had a baby on TV and the ratings skyrocketed," said Philbin. "It doesn't have the same impact now, but still a lot of people see what happens every day. We had a Baby Week, and I walked around with a pregnancy belt. We've done everything we can for the arrival of this baby."
In November of 1999, I was at a Bruce Springsteen concert and missed seeing the first $1 million winner on "Millionaire."
To illustrate how much "Millionaire" had become part of our national lexicon, Springsteen asked his audience to turn up the volume and cracked: "Is that your final answer?"
I did see the big moment replayed on "Regis and Kathie Lee."
The winner, John Carpenter, didn't use any lifelines until the final question – which U.S. president appeared on "Laugh-In"? Then he called his father. Not for advice. But to tell him that he was going to win the million because he knew the answer was Richard Nixon.
Philbin told Carpenter later that producer Michael Gellman wouldn't have thought of that clever touch.
A former television executive asked me 21 years ago to come up with a theory for the show's success.
My 6-year-old son at the time, Max (he's 27 now), helped provide the answer when a contestant was going for $500,000 to answer which of four characters wasn't a Pokemon character. The 30-something contestant clearly was in distress. But Max, shouted, "It is Frodo. There is no Frodo."
Max said it was his final answer. He was positive. The contestant gave up, took his $250,000 and ran. A minute later, Philbin said that the correct answer was Frodo.
Max felt like a million bucks.
The point is that "Millionaire" was family entertainment where 6-year-olds may have as much chance as 60-year-olds to answer some questions.
Before "Millionaire" premiered in August of 1999, Philbin told critics in Los Angeles that after he saw a tape of the anxiety-ridden BBC version of "Millionaire" he called producer Michael Davies and asked to be host.
"I thought it was compelling television," Philbin said. "I love the way it is produced, I love the lighting effects, the music, everything about the show, and the host over there was just wonderful … I think it is terrific television. It knocked me out."
BBC host Chris Tarrant heightened the suspense and preyed on the insecurity of the contestant. Philbin took the opposite tack, rooting for the contestants.
"There's a very fine line that the host has to play between wanting the contestant to win, and at the same time, being a little mischievous," said Davies. "'Are you sure? Are you sure? Are you sure that's the right answer?' That sort of mischievous role. Regis, I think, has the ability to play both roles."
One of my most memorable Regis moments involved his fumble during one of two telecasts he and Kathie Lee did in Niagara Falls, Ont., in 1996.
"Here's what kills me," Philbin said during a brief break between the two shows. "I got a mike in this hand. I don't have two hands to maneuver. I wanted to hold the Buffalo paper with that crazy fan on the front page.
"Buffalo fans are wild, and you use the local papers to get some of the local flavor. I couldn't reach it ... I had all these papers there, and I couldn't get to it because I had one hand on the microphone."
In 60 years, he never let go.
Stay tuned in
Get the latest information on hit TV shows and more with our weekly newsletter!