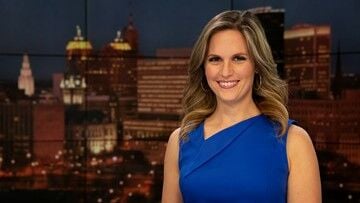 WGRZ-TV (Channel 2) meteorologist Heather Waldman will be leaving the station in August after more than four years here.
A Penn State University graduate with a bachelor's degree in meteorology and telecommunications, Waldman has been one of the station's leading meteorologists since she arrived here in January of 2017.
Waldman was hired then in anticipation of Kevin O'Connell's retirement but initially primarily worked weekends instead.
O'Connell's departure from the Channel 2 weather team in July of 2018 led Waldman to be part of some local TV history along with Maria Genero.
When Waldman and Genero split the weekday newscasts, it was believed to be the first time in half a century in Buffalo a woman (or in this case, two women) was the regular meteorologist on weekday evening newscasts.
Waldman came here after three years at AccuWeather in State College, Pa., where Penn State also is located.
During her time here, Waldman earned an Edward R. Murrow Award in Innovation for a story about the blizzard of '77 in Buffalo.
She proudly called herself a "weather geek" and produced a weekly segment on social media, "Heather's Weather Whys," in which she answered viewer questions about the weather.
Her fans probably are asking why she is leaving Western New York. She couldn't be reached to comment.
She married Stephen Weitzner in September of 2020. He is a research scientist who works in Livermore, Calif.
In confirming Waldman's departure, WGRZ News Director Athan Kompos wrote:
"All of us at WGRZ have been fortunate to work with Heather. She showed us a different way of looking at our unique weather and created a few series in 'Heather's Weather Whys' and 'Climate Minute' that took Storm Team 2 beyond forecasting and into storytelling. She also reminded everyone that it is good to be a geek!"