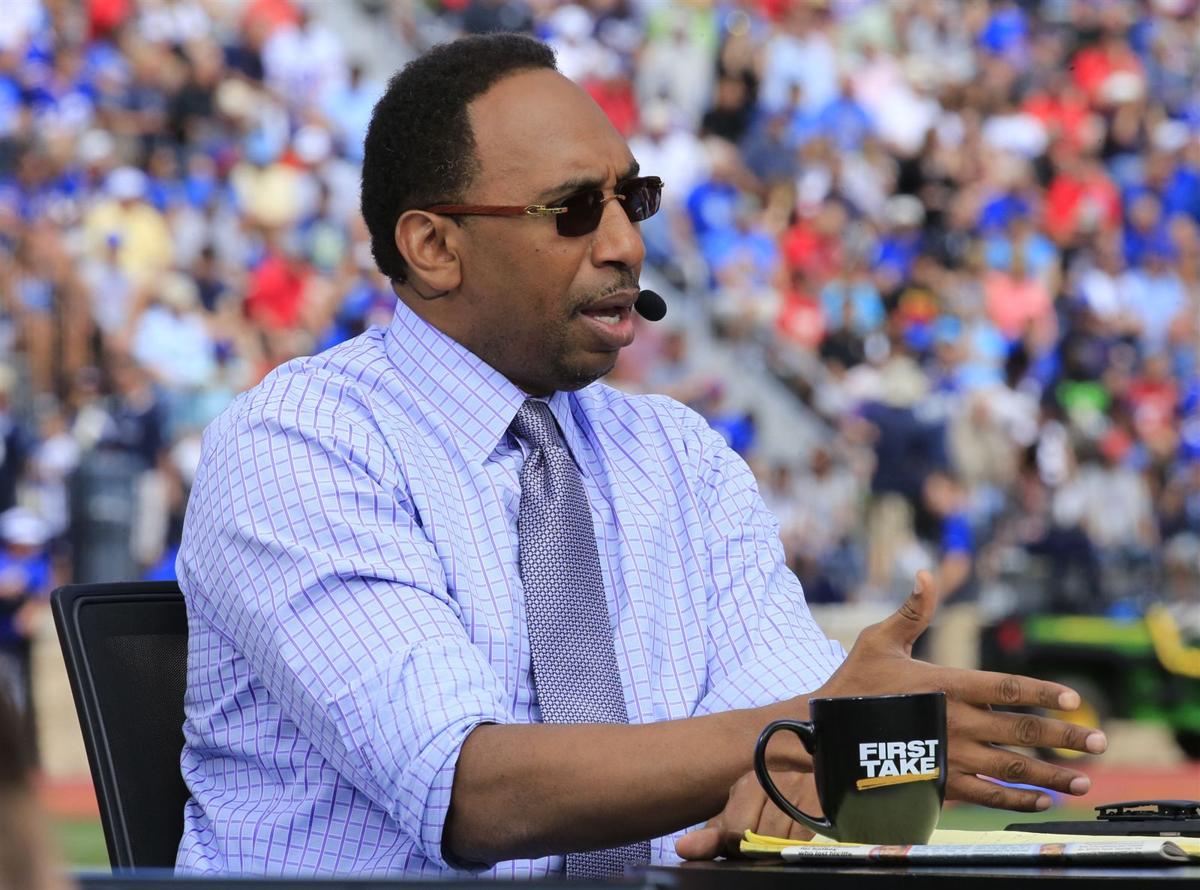 There is no one else on television quite like Stephen A. Smith. His coevals in the TV sports commentary trade always call him "Stephen A." At this time of year, his hour is at hand.
I've become hooked on his major home, ESPN's morning TV show "First Take."
It's on at an hour which I have spent a lifetime avoiding on the tube unless I just can't help it. To me, TV in the morning is uncivilized. But one pandemic morning where I just couldn't seem to stop flicking on the remote, I found a solution to temporary and very unusual boredom.
As usual, I was keeping as far away as possible from the metric champions of morning TV – "Good Morning America," "Today" and whatnot – and wondered what on earth ESPN does in the mornings while CNN, MSNBC and Fox News were on watch over the truth.
Bliss, I discovered. That's what ESPN does. Specifically, of course, you get the morning sports reports, but then after that you get two hours of five-alarm game and sport news commentary ending, before noon, with Stephen A. Smith's decibel-rich party, "First Take."
Smith is the great living master of bully boy bombast. He's the epitome of brainy trash talk. He's a self-congratulating sports commentator who is seldom caught without an opinion and he's ready to prosecute even the most eccentric ones with the vigor of the reigning oracle in campus and sports bars the world over.
As is usually the case there, good times are had by all, usually just by listening.
There is a certain kind of opinioneering about sports that begins after a beer or a shot and escalates sharply into danger territory after two or three. The volume increases, the boisterousness attracts attention and often widespread hilarity ensues.
No one on current TV makes me laugh harder than Stephen A. Smith. Stone cold sober.
Smith is doing all this without alcoholic liquids when the rest of the world is coasting on caffeine.
On the morning when his two regular cohorts – moderator Molly Qerim Rose (the wife of ex-NBA player and current ESPN commentator Jalen Rose) and Mark Kellerman – were trying to steer into reflections on the night before's triple-double by basketball whiz Russell Westbrook and the rising hostilities between quarterback Aaron Rodgers and the Green Bay Packers, Smith kidnapped the show right from the git-go. He launched into an extended cackle and war whoop over the continuing unlikely victory streak of the New York Knicks, who speak to Smith's loyal affections the way Buffalo Bills so frequently speak to Buffalovers, i.e., irrationally and with deep and joyful sanctimony when a habitually tough opponent is vanquished. (Think of the Bills, on the Monday after they beat the Patriots on a Sunday.)
You can't really call what Smith is doing gloating. It was more dramatic than that. It was a hilarious, top-volume soliloquy in fan glee, a demonstration of the crazy and giddy but usually innocent partisanship that overwhelms otherwise civilized souls when their team – and its standout hero – is having field days crashing into the other guy's capital L's with their newly launched string of W's.
Because professional basketball games, like Major League Baseball games, are frequent, NBA season is when the sport gets particularly hot, like, for instance, now preparing for the imminent NBA Play-In tournament (already excoriated by LeBron James) and then the playoffs. That's when a recognized NBA maven like Smith has a grand time being the star he was always meant to be.
This, you should understand, has long been noticed. Among his other TV gigs for a while has been an acting gig as a villain on the soap opera "General Hospital."
But it's important to understand that Smith is no mere performer or prejudiced pundit slinging witless affections around at bruising volume, he's a longtime ultra-knowledgeable sports reporter, an alumnus of years at the Philadelphia Inquirer.
For years now, he's been a repository of historic and current information about sports so dauntingly huge that any would-be debater is taking the life of his ego in his hands.
It is, on "First Take," the job of Mark Kellerman to give Smith's bumptious bombastic braggadocio a debate partner hewing a bit closer to sweet reason. He too, though, is a veteran sports reporter seemingly armed with a strong opinion for every prominent sports occasion. It would be terrible to think of him as just the equivalent of the Washington Generals getting pummeled on the court every night by the Harlem Globetrotters. He's much better than that. But he's not the star of the show. He knows on which side of his salary his ego is buttered.
Those in the moderator/peacekeeper roles in the middle of sports palaver on TV are the equivalent of law and order, lest sudden opinioneering extremes go kerflooey and start erupting in quotes from the Upanishads or the films of Rob Zombie. They keep things approachable. Always.
The most impressive thing about what ESPN does with women on its opinion shows is that it incorporates them fully into the proceedings. They aren't there to decorate and offer the possibility of domestic refuge from unruly boys, they're there to offer persuasive ideas that can carry the day. You can often hear the functioning male bloviators days later appropriating one of the more persuasive ideas chucked into the fray by the female jurist/moderator in the middle. It's a good look in sports television – a very good look.
What I love about Smith is that he is – like Fats Waller – an incredibly brilliant combination of the real thing and a wildly funny parody of the real thing.
Smith isn't kidding. He's offering real facts and figures and logical ideas and likes and dislikes backed up by an encyclopedic grasp of past performances and rewards. But he's also making sneaky mischievous sport of the whole American tendency to offer such opinions at the top volume of a Saturn rocket launch.
If you're paying complete attention, you'll hear an ironic wink inside the whole splendid Stephen A. Smith act.
I suspect that if you were to have Thanksgiving dinner with the real, off-camera Smith, his voice asking you to pass the cranberry sauce would be on the same volume level as his judgment of political matters.
In "Those Guys Have All the Fun," the marvelous oral history of ESPN compiled by James Andrew Miller and the late Tom Shales, we're told that right from the beginning, ESPN wanted Smith to up the level of volume and bombast.
He's certainly done that, but he's become wickedly effective and professional about putting it into a reassuring sine wave during one broadcast and not just delivering one endless explosion.
I love the NBA and I love it when it's the final third of the season and playoff time. And I love passionate commentary about off-the-field football shenanigans. My discovery of ESPN's morning celebration of it all has been one of the rare happy things to come to me during the whole tragic and dolorous horror of the pandemic closing down society and delivering human devastation. Obviously, I'd give it up in a nanosecond to have never heard the phrase "Covid-19." But with so much time on my hands, I've recently found something to pass it delightfully in the morning.
You can almost hear the NBA bring its season to a smashing few weeks of close. And off to the side you can hear the booming cannon of opinion from Stephen A., who knows exactly how much it involves – even though Howard Cosell always used to refer to sports, as a subject, as "the toy department."