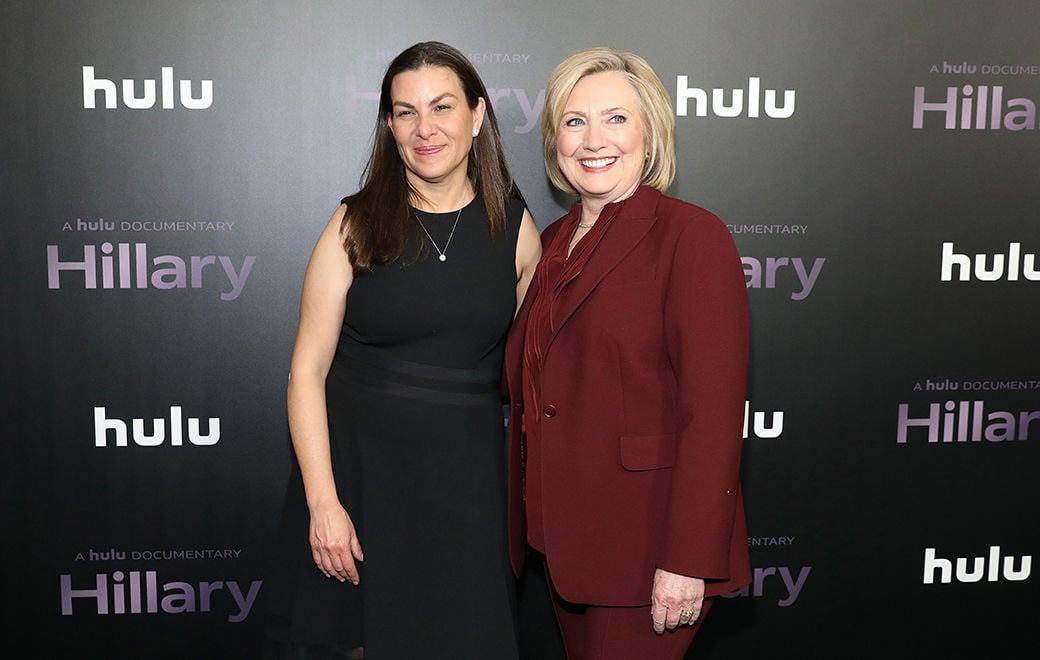 My Top 20 takeaways of notable things and oddities to emerge from Tuesday's announcement of the 2020 Emmy nominations.
They illustrated why so many people ask, what are you watching on "Netflix" lately? The streaming service received 160 nominations, by far the most of any company. HBO was second with 107 nominations.
"Hillary" is a nominee again: Buffalo native Nanette Burstein's Hulu documentary "Hillary" about Hillary Clinton was nominated in the outstanding documentary in nonfiction category. Its biggest competition might be Michael Jordan. "The Last Dance," which documented the Chicago Bulls sixth NBA championship with Jordan the star, and the bizarre Netflix series "Tiger King" were nominated in the same category.
Demand a recount: Emmy voters should be forced to walk in the desert for miles like Saul Goodman-Jimmy McGill for failing to nominate "Better Call Saul" stars Bob Odenkirk and Rhea Seehorn. The series was nominated as best drama and the writers received two nominations. But no Seehorn or Odenkirk. Giancarlo Esposito was the only actor nominated in the series. Ridiculous.
Watch "Watchmen": The Television Critics Association and the Emmy voters agreed on HBO's "Watchmen," which opened with the recreation of the very real race massacre in Tulsa, Okla., in 1921 and deals with racism, police brutality and white supremacism. The Emmys gave the series the most nominations, 26, many in technical categories that critics don't award. The TCA gave the series four nominations, which tied for the most it gave out.
Calling Dr. Fauci: The good doctor earned an Emmy nomination. Why not? He's on TV all the time. OK, I'm kidding. Brad Pitt earned a nomination for playing Dr. Fauci in the cold opening of an episode of "Saturday Night Live" after Fauci said he hoped Pitt would be cast in any movie about him. The late Fred Willard is nominated in the same category for his guest role in "Modern Family," the only acting nomination the series received in its final season.
The year of the mask: Fox's reality series "Masked Singer" received nominations for outstanding reality competition and for outstanding costumes.
Failing Fallon: "The Tonight Show Starring Jimmy Fallon" was the only one of the big three late night shows to fail to get an Emmy nomination. Stephen Colbert and Jimmy Kimmel's 11:35 p.m. shows both were nominated.
Love for "This Is Us" is dying: Sterling K. Brown was nominated for his role as Randall Pearson, but that was it for the regular cast. Ron Cephas Jones, who plays Randall's biological father, and Phylicia Rashad, who plays Randall's mother-in-law, were the only other "This Is Us" nominees. The series was ignored in the best drama category. Brown also earned a second nomination for his small role in "The Marvelous Mrs. Maisel." The broadcast networks can't compete with streaming or cable services, with "This Is Us," "The Good Place," "Saturday Night Live" and "black-ish" the only series getting high-profile nominations.
"Good Fight" ignored: It wasn't the best season of the CBS All-Access program, but it was nominated by the TCA. The Emmys ignored it. Nominations for Christine Baranski used to be automatic when she was on "The Good Wife." I was more disappointed the cast of ABC's "A Million Little Things" – especially James Roday as humorous Gary – didn't get a nomination but network series are used to being ignored in the era of streaming.
"Succession" rules: Nine actors, including every regular cast member, received a nomination. They deserved it. The second season of the HBO series was better than the first season.
"Method" actors nominated: I couldn't be happier that both Michael Douglas and Alan Arkin received nominations in separate categories for "The Kominsky Method," by far my favorite Chuck Lorre series. The series also was nominated as best comedy. Can't wait for season three.
Everyone still loves Mrs. Maisel: The series and stars Rachel Brosnahan, Tony Shalhoub, Marin Hinkle, Alex Borstein and Luke Kirby (who plays Lenny Bruce) all were nominated for their roles in "The Marvelous Mrs. Maisel."
Reese isn't in pieces: Jennifer Aniston, Steve Carell, Billy Crudup and Mark Duplass were all nominated for Apple TV+'s "The Morning Show." But Reese Witherspoon was ignored. Kerry Washington was nominated for Hulu's "Little Fires Everywhere" but Reese was ignored. Maybe because she seems to play similar roles in every project. She reportedly was very classy about the snubs, which also included being ignored for her role in "Big Little Lies."
Super Bowl winners: It hasn't won yet, but the halftime show featuring Jennifer Lopez and Shakira earned multiple nominations, including one for outstanding variety special.
Of course, Meryl was nominated: Meryl Streep's weird role as the mother-in-law of Nicole Kidman's widowed character Celeste in "Big Little Lies" earned her a nomination.
Unbelievable indeed: Toni Collette was nominated for her role as a detective in the excellent Netflix series "Unbelievable" but Merritt Wever who played a detective who investigated a rape with her wasn't. Nor was the actress playing the victim, Kaitlyn Dever. That was unbelievable. The series received four TCA nominations.
Obama is nominated: Michelle Obama, that is. Her Netflix documentary "Becoming" surrounding her book tour received four nominations, including one for outstanding documentary or nonfiction special.
Revolutionary pairing: NBA great Kareem Abdul-Jabbar was nominated for narrating "Black Patriots: Heroes of the Revolution," which documented the role of African Americans in the Revolutionary War. The narration category is loaded and includes David Attenborough, the king of narration who was nominated for "Seven Worlds, One Planet."
Way to go, Margo: The Emmys wouldn't be the Emmys if Margo Martindale wasn't nominated. This time, it was for role as Bella Abzug in the FX series "Mrs. America."
Amy might not have expected this: Amy Schumer, currently seen suffering through a difficult pregnancy in the incredibly realistic HBO Max series "Expecting Amy," was nominated for the Food Network series, "Amy Schumer Learns to Cook: Lunch Break at Pasta Night." She does the series with her husband, chef Chris Fischer, who also is prominent in "Expecting Amy."
Over the rainbow: "The Randy Rainbow Show," which features the singing comedian who often ridicules President Trump in words and music, was nominated for outstanding special form variety series.
Stay tuned in
Get the latest information on hit TV shows and more with our weekly newsletter!