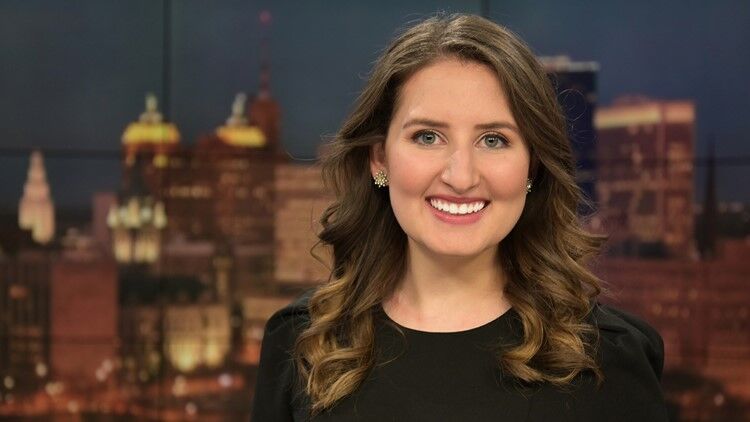 Inquiring minds want to know: Who is replacing popular meteorologist Heather Waldman at WGRZ-TV (Channel 2)?
The NBC affiliate has decided to go in-house and at least for now has promoted perpetually smiling weekend meteorologist Elyse Smith to Waldman's Monday through Friday shift. She hasn't been given the job permanently as of yet.
The station is currently carrying a promo for Smith as part of its "Get 2 Know" campaign in which it personalizes its news staff by having them answer questions.
In the Smith promo, viewers learn that she used to be a dance teacher, her unusual talent is Irish dancing and that she knows several numbers in the value of the mathematical constant Pi.
A 2017 graduate of Valparaiso University with a degree in meteorology, Smith joined Channel 2 about 18 months ago after working in Missouri.
Carl Lam, who has been a fill-in meteorologist at the station, has taken over Smith's regular weekend duties. He also has a job at the University at Buffalo.
Waldman has the easiest forecast for her final day at the station Sept. 23 after five years: emotional, with a chance of some precipitation in the form of tears.
Waldman left the station in late September after five years and is looking for a job in California, where her husband works.
In another WGRZ staff note, reporter Karys Belger has left the station to join WXIA-TV in Atlanta, which is owned by the same owner as Channel 2, Tegna.
The Atlanta station has been nicknamed WGRZ South because several members of Channel 2 on and off camera now work at WXIA, including former Channel 2 meteorologist Chesley McNeil.
The Atlanta station's staff also includes former WKBW-TV (Channel 7) anchor-reporter Madison Carter and former Channel 7 reporter Paolo Sura.
WUTV and WNYO General Manager Nick Magnini retired Monday from the Fox affiliate owned by Sinclair Broadcast Group after a lengthy term running the station. No replacement has been named.
"I guess after 16 and a half years, it's time to play golf," texted Magnini.
He added: "I have had the honor and privilege to lead our two TV stations over the last 16 and a half years and we consistently have had success in our operations, both in serving our WNY viewers and also meeting our fiscal responsibilities for financial success.
"I take great pride in rolling out the future of local TV news in shared services and incorporating technology and also having worked with some of the best broadcasters in WNY that now are thriving in other TV and radio stations. The future of our business in in good hands."
He added that he would miss my texts with questions, which cracked me up. But he said he was serious about that.
I infrequently texted Magnini when there were some technical problems upsetting viewers, often involving Buffalo Bills games.
Radio news: Listeners to WECK radio (1230 AM, 100.5 and 102.9 FM) have noticed a familiar voice has rejoined the station's lineup and that the station has rebranded itself as "The BIG WECK, Buffalo's Oldies Station."
Joe Chille, who left his full-time role as morning host on WMSX (96.1) The Breeze on Friday, is working the part-time afternoon shift from 3 to 6 p.m. at WECK. He had previously worked at the station briefly.
Bobby O, who had been doing the afternoon drive and also was doing production/audio-imaging work, has been promoted to production director and will be on the air on weekends.
Chille joins a daytime lineup that includes Tom Donahue from 6 to 10 a.m. and Roger Christian from 10 a.m. to 3 p.m. Glenn Topolski, who is the program director, hosts evenings.
Tom Langmyer, a Buffalo native who is the chief executive officer of Great Lakes Media, a media acquisition company and local media advisory firm, has been advising WECK Owner Buddy Shula about the rebranding and retooling of programming and music.
A Buffalo native who is in the Buffalo Broadcasters Hall of Fame, Langmyer worked at several Buffalo stations before holding jobs with CBS Radio and Scripps Media and being a general manager at stations in Chicago and St. Louis.
"This particular project is important to me to help local broadcasters," texted Langmyer. "This is my hometown and it's critical for local radio to perform as more than just a relay or technical platform. Radio is fundamentally a local business.
"Big corporate owners of media don't seem to understand that because they are leveraged and they have to cut the heart of local media organizations, that doesn't mean the consumer doesn't want local content. To have the opportunity to further developing localism at WECK is a dream come true."
Dave Gillen, the program director at WEBR, has added the title of chief operating officer to his duties. He rejoined WEBR in July 2020 and was promoted to program director a month later. He started his career in radio at WEBR in 1973.
In a release, Gillen said: "I've been fortunate to have had a great career in radio and TV in my hometown without ever having to leave and to end it at the station I started my career at is very special."