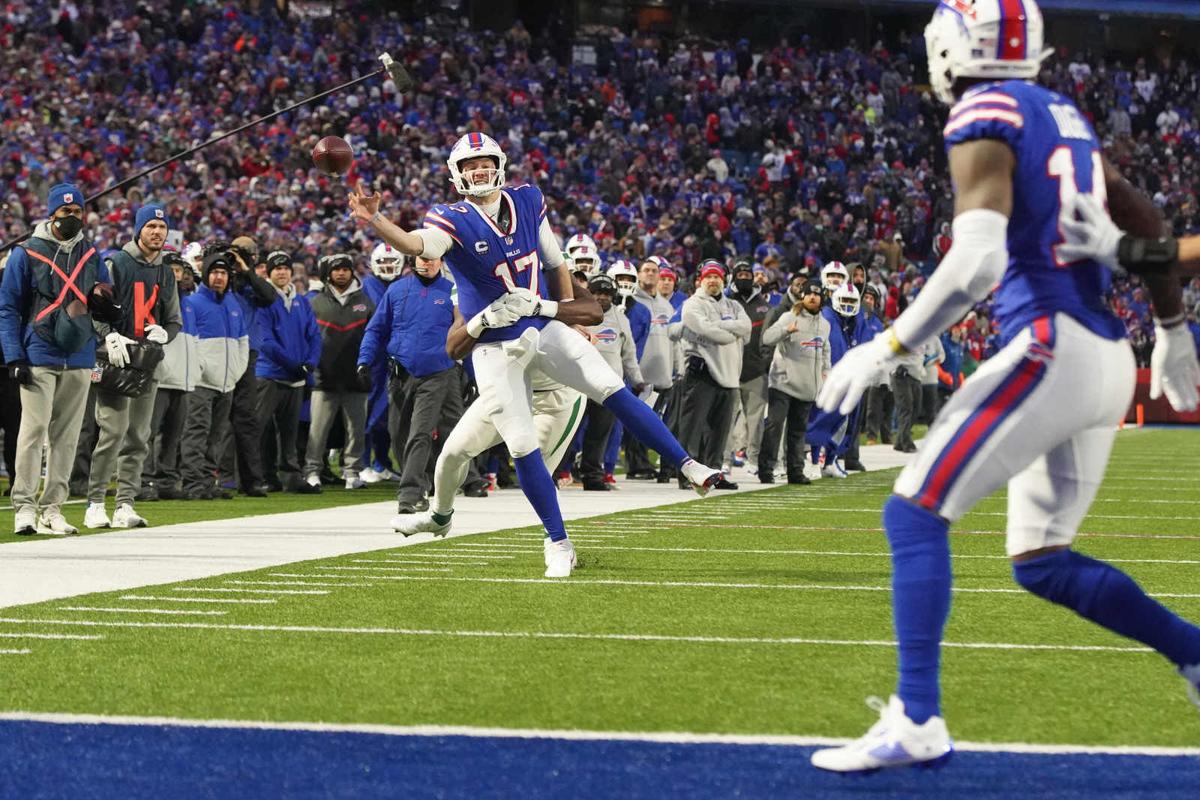 To slightly alter a phrase made famous by legendary Buffalo Bills coach Marv Levy: Who else would Bills fans rather it be to call the team's first AFC East title clinching at home in 26 years than CBS play-by-play announcer Kevin Harlan?
I predicted one of CBS' top two announcing teams would be assigned to Sunday's game with the New York Jets.
But Harlan's unparalleled enthusiasm is on the level of any top play-by-play announcer and was on full display in the Bills' 27-10 victory over the New York Jets that was a lot closer than the score indicated.
Harlan, who may be even better calling NBA games, was sharp on the big fourth-quarter plays and also offered his unique take on a couple of altercations between the two teams that were initially out of camera view.
He made one notable "rookie" mistake, calling Bills receiver Gabriel Davis a rookie early in the game before later accurately calling him a second-year player.
And he incorrectly thought Jets quarterback Zach Wilson had scrambled for a first down when he was 3 yards short.
But every member of Bills Mafia across the nation had to be partying like it was 1995 when CBS carried the last three minutes of the game nationally and heard Harlan repeat the theme he must have said a half dozen times – that it was the first time the Bills clinched the AFC East at home since 1995 when Levy was the coach.
A minor quibble. It was understandable but unfortunate that CBS quickly broke from the Highmark Stadium celebration to start "60 Minutes" rather than stay with something that happens every 26 years in Buffalo.
Harlan's enthusiasm is needed because while the analyst he is paired with, Trent Green, is very sharp technically and provides many good insights, he is pretty dry and doesn't bring the most energy.
Green was particularly sharp to note how key a 5-yard completion that gave the Jets a fourth-and-5 was before Wilson hit Keelan Cole for a 40-yard touchdown that cut the Bills lead to 10-7. Green noted that without the third-down completion, the Jets likely would have punted.
The analyst was so sharp on replays that he made CBS rules analyst Gene Steratore superfluous.
Green noted the touchdown pass from quarterback Josh Allen to Stefon Diggs that gave the Bills a 7-0 lead likely would stand because it was changed by officials to a catch "after discussion."
That early touchdown led Green to conclude that any fears that the Bills wouldn't be "energized" because they beat the Jets by 28 points in the first game between the teams was "erased."
Green was sharp to conclude a second apparent touchdown from Allen to Diggs would be erased because the receiver didn't get his second foot in bounds.
Near game's end, Harlan noted the Bills were winning "on a day they haven't looked very sharp at times."
That led Green to observe: "The weather and the wind was part of it as well."
While Harlan and Green frequently mentioned the wind's impact, they didn't address the Bills strategy. They appeared to choose to have the wind in the first quarter in the hope of taking the lead and in the fourth quarter in the hope they would still have it and grow it. Of course, that meant the Bills offense in the second and third quarter was, well, offensive.
If that was the strategy, it was key in the game, since almost all the scoring in the game was done with the wind.
Now on to more highlights of the broadcast: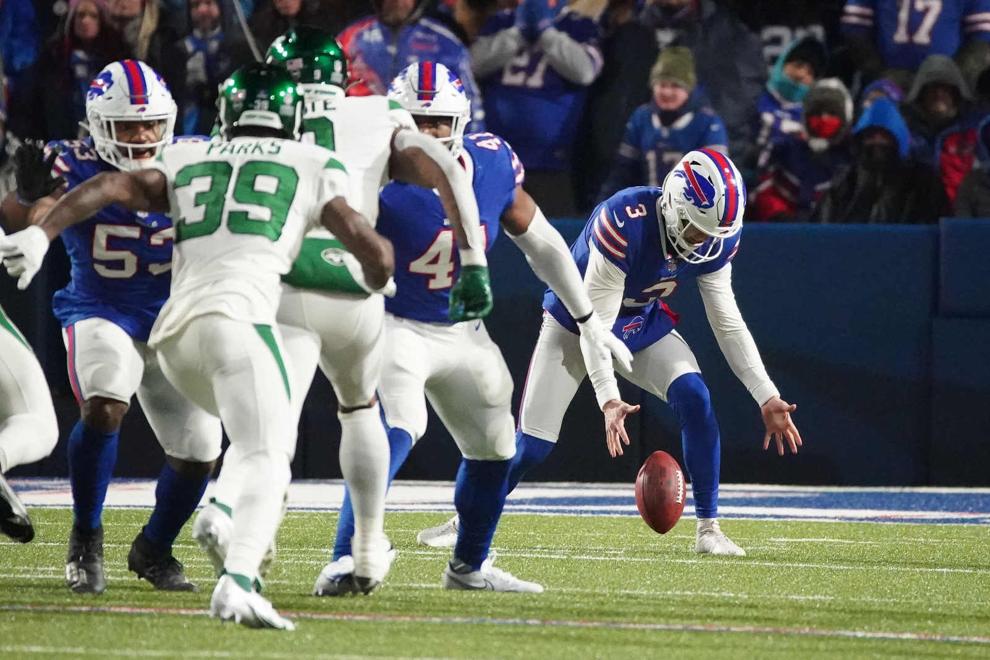 Haack-shank Redemption: Harlan was at his best after Bill punter Matt Haack shanked three straight punts: "Another one, another shank." That led Green to speculate that the punter may have been striking the ball in a way designed to stop Jets returns. That made no sense since just catching punts was an experience Sunday. Haack ended up redeeming himself with a few good punts in the second half that ended up helping the Bills win the field position battle for the fourth-0quarter touchdown drives. "He took it out on the ball," said Harlan after one terrific Haack punt. "Did you hear the crowd?" added Green, noting derisive cheers.
That's Incredible: The announcers did mention that despite having the NFL's top-rated defense, the Bills had zero Pro Bowlers on that side of the ball.
It Might Be Chilly: Early in the game, sideline reporter Melanie Collins said she asked Bills safety Micah Hyde about clinching at home and he told her, "just the thought of it gives me chills."
Optimism Reigns: If you didn't know the game was being carried in New York and New Jersey, you would have been able to tell by how many times Harlan and Green mentioned how "optimistic" the Jets are because they played so many rookies this year, have two first-round draft picks and $60 million in cap space.
Negativity Wins: On the other hand, one of the more interesting graphics concerned the number of Jets plays that had negative yards against the Bills defense. At one point, the Jets "led" the Bills in negativity, 8-1.
Don't Do the Bills Any Favors: Green noted that the offsetting penalties after a lost Haack punt did the Bills a favor because it led to a do-over. But then Haack shanked the second punt and gave the Jets even better field position.
Mac's Disguise: During a game break to show New England quarterback Mac Jones throw a pick six to Miami's Xavien Howard, CBS studio analyst Bill Cowher noted teams disguise coverages against rookie quarterbacks. He said Jones was baited into the throw that put the Patriots behind the eight-ball in a loss to Miami that sent them back to Buffalo Saturday night.
Head-Shaking Moment: Green was sharp to see Allen hit his helmet in self-criticism after failing to see Diggs on a route.
The Sound of Silence: At a few key times, the microphone of the referee couldn't be heard. "Probably frozen," cracked Harlan.
Perfection: That's how Green described the 28-yard reception from Allen to tight end Dawson Knox that flipped field position late in the third quarter. "You can't throw it any more perfectly," said Green.
Thanks for the Memories: Throughout the game, Harlan thanked members of the behind-the-scenes crew. It was a nice touch – except when it came during an occasional big play like a late hit on Allen near the goal line.
Tasker Channels Levy: CBS showed a clip of Steve Tasker, who led the pregame charge for the Bills. Naturally, Tasker used Levy's famous line, "Where else would you rather be than right here, right now?"
I Went to an NFL Game and a Wrestling Match Broke Out: For the second straight week, a wrestling move was described. This time, it concerned the altercation between Bills long snapper Reid Ferguson and a Jet. Harlan said CBS "missed the worst of it," which was too bad since he likely would have gone into play-by-play of the swings and misses.
Key Statistic: At one point, CBS noted that Wilson had been knocked down 19 times.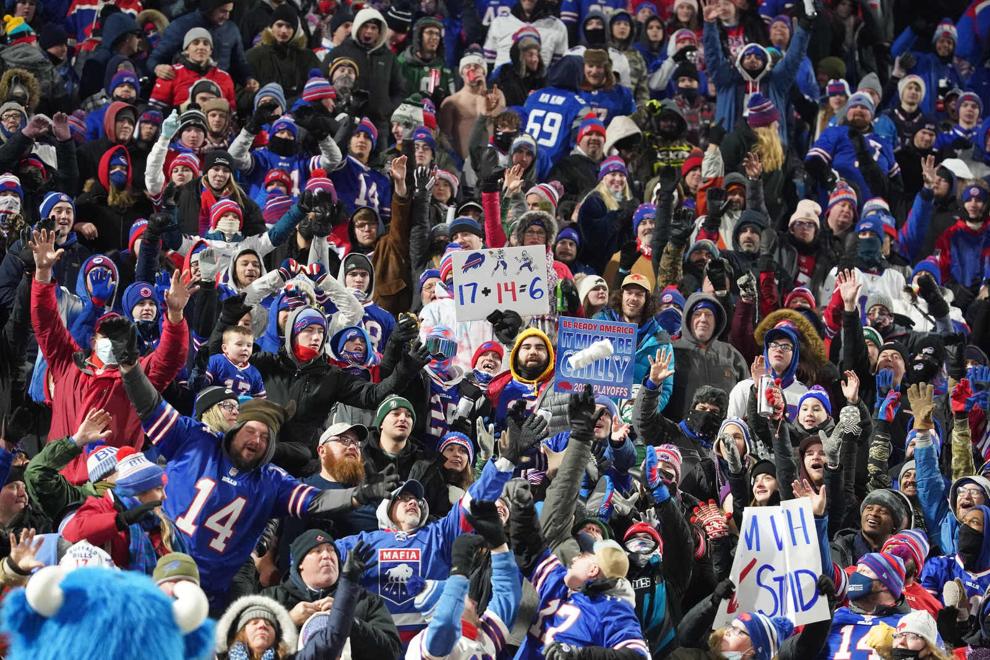 A Weighty Issue: Somehow, the 25 pounds that Jets Coach Robert Saleh lost in a season where his wife and seven children had to live in a hotel and an apartment became an issue. "He had a lot on his plate," said Harlan before pausing. "Except food."
Pleading His Case: CBS' cameras focused a long time on Allen trying to persuade Bills coach Sean McDermott to try one more play near the goal line with 4 seconds left in the first half before the coach decided to have Tyler Bass kick a field goal to give the Bills a 13-7 halftime lead.
Define "A Little": When Harlan noted that Diggs gave a Jets defender "a little stiff arm," Green was astonished. "You call it a little stiff arm?" he cracked.
Thank you, Boomer: At halftime, CBS analyst Boomer Esiason's obvious take was the Bills would rather play at home than away and suggested opponents would rather steer clear of Orchard Park. "Good luck playing in that wind," said Esiason. Of course, the Patriots had good luck playing in the wind a month ago, which is only one reason that Bills-Pats 3 is so intriguing. Ian Eagle and Charles Davis, who worked the Bills' 33-21 win over the Pats on Dec. 26, are expected to work Saturday's game, too.