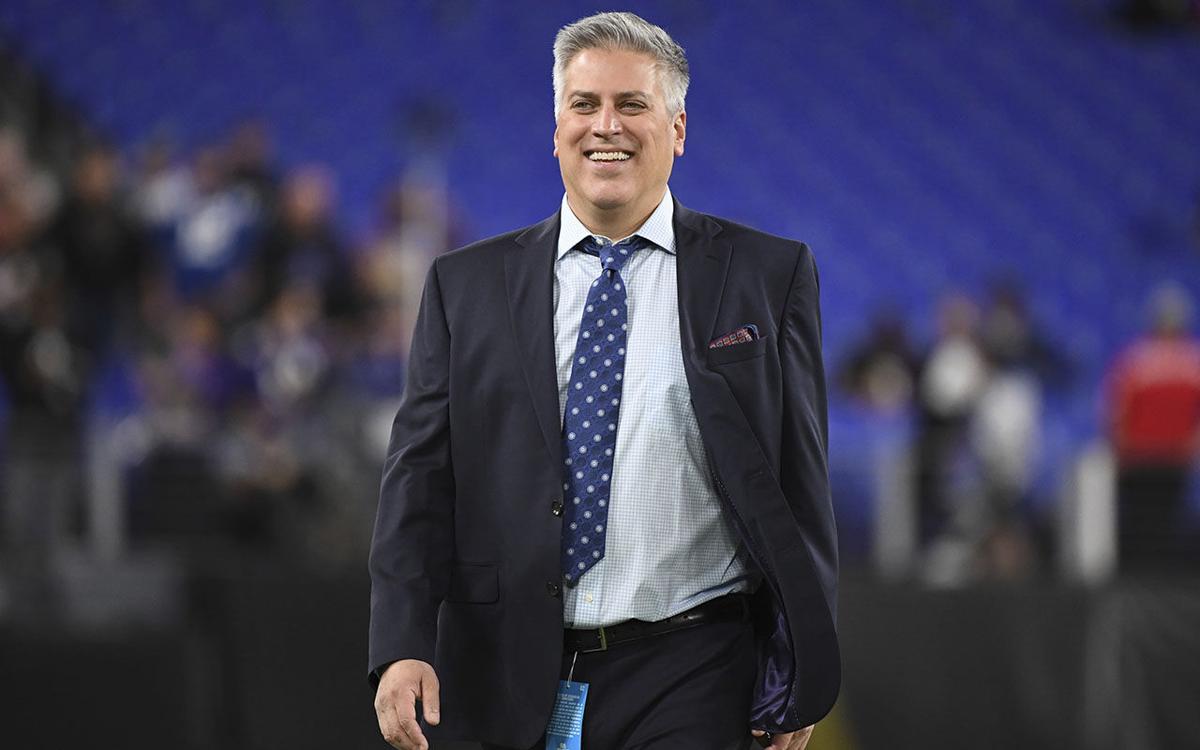 Steve Levy has a long history covering the Buffalo Bills.
The "Monday Night Football" play-by-play announcer, who has been at ESPN for 28 years, covered the Bills during his college days at Oswego State as a stringer for WABC radio in New York City.
Every week before Bills home games, he called then public relations director Budd Thalman to request a seat in the press box at what was then called Rich Stadium to do reports for the New York station.
Levy, who calls the Bills' MNF game against the Tennessee Titans (ESPN and WKBW-TV, 8:15 p.m. Monday), recalled one harrowing Sunday in 1985 or 1986 when he had to call an audible.
He would normally leave Oswego around 8:30 a.m. for a 1 p.m. game but one day "after a particularly late Saturday night of fun" he overslept and didn't start driving until 10 a.m.
He had taped a pregame report on Friday night from his dorm room, but he had to listen to the first half on radio before doing his halftime report at a pay phone at a time before cellphones.
"I wound up using one of the Burger King's on the Thruway near Rochester," recalled Levy in a telephone interview. "You can hear everybody saying, 'give me a Whopper, cheese, extra fries' … And I was doing a report like I was at Rich Stadium. I actually had a sign off, 'live from Rich Stadium in Orchard Park, New York, I'm Steve Levy' and everybody was staring at me, like 'what's wrong with this guy? What's he doing?'
"It was embarrassing and obviously that's probably a fire-able offense. I'm hoping the statute of limitations is beyond us and I don't have to worry about that catching up with me. I was ashamed and embarrassed and vowed to make sure it never happened again. Nobody ever knew, nobody ever found out. Listeners would have been tweeting it now, people would take pictures and video of me and putting it on Twitter. I think I got away with one."
He got to the game in the second half and did his postgame report from the press box.
The experience of being a stringer on Bills games had a big impact on Levy's career.
"It definitely did," said Levy, who covers both the NFL and NHL for ESPN. "It was the preparation, it was taking it seriously. It was a 60-second report. But I pored over the stats, the notes. I put my heart into those 60 seconds."
He rehearsed with his college roommates and asked for input.
" 'Hey, what does it sound like? Am I talking too fast? Do I need to pronounce or emphasize this word or another word?' Those guys still give me a hard time over one line, 'another loss and that could be it for head coach Hank Bullough' because I must have rehearsed it 20 times. It became a running joke. Thirty years later, my college buddies still repeat that line to me. I took those 60 seconds very seriously and it absolutely helped me. There was the pressure of getting it right on a big-time radio station. A lot of people were listening in New York City."
There will be a lot of people listening to every word by Levy and MNF analysts Brian Griese and Louis Riddick Monday night in a game between teams on top of the AFC East and AFC South.
In their second year together, Levy feels the trio is much better because of his improvement.
"Brian and Louis were already stars at it," said Levy. "I think I'm the one that sort of has gotten better. I had a lot of improvements to make after the first season. Having full crowds has really helped me out … I really think I'm saying less, which is just really hard to do…. because you feel like you're supposed to be filling every second and that's not the case. It sounds better, when I watch the games back, when it's just crowd noise and no one's saying anything. Therefore, when you do say something, I think it carries more weight, has more importance to it. So I'm trying to pick my spots and say more important things and say it less."
The traditional MNF telecast on ESPN has competition this season, with the ManningCast, featuring Peyton and Eli Manning on ESPN2 for 10 games this season, but not Bills-Titans. The Mannings have gotten the acclaim for their insights, guest stars and casual commentary, but the traditional broadcast has much higher ratings.
Levy says the Manning love hasn't impacted him at all.
"I hear all the hype," said Levy. "They are the Mannings. I get it. They are the First Family of Football, everything they touch turns to gold. No one should be surprised that they're going to be successful at anything they do. The big picture is they're great for 'Monday Night Football.' More people are watching. I think people are going back and forth."
"That's a massive win for the company… It's definitely good for everyone involved in 'Monday Night Football.' So I'm all for it. The ratings are way up all around and that's good for everybody concerned."
The rating for Bills-Titans should go through the roof in Buffalo, with Bills fans undoubtedly looking for any bias against their team. Levy is aware of the sensitivity of Bills viewers to comments by announcers, which is often expressed on Twitter.
"Every market is really sensitive," said Levy.
In the preseason, he called Buffalo the most underrated sports market in the country.
"Meaning the country doesn't know how good the market is and the fans are," said Levy. "Everybody knows about Seattle, right? Green Bay, Kansas City … I don't think Buffalo gets its fair due for just how good, how knowledgeable the sports fan is there and really how much they support their home teams and home teams that haven't been very successful.
"I don't think it's gotten the national attention. So, whenever I do a game, I try to give them some love and put a little spotlight on them just because I'm so familiar with some of the towns and the city and all that stuff."
Comments like that and his history with the Bills just might provide Levy with some immunity Monday night against mean tweets.