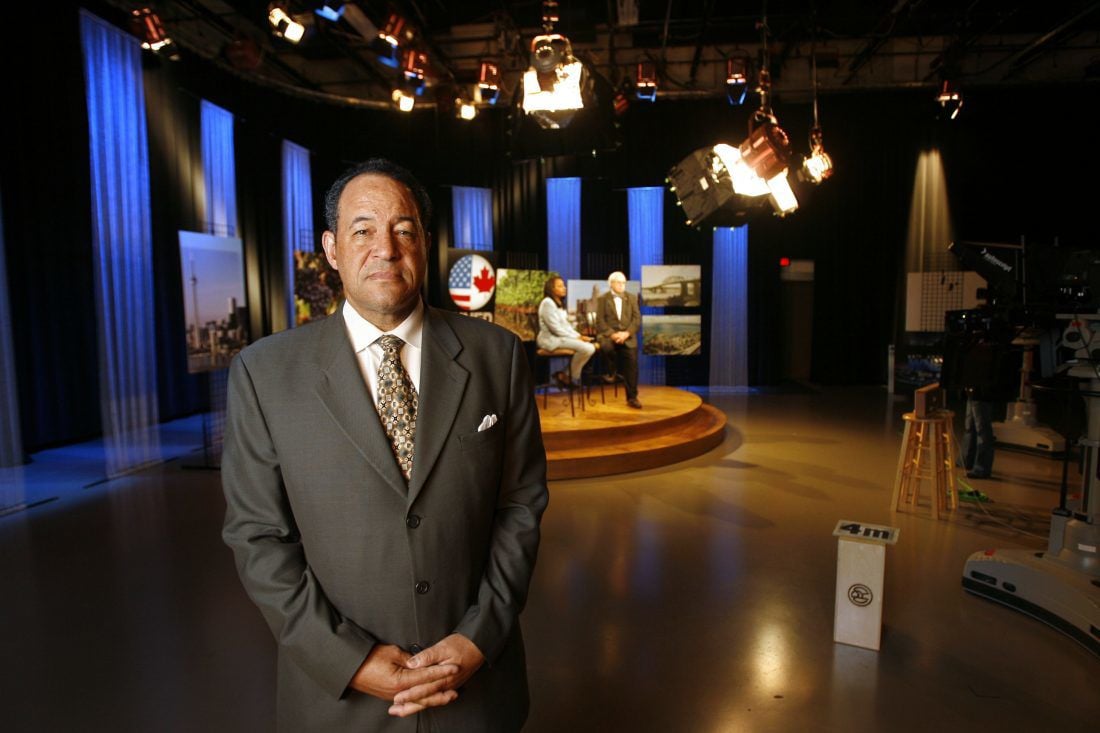 When Donald K. Boswell took over leadership of Western New York Public Broadcasting in 1998, he told a member of the search committee that hired him he expected to be here five years.
Buffalo attorney Sal Martoche wasn't buying Boswell's plan to eventually move to PBS stations either in Chicago, Los Angeles or San Francisco.
"When I said five years, he looked at me and said, 'Don, five years are going to come and you're not going to want to leave,' " Boswell recalled. 
Every five years after that, Boswell said that Martoche would needle him.
"He said, 'Don, want me to help you pack, are you ready to go yet?'" recalled Boswell in a recent interview in his cluttered office on Lower Terrace. "He was right. I fell in love with the marketplace."
Boswell, the president and chief executive officer of WNYPB who runs WNED-TV and WBFO-FM, stayed for a simple reason.
"I realized I could do just as much here as I could in those cities," said Boswell, "And I fell in love with my staff, the board, this community. And I felt like I could make a difference here in the boards I have served on. I just realized that I may not have those opportunities in bigger markets. I may not be as visible there because of the size of those markets."
Now, after 23 years, Boswell is finally leaving the job. Boxes, photographs and paperwork are strewn all over his office, with a large green recycling bin ready to be filled. There are also several mementos, including a pennant signed by the widow of Pittsburgh Pirate legend Roberto Clemente and a large bobblehead of music legend James Brown that sings "I Feel Good."
Boswell has a lot to feel good about, including the number of national productions that WNED has supplied to PBS, the award-winning success of public radio station WBFO and the rebranding of the organization to Buffalo Toronto Public Media.
Boswell announced his plans to retire last October as he approached his 70th birthday. He experienced a health issue but said that didn't have a big influence on his earlier decision. His retirement date of June 30 has been pushed back a few weeks because of the delay in hiring his successor.
"I've always said to my wife, at 70 it will be time," said Boswell. "It gives you a pause to think about how serious you are about retiring because you want to enjoy the afterlife of the career."
The health issue led him to lose 18 pounds, which means he weighs about the same as he did when he came here 23 years ago. He wears an employee badge from 1998 that reminds him of how he looked when he arrived with much to accomplish.
"The biggest accomplishment is having the organization being competitive and producing national programs for PBS," said Boswell.
He said he is most proud of the 2011 documentary on the War of 1812 because it told both sides of a historical moment and used talents from both sides of the border including professors and historians.
"I like to think we were the storytellers of Western New York history," added Boswell, referencing programs on the Darwin Martin House, Frederick Law Olmsted and Elbert Hubbard. "We've been able to share and give a deeper, wider perspective of the area, which has been to our benefit."
Not all the accomplishments under his leadership were initially applauded by viewers, listeners and donors. The rebranding to embrace the importance of the Toronto market was initially met with some skepticism from donors.
"I wouldn't say complaints, but I had calls people wanting to know why," said Boswell. "When I told them that 68% of our revenue came from Toronto and the station wouldn't be what it is without that support, they got it."
The purchase of WBFO from the University at Buffalo and the sale of WNED-AM that led to programming changes was initially slammed by some listeners, including by those fearful that blues and jazz programming would be diminished. However, that programming has survived and there is now a 24-hour jazz station in high definition.
"Any time you make a change in radio you always will have criticism," said Boswell. "But I think if you asked the blues audience now, we've increased the blues times, we've moved them, we've done all these blues events here. We've had about 15 performances where the winner of the international blues competition in Nashville comes here as one of the prizes."
Boswell's support for music also is evident by his pursuing a blues series pilot using the Nashville winners with five-time Grammy winner Keb' Mo' the host. It has the tentative name "Buffalo Blues." Boswell envisions the series as a takeoff on "Austin City Blues."
He added WNED-TV also is experimenting with a live jazz series.
"We think those are two appropriate programs because they deal with African American history and there are no programs that are a series on blues or jazz," he said.
Boswell is leaving his successor a full plate of ideas to implement. It includes the reinventing of "Reading Rainbow" that has the involvement of PBS and the Corporation of Public Broadcasting and has received a $200,000 grant from the Oishei Foundation. The plan is to shoot it in Buffalo and Toronto.
"With today's technology, there is so much more we can do with that series since it first came out," said Boswell. Levar Burton, the original host, is no longer in the picture.
"We want to freshen the program," said Boswell. "It may be a female host who is able to speak English as well as Spanish. We've even talked about a cartoon caricature."
He said he wants to do more series rather than one-off productions because the facilities, production capacity and the talent is here to do them. The administration, costumes, designs and rehearsals for the hit movie "A Quiet Place II" and "Marshall" were done out of the fourth floor of the Lower Terrace building because the studio qualifies as a sound stage for tax credits.
He regrets that a 2001 project, "The 3 Guitars," featuring Eric Clapton, Jeff Beck and Carlos Santana, that was modeled after "The 3 Tenors" collapsed because of contractual obligations. "It was a big disappointment," said Boswell.
Clapton still came here and performed a concert.
"He knew I was in a (financial) hole," said Boswell, "I can't say enough wonderful things about him. Who knows? Maybe the next CEO can revive it and bring it back."
Boswell is leaving with the $10 million capital campaign to upgrade the facilities about $2 million short as the deadline nears at the end of the year.
"We can't get into the Canadian marketplace because of Covid, and we can't meet with major donors," he explained.
However, Covid has led to the biggest membership growth ever. Boswell said there are close to 54,000 members, up from about 49,000 a year ago and from the low 40,000s when he arrived. About 70% of the growth has come from Canada.
"I had hoped before I retired it would have been at least up to 75,000 total membership," said Boswell, who believed all the programs about the region would raise membership even more. "We have probably done more to raise the visibility of this city in the sort of programs we've done than any other station."
While he is retiring from public broadcasting, Boswell still will be busy as a member of several local boards. He also plans to spend more time with his family, including his wife Marilyn, daughter Coral and two grandchildren.
Noting that at age 12, he envisioned and wrote out ideas for music videos before they became a thing, Boswell also plans use his creative muscle to write a motion picture and a Broadway play.
His Broadway idea: "I am looking at gospel version of 'Jesus Christ Superstar.' "
His movie idea: "I want to do the next 'Love Story' screenplay."
The Pittsburgh native's love story with Western New York will continue. He said he has more friends here than in all the cities he has lived.
Boswell may not have known it talking to Martoche 23 years ago, but he ended up "feeling so good, so good" about Buffalo that he plans to retire here.
"I'll be spending some time in Florida in the winter, but Buffalo is my home," said Boswell. "I love Buffalo because of the people and the quality of life here."