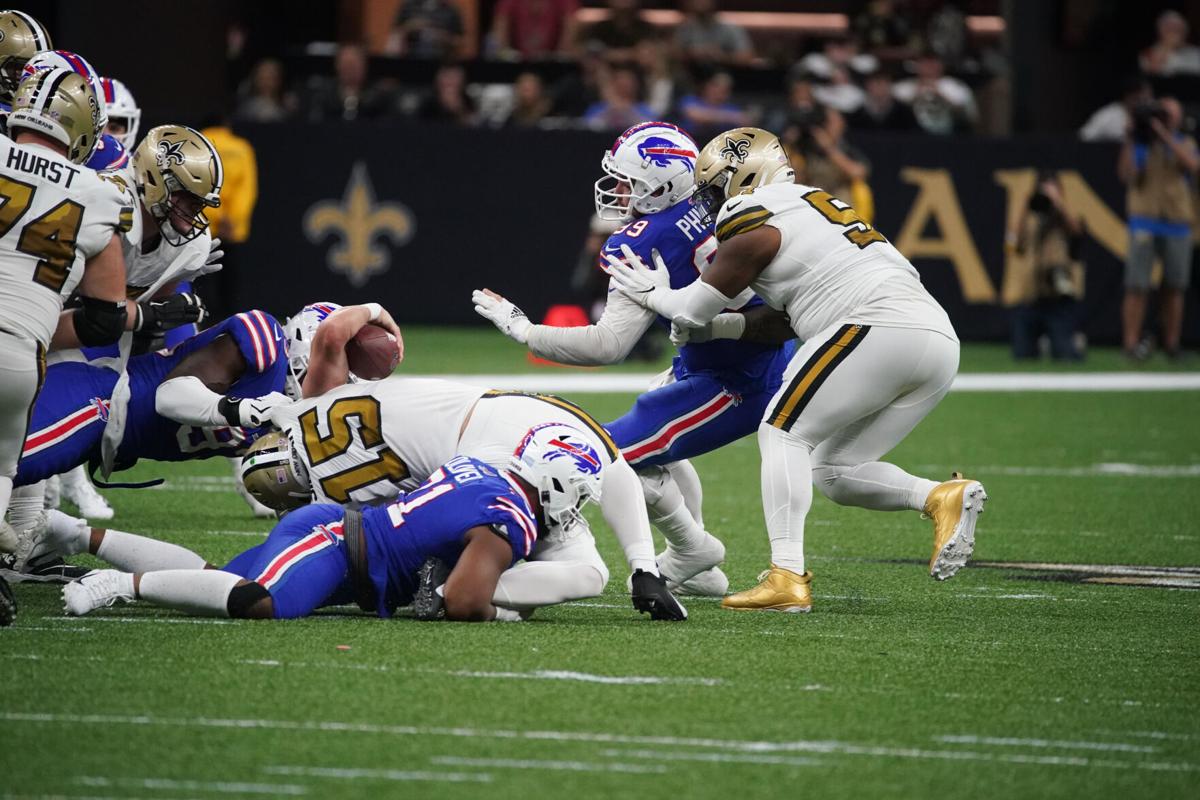 In the first quarter of the Buffalo Bills' 31-6 romp over the New Orleans Saints Thanksgiving evening, NBC analyst and Saints legend Drew Brees asked play-by-play announcer Mike Tirico, "who do you think has more fun: Who Dat Nation or Bills Mafia?"
"Bills Mafia always has a good time," replied Tirico.
"That's because they're out of the snow," cracked Brees.
The exchange was only one illustration of the balance Tirico brought to a telecast that could have been one-sided because Brees always will be a Saint in more ways than one in New Orleans.
Brees' knowledge of his old team was balanced by Tirico's knowledge of the Bills throughout the game.
When Brees called the Saints fans' nickname, Who Dat Nation, "some of the greatest fans in the world," Tirico quickly noted how many Bills fans traveled to New Orleans "to support the road team." They were undoubtedly having more fun than Saints fans.
"There was little to feel good about other than the scoreboard and Knox's dominant performance," writes Jason Wolf.
Some Bills fans may not have liked Bree's snow line – there hasn't been measurable snow in Buffalo yet this year – as much as they didn't care for Tirico saying the Bills played "upstate" in introducing Maria Taylor's excellent halftime story on Bills quarterback Josh Allen.
But I'm sure many Mafia members probably forgave Brees because of the key thing he brought to the Thanksgiving party: He isn't Cris Collinsworth.
Many Bills fans dislike Collinsworth, an excellent analyst who has won 16 Sports Emmys. Brees is so likable he can even get away with a snow joke.
He also is very knowledgeable, which he illustrated early on when he explained a Bills play design that freed Bills receiver Stefon Diggs from being covered by Saints cornerback Marshon Lattimore.
He also was excellent explaining the improved throwing mechanics of Bills quarterback Josh Allen under coach Jordan Palmer. It seemed like a physics lesson, as Brees talked about "vectors" that go into the throwing motion.
He also noted that the Bills offense was more balanced between running and passing than it has been recently 
However, Brees doesn't yet have a few things that have helped win Collinsworth all those Emmys: enthusiasm and the tendency to make big statements.
Brees seems to curb his enthusiasm. He is as mechanical in his explanations as he was in demonstrating Allen's progress as a passer. That probably is just Brees' personality. That phase of his game could grow with time.
Allen's perfect interception avoidance record in the red zone came to an end late in the first half.
He did illustrate a good sense of humor a few times, notably when he explained the lengthy verbiage of some of Saints coach Sean Payton's plays.
After Brees was done, Tirico cracked he was so "exhausted" from hearing it that he needed a Thanksgiving nap.
The Bills' second-half dominance probably put most of the nation to sleep by the middle of the third quarter.
The game essentially ended shortly after Brees commented as the Bills drove inside the Saints red zone with a 10-0 lead in the third quarter: "These plays inside the 10-yard line – Saints defense against Bills offense – will determine the game."
Almost immediately after he finished that line, Allen hit Diggs for a 5-yard touchdown that gave the Bills a 17-0 lead.
It was pretty much game over considering the ineptitude of the Saints' offense. However, Brees tried to give Saints fans some hope even after the Bills scored again to take a 24-0 lead when the chances of a comeback behind quarterback Trevor Siemian were about equal to the chances it won't snow in Western New York or upstate New York this winter.
Now on to more highs and lows of the broadcast:
It's Christmas on Thanksgiving: At least that's what Tirico suggested when he noted Bills defensive end Jerry Hughes was lining up against a Saints backup tackle.
'What We Have Here Is a Failure to Communicate': One of my favorite movie lines in "Cool Hand Luke" came to mind when Brees explained that a miscommunication between Allen and Diggs in a route led to Allen's first interception. Brees said they weren't on the same page, with Allen thinking Diggs "would slide in when he decided to slide out."
A Bad Look: Brees was a little harsh on Allen's second interception after his arm was hit by the Saints' Cameron Jordan before NBC showed a replay: "I don't know what Josh Allen is looking at," said Brees. He then explained Allen held the ball too long when Emmanuel Sanders was immediately open. On a replay, you could see Jordan hitting Allen's helmet with his hand, which sometimes leads to weak roughing the passer calls. 
Red Zone History: After Allen's second interception, Tirico noted that it was the quarterback's first interception in the red zone in his career.
Timing Is Everything: Taylor's terrific, heartwarming halftime piece came after Allen's second interception at the end of the first half when many Bills fans needed something to lift their spirits.
Wanna Bet: Sideline analyst Michele Tafoya said Payton told her at halftime that the Saints performance "can't be any worse than we just saw."
Huge Loss: That's how Tirico described the injury to Bills cornerback Tre'Davious White. Brees thought the Saints should have taken advantage of his replacement, Dane Jackson. It never happened.
Best Trade: NBC's cameras unfortunately cut away from Allen as he tried to tear off the jersey of his Wyoming teammate, Carl Granderson, before they exchanged jerseys after the game.
Best Statistic: Allen was 23 of 28 passing and since two passes were intercepted that meant only three of his passes hit the ground. And two of the three were intentionally thrown at the ground when the Saints covered screen passes.
Best Tidbit: Early in the game, Tirico noted that Siemian's parents were from Western New York and he has spent some Thanksgivings here. Who knew?
Best Line: Tirico talked about how well Bills Mafia travels many times, but two times were especially worth mentioning. At the start of the game, he said, "Forget Mardi Gras. It is Mafia Gras." Near the finish, Tirico added: "Bills Mafia brought more road fans to a game in New Orleans than I ever remember seeing."
Hey, Some Credit Here: In describing a replay of the 23-yard touchdown by Matt Breida after a short pass, Brees credited the Bills left guard with a good block but didn't mention Ike Boettger by name. You'd think an ex-QB would go out of his way to praise a lineman. If Boettger had been a Saint, Brees probably would have known his name. Boettger was identified when he was illegally downfield and the penalty negated an Allen TD pass to Knox before his second interception.
Best Prediction: Early in the game, Brees said he would "almost guarantee" that Payton would go for it on a fourth down near midfield. He did – and it failed.
Opinions Welcome: Of course, Brees doesn't know the tendencies of McDermott as well. But when the Bills coach decided to go for it on fourth down, he said: "I like the aggressiveness." I like Brees having an opinion. Bills fans liked the fourth-down play – a 24-yard touchdown to Dawson Knox.
Late Call: The Saints wanted a pass interference call against the Bills' Siran Neal after a failed fake punt. It took a little time before Tirico noted that as a gunner on special teams, Neal was allowed to contact a receiver. Presumably, NBC officiating expert Terry McAulay relayed that to Tirico.
Same Old Song: Brees said Payton's offensive strategy in a game in which many of his offensive weapons were out was to "call the song they know by heart." He also suggested the Saints speed up the tempo.
Burdensome Problem: Brees wasn't very critical of the Saints, but he did astutely note a few times that Siemian retreats about 10 yards to pass, which puts a burden on his tackles to protect him.
The Boss: Tirico called Allen "the boss of the Bills Mafia." Fans of Del Reid, who coined the phrase, wanted a word. (I doubt Reid cared.)
Suit Up: When Tirico playfully suggested Brees needed an ID to get into the dome, Brees replied: "They didn't recognize me with a suit on." They likely wished he suited up again.
Pass the Gravy: When a penalty against the Bills was waved off "after further discussion," Tirico cracked that "would have been a great line at a Thanksgiving gathering if it was something you'd want to take back." Brees replied: "And pass the gravy."
Allen's Fantastic Body: In a discussion about how many hits Allen was taking on designed runs, Tirico said Allen told him "right now, my body is fantastic." Tirico added that is "a description I haven't heard from a NFL player on Thanksgiving."
Hold the Sauce: After a failed two-point conversion by New Orleans, Brees explained the Saints' complex offense under Payton requires receivers to read coverages and move around. He called it "the spaghetti sauce" of the offense.
After Further Discussion: Near the end of a game that thankfully ended in under three hours, Tirico asked Brees to assess the Bills. He called them "one of the most complete teams in the NFL" and added one warning: "But they have to get rid of the turnovers." Allen would be wise to take that old song to heart.