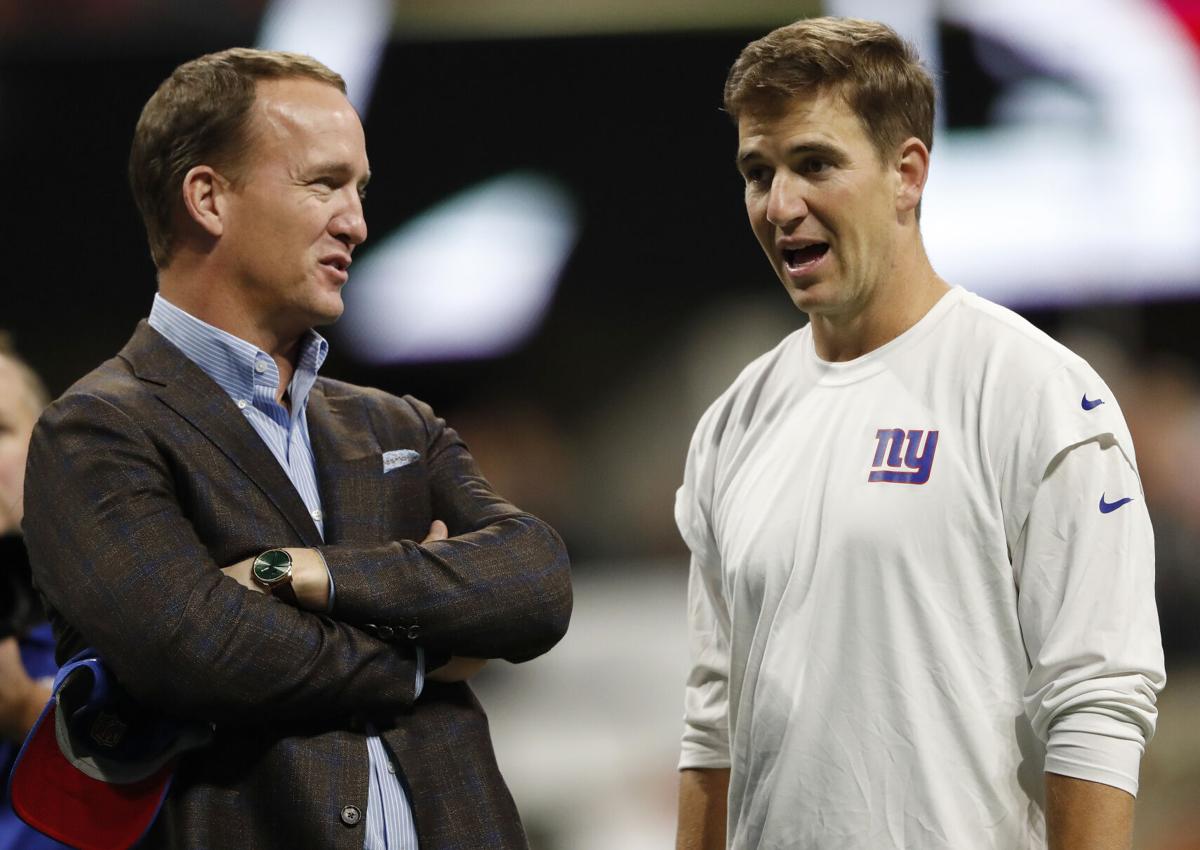 This is what I'm thinking:
Undoubtedly to the disappointment of some Bills fans, Peyton and Eli Manning will be sitting out another "Monday Night Football" game when Buffalo visits the Tennessee Titans on Oct. 18.
The Mannings have been taking weeks off from their critically acclaimed alternative ESPN broadcast and won't be back until the New Orleans-Seattle game a week after the Bills-Titans game.
They only are scheduled to work 10 games this season.
ESPN's usual "MNF" team of Steve Levy, Brian Griese and Louis Riddick will call the game. Lately, Griese has done a little Tony Romo imitation in calling plays before they happen. In Monday's 31-25 Baltimore win, he accurately predicted that Ravens quarterback Lamar Jackson would hit tight end Mark Andrews in the flat for a key two-point conversion just by looking at the alignment.
You might have expected Peyton Manning would have wanted to work the Bills-Titans game because he starred in college at Tennessee.
Inquiring minds want to know: Why did Fox affiliate WUTV drop the Green Bay game with Cincinnati in overtime Sunday to go directly to the late game between Dallas and the New York Giants?
Don't blame WUTV. It wasn't a local decision.
Fox declined to address it directly but confirmed national stories that explain that the NFL's broadcast rules claim Buffalo is a secondary market of the New York Giants and therefore the switch was mandated.
It might surprise Western New Yorkers that a team that plays 400 miles in another state (New Jersey) would have Buffalo as a "secondary market." 
But the NFL broadcast rules were made in the 1970s when the NFC Giants presumably were more popular in Buffalo and owners wanted to protect their fan bases from watching other games.
The rules make as much sense today as Major League Baseball rules that consider teams in other states part of Buffalo's home territory and lead to blackouts.
The switch meant many Western New Yorkers who spent more than three hours watching Green Bay-Cincinnati missed Green Bay kicker Mason Crosby's game-winning field goal to catch the start of the Giants-Cowboys game.
If it happens again when the Giants game is carried by WUTV in the early NFL window, viewers with cable can switch to the NFL Network's Game Time Live, which goes around the league to carry key moments of games.
The NFL also would be wise to update its TV rules, which make absolutely no sense.
Drew Brees continues to impress as a studio analyst for NBC's "Football Night in America." Before the Bills beat the Chiefs 38-20 on "Sunday Night Football," the retired New Orleans quarterback compared the matchup to the Chicago Bulls-Detroit Pistons rivalry in the early 1990s when Michael Jordan was dominating the NBA. Said Brees: "The Chiefs have been a nemesis to the Buffalo Bills, but the Bills have improved, their defense is playing lights out and this is that opportunity for them to get over the hump … will this be the night where they can beat the Chiefs?" He then proceeded to be one of the five experts out of eight to pick the Bills to win. "I think it is time," said Brees.
If you don't think the Bills got enough love from analyst Cris Collinsworth Sunday, Peter King of Pro Football Talk more than made up for it in the column he writes for NBC.
"This felt bigger than one game," wrote King. "The Chiefs looked thin on offense and absolutely threadbare on defense. This looked like a changing of the guard in the AFC more than just a Week 5 game."
Of course, Collinsworth said something similar during the third quarter of the game.
Late in the third quarter, Collinsworth said, "When we get to the end of this football season, we're going to look at this night and we're going to say this is a night a lot of things changed in the AFC."
At the time, Collinsworth's remark seemed premature since there was considerable time for a Kansas City comeback. It never happened.
More King on the Bills, edited slightly: "This is an offense with more firepower than last year, and a defense growing stronger with players like Gregory Rousseau providing a needed pass rush … This could finally be the year western New York forgets all those nineties Super Bowl disappointments. Josh Allen will have a lot to do with that."
"And finally, inexorably, (Allen) outplayed the man who will be his rival for years in the AFC, Patrick Mahomes."
Ratings Update: The Bills-Chiefs game had a 41.7 rating on local NBC affiliate WGRZ-TV Sunday night despite the more-than-an-hour weather delay meant the telecast ended at 12:45 a.m. It was the lowest-rated game of the season locally, but only by one-tenth of a point. The Bills' 35-0 victory over Miami game had a 41.8 rating on WUTV. 
The rating Sunday also was hurt because WGRZ is off of DISH homes, which represent between 9% and 10% of viewers in Western New York.
NBC said the game had a total audience delivery average of 18.4 million viewers on the network and streaming nationally. The first half before the weather delay averaged 20.8 million viewers, making it No.3  this season behind only Tampa Bay's season-opening victory over Dallas and Tampa Bay's win over the Patriots in Tom Brady's return to New England.