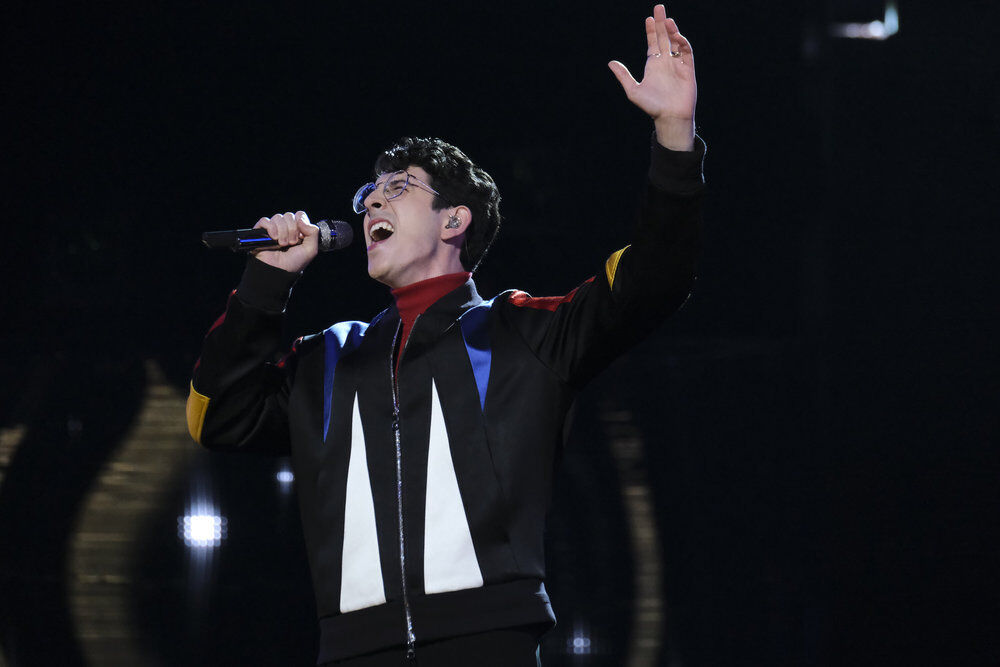 This is what I'm thinking:
Lockport native Joshua Vacanti continues to defy the odds by advancing to the final 11 of the NBC singing reality series "The Voice" Tuesday night.
A site devoted to "The Voice" had predicted that Vacanti, whose musical theater style is a rarity for the show, would be in the bottom three singing for the 11th spot after the top 10 was announced.
He advanced 21 minutes into Tuesday's show, with host Carson Daly stumbling over his hometown when he said, "they are celebrating in Lockport, New York tonight."
Vacanti will perform again next Monday with the other 10 competitors left.
He advanced on the basis of his performance on Monday night's live show singing "You Will Be Found" from the Broadway hit "Dear Evan Hansen."
He dedicated his performance to his high school music teacher Rob Pacillo and high school drama teacher Pete D'Angelo.
Coaches John Legend and Ariana Grande praised Vacanti after he finished.
Vacanti is one of the final 13 performing in the live edition of the NBC singing reality series "The Voice" at 8 tonight on WGRZ-TV. The field is narrowed to 10 when the live results show airs at 8 p.m. Tuesday.
"That was stunning," said Grande.
"You have such a beautiful voice," said Legend, who has Vacanti on his team.
Town of Tonawanda native Jeff Glor, one of the co-anchors of the popular "CBS This Morning: Saturday," is in Western New York working on two stories.
One story is on a book released this month, "The Power of Scenery: Frederick Law Olmsted and the Origin of National Parks," by Dennis Drabelle.
The other story is on chicken wings, with Glor reporting it from Highmark Stadium Wednesday morning.
Inquiring minds want to know: When is WKBW-TV anchor Ashley Rowe returning from maternity leave? Rowe and her husband, Dan Greene, welcomed a daughter, Phoebe, in mid-September. In a text, Rowe wrote she is set to return in the beginning of January. Jeff Russo has been anchoring solo at 6 and 11 p.m. while Rowe has been off.
Kevin Sylvester, the broadcasting jack-of-all-trades who has worked locally on radio and television, is substituting for Pete Gallivan as the co-host of WGRZ-TV's (Channel 2) "Daybreak" for the next two weeks as Gallivan plays hockey in the 11 Day Power Play at RiverWorks to raise funds for cancer research. Sylvester, who formerly worked on Buffalo Sabres telecasts and now works for the PGA, also is the host of the Channel 2 Saturday morning program "WNY Living."
Channel 2 has a brief message at the top of its website that gives its side of the story in its battle with Dish TV. The message reads: "Dish has taken away access to your local station."
Not exactly. You can't get the channel on Dish. But Western New Yorkers can get Channel 2 over-the-air the old-fashioned way with an antenna.
The standoff is a national one between Channel 2's owner, Tegna, and the satellite provider and not a local one.
The situation takes on immediacy in Buffalo soon because the Bills are playing New Orleans on Thanksgiving night in a rare Thursday game on NBC, carried on WGRZ.
However, if Dish subscribers remain shut out of Channel 2 access, they should be able to get the game on Peacock, NBC Universal's new streaming site.
Speaking of the Bills, their 45-17 victory over the New York Jets Sunday had a 46.7 rating on WIVB-TV, the local CBS affiliate. That is a strong rating, but lower than the Bills have had recently. You might guess that the lower rating was because the game essentially was decided in the third quarter. But the game started with a 42.9 rating at 1 p.m. It increased late in the game, peaking at 49.7 from 3:30 to 3:45 p.m., then slowly declining to 48.4 from 3:45  to 4 p.m. and 47.7 from 4 to 4:15 p.m. before ending at 45.4 from 4:15 to 4:30 p.m.
Bills radio play-by-play announcer John Murphy, who had a positive Covid-19 test and missed the Jets game, expects to be back for Sunday's home game with Indianapolis.