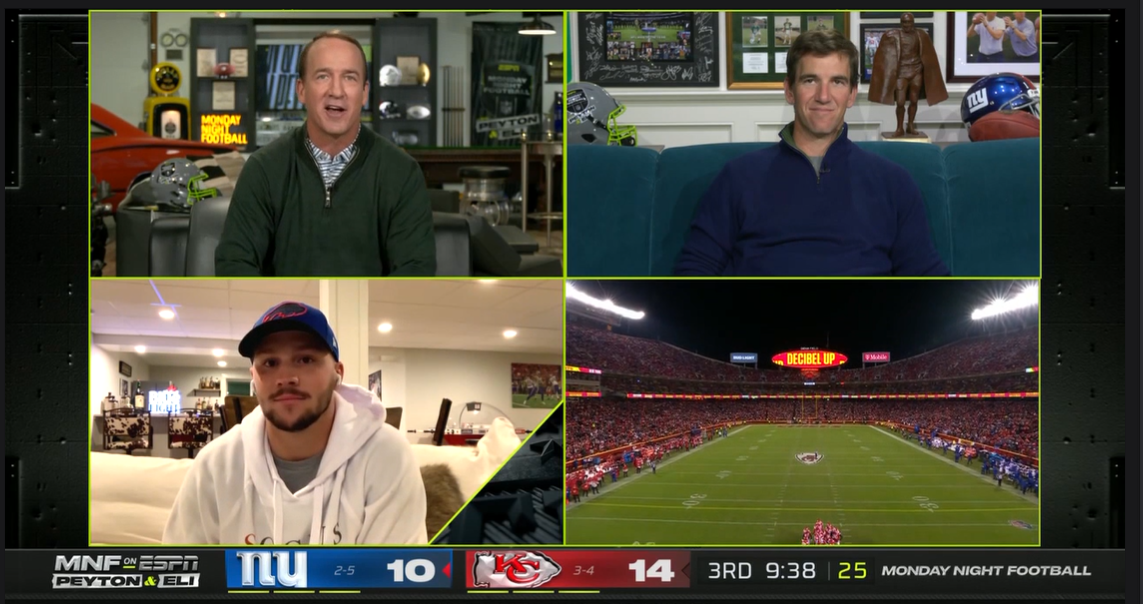 Josh Allen already is the best quarterback in Buffalo Bills history in at least one category – handling the media.
I say this as someone who covered the Bills in the 1970s and early 1980s in a backup role and who has watched every quarterback since handle the media in my role as a TV critic.
I always felt Joe Ferguson was given a raw deal. He treated the media well, thoughtfully answering post-game questions back when they were done at lockers rather than in news conferences far longer than he needed to, even though writers perpetuated the idea he hung his head when things went wrong.
Jim Kelly was a great quarterback, but he sometimes said things during the Bickering Bills era that didn't endear himself to his teammates or the media.
Doug Flutie was a feel-good, underdog story who gave the impression that he was putting on an act.
Tyrod Taylor appeared to be a very good guy but didn't reveal enough about himself to become as loved as he should have been by Bills fans.
Ryan Fitzpatrick arguably could battle Allen for being the best Bills quarterback in handling the media. His openness, his sense of humor and his general good guy persona led some media members to consider him a friend even though they drove him out of town in the belief he wasn't good enough to win a Super Bowl. The much-traveled Fitzmagic has maintained the love of Bills fans by picking Buffalo as his favorite place to play.
However, Allen has some things that Fitzpatrick never had here that help him be an all-time great in handling the media: youthful exuberance, an instant connection to the community and the ability to get unconditional love from Bills fans who expect him to eventually lead the team to a Super Bowl.
He has embraced the community and always says the right things. He handles some media questions with a disarming smile, accepts blame when he deserves it, has become a frequent presence in commercials and tries to give reporters a sound bite without really saying anything remotely controversial.
Best of all, Allen seems genuine, even when he ends every network interview with "go Bills." Unlike Kelly, he would never throw any teammate under the bus.
Allen's ability to deflect any negativity was evident in his handling of the vaccination controversy surrounding the team. His failure to confirm his vaccination status may have upset some people who see him as a role model, but he apparently felt it was more important not to upset any teammates.
Allen is best at avoiding anything that could cause any teammate or anyone in Buffalo to be upset.
Which finally brings me to his appearance on the "Manning Cast" during Kansas City's 20-17 victory over the New York Giants on "Monday Night Football" that drove local viewership from ESPN to ESPN 2.
The much-praised "Manning Cast" with quarterback brothers Peyton and Eli generally gets about one-seventh of the national audience of the regular "MNF" broadcast of Steve Levy, Brian Griese and Louis Riddick on ESPN.
During Allen's 20-minute appearance Monday night, the Mannings averaged a 5.7 rating in Buffalo, more than half the 9.6 rating for the regular broadcast.
Allen's appearance reminded me why I'm not as big a fan of the "Manning Cast" as many others in the media are. It is occasionally amusing, but that's it for me.
Admittedly, I am an odd duck. I prefer watching games by myself rather than with friends or family members so I can hear what the game announcers are saying. I haven't watched a Super Bowl with anybody in 40 years.
The game is secondary to Peyton and Eli Manning. They are essentially hosting a talk show while occasionally giving insights about what is happening in the game.
At one point Monday, they were complaining about an incomplete pass by Giants quarterback Daniel Jones without realizing an interference call prevented the receiver from getting to the ball.
During "MNF" games that the Mannings work, I tune in for a few minutes but invariably get bored about their attempts to be Stephen Colbert, Jimmy Fallon and Jimmy Kimmel.
The Mannings – especially Peyton – are extremely likable but they were much better quarterbacks than they are interviewers. They forget the key to being a good interviewer is being a good listener.
In fairness, doing the interviews when the guests are not in the same room is a hindrance to having a real connection.
The most amusing moment Monday came early when Peyton mentioned his son Marshall wears Allen jerseys and even has "J. Allen" on the back of one of his uniforms instead of his family name. Fathers and grandfathers in Buffalo could relate. My 8-year-old grandson Jax lives in South Carolina and wears an Allen jersey to his flag football games and has just about any item with the quarterback's name on it.
The Mannings tossed out topics like Allen's appearance at their football camp years ago, his Halloween costume choices and the Bills Mafia cliché of jumping on tables. They hoped the Bills quarterback would jump on the topics and deliver great soundbites.
To his credit, Allen was just himself. As always, he was extremely likable. He went along with the Manning jokes. But funny sound bites?
I agree with Allen's self-review that he did his job. But I also agree with his teammate, Micah Hyde: He was kind of boring. I imagine most of America felt the same way as they watched the forced banter in the third quarter.
If Allen hadn't been the guest, I would have headed to ESPN in a New York minute. I certainly wasn't going to stick around to listen to former Dallas Cowboy Michael Irvin be interviewed in the fourth quarter. Irvin is on ESPN enough as it is.
I blame the Mannings, not Allen, for being boring.
Their early broadcasts raised expectations too high. After appearances by larger-than-life characters like Rob Gronkowski and Marshawn Lynch, too much is expected from the guests.
If Allen eventually wins a Super Bowl with the Bills, he'll undoubtedly be asked to appear on the Colbert, Fallon and Kimmel shows.
I imagine those late-night interviewers will do a much better job bringing out more of Allen's personality sitting next to them than the Mannings did remotely.