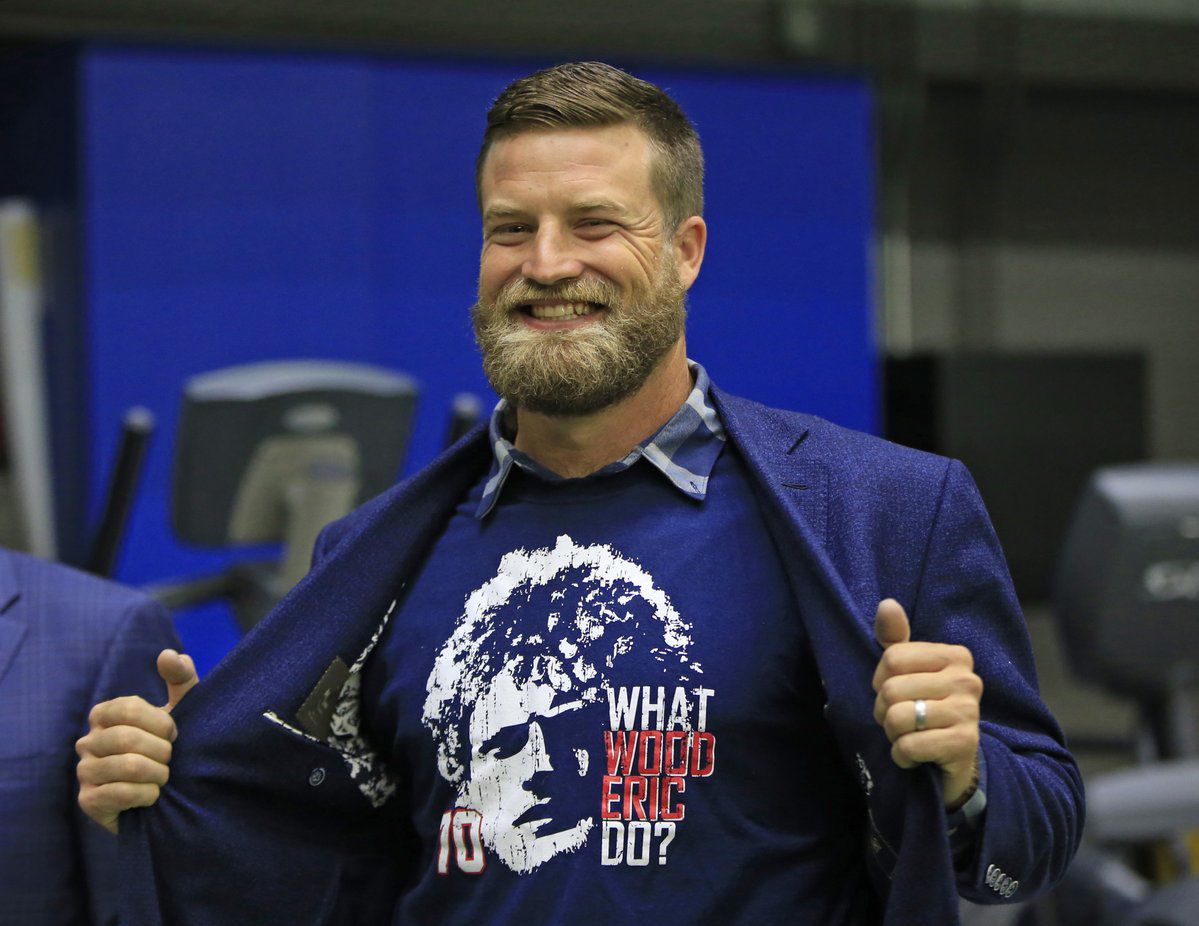 This is what I'm thinking:
If Ryan Fitzpatrick ever retires from the National Football League, he has a second career ahead if he wants it.
During a conference call Wednesday with NFL writers and television critics, CBS' No. 1 play-by-play announcer Jim Nantz was asked which current players or coaches would make excellent analysts after they stop playing or coaching.
Nantz named Pittsburgh Steelers coach Mike Tomlin and Fitzpatrick, the former Buffalo Bills quarterback who is now the starting quarterback of the Washington Football Team.
"After he plays for his 32nd team, he'll be a great addition for somebody's broadcast crew," said Nantz.
Washington is Fitzpatrick's ninth NFL team. He also has played for the Bills, St. Louis Rams, Houston, Miami Dolphins, Tampa, New York Jets, Tennessee and Cincinnati.
I'm all for WGR-AM cutting down "The Instigators" and "One Bills Live" by an hour each starting Tuesday to do a two-hour daily show that isn't produced by the Sabres and Bills and doesn't have hosts paid by the teams.
The expansion of "The Extra Point Show" that aired on Mondays after Bills games to a Monday through Friday schedule from 10 a.m. to noon means WGR's own employees, Sal Capaccio and Joe DiBiase, will presumably be more candid than the hosts employed by the Bills. Capaccio is an excellent and informative reporter, but it may be difficult for him to be totally candid because he still is the sideline reporter for Bills games and needs the team's approval to remain there.
DiBiase, a board operator and occasional host nicknamed "Sneaky Joe," figures to be more outspoken because he doesn't have an association with the Bills. Full disclosure: He took a sports journalism class of mine at Buffalo State College.
WNYO's first Thursday night game will be Sept. 9 when Sweet Home visits Niagara Wheatfield. Tony Caliguiri, Scott Pilkey and Mark Johnson are the announcers.
Spectrum News 1's first "Friday Night Matchup" this Friday features Lake Shore at West Seneca East at 7:15 p.m. after a 15-minute pregame show. Capaccio will do play-by-play and Len Jankiewicz is the analyst.
Spectrum News 1 is airing a marquee game of the week each Friday with live pregame, halftime and postgame coverage.
A local student athlete in Western New York who excels in academics, athletics and their communities is honored at halftime weekly with $1,000 scholarships as part of the 2021-22 Spectrum Scholar Athlete program.
On Sept. 10, it will be carrying Jamestown at Williamsville South and on Sept. 17 it will carry McKinley at Grand Island.
As the late Jackie Gleason used to say, "a little traveling music please" as several subchannels or digital channels are moving to new locations. That means it is a good time to reset your digital converters.
Rewind TV is now carried by Channel 23.2, one of WNLO's subchannels. Rewind, which is owned by Nexstar, the owner of WIVB and WNLO, carries such classic television sitcoms from the 1980s and 1990s as "Murphy Brown," "The Drew Carey Show," "Growing Pains," "Wings," "Who's the Boss" and "Family Ties." Rewind replaces Bounce on 23.2.
According to one of my spies, Bounce moves to 7.2, a WKBW-TV subchannel that had carried LAFF. LAFF moved to ION's 51.4, which is owned by a subsidiary of the E.W. Scripps Company, which owns WKBW. Court TV has moved to ION's 51.2 from WIVB's 4.2.
The subchannel moves also appear to have changed what is being carried on Spectrum cable channels in the 1200s.