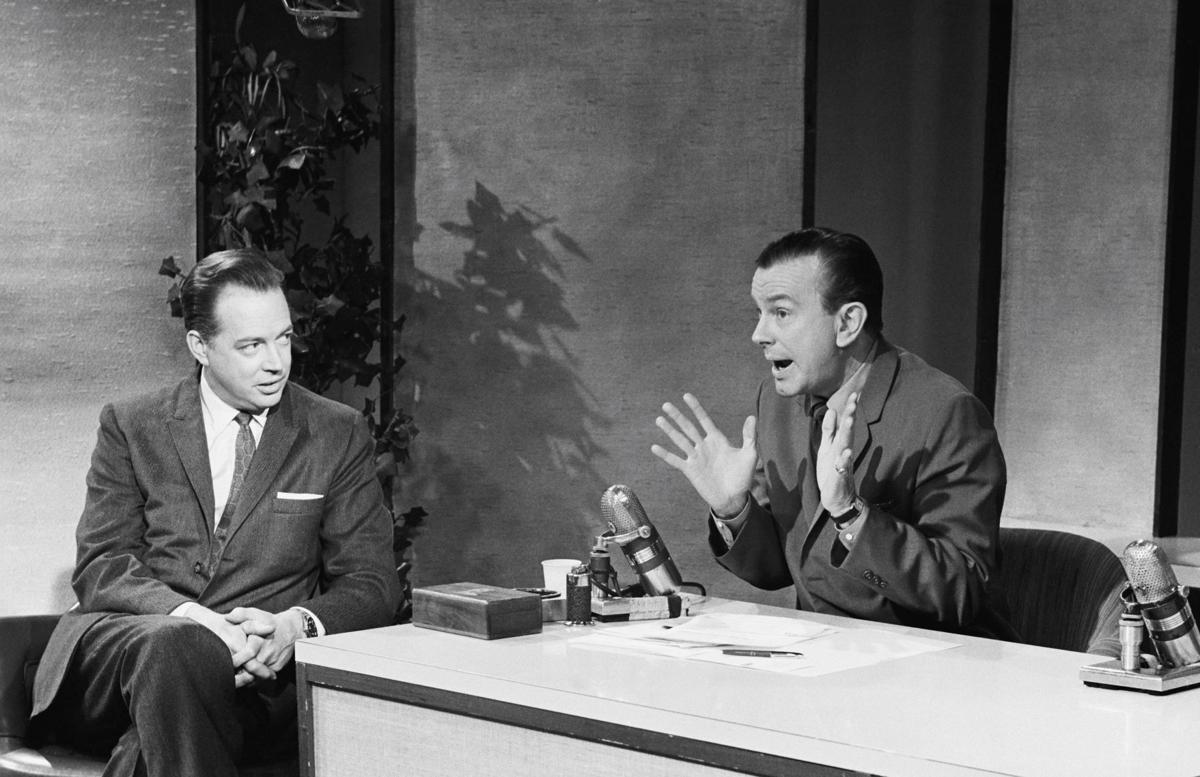 Come for the clips, stay for the history. "The Story of Late Night," premiering at 9 p.m. May 2 with the first of six episodes, is an exhaustive and wildly entertaining CNN series.
The series produced by a Canadian company illustrates what late-night host Conan O'Brien told a University at Buffalo audience 15 years ago: When it comes to knowing who or what will succeed in the entertainment business, "nobody really knows."
It was true starting in the 1950s when NBC realized how foolish it was to sign off at 11 p.m. with a test pattern when so much money could be made by keeping people up with a late-night show loaded with foolishness.
As the series shows, just about every late-night host from Steve Allen to Johnny Carson to Jack Paar to David Letterman to Jay Leno to O'Brien to Stephen Colbert stumbled at the start before finding their comfort range.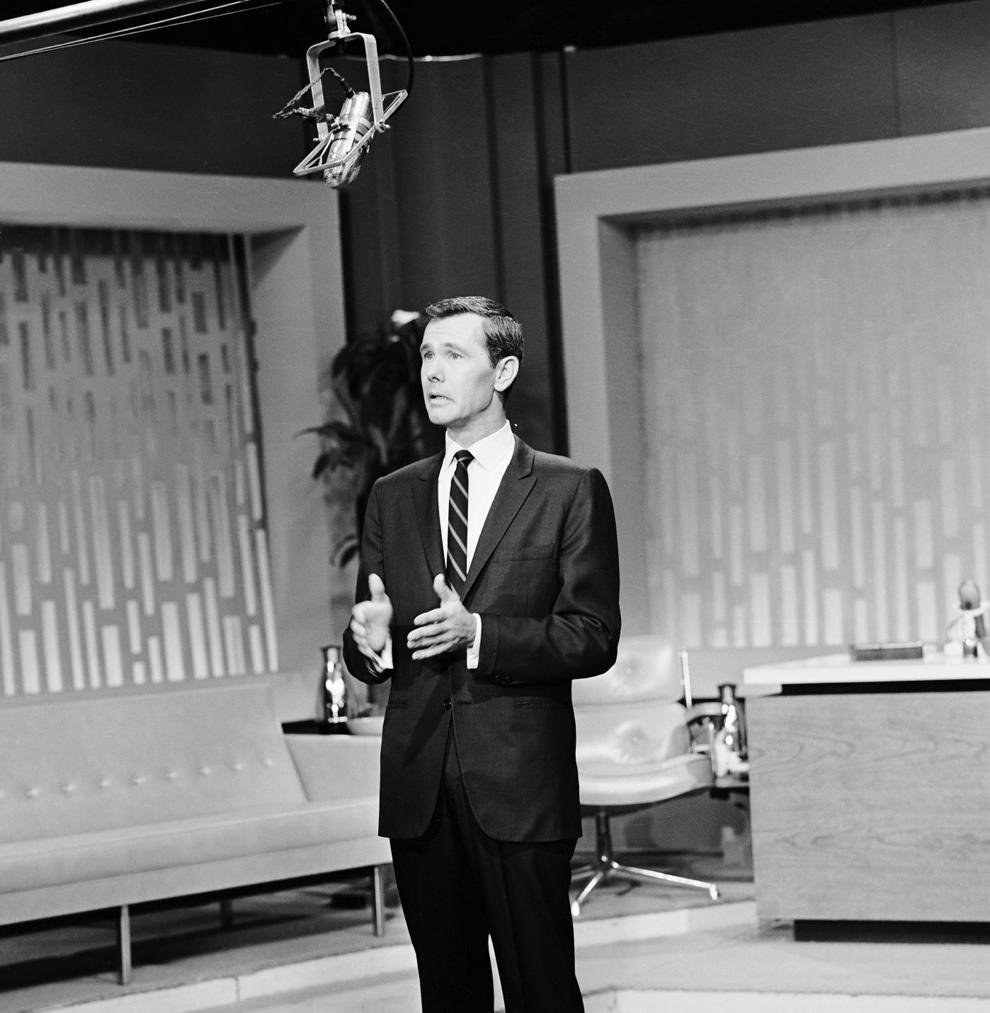 The first four episodes made available for review illustrate that several of the hosts have another thing in common – insecurity.
One big must-see TV moment could change their fortunes in gathering ratings or enhancing their reputations. That's where the classic clips come in. There is the memorable moment that Ed Ames threw a tomahawk that landed in the lower region of an outline of a man that led to Carson milk it before making a circumcision joke: "I didn't even know that you were Jewish."
"I think Johnny Carson became Johnny Carson in that moment," said veteran TV critic David Bianculli.
There was Letterman's memorable speech a few days after 9/11.
"It was the first time a monologue made you cry," said ABC late night host Jimmy Kimmel.
There was Hugh Grant's memorable appearance on "The Tonight Show" after being caught with a prostitute that led to Leno's memorable line: "What in hell were you thinking?"
And, of course, there is the memorable moment that future President Bill Clinton played the saxophone on Arsenio Hall's show.
But this show isn't just about the clips. It could easily be titled "The History of Late Night," with all the suspense, gossip and decisions on who would get to wear the "Tonight Show" crown coming to life in interviews with executives who made them.
Viewers will learn that Letterman saved Leno's career and O'Brien's show and that Carson never talked to Joan Rivers, his frequent guest host, again after she signed to compete with his show with a late-night show on Fox only after learning she wasn't on the short list to replace him.
If you think you know everything about late night from the two books and a HBO movie written by former New York Times TV reporter Bill Carter, you have another thought coming. Carter, one of the show's six executive producers, said in an email exchange that he learned "a ton" about late night in the series that was three years in the making.
He hadn't seen an Allen memo explaining he was a comedian and wouldn't be doing news, weather and sports on the original "Tonight" show.
He didn't know that Jack Paar called Dick Cavett to tell him leaving "The Tonight Show" was the biggest mistake of his life.
He was surprised when NBC executive Rick Ludwin talked openly about Letterman's "lack of cooperation" being why he voted for Leno to replace Carson.
Many of the about 100 people interviewed are comedians or comedy writers, so it isn't surprising that they deliver several quotable one-liners.
Jimmy Fallon, the current host of "The Tonight Show," said that growing up, "I thought Johnny Carson came with the TV set."
The influence that Allen's original unscripted show, which included man-on-the street interviews and a bit called "The Question Man," had on succeeding hosts is emphasized. Answer: "Buffalo Bill." Question: "When you buy a Buffalo, what do you get the first of the month?"
Carson's hesitancy taking a political side is explained, with the series noting that his liberal and progressive views were only promoted by his choice of guest hosts when he vacationed, most notably by Harry Belafonte.
The series makes clear that Carson "in a weird way" was responsible for the creation of "Saturday Night Live," a show he ended up disliking after it took shots at him.
It also shows the clip that Carter forgot or never saw in which Carson tells Letterman "you are my favorite." The series makes clear that was true of most comedians.
The influence that Letterman's former girlfriend, writer Merrill Markoe, had on his NBC and CBS shows is emphasized and verified by the fact the CBS show stopped winning writing Emmys after she departed. Markoe, one of several talented women who worked behind the scenes in late night, is one of the most quotable experts.
Carter told me the Covid-19 pandemic delayed the project by a year but there were some benefits.
"The delay also compelled us to do a lot of updating, accounting for how the shows were forced to adapt, with shows from hosts' homes and interviews on Zoom," he said. "We also found we needed to go much more in depth on how political the shows got with President Trump dominating every news cycle and driving them to righteous outrage. Also we were able to bring things up to date with the new hosts like Amber Ruffin and Desus and Mero. So that was the silver lining to the delay."
One negative is that Letterman, Leno and Jerry Seinfeld declined to give new interviews.
"I believe Dave considered it but is clearly not into talking much about that part of his life," wrote Carter. "Jay initially said yes but later backed away from participating … We were fortunate that there is so much interview material with them available."
Carter said Billy Crystal filled the Seinfeld role "beautifully" of a name guest who appeared on multiple shows.
"He started out in comedy with Dave and Jay, performed often on both their shows, and was clearly a great voice for that era in late night," wrote Carter.
He also wanted Seinfeld to be included in the segment about how important it was for the careers of comics to appear on Carson's show.
Ray Romano, Paul Reiser, George Lopez and Byron Allen speak to that, with Lopez saying appearing on Carson's show "was scarier" than being incarcerated.
By series end, it would be surprising if every viewer didn't agree with Conan's UB statement that "nobody really knows" what will work in show business.
If I know anything about television, it is that most viewers will thoroughly enjoy "The Story of Late Night."