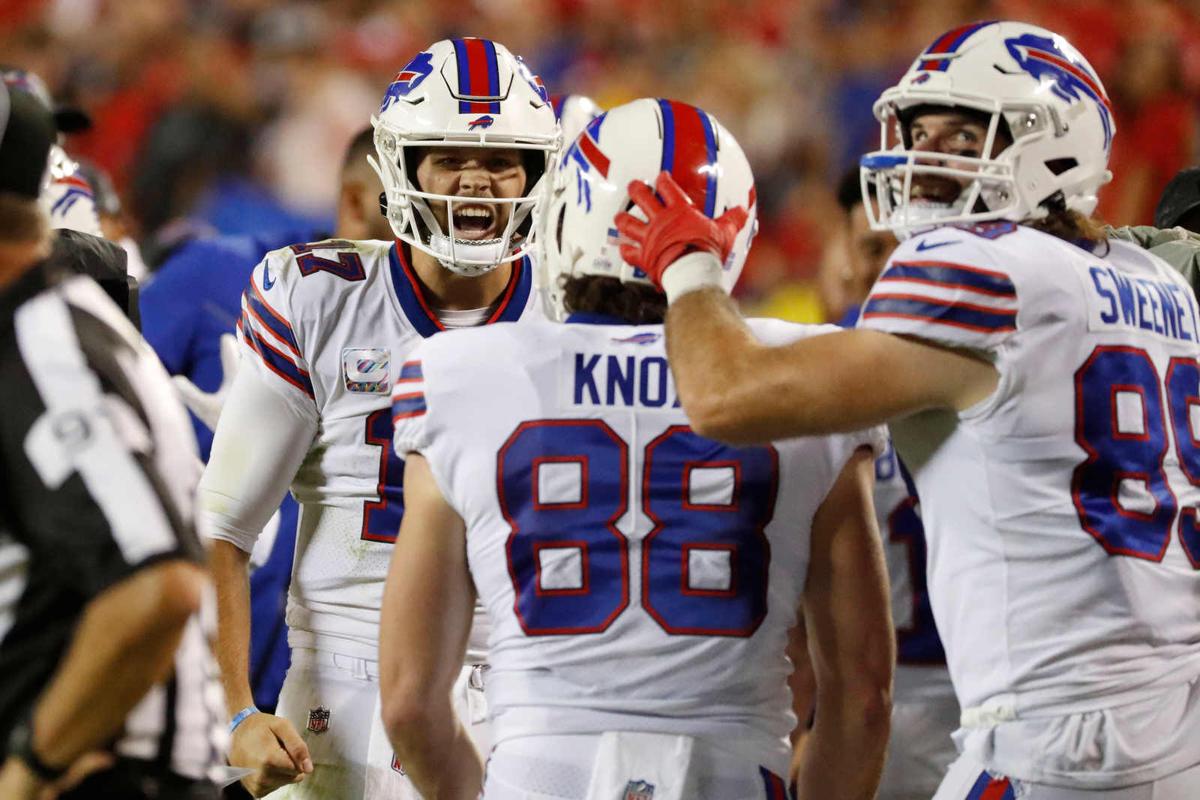 All over Western New York Sunday night and into Monday morning, NBC analyst Cris Collinsworth was making Buffalo Bills fans shout: What does he have against us?
But to use Collinsworth's words describing Bills defensive coordinator Leslie Frazier's strategy against Kansas City quarterback Patrick Mahomes, "patience, patience, patience."
By the end of the Bills' 38-20 victory over the Chiefs on "Sunday Night Football," patient Bills fans heard Collinsworth praise just about everyone connected to the team except whoever provided the players with peanut butter and jelly sandwiches during the lightning delay.
Coach Sean McDermott, Frazier, quarterback Josh Allen, receiver Emmanuel Sanders, tight end Dawson Knox, safety Micah Hyde, linebackers Tremaine Edmunds and A.J. Klein, nose tackle Star Lotulelei, General Manager Brandon Beane, nickel back Taron Johnson and ultimately the unsung heroes on the Bills offensive line were praised by Collinsworth. That should have proved to his critics that he wasn't anti-Bills.
In a sense, there were two Collinsworths working the game.
Collinsworth the referee exasperated Bills fans by not seeing all the controversial penalties – including a questionable roughing the passer call against Kansas City's Frank Clark and a questionable holding call against Bills center Mitch Morse – their way.
Collinsworth the analyst was exceptional explaining how Frazier decided to play Cover 2 defense to keep Chiefs speedster Tyreek Hill in check.
He also explained the Bills strategy of holding Kansas City tight end Travis Kelce because they saw the Chiefs' defenders get away with holding in two games against them last season.
And he noted the Bills decided to go with four linemen on their revamped defense and avoid blitzing Mahomes.
Alongside play-by-play legend Al Michaels, Collinsworth is in the company of CBS' Tony Romo as an analyst.
As a referee, he should have ceded the job of assessing calls to NBC officiating expert Terry McAulay, who was used far too little in a game loaded with questionable penalties on both teams.
Michaels was as sharp as ever, with a great excitement level on several big plays, notably when Bills defensive end Greg Rousseau tipped a Mahomes pass to himself for an interception and when Allen hurdled a Chiefs defender to get a key first down in the fourth quarter.
"Everybody in Buffalo just jumped through a table on that play," said Collinsworth.
Unfortunately, NBC's camera work gave a confusing initial look at Rousseau's play before a replay showed how incredible it was and led NBC to show high school footage of Rousseau playing wide receiver.
It would have been nice if after Allen's leap NBC had also found footage of Allen's hurdle over a Minnesota defender in his rookie season.
Overall, NBC's camera work was exceptional, especially on key replays that showed how the Bills' secondary shaded itself to protect against Hill's speed.
Michaels and Collinsworth looked differently at the importance of the Bills victory.
Late in the third quarter, Collinsworth said, "When we get to the end of this football season, we're going to look at this night and we're going to say this is a night a lot of things changed in the AFC."
By game's end, Michaels said: "Everybody is talking about a statement game. You make a statement one week and the next week you look terrible. For what it's worth, (the Bills were) pretty impressive tonight on every level."
Now on to more highs and lows of statements made in the game:
The Hammer and the Javelin: That's how Collinsworth described Allen's rocket throw to Knox for the TD that gave the Bills a 24-10 lead.
Misunderstood Statement: Collinsworth was hammered on social networks for explaining the danger of having Allen run after Chiefs linebacker Nick Bolton appeared to twist the quarterback's ankle on a tackle. Some people thought Collinsworth was praising Bolton when he was only explaining a common practice in the league.
Accurate Statement in Context: After a scrambling Allen took a huge loss and was called for grounding and put the Bills out of field goal range early in the game, Collinsworth said, "Josh has got to stop doing that." Of course, Allen has done that before in big games. However, he also makes big plays out of scrambles, including the touchdown to Knox. But those happen when he doesn't go back as far as he did on the play Collinsworth was referring to. You could even tell Allen was mad at himself and might have even been thinking, "I have to stop doing that."
Firing Line: Before halftime, Collinsworth noted that Chiefs coach Andy Reid fired McDermott as his defensive coordinator in Philadelphia. "He hired him and fired him, but they have great respect for each other," added Michaels.
Good Timing Award: Just as Collinsworth noted that Allen hadn't completed a pass to a wide receiver, the quarterback immediately hit big plays to Stefon Diggs and Sanders.
Weather Report: NBC repeatedly showed radar of the rain and lightning in Kansas City that delayed the game. It was more confusing than enlightening.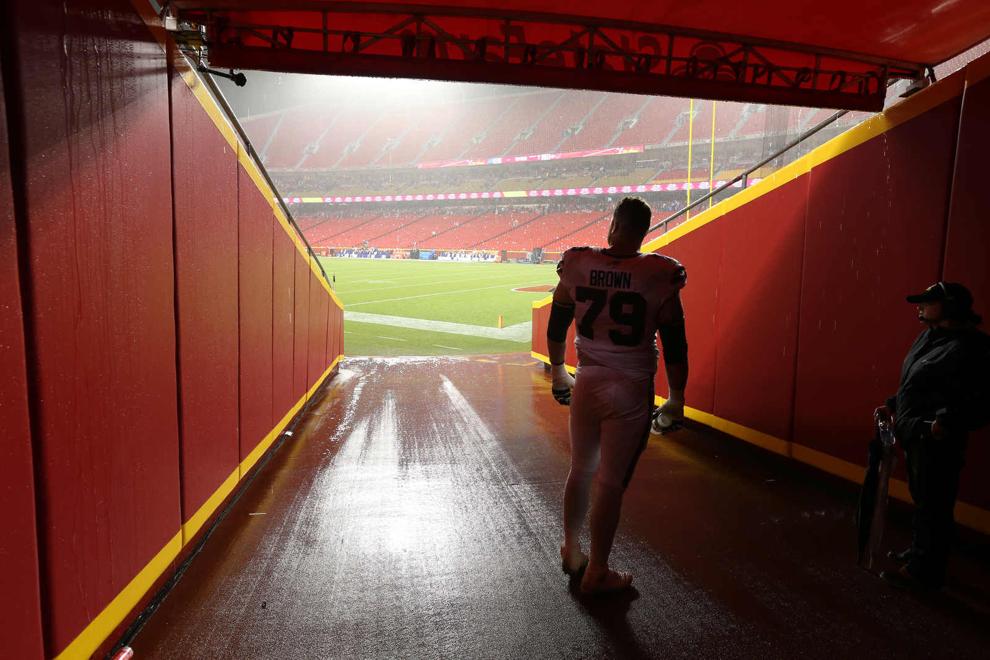 Slight Dig at Diggs: At one point, Michaels playfully said the Bills receiver "may not be the best guy in his family" in the NFL. His brother, Trevon Diggs, intercepted his fifth pass this season for the Dallas Cowboys Sunday.
Window Dressing: That's how Michaels referred to the Chiefs unique strategy of putting several players under center before Mahomes went back to play quarterback on the touchdown that gave the Chiefs a 10-7 lead. Collinsworth explained that no Chiefs player actually put his hand under center because doing so would prevent them from being a receiver. Who knew that rule?
MVP Talk: During a discussion led by Michaels on Allen's MVP candidacy, Collinsworth initially said the quarterback would be in the conversation. Then Sanders caught his second TD pass and Collinsworth amended that statement, "OK, he's the MVP." I don't think he was being serious and just knew it was a perfectly timed good line.
Song Choice: Going into one of the commercial breaks, the song "Buffalo Stance" by Neneh Cherry was played.
Flag Day: That's how Michaels referred to all the penalties in the game.
Saintly Bills? NBC ran a graphic with the title "The Only Saint of New York" noting something Bills fans constantly note, the Giants and Jets play in New Jersey. The forced title seemed to be a play on the new "Sopranos" sequel, "The Many Saints of Newark."
The Eight-Second Play: That's how long Mahomes had to throw at one point but the Bills secondary was so good he still couldn't find anyone open.
The Six-Second Play: That's how long Allen had to find Knox on the touchdown pass, which led Collinsworth to say that Chiefs' safety Daniel Sorensen left Knox because he thought Allen had to have thrown the pass by then. "When he gets on the edge and throws those rockets, it is something to behold," said Collinsworth of Allen. "But what a year for Dawson Knox."
No Debate: When Reid decided to go for it on a fourth down and 5 yards to go near midfield at the two-minute warning of the first half, Collinsworth's only reaction was, "It is the first time he has done that." Knox caught his touchdown pass soon after the Bills defense stopped the play.
Pregame Jitters: In an excellent pregame piece by Maria Taylor that undoubtedly made Allen more national fans, the quarterback said he would want actor Chris Pratt to play him in a movie. Taylor hilariously confused Pratt with Chris Evans, also known as Captain America. Allen gently called her out on it and NBC kept Taylor's mistake in the piece. Allen almost looked as relaxed in the game as he did in that feature. By the way, one of the movies that Pratt has appeared in was fittingly called "Avengers."
Sleepy Knox: For the second game in a row, Knox was called "sleepy." This time, it was by pregame analyst Rodney Harrison.
Man Oh Man: That was Michaels' description of Allen's touchdown run to give the Bills a 7-3 lead.
The Voice: Michaels said Hill said upon first hearing Mahomes, "I can't understand this guy." Collinsworth responded: "He has one of those unique voices."
The Stunner: After the pick six by Hyde gave the Bills a 31-13 lead, Collinsworth said: "This night is a stunner. Mahomes is struggling to throw the ball, Hill is struggling to catch it and Kelce can't get off the line of scrimmage. It looks like we have a formula."
No Fluke: After Michaels noted the Bills defense had shut out Miami and Houston and Collinsworth said they wondered if it was a fluke because the Bills had played against three backup quarterbacks, the analyst added, "they are playing just as well if not better" against Kansas City.
The Highlight Reel: After Allen hurdled for a first down with under 10 minutes left in the game, Collinsworth referred to it as a "highlight reel" play after the season. "You know who will run that play?" cracked Michaels. "(Olympic hurdler) Edwin Moses."
The Power Shift: At game's end, Collinsworth noted the Bills can match points with the Chiefs and have a better defense and added, "I think we just had a little power shift."
Symbolic Image: As Knox headed to the end zone on the touchdown from a scrambling Allen to give the Bills a 24-10 lead, the replay caught a dejected Kansas City safety Tyrann Mathieu putting his hands on his helmet. It was as classic a shot as the one in which Diggs stayed on the field after Kansas City won the AFC title a year ago. More than any camera shot or anything Collinsworth said, the image symbolized the possible power shift.