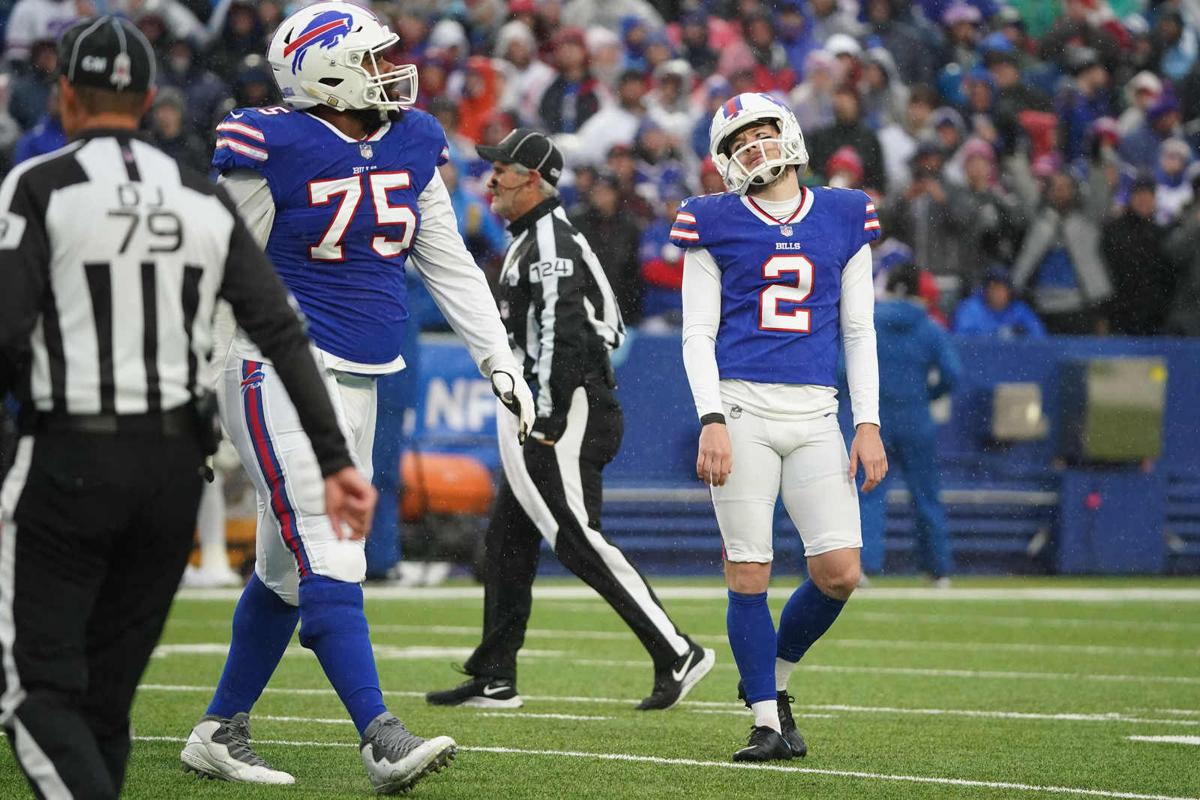 It could have been worse for Buffalo Bills fans.
At least one of CBS' more excitable play-by-play announcers, Kevin Harlan, provided some entertainment calling the Bills' 41-15 embarrassing loss Sunday to the Indianapolis Colts.
The only way for Bills fans to survive Sunday's debacle was to try and appreciate Harlan's calls on big plays – even if almost all of them were made by the Colts.
The Colts were led by what Harlan termed the "historic" play of "dynamic" running back Jonathan Taylor. "It is a performance for the ages," said Harlan.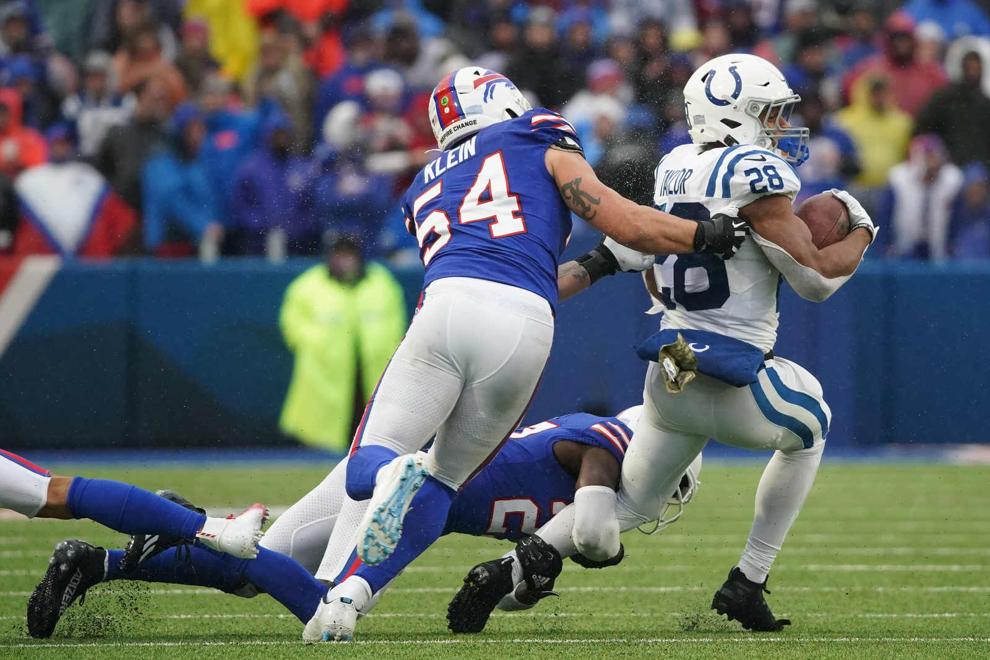 Who could argue after Taylor ran all over the Bills for 185 of the Colts' 264 yards rushing and made it unnecessary for Colts quarterback Carson Wentz to do much?
Even Buffalo fans grudgingly must admit it is easy to love Harlan's enthusiasm even if it hurts when it is at the expense of the Bills.
Each of Harlan's calls on Taylor's five touchdowns had a great excitement level, which almost assuredly was much more appreciated in Indianapolis than in Buffalo.
His best calls were Taylor's 40-yard run after "a deceptive move" in which he "was caroming off bodies" that was followed by his 10-yard touchdown "where he slides off the slick surface for six points." The fourth of his five touchdowns gave the Colts a 31-7 lead.
"He is incredible," said Harlan. "Wow."
Harlan also had exciting calls on Bills quarterback Josh Allen's first touchdown pass to Stefon Diggs and on a 28-yard run by the Bills' underused back Matt Breida.
If anything, Harlan and analyst Trent Green were softer in their criticism of the Bills than the fans booing in Highmark Stadium.
The announcers explained the Colts' offensive line was dominating the Bills' defensive line, which was obvious. But it would have been helpful if they explained which Bills defenders were being overpowered. The only thing that was clear was that Ed Oliver and Jerry Hughes appeared to be the only Bills linemen making plays.
Harlan and Green noted that Bills nose tackle Star Lotulelei and offensive tackle Spencer Brown were on the Covid-19 reserve list and missed the game. More replays were needed to show how their replacements were playing.
Green was sharp explaining the play designs of the Colts' running game, using overhead replays.
He understandably criticized Allen for some inaccurate and poor throws, notably his first interception when he stared down receiver Gabriel Davis and didn't see the safety coming over to intercept. But he also provided Allen with excuses because of the rain and wind, areas that Allen's arm strength is supposed to overcome.
He also let Bills coach Sean McDermott off the hook when he decided to have Tyler Bass try a 49-yard field goal in the rain down 17 points rather than go for it on a fourth down and 5 yards to go. Green may have been the only one in the stadium who didn't have an opinion about the decision.
After the kick failed, Harlan came up with one of his classic one-liners: "Today, (Bass) got a taste of Western New York weather." Of course, he's had a taste before.
Near game's end, Green gently concluded of the Bills: "Sometimes, it is just not your day."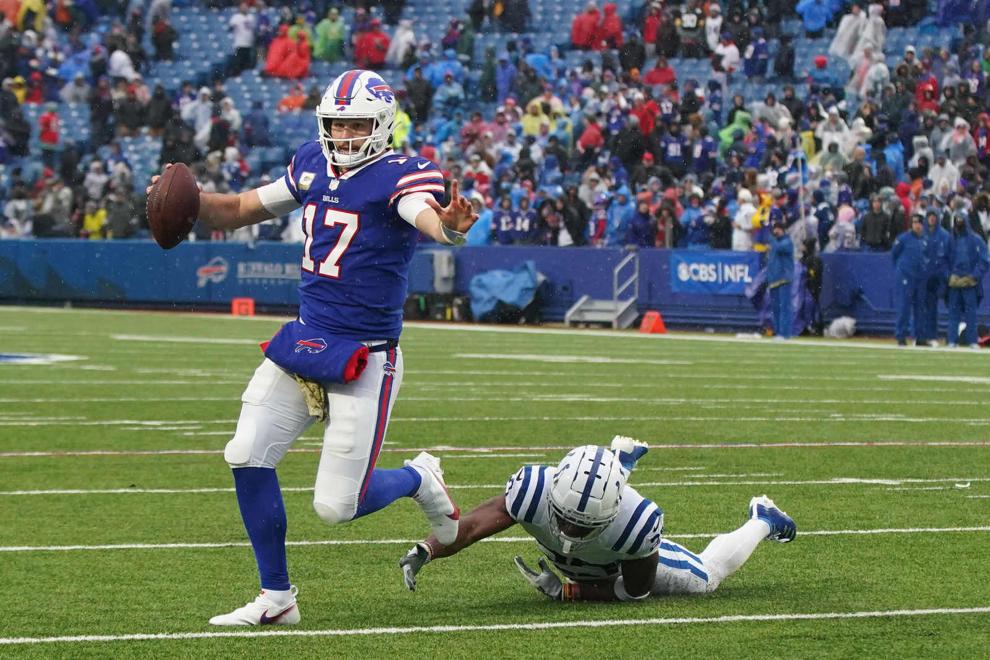 Of course, Buffalo fans thought this was supposed to be the Bills season. They got another taste of NFL reality on Sunday.
Now more highs and lows of the broadcast.
Pregame Report: During "The NFL Today," studio analysts Phil Simms and Boomer Esiason had the opportunity to change their preseason predictions. They both stuck with the Bills making the Super Bowl. Before kickoff, when Harlan mentioned Allen was a leading MVP candidate, Green said he wouldn't argue with that take. He might have changed his mind by game's end.
Weather Report: Harlan wasn't advocating for a new domed stadium or speaking of the Bills offense and defense when he noted that "Highmark Stadium is a mess." He was referring to the rain and wind.
Best Costume: Several fans in the stands wore green slime hats that apparently were designed to attract the CBS cameras. It worked. CBS focused on them for a promo for a Nickelodeon program.
False Optimism: At one point, Harlan thought the Bills might have recovered a fumble by the Colts' Nyheim Hines. There wasn't any visible evidence to believe that.
The Master: When trying to predict whether the Colts achieved a first down on a third down run, Harlan cleverly noted that former Bill and former NBC and ESPN broadcaster Paul Maguire "was a master" at seeing that from a distance.
Clipping Explained: When the officials mistakenly moved the chains before deciding a measurement was needed, CBS officiating expert Gene Steratore gave a somewhat confusing explanation about two red clips being placed at the start and finish of 10 yards just in case something like that happens. Who knew?
The Escape Hatch: It is hard to pinpoint one or two key plays in a 26-point Bills loss, but one probably was when Wentz was surrounded by several Bills on a third down and was able to get away and run for 18 yards and a first down. "He found the escape hatch," Harlan said cleverly.
100 Percent Timing: That's what Green called Allen's first touchdown to Diggs when the quarterback threw the ball before Diggs was looking for it.
The Gut Punch: That's how Green described the holding penalty against Bills nickel back Taron Johnson that negated an Oliver sack that would have ended a Colts drive. The Bills received plenty of gut punches.
Not so Odd: Harlan noted that "if the Bills lose, they will trail New England, which is so odd to think about." Not so odd if you've been watching New England and the Bills lately.
Yes, That's How You Win: At the start of the second half, Harlan noted the Colts were ahead 24-7 because they committed "no turnovers, no sacks allowed and no penalties."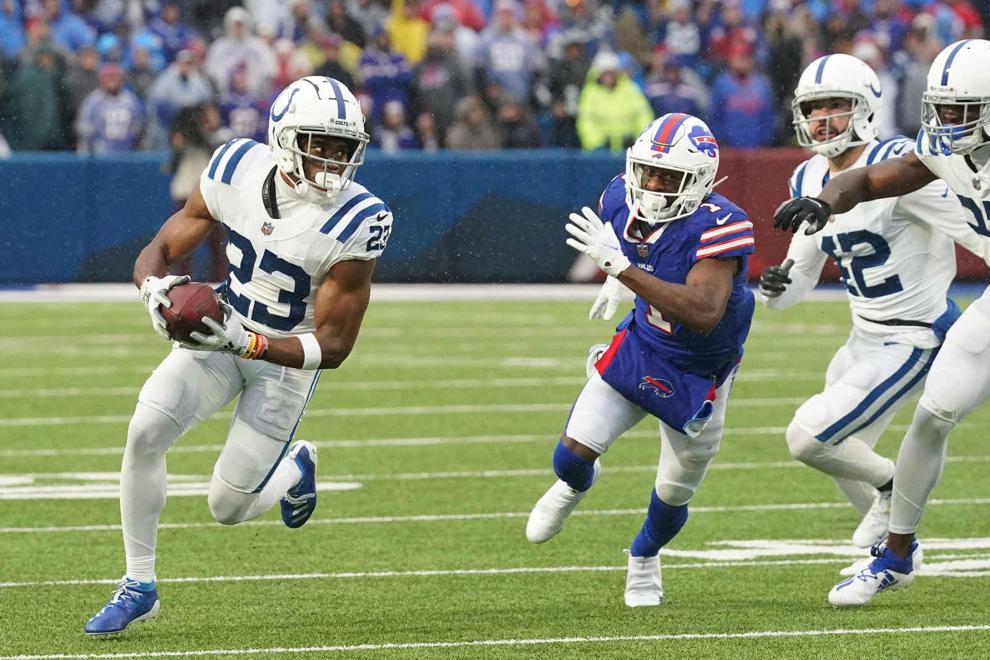 The Process: Colts coach Frank Reich thinks the way McDermott thinks. Near game's end, Harlan noted that Reich told the announcers, "I stick to a process. I don't waiver from what I feel is right. That process is serving me well and my teams well."
Billieve It: Midway through the third quarter, Harlan said, "I can't believe I'm saying this" when Allen was 0 for 5 passing.
Ah, Canada: Who didn't love the short viral video posted on social media a few days earlier when Allen dressed and talked like a Canadian in welcoming our neighbors to the north back into the stadium. After Sunday's mess, they might decide never to return.
Best Official: Green was sharp to note that Bills returner Isaiah McKenzie's fumble after slipping was going to be ruled a fumble because he was never touched after he slipped. Green also correctly noted that a Colts interception would be overturned because the ball hit the ground. CBS went to commercial before it was overturned, sending viewers to Twitter to get a ruling before CBS returned from commercial.
Illegal Touching: Green didn't seem to agree with a roughing the passer penalty against the Bills' Efe Obada for a slight shove of Wentz. "I don't know Kevin," said Green. He knew it was a bad call but didn't want to say it. Harlan then referred to a terrible roughing call they witnessed a week early when an interception of Tennessee quarterback Ryan Tannehill was negated by a similar weak call.
A Little Jiggly: Harlan had some fun when Bills guard Cody Ford was called for a false start, noting that he was "a little jiggly." Allen didn't find it funny. He seemed more than a little frustrated because the penalty negated what looked like was going to be a first down quarterback run.
On Wisconsin: Green noted that Taylor was used to playing in lousy weather because he played his collegiate career at Wisconsin.
Stat of the Day: You can throw out all the statistics about the Bills being the league's No. 1 defense. The most important statistic tossed out by CBS Sunday was the Bills had been a +14 in turnovers going into the game and had four turnovers to end +10. Meanwhile, the Colts, who didn't have any turnovers Sunday, are now +15.
The Reich Stuff: A video clip of Reich posted by the Colts public relations team celebrating the victory in the locker room showed how motivated Indy was to give payback to the Bills for defeating them in the playoffs last season.
"Nightmare Alley": What Bills fan wasn't looking for the escape hatch to turn the game off in the third quarter to watch a good movie? That was about the time a commercial for the Guillermo del Toro film partially shot in Buffalo, "Nightmare Alley," arrived. It is premiering in theaters Dec. 17, by which time Bills fans hope the team will make everyone forget Sunday's nightmare narrated by Harlan.