Take heart, Buffalo Bills fans. Better announcing days are ahead.
If you were less than thrilled that CBS sent along one of its lower tiered teams, play-by-play announcer Spero Dedes and analyst Jay Feely, to cover the Bills' 45-17 victory over the New York Jets Sunday, be assured help is on the way.
CBS play-by-play announcer Kevin Harlan, who has no equals in his excitement level, is working the Bills home game with the Indianapolis Colts at 1 p.m. Sunday with analyst Trent Green.
In defense of Dedes and Feely, even Harlan could have had difficulty making Sunday's second-half domination of the Jets and their one-hit wonder quarterback Mike White exciting.
At least Dedes and Feely didn't distract from the enjoyment of a lifeless game.
However, as coaches are apt to say, Dedes and Feely left some plays out on the field.
They could have mentioned that all the members of the Bills secondary – Tre' Davious White, Levi Wallace, Jordan Poyer, Taron Johnson and Micah Hyde – had a takeaway.
And they could have had as much fun with Bills cornerback White intercepting Jets quarterback White as everyone had a week earlier when Jacksonville's Josh Allen had a day against Bills quarterback Josh Allen in a shocking 9-6 Bills loss.
Dedes had a good excitement level on the big plays of the game, but there also were long, inevitable dry spells in a game that may have made Bills fans happy to be bored.
Feely had several good moments, most notably when he suggested Allen go back to receiver Stefon Diggs with the same touchdown play that was overruled because Diggs didn't get his second foot down. Allen did just that, hitting Diggs for the 12-yard touchdown that gave the Bills a 17-3 lead and control of the game.
Feely also seemed to channel the thinking of Allen and offensive coordinator Brian Daboll when he suggested the quarterback could throw to Diggs on every down because the Jets didn't have anyone who could stay with him.
My biggest complaint about Feely is he hasn't learned that silence is a good thing on occasion, especially if you have a voice as grating as the former field goal kicker's voice can be. He often delivered commentary that was as painfully obvious as Mike White was in over his head.
During the game, I was asked on Twitter why the Bills often get second-tier announcers to call their games. It can have something to do with the Buffalo market size, though that wasn't the case against the Jets, who play in the large New York-New Jersey market.
On Sunday, it was more about the Jets' 2-6 record and lack of star power.
The good news is that Bills fans are about to get to hear the No. 1 teams on NBC, ESPN and CBS.
The Thanksgiving game with New Orleans is on NBC in prime time, with Mike Tirico on play-by-play and former Saints quarterback Drew Brees as analyst instead of Cris Collinsworth, the announcer Bills fans love to hate.
That is followed by a Dec. 6 home date with the resurgent New England Patriot on ESPN's "Monday Night Football" called by play-by-play announcer Steve Levy and analysts Brian Griese and Louis Riddick. Peyton Manning and Eli Manning are also expected to do their alternative Manning Cast on ESPN 2.
Then comes a late 4:25 p.m. game Dec. 12 with Tampa Bay and Tom Brady to be called by CBS' top team of play-by-play announcer Jim Nantz and analyst Tony Romo.
In other words, it will be at least a month before Bills fans may have to hear from a lower tier announcing team.
Now on to some highs and lows of Sunday's broadcast:
Confidence Warranted: Before the game, Feely said he had "complete confidence" that Allen would rebound from his performance against the Jacksonville Jaguars.
The Curt Gowdy Award: After a play by Bills rookie defensive end Gregory Rousseau, Dedes said, "what a future this kid has in front of him." That's presumably as opposed to a future behind him. Gowdy was known for the classic line, "The future is ahead of them."
For Real? Feely said before the game that Jets fans will find out if White is "for real" against the Bills defense. He wasn't. Bills fans likely were comparing White's performance to that of the disastrous first start of former Bills quarterback Nathan Peterman.
Game Show Time: With both Allen and backup quarterback Davis Webb having their helmets on with about 12 minutes left in the Bills blowout, Dedes played the game, "Who do you think is going to be the Bills quarterback?" Feely spoke for almost all Bills fans fearing an Allen injury. "I would have no problem pulling Josh Allen," he said. Coach Sean McDermott surprisingly stuck with Allen until the two-minute warning before putting in Webb.
Ouch: With the Jets quarterback situation unsettled, the announcers noted they could have drafted Allen or Lamar Jackson in 2018 instead of Sam Darnold.
Hyperbole Time: Before the game, Feely said, "I think this is a season-defining game for the Buffalo Bills." It was – until the games with the Colts, Saints, Patriots and Buccaneers. Feely makes a lot of big statements. He also said the Bills "need to put this Jets team away early." They didn't put them away until early in the second half.
Breida Time: With Bills back Matt Breida catching a 15-yard touchdown pass and running 15 yards for another touchdown, Feely said the back who was inactive for six games gives the Bills a new dynamic and deserves more playing time. Shortly after he said it, a Breida fumble caused Feely to reassess. He said the fumble could negate some of the positives. Nah. Fumbles happen. Devin Singletary fumbled too before recovering it.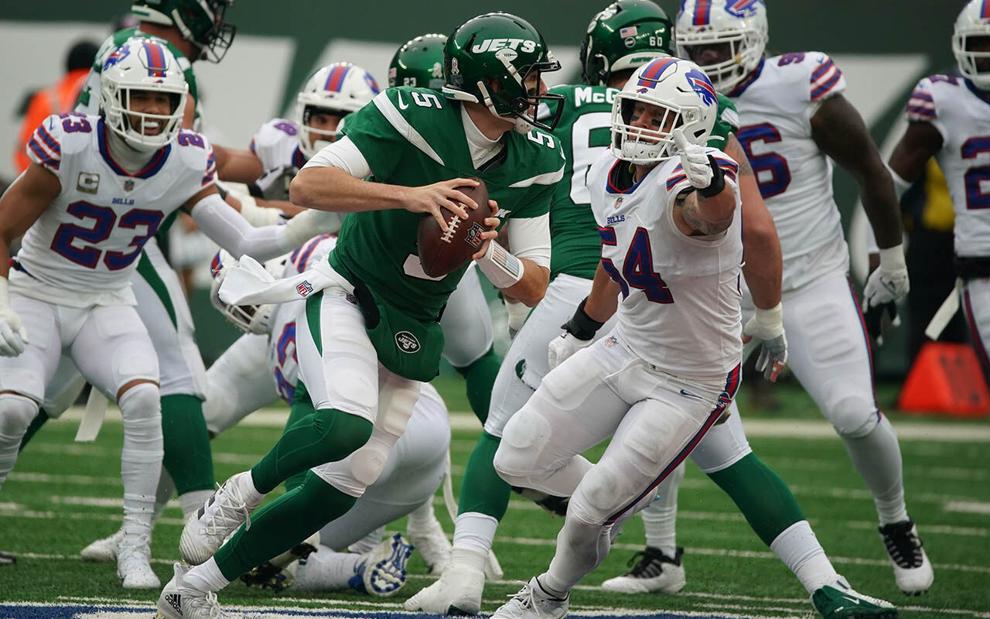 Officiating Report: CBS officiating expert Gene Steratore was right as usual when he said a Mike White fumble would be overruled and called an incomplete pass because his throwing arm was slightly moving forward. But he was wrong in thinking a Jet sideline reception called incomplete on a fourth-down play was a catch. It is too bad he wasn't asked to weigh in on a holding call by Bills tackle Dion Dawkins that negated an Allen first-down run. It might have been a pancake block that only looked like holding.
Camera Issue: Feely noted that Allen was "obviously frustrated" when he took his helmet off after the series in which Dawkins was called for holding. It would have been preferable for the camera to stay on Allen longer to assess his frustration level.
History Is Made: Dedes noted that Webb was taking his first snaps of the year. Actually, they were his first snaps of his career, despite being on the Giants and Jets rosters previously.
Rex Love: Feely, who was the Jets kicker when Rex Ryan was the coach, noted how much fun it was to play for him because you never knew what he was going to do. That might have gone over much better in New York than in Buffalo, where Ryan proved to be a better entertainer than a coach. Ryan's firing led to the hiring of McDermott, who isn't as funny but is a better coach.
Statistical Impossibility: Allen, who threw for 366 yards, understandably got a lot of love. Some of it was excessive. Early in the game, Dedes said Allen was 12 for 10 passing, an impossibility.
Participation Trophy: After the Jets scored to cut the lead to 38-10, Dedes said "that will make them feel a little better about themselves." Uh, no. This isn't Pop Warner.
Phantom Flag: At one point, Dedes thought he saw a flag before Feely explained it was something else yellow on the field. With some of the 16 penalties called suspect, who could blame Dedes for thinking he saw an extra one?
NFL Stands for Not for Long: With the Bills only ahead 10-3 in the final two minutes of the first half, Dedes said "the biggest surprise so far is the Jets defense." It didn't hold.
Misdirection: Dedes did a better job seeing a misdirection play than I did when the Bills' Isaiah McKenzie scored on an 8-yard end around after a great fake by Allen to give the Bills a 24-3 lead.
Whiteout: By the time the Bills were ahead 35-3 and Mike White had thrown three of his four interceptions, Dedes said: "All the Mike White talk is going to subside quickly after this." He later called it a "nightmare" day for White, who after a great game against Cincinnati had taken New York "by storm."
Lookout Block: Feely blamed Allen for not seeing an unblocked blitzer before a sack. But then the analyst made his own eyesight error. He said the sack was by Ashtyn Davis; it was by Jarrod Wilson, as Dedes said.
Buffalove: Too many Bills to name were rightly praised by the announcers. And near game's end, Feely undoubtedly delighted some Buffalo fans when he said he believes the Bills are the favorites to win the AFC.
The Statue: Dedes suggested that Buffalo may erect a statue for McDermott just for ending the Bills' 17-year playoff drought in his first year coaching the team. It may take a Super Bowl victory for that to happen. And if it happens, Allen likely would get one alongside him. As Curt Gowdy would say, the Bills' future is ahead of them.