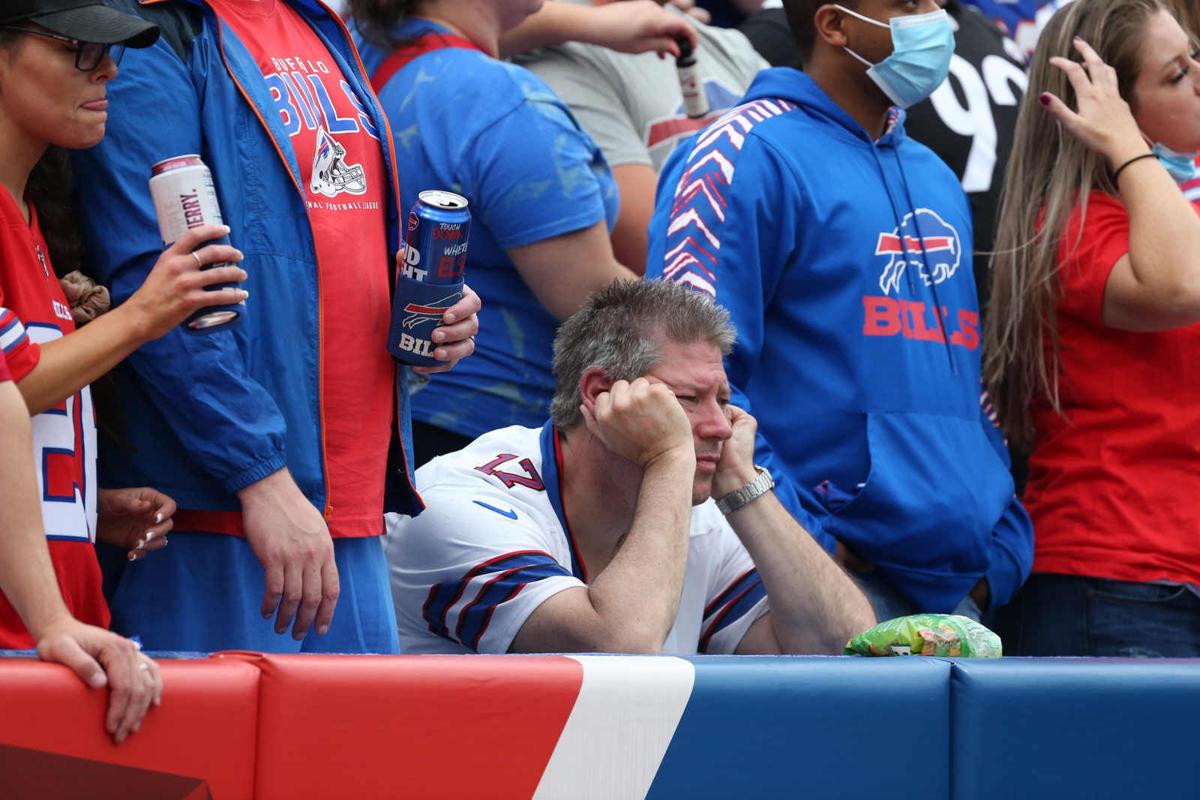 With more than two minutes left in the Buffalo Bills' 23-16 season opening loss to the Pittsburgh Steelers, CBS cameras focused on the Bills fans exiting Highmark Stadium in droves.
"Bills fans were so excited to enter the gates … now a number are exiting," said CBS play-by-play announcer Ian Eagle.
It could have been worse. Bills fans might have had to watch the game twice as I did after attending my annual game with my older son from out of town and then rewatching it on DVR.
They would have heard CBS analyst Charles Davis repeatedly praise the leadership of Pittsburgh quarterback Ben Roethlisberger and the play designs of Steeler offensive coordinator Matt Canada at the oddest times.
Davis joined Eagle last season on CBS' No. 2 team, behind only the team of Jim Nantz and Tony Romo, so a lot is expected of him. I expected more.
He has a pleasant TV personality, clearly studies the players and noted how key the revamped Steeler offensive line starting two rookies was going to be.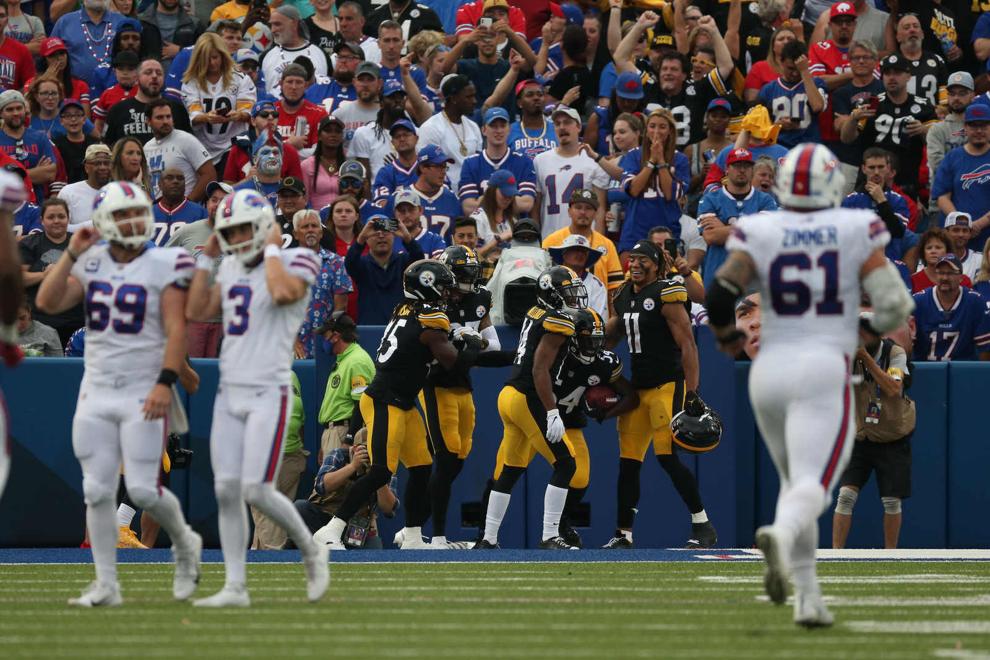 But I prefer analysts who are more critical, especially on a day that a team many predict will make the Super Bowl and a quarterback in Josh Allen who is getting MVP love showed 55% of the country that they might be overrated.
The Bills, their coaching staff and the officials gave plenty of opportunities for criticism, but Davis was generally supportive of the controversial plays in the game when he had an opinion at all. He also was generally soft on criticizing Allen except for noting his "accuracy isn't there" at times.
Davis was at his best noting that the Steelers were content with rushing four linemen and playing multiple defensive backs "all over the place" because the Bills weren't committing to the run and were relying on their passing attack.
Eagle is another in the line of the strong play-by-play announcers to come out of the Syracuse University broadcasting factory. He has a great enthusiasm level on big plays and doesn't shy away from an occasional opinion. And he was the one that noted one official would have let go a key pass interference call against the Bills' Levi Wallace after another official called it. Davis defended the call, saying it wouldn't have been called if Wallace had turned his head around.
Eagle also was the one who noted that the so-called experts seem to have forgotten the Steelers won the AFC North, had the No. 3 defense and led the league in sacks last season. He added that they weren't given a "whole lot of attention when other teams were getting the spotlight."
He could have been referring to the Bills and the Green Bay Packers, another trendy Super Bowl pick who lost their opener to the New Orleans Saints, 38-3.
Occasionally, CBS' camera work got too cute, as it did when it showed a replay in a double box when a long completion from Allen to receiver Gabriel Davis was happening live.
The game was a reminder for Bills fans that one missed touchdown pass, one key penalty, one turnover can be the difference between winning and losing in a league when the talent level of teams is so close.
Now on to more highs and lows of the telecast:
Let's Go Orange: The most entertaining moment in the broadcast came when Davis briefly misidentified Bills lineman Mario Addison after a strip sack as Rafael Addison, who scored 1,876 points for Syracuse's basketball team in the 1980s. "Syracuse basketball fans are thrilled by the way," said Eagle. "If I go Leo Rautins, time to take me out," replied Davis. "Tony (Red) Bruin in the next series," continued Eagle. Bruin also played in the 1980s.
Dr. Davis: After Bills punt returner Isaiah McKenzie appeared to be in pain after calling for a fair catch, Davis smartly noted that any motion can cause a shoulder to pop if there is an existing shoulder injury. McKenzie, of course, injured a shoulder in a preseason game.
Questionable Call: After a Roethlisberger interception by Tre'Davious White was nullified because of a penalty on White, Davis speculated that the Steeler quarterback only threw the pass because he knew there was a penalty. Maybe he did, but there was no evidence of that. The penalty against White was widely viewed as questionable,  but Davis offered no opinion. "He threw it because he knew," said Davis of Roethlisberger. "When you are in the league 18 years you know things," said Eagle. Actually, Allen threw a pass earlier when he saw Pittsburgh had 12 men on the field so it doesn't take 18 years to learn. Davis also picked an odd time to praise Big Ben's leadership – after the blocked punt that led to a Steeler touchdown. The quarterback had nothing to do with that. And after Big Ben lumbered for a long gain, Davis called it another sign of "true leadership."
Where is Steratore? There were so many close calls, especially on penalties like White's that you wished that CBS' officiating expert Gene Steratore was around to weigh in.
Regrets, I'm Sure Allen Has a Few: The announcers had some fun with the well-documented play list of Frank Sinatra, Sammy Davis Jr. and Elvis that Allen listens to calm himself down before games. "He is 25 and has a play list of a 75-year-old," said Eagle.
Oh, Canada: Davis kept praising all the motion and shifts in Canada's offense in the first half, which was odd because Pittsburgh had 56 yards of offense in the half.
Bad Timing Award: With the Bills down 20-13, Eagle talked about "the unbridled joy" of Bills fans being back in the stadium. At the time, Bills fans were having unbridled anxiety.
Overcooked: That's how Davis described Allen's misfire to Emmanuel Sanders on what looked like a sure touchdown. "Josh Allen is really pumped up on that throw," said Davis.
The Box Count: Davis noted that Bills offensive coordinator Brian Daboll isn't a fan of the box count, which he referred to as counting the number of defensive players in the box to determine if a team should run or pass. Daboll prefers passing anyway, said Davis.
Resume Still Incomplete: After Bills linebacker Tremaine Edmunds was unable to come up with an interception on a tipped ball, Davis said coming up with big plays is one of the big things missing from Edmunds' resume. He wasn't the only one who missed a chance for a big play.
The Crowd: I can confirm what Roethlisberger said in the postgame – it was very loud. As Eagle noted, "This is something Ben didn't have to deal with last year" when there were no fans in the stadium.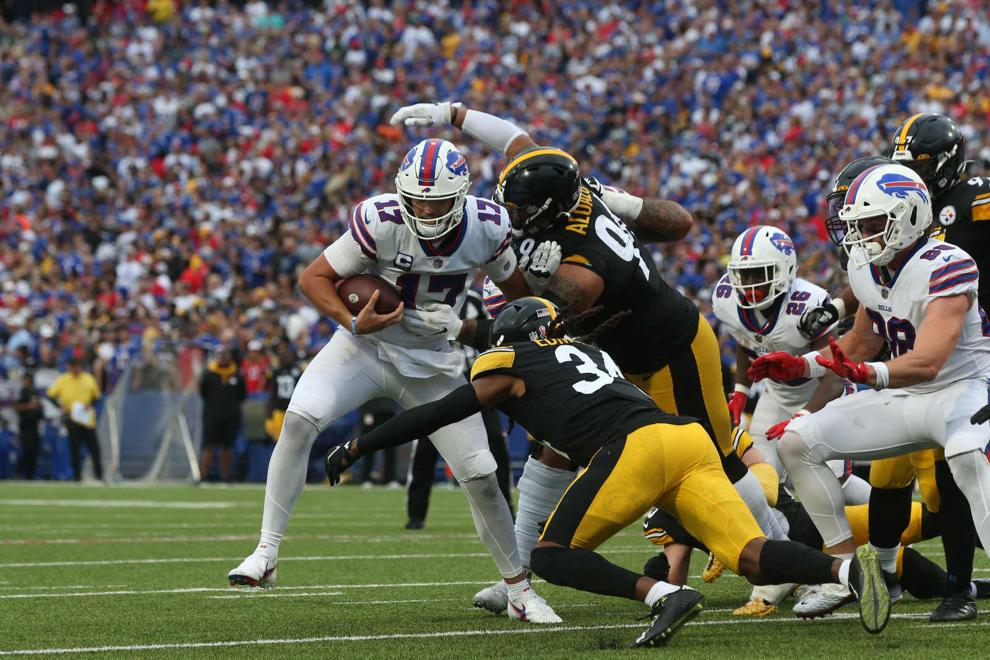 Understatement of the Game: After one of the key plays by Steeler lineman T.J. Watt, Davis noted Watt "didn't feel like he played very well against (Bills tackle) Daryl Williams last year." Well, he didn't record a sack last year.
Best Segue: After the obligatory shot of Niagara Falls coming out of a commercial, Eagle said, "the Pittsburgh (pass) rush can feel like Niagara Falls."
Confusing Sack: The announcers were as confused as fans in the stands when Roethlisberger was ruled sacked before a possible grounding call. Eagle eventually explained it went down as a sack.
Where's the Handshake? After explaining the bond that Bills coach Sean McDermott and Steelers coach Mike Tomlin had playing at William & Mary under Coach Jimmye Laycock, CBS never showed the post-game handshake between the two coaches.
No Problem: After an Allen incompletion on a fourth and eight from the Steelers 36, Davis said he had "no problem" going for it "considering where they were on the field." I would have preferred he said it BEFORE the play. Davis didn't even weigh in on the Steelers' deciding to kick a field goal on a fourth and goal from the 1 or 2 yard line to cut the Bills lead to 10-6.
Self-Praise: After a Diontae Johnson touchdown reception, Davis reminded viewers that he said Roethlisberger would go back to the drop-prone receiver after a dropped pass. What quarterback wouldn't go back to a receiver?
Gargantuan Stop: After the Bills' gadget play on a fourth and 1 failed, Eagle called it a "gargantuan stop for the Steelers." Before the play, Davis said the Bills had to go for it. After a commercial, Davis wasn't critical of the play call but noted that the Bills "were trying to get cute and hit a big play" because everything in the formation – including an extra tackle and an extra tight end – suggested they would run.
The Block: Big Ben had nothing to do with the blocked punt that gave the Steelers a 20-10 lead, but special teams coach Danny Smith did. He was a Bills coach under head coach Gregg Williams 20 years ago.
Best Dressed Award: Eagle noted that Roethlisberger came to the CBS production meeting "in a nicely tailored suit" and said he wore one for the first time in two years. "Dapper," said Davis.
Piling On: Near game's end, CBS showed footage of the Bills last regular season loss, which meant Bills fans had to endure the "Hail Murray" pass by Arizona quarterback Kyler Murray that beat Buffalo. It has become a newer painful version of the Scott Norwood missed field goal in the Super Bowl.
"That's Life" in the NFL: In keeping with the Sinatra theme and paraphrasing one of his famous songs, the Bills were riding high in August and shot down in early September. But they still have "High Hopes" even if their fans "Couldn't Sleep a Wink Last Night" after a super letdown.