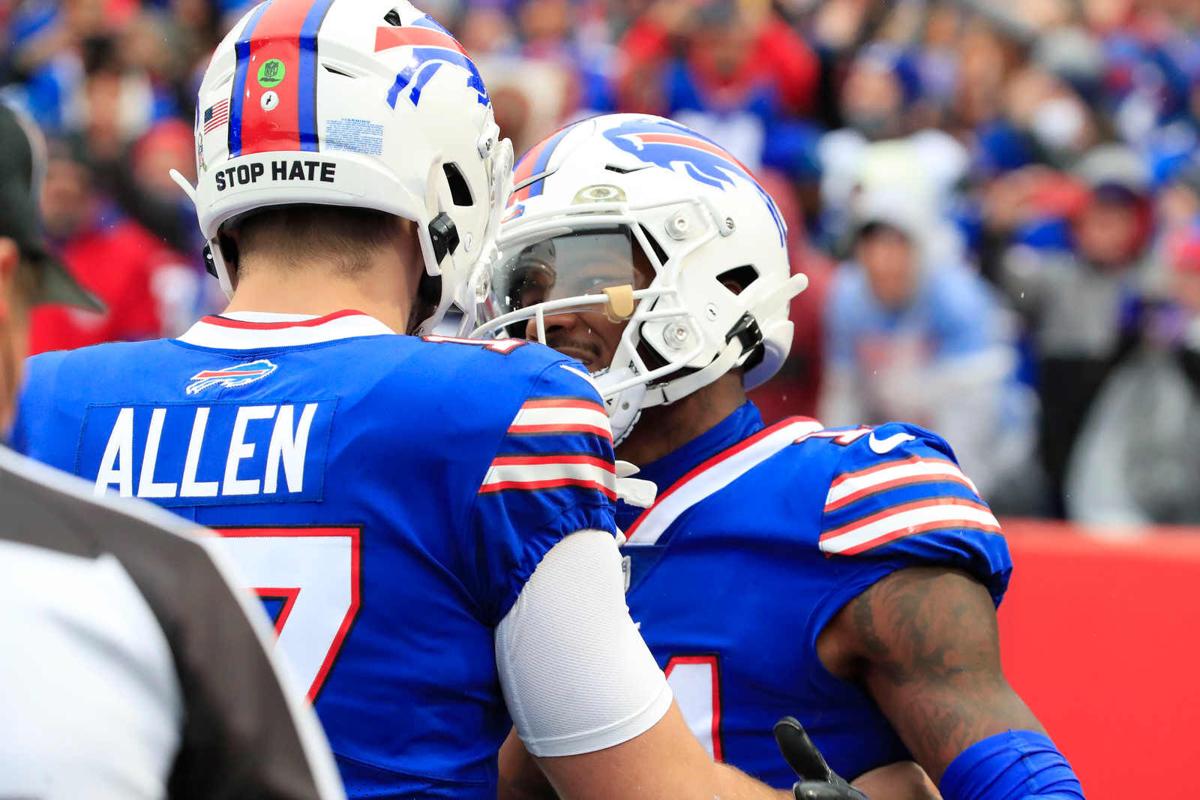 Josh Allen and Stefon Diggs were an even bigger TV draw in Western New York this 11-6 regular season than they were a year ago when they finished 13-3 and made it to the AFC title game.
The Buffalo Bills' 17 games in a season that began with Super Bowl expectations averaged a 47.4 rating, up 13% from the 42.1 average for 16 regular season games last season.
Four Bills games topped a 50 rating, with the 54.5 rating for the 29-15 victory over Atlanta the highest-rated game locally since meters came to this market in April 2000.
By comparison, no regular season game last season hit a 50 rating, though a few came close.
The gain is even more impressive when you consider there were about 65,000-70,000 fans this season in Highmark Stadium for nine games who were home in front of their TVs a year ago because Covid-19 prevented fans from attending games until a limited number were allowed for two home playoff games.
A rating point in Western New York represents 5,285 households.
To put the Bills ratings in more perspective, less than a handful of prime-time network entertainment programs average a 10 rating in Western New York.
The NFL put out a release this week noting that its games during the 2021 regular season ranked as the top 16, 48 of the top 50 and 91 of the top 100 telecasts on TV.
That's why the networks recently agreed to pay about $8 billion a year to carry the games, which is reportedly 75% more than they paid in the previous deal. 
Of course, inquiring minds want to know what kind of draw Allen and Company were for the games that were carried in the big national TV windows on NBC's "Sunday Night Football," ESPN's "Monday Night Football" and CBS.
It is a mixed report card.
NBC: The Bills' 31-6 victory over New Orleans on Thanksgiving (rather than on Sunday night) was the third most-watched game on NBC's schedule.
The Bills' 38-20 win over Kansas City on Oct. 10 was NBC's 10th most watched game. It was No.8 on Sunday night, which places it in the middle of the pack in a 17-week season.
NBC noted that the Buffalo market was the No. 4 rated market for "Sunday Night Football," up from 10th last year. The fact that the Bills were on two NBC games helped raise the average. 
CBS: Tampa Bay's 33-27 overtime victory over the Bills in the late 4:25 p.m. window on Dec. 12 in week 14 ranked sixth among the 10 national Sunday game windows on the network this year. It didn't help that Tom Brady and the Bucs seemingly had a commanding 24-3 halftime lead before the Bills staged a comeback that sent the game into overtime.
The NFL games on CBS averaged 21.588 million viewers for those 10 national Sunday game windows, which the network reported is more than any regular prime-time program on the network this season.
ESPN: The Bills' 14-10 loss to New England on "Monday Night Football" in a home game played in historically bad weather on Dec. 6 ranked No. 6 on the "MNF" schedule but comes with an asterisk. The game had the best viewership of a game that wasn't simulcast nationally on ABC. (It was carried locally on ABC affiliate WKBW-TV).
The Bills' 34-31 "MNF" loss to Tennessee on Oct. 18 in a game decided when Allen couldn't get a first down near the goal line ranked No. 11 out of 17 "MNF" games.
"MNF" had its best regular season since 2010, up 16% from 2020 and 13% from 2019.
Every game this season was carried on ESPN, five games were simulcast by ABC and 10 games featured the Eli and Peyton "Manningcast" on ESPN 2.
Scheduling Speculation: This is for those people planning next weekend and asking if the Bills would play Saturday Jan. 22 or Sunday Jan. 23 if they beat the New England Patriots Saturday night.
I don't know. But here's my educated guess.
If the Bills win and the Kansas City Chiefs beat the Pittsburgh Steelers on NBC's "Sunday Night Football" I would think the Bills-Chiefs AFC title rematch would be played in the divisional round on Sunday Jan. 23.
If the Steelers upset the Chiefs and the Bills beat the Pats, I would think No. 1 seed Tennessee would play Pittsburgh on Jan. 23 and the Bills would play this Saturday's winner of the Las Vegas-Cincinnati game on Jan. 22.
If seedings hold in the NFC after wild-card weekend, No. 1 seed Green Bay would play the winner of the Monday night game between the Los Angeles Rams and Arizona Cardinals on Sunday, Jan. 23 and Tampa Bay and Dallas would play on Jan. 22 if seedings hold this Sunday.
Tampa-Dallas would likely be the 8:15 p.m. game on Jan. 22 because of two factors – Tom Brady and the fact Dallas is still considered by some to be America's team. The Cowboys were involved in five of the most-watched games this season.
That would mean a potential Bills game with either the Raiders or Bengals would likely be a 4:30 p.m. Saturday game.
I would think a potential Green Bay-Los Angeles game would be at 6 p.m. Sunday on Jan. 23 because of the Aaron Rodgers factor and the size of the L.A. market.