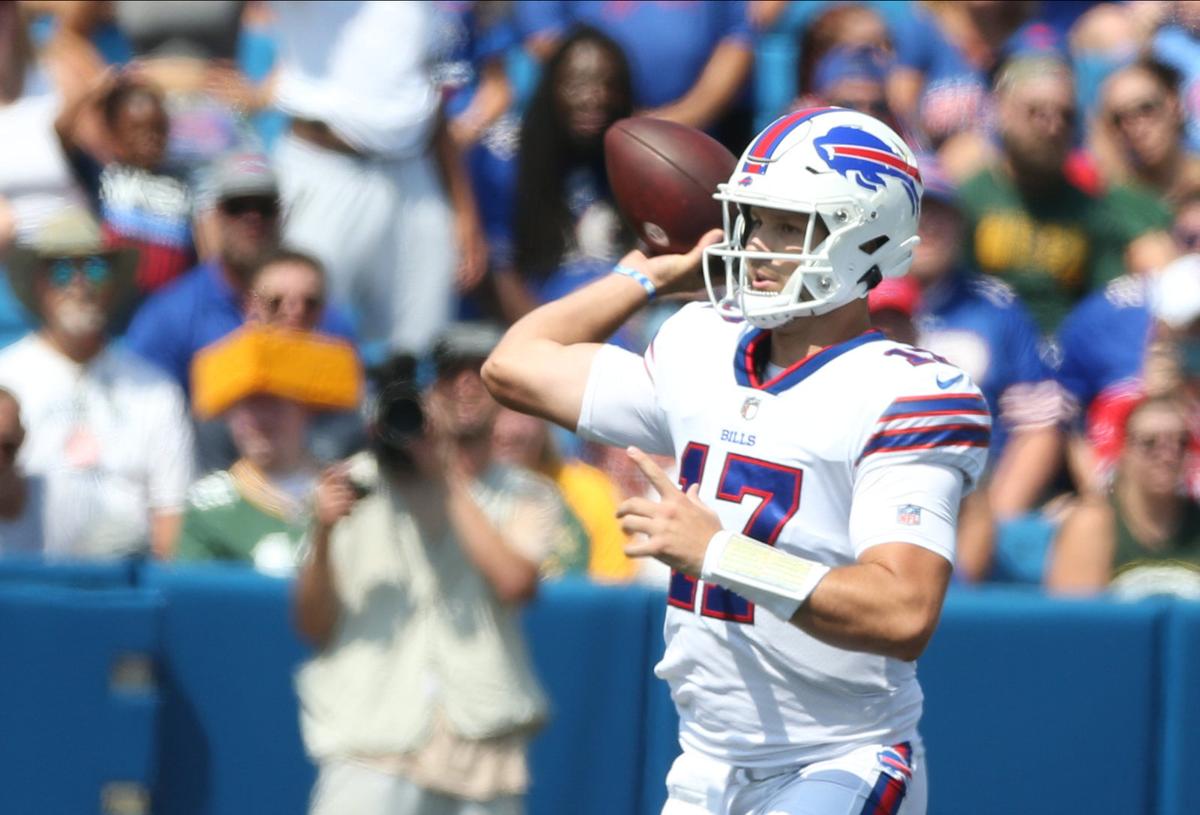 The preseason debut of The Josh Allen Experience was close to a record-breaking TV hit.
The Bills' 19-0 victory Saturday over the Green Bay Packers reserves that saw Allen get his first preseason work in the first half had a 25.6 rating and 57 share of the audience on WIVB-TV from 1 to 4 p.m.
That was the highest-rated game of the three this preseason and the third highest since meters came to Buffalo in 2000.
A rating point in Buffalo equals 5,285 households.
Only two preseason games have received slightly higher ratings. The New York Giants' 17-13 victory over the Bills in the 2014 Hall of Fame nationally televised prime-time game on NBC in the summer that wide receiver Andre Reed entered the Hall had a 26.4 rating and 42 share on WGRZ-TV.
Allen's first start as a 2018 rookie in a 26-13 loss to Cincinnati in a 4 p.m. game carried nationally on Fox had a 25.7 rating and 48 share on WUTV.
Prime-time and 4 p.m. games generally have higher ratings than 1 p.m. games because more viewers are available at those times.
The Bills' three games this preseason, all carried by WIVB, averaged a 23.3 rating, which is the highest average rating on record.
It was substantially higher than the 17.7 rating for the four preseason games in 2019 carried by WKBW-TV in the last year of its contract. There were no preseason games in 2020.
The preseason games on WKBW in 2018, when Bills fans were still assessing whether Allen was the answer as franchise quarterback, averaged a 22.4 rating.
The 2021 preseason games will easily be the highest-rated programs of the summer in Western New York.
Prime-time programs rarely average double digits these days, even less so in the summer. WGRZ-TV's prime-time coverage of the Tokyo Olympics had some nights in double digits, but the overall rating for all nights averaged a 9.9.
Bills regular season games regularly get ratings in the 40s when the team is doing as well as it did last season.
On the radio side, Audacy, the owner of WGR 550, announced today it has reached multiyear radio broadcast contract extensions with the Bills and Buffalo Sabres to be the flagship station of both teams.
The renewal is hardly a surprise since Audacy owns the three biggest AM stations in Western New York – WGR, WBEN and WWKB, ESPN 1520 – and there likely wasn't another owner of an AM or FM station here in the financial position to compete for the rights.
The new deal comes with a new wrinkle.
On Sept. 7, WGR is taking back the 10 a.m. to noon hours where the daily Sabres show "The Instigators" has run, moving the program to noon and shortening the time of the Bills daily show "One Bills Live" by an hour. Both programs are simulcast on cable's MSG. 
"The Instigators" with Andrew Peters and Craig Rivet will now air from noon to 1 p.m. and "OBL" with Chris Brown and Steve Tasker will air from 1 to 3 p.m. instead of noon to 3 p.m.
"We're delighted to extend our partnerships with the Bills and Sabres to continue delivering premier game-day and supporting content," said Tim Holly, senior vice president and market manager, Audacy Buffalo in a release. "These partnerships will allow WGR 550 to continue to serve as the home for everything fans need to stay up to date surrounding these two iconic franchises and we look forward to entertaining and informing our listeners throughout both teams' seasons."
In the same release, Mark Preisler, executive vice president of Pegula Sports & Entertainment, which oversees the teams' media rights, said: "As the home for all Buffalo sports fans, WGR is the right place for Bills and Sabres game broadcasts and team content."
WGR 550 carries three pregame shows, "Breakfast with the Bills Fantasy Style," "Bills Game Day," "Countdown to Kickoff," and two postgame shows "Bills Network Postgame Show" and "The Overtime Show."
The station airs "Buffalo Bills Football Monday" and "Football Friday," and has appearances by play-by-play announcer John Murphy on Monday and Friday mornings with co-hosts Howard Simon and Jeremy White and coach Sean McDermott on Friday morning. Bills radio analyst Eric Wood speaks with afternoon co-hosts Mike Schopp and Chris (Bulldog) Parker on Monday and professional football writer John Clayton on Thursday.