I badly misjudged WKBW-TV anchor Keith Radford. I never thought of the Windsor, Ont., native as being sentimental.
But as he approached his final broadcast on June 30, Radford was getting nostalgic about a television career that started when he was a cameraman for a "Bozo the Clown" show in Windsor.
Sitting in a leather chair in his Lewiston home with his Yorkshire terrier Frankie occasionally interrupting, Radford conceded he was getting sentimental "a little bit."
"I brought five boxes of scripts home the other day of all the big stories I kept," said Radford.
He offered the scripts to the Buffalo Broadcasters Association, but it says it isn't equipped to take them.
"They want the tapes, but they don't want the scripts," said Radford. "Maybe I'll send it to St. Bonaventure, maybe they'd want it."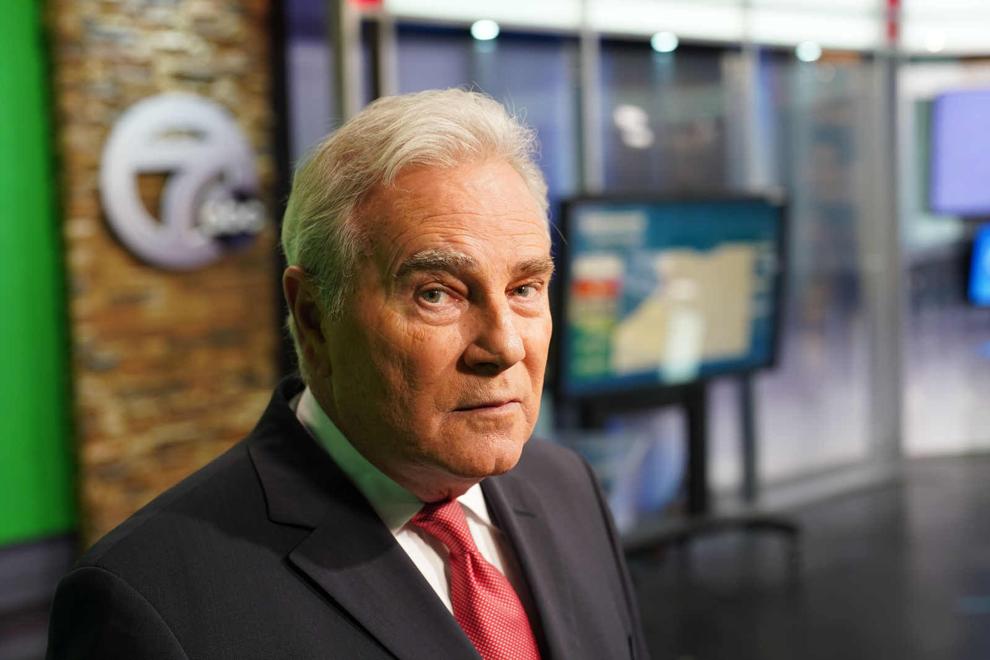 Then the low-key, no nonsense anchor with dual Canadian and American citizenship admitted leaving the business after 50 years in radio and TV news is getting to him.
"It's just been the last few weeks that's all of a sudden it's hitting me, 'Gee I'm not going to work anymore,' " said Radford. "I've been doing this since I was 19."
The end comes 50 years to the week he started in the business in radio. Why now?
Radford said renowned Dallas sportscaster Dale Hansen, who recently announced he will retire in September, captured his feelings perfectly.
"He said, 'I just don't have the passion, and the desire or the energy anymore,' " said Radford. "And that's pretty much my feelings. Fifty years is enough. And it has all changed. Everything is different now."
His next birthday in October also was a factor.
"I'm going to be 70," said Radford. "How much longer do I have? Doing the same thing really for 50 years pretty much in the radio-TV news end of it. It was enough."
He and his second wife, Linda, also want to spend more time with their four children combined and five grandchildren. The tentative plan is to leave Lewiston in October for Naples, Fla., where the Radfords own a home near the water, then return to Western New York for summers.
Unplanned career 'worked out well'
However, planning has never been a big thing to Radford who didn't even plan to be a TV anchor.
"I never graduated from college," he said. "I wanted to be a disc jockey when I was a kid. That's why (late disc jockey) Tommy Shannon was such a hero of mine. But I ended up in news because there was an opening in radio news."
He also didn't plan on staying at WKBW for almost 34 years, just a few months shy of how long the late legendary Irv Weinstein anchored at the station.
WIVB-TV co-anchors Don Postles and Jacquie Walker have anchored here longer than Radford. Postles has anchored for 42 years combined at three Buffalo stations and Walker has anchored for 38 years at WIVB. Mike Randall, the feature reporter and meteorologist, is the only person who has been on-air longer at WKBW than Radford.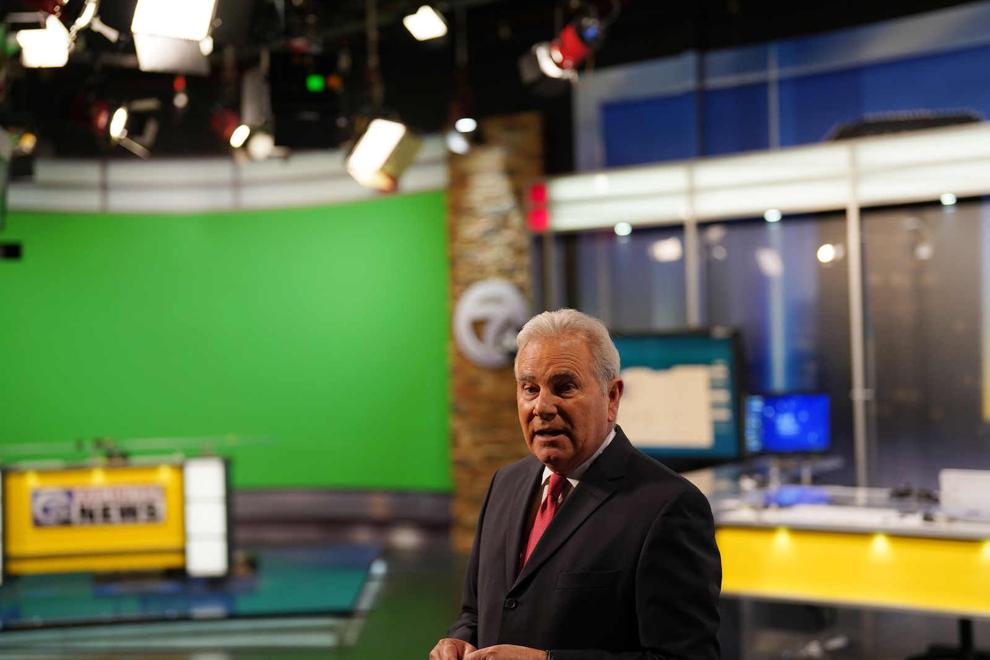 Radford has anchored with eight different people at WKBW – Weinstein, Susan Banks, Joanna Pasceri, Kathleen Leighton, Ann Edwards, Maria Genero, Mary McCombs and the current co-anchor Ashley Rowe. By his count, he also has been here through 18 news directors, four or five general managers and four or five different owners.
"I thought I'd be here a few years and move on one more time to a larger market," said Radford.
He almost went to Tampa, Cleveland, Philadelphia and Seattle, but it didn't happen for a variety of reasons.
"Looking back, it worked out well," said Radford, who grew to love Western New York. "Not many people in my business are lucky enough to stay in the same place for 34 years doing the exact same thing. I could have gone to a bigger market probably, but I probably wouldn't have lasted as long. My family was all in Toronto, and Buffalo turned out to be just a good city to be in – the people, everything. WKBW had a great legacy. We were No. 1 for 25-30 years and for half the time I was here and then things changed."
The retirements of the legendary trio of Weinstein, weatherman Tom Jolls and sports director Rick Azar, the loss of Oprah Winfrey's program as a news lead-in and losing Capital Cities as an owner all played into the decline.
"As we were cutting back, the other stations were building," said Radford. "We did the opposite of what we should have done for a while. One owner went bankrupt and then we were owned by a hedge fund for a while. And ABC network has always been weak."
A news powerhouse for Radford's first 15 years, WKBW remains deep in third place in the market despite the efforts of the E.W. Scripps Company, which bought the station in 2014.
"Scripps was the saving grace of Channel 7," said Radford. "I kissed the ground when I found out Scripps was buying us. They were the first owners in the time I was there that really invested and cared about the product and understood some of the things we had to do to try and do better."
However, the Scripps changes haven't been successful and lately the company seems less invested in plotting a turnaround.
"Once you lose people, it takes a long time to get them back if you ever can," said Radford.
Meaningful career highlights
Still, Scripps gave him the opportunity to mentor many of the young reporters who came to the station under a journalism career program with Syracuse University.
"The highlight of my career was when Scripps had this JCP program," said Radford. "I've really enjoyed that. Covid-19 ruined that because I haven't seen these kids in over a year. That was really rewarding."
He signaled out Olivia Proia, Paola Suro and Nikki DeMentri as three young reporters who impressed him.
Radford's highlight as a reporter was covering the military, going around the world with members of the Niagara Falls Air Base and flying with the Thunderbirds and Blue Angels.
He interviewed the last surviving member of the Enola Gay, Theodore "Dutch" Van Kirk, who came here to deliver a speech. He died in 2014.
"He was the navigator and I found an old black and white video on YouTube that the Air Force shot when they landed after they dropped the atomic bomb and they interviewed the crew," said Radford. "He was like a 23-year-old kid then and he was 93 when I interviewed him."
But the military story that impacted him the most was about Medal of Honor recipient Jason Dunham, the late native of Scio who covered a grenade with his body to save fellow Marines in Iraq in 2004.
"I still can't believe that kid did what he did, a 23-year-old kid just lays down and gets blown up on purpose to save five other guys," said Radford. "I just can't comprehend. But if you look at his face in Marine pictures, there is something haunting about it.
"And his mother told me he knew he wouldn't be coming back. They talked about it before he left when he signed up. And having the pictures in the White House and the video of George Bush giving his mother the Medal of Honor. Bush is crying his eyes out."
Radford tried to hold back tears and paused as he described a scene he witnessed with photojournalist Ed Reilly in the Scio cemetery where Dunham is buried.
"He didn't want to be at Arlington," said Radford. "And we pull in and there is a girl laying on top of his grave. We waited and I went up and spoke to her. It was one of his old girlfriends. And you could see all the flags. It was just too much."
Radford concedes he has done some good things, some mediocre things and some bad things. A softball interview of disgraced Buffalo Bill O.J. Simpson 10 years after he was acquitted of murdering his ex-wife Nicole Brown Simpson and a friend, Ronald Goldman, falling into the bad category.
"I was too easy on him," Radford said.
But one failing he regrets wasn't quite as serious. In WKBW's coverage of the New Year's 2021, Radford missed the countdown to midnight because he couldn't see a clock.
With the countdown to his final newscast nearing, Radford has had time to reflect on his legacy.
"I have no idea," said Radford. "I just was a regular guy who went in every day and tried to do the best I could do every day. ... I didn't do anything special. There are people in the business who are far more talented than me. And I'm just fortunate that I lasted as long as I did. I'm one of the last older guys. … I'll fade away like everyone else does in TV over the decades."