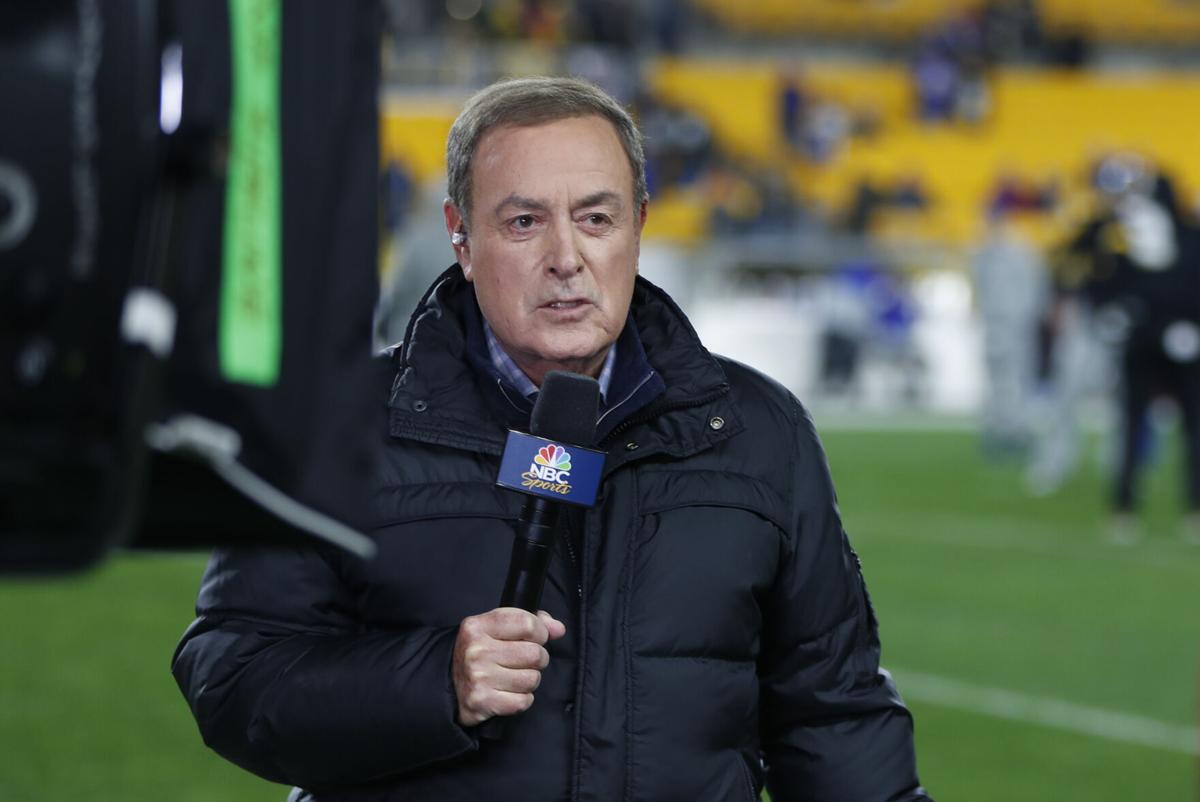 Buffalo fans might think that another promo appearance by the popular London singer is warranted because the Bills return to Kansas City to play the Chiefs in Arrowhead Stadium on "NBC's Sunday Night Football" (8:20 p.m., WGRZ-TV).
After all, the game against the team that prevented the Bills from making last year's Super Bowl is Western New York's version of "The Return," the title of the Adele promo NBC used before Tampa Bay quarterback Tom Brady returned to New England to beat the Patriots, 19-17, last Sunday.
The title, if not the substance, of one Adele song certainly fits – "Turning Tables." 
"'We probably couldn't afford her," cracked play-by-play announcer Al Michaels in a telephone interview.
In all seriousness, any NFL game following Brady's return to New England might seem like a letdown to NBC.
"This is not a letdown," said Michaels. "Nothing was going to supersede Sunday … We knew that would be the biggest game on the schedule in terms of the audience and drama and buildup. But then we didn't know what we were going to get the following week. Hey, we got a rematch of the AFC championship game. We'll take that. You're not going to throw that fish back out of the boat after you catch that. We were surprised and very happy because normally you come off a game that was going to be so anticipated and then you would have a natural letdown.
"But not this week, especially the way the Bills are playing and Kansas City, everybody's wondering at 2-2 what's happening to these guys? You got Josh Allen and Patrick Mahomes and two teams that I think throw the ball more than any two teams in the league. Oh, no, we're excited about this one."
So far, four of the five SNF games have been decided by one or two points.
The excitement has been augmented by the return of something missing last season – stadiums full of fans.
"It's been tremendous," said Michaels. "I couldn't imagine the Tampa Bay-New England game being played in an empty stadium because there was such a buzz. Not only during the game but an hour and a half before the game. It was raucous, but it was a fun raucousness. And Arrowhead will be the same thing. It's been great. Having the fans back makes a big difference."
He expects a high-scoring game. Of course, he initially expected the same thing when he and analyst Cris Collinsworth called the Bills' 17-3 victory over the Baltimore Ravens in last year's playoffs in a game featuring Allen and Lamar Jackson.
"The weather played a big part in the game," said Michaels. "The wind was blowing like crazy. We put the kibosh on (Ravens' Pro Bowl kicker) Justin Tucker. He missed two kicks. I'm the kibosh guy. I didn't put the kibosh on Norwood back in 1990."
Every Bills fan knows he was referencing Michaels' "wide right" call in the Bills' 1991 Super Bowl loss at the end of the 1990 season.
"You have to think that it'll be a high-scoring game Sunday because the Kansas City defense is the weakest part of that team by far right now. I don't have to tell you what Buffalo is doing on offense. Buffalo's defense has been great. But this is going to be a test. They're not playing Miami, Houston. It's a good early season test."
However, he doesn't consider it a statement and must-win game for the Bills.
"I don't think it is a statement game in Week 5, you still have a ton of games to play. It is nothing along the lines of a must-win. The Bills at worst will be 3-2 in first place in the division and they are probably the best team in the division."
He thinks Kansas City's 2-2 record is deceptive, since they were a fumble away from probably beating Baltimore and they had every chance to beat the Los Angeles Chargers the following week.
He relies on seven or eight people – personnel guys, writers, owners – to get a read on the NFL and the Bills. Collinsworth also provides tutorial tapes about the teams before each game.
Michaels also got some insight into Bills coach Sean McDermott at a Lake Tahoe golf tournament in July when they played in a group that also included former Bills quarterback Doug Flutie.
"We had a great time," said Michaels, who has known McDermott since the coach's days as an assistant in Philadelphia and Carolina.
"When you're on a golf course with a guy for almost five hours you really get to know him. He is terrific. We had a blast."
Asked if he'd reference anything he and McDermott talked about on-air, Michaels did a quick Howard Cosell imitation before saying he considers it name-dropping and wouldn't discuss private conversations on-air.
"He was guardedly optimistic about the Bills, as most coaches are," said Michaels. "I've never been with a coach who said before the season, we're going to run the table and win the Super Bowl. It's always guarded but he was just a pleasure to be with, really smart.
"Not so much football talk, but more life talk. The great thing about playing golf with somebody is you can talk about certain things that you never have a chance to talk about in a meeting with a guy getting ready for a game. So I got to know him as a person. That was really fun. He's really a very interesting man. He has a bigger view of things. It was a fun day for me.
"It gave me a broader understanding of the kind of guy that he is and that may work its way in some way (in the broadcast) without me having to say I played golf with him."
Bills fans hope McDermott will eventually lead them to something Michaels referenced in the Bills playoff win over Baltimore.
During that game, Michaels said the Bills have "had a lot of great moments, but they've never had the Lombardi." (The Super Bowl trophy). Does he think this could be the year?
"I did the game in 1990. That was their best chance up until now … It is hard to say … There are a lot of good teams. They have to get over the hump in that conference. That's a tough conference."
Then he ticked off the Chiefs, Cleveland, Baltimore, the Chargers and possibly Las Vegas as AFC obstacles.
The Super Bowl at SoFi Stadium in Los Angeles where Michaels lives could be his last SNF game. His contract runs out after the game. Although he remains sharp, there has been speculation this could be the end of his 36-year prime-time run.
"It is because I am of a certain age where people say, 'well, he should be done,' " said Michaels, who turns 77 in November. "By the way, so is Tom Brady, right? I have an affinity with Tom. Tom and I even laughed about this in the last couple of years. Look, I feel great right now."
He says he is having "a blast" and will know before anyone else if it is time to leave and doesn't plan to address his future until after the season.
"I'm having a great time and if I begin to think about next year, it's the old Marv Levy line, 'if you think about retiring you've already retired.' "
If the Bills make the Super Bowl 31 years after Michaels' "wide right" call and get the elusive Lombardi, it would be a full circle ending for the franchise and maybe even for Michaels.
"It could be me getting an opportunity to have somebody kick a game-winning field goal instead of wide right," said Michaels of calling the Super Bowl.