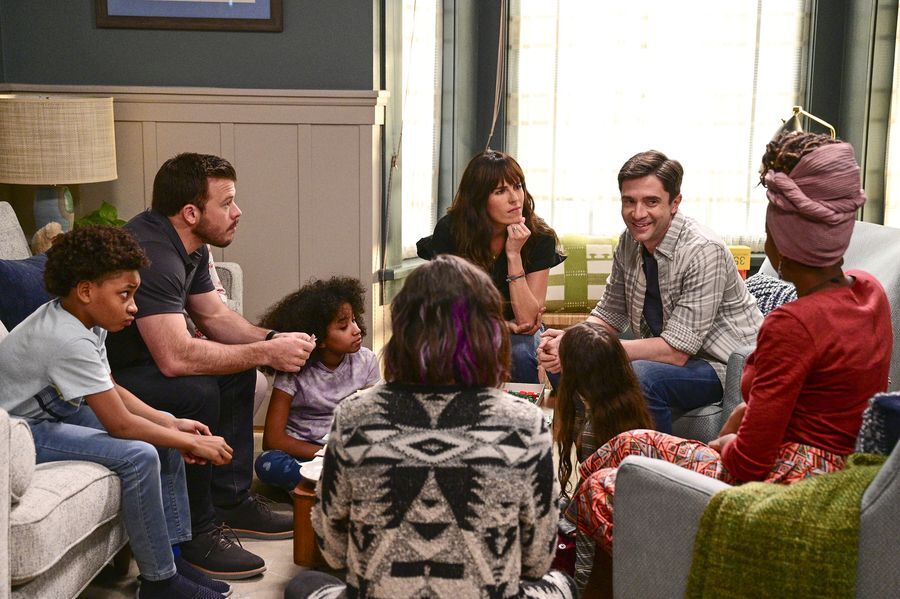 If there is one subject that is more uncomfortable to discuss with family at a holiday dinner than politics, money is probably at the top of the list.
Who has it, who needs it, who wants it.
"Home Economics," the new ABC comedy premiering at 8:30 p.m. Wednesday on WKBW-TV, tries to make family finance funny or, at the very least, poignant.
The premiere is referred to in the industry as a premise pilot because it spends the first half-hour episode introducing the cast and the premise.
It delivers more on the poignancy front than in the laugh department. My favorite line is an Ivy League dig at Cornell University.
It stars Topher Grace ("That '70s Show") as Tom Hayworth, a married father of three who also acts as the narrator. Tom is a novelist down on his luck and afraid to ask his wealthy, fun-loving younger brother Connor (Jimmy Tatro) for a loan.
How rich is Connor? A finance guy, he earns $5 million a year and moves from Seattle to be near his siblings in the scenic former California home of Matt Damon. Naturally, that means the movie star is a punch line a few times.
How fun-loving is Connor? He has several mini-cars, the kind used at amusement parks to play bumper cars. But Connor's wife has left him, leaving him the most vulnerable of the three siblings.
The brothers have a sister, Sarah (Caitlin McGee), a married mother of two who barely makes ends meet.
The casting covers all the liberal sitcom basics.
Tom is the oldest of the siblings and is married to a Latina woman, Marina (Karla Souza); Sarah is an unemployed therapist for low-income at-risk children married to a Black schoolteacher, Denise (former "Saturday Night Live" cast member Sasheer Zamata), who tries to be the peacemaker in the family. Connor is separated with a live-in nanny.
Tom is a grammarian, who corrects his siblings when they don't know whether to use less or fewer in a sentence. He is less than forthcoming about the subject of his latest book. It is based on his family secrets, financial and otherwise.
It is a very sweet show that benefits from Grace's likability and dry wit and may be arriving at the perfect time considering the rise of financial anxiety during Covid-19.
But funny? Not so much. More like as cute as a Hallmark card, which is appropriate since it has a couple of messages inside 30-minute episodes that could fit inside a $4.99 card: Money can't buy happiness and you can always rely on family, even if they can't agree on spending Thanksgiving at Turks and Caicos together.
Judging by the weaker second episode, which revolves around Denise's desire to have had a real wedding, I'm not sure the premise is long-lasting. It might not be easy to find enough financial story lines without needing an appearance by Matt Damon to come to the rescue.
In a Zoom interview with television critics, co-creators Michael Colton and John Aboud acknowledged the premiere is based on Colton's life.
"We were in the middle of a particularly bad year where we couldn't get a job," said Colton. "I was actually collecting unemployment. At the same time, I have a twin brother who sold a company for about $7 million. And then I have a sister who works in, sort of, social work and has never made money. And it was just all of these feelings of anxiety mixed with pride, mixed with jealousy and insecurity, and we realized this has the makings of a show. And so many shows focus on rich families or blue-collar families, but we haven't really seen one where you saw all of these different levels within one family."
He added his brother was a twin, "which makes it worse."
"And he works in private equity. And we've actually kind of written this into the show that no one really understands what he does. So it was, like, a company he invested in, and I think it was a tree care company. Like, they make things for arborists, like safety equipment."
Unlike Grace's character, Colton told his family that he was writing a sitcom based on their life.
"I was a little unsure how they would react, but I think everybody is excited about it," said Colton. "There are a lot of changes. Like, in real life, my brother is not split from his wife, but we realized the audience is sort of primed to hate a rich character. It's just, that's the way it is. So we like the idea of making Connor an underdog because he might have all of the money and the big house, but his personal life is in trouble, and he needs his siblings around him to help him out with that."
Aboud said he and Colton have been fans of "Modern Family," the recently retired ABC hit, which also has three families intersecting.
"But when you look at those three families and how those stories intersect, you look at their houses, all of those guys are rich," said Aboud. "They are not dealing with any financial troubles on there. They are set."
He acknowledged they are using the mocumentary style, which has been used in such successful comedies as "Modern Family," "Arrested Development" and "The Office," to reveal thoughts of the characters.
McGee, who most recently was seen alongside Jimmy Smits in the NBC legal series flop "Bluff City Law," acknowledged the subject matter in "Home Economics" can be uncomfortable.
"I think that it's super important to talk very honestly about this stuff," said McGee. "The country is going through a very interesting time right now. People within their own families are struggling and helping each other out. And I think that, at the core of our show, and in many families, is that this sounds so cheesy but love and support of family members is what gets you through job loss.
"And that's something that my character is going through and she has to be honest about. ... And it's not a comfortable thing to talk about, but I think having it in this context, in a comedy, is accessible, but, also, can make people laugh is super important in this moment. We need distractions, as well as to feel like we're being seen on television. And so, I feel like our show and, specifically, Denise and Sarah really hit that note of yeah, that our family is probably the happiest, but the brokest."