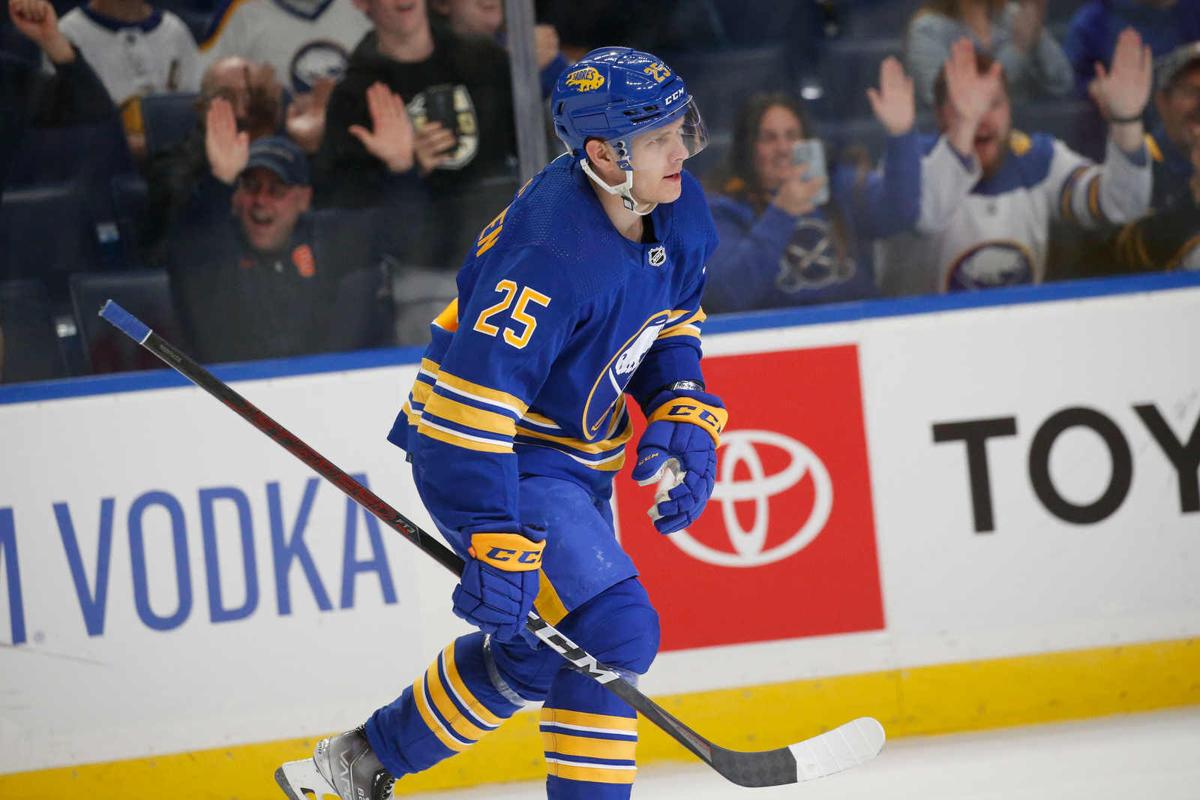 During the Buffalo Sabres' 2-1 victory over the Arizona Coyotes Saturday afternoon carried on MSG, Rick Jeanneret may have surprised some fans with an announcement about the team's TV schedule that was as stunning as the team's exciting play in the first two games of the season.
The play-by-play announcer told viewers during a break in the action that eight Sabres games won't be carried on MSG, which is available on cable and DirecTV, and instead will be carried exclusively on the streaming service ESPN+.
According to a representative of ESPN, the ESPN+ games also will be streamed on Hulu and you only need one of the two streaming services to watch them.
The rightsholder and the NHL haven't done a great job of publicizing the number of exclusive games on ESPN+ and Hulu, which may have been the primary reason the team felt Jeanneret's announcement was necessary.
"It's important to us (that) Sabres fans know where to watch our games," said Mark Preisler, executive vice president for Pegula Sports and Entertainment. "ESPN decided to stream eight Sabres games exclusively on their premium service ESPN+ (and Hulu). While we will still provide in-depth game day coverage across our social platforms and produce the action for radio on WGR, the only way to watch the games from home will be by subscribing to ESPN+. (or Hulu)
"For those without ESPN+ (or Hulu,) five of the eight games are home games so fans can also come down and see the games in person."
With expectations so low when the National Hockey League season began, missing a handful of Sabres games on television might not have bothered many fans.
But after the Sabres started the season with home wins over Montreal and Arizona, many fans may miss the first game exclusively on ESPN+ and Hulu Friday night with the Boston Bruins.
After the Sabres won Saturday, I tweeted: "Here are six words I never thought I'd write this season: The Sabres are fun to watch."
The tweet gathered my most "likes" this month.
Presumably, the people "liking" the tweet won't like not seeing Friday's game and seven others this season on MSG.
Fans will be able to see Friday's game and seven others this season on ESPN+ and Hulu, which require an internet connection.
ESPN+ costs $6.99 monthly alone or is part of a package with two other streaming platforms owned by Disney – Disney+ and Hulu – for $13.99 a month.
The seven other Sabres games on ESPN+ and Hulu are Nov. 2 at San Jose; Nov. 12 against Edmonton; Dec. 7 against Anaheim; Feb. 1 at Las Vegas; March 4 at Minnesota; April 5 against Carolina; and April 7 at Carolina.
The Sabres are believed to tie with Detroit for the most games on ESPN+ and Hulu, which likely has to do with expectations for the teams. Buffalo finished last in the 2020-21 season with 37 points. Detroit had 48 points, which placed them tied for 27th place out of 31 teams. 
The Sabres don't have any games on ESPN's regular NHL package and only two games on TNT's package – March 13 with Toronto and March 23 with Pittsburgh.
Besides the eight Sabres games on ESPN+, about 1,100 NHL games will be carried on the streaming service.
I bet most Buffalo Bills fans think they know everything about quarterback Josh Allen.
But they may learn something new on ESPN's "Monday Night Countdown" before tonight's Bills-Tennessee Titans game, which will be simulcast on ESPN and ABC affiliate WKBW-TV.
Allen and Formula 1 Italian-Australian driver Daniel Ricciardo will discuss being fans of each other's sports and their roles as "rising stars and leaders" of their teams. Ricciardo drives for McLaren. Allen and Ricciardo were brought together by ESPN's Marty Smith. Judging by Allen's interest, he should be a fan of the Netflix series, "Formula 1: Drive to Survive," which takes viewers behind the scenes of the racing circuit. I wasn't into Formula 1, but I love that series.
On another less than exciting note, ESPN plans a pregame feature on the Jan. 8, 2000 "Music City Miracle" in which the Titans … Oh, you know. A network publicist said the report will look back at the playoff play's "origination and on-field execution as it went on to become one of the most memorable finishes in NFL history."
"Family Feud" fans will get to see a Western New York family on Thursday's show, which is carried at 7 p.m. on WUTV.
The Smith family – Paul Smith, Josiah Smith, Ryan Thuman, Shannon Thuman and team captain Jennifer Topick – will be contestants on the syndicated program. Josiah and Paul Smith are graduates of Niagara Wheatfield High School, while cousins Ryan and Shannon Thuman and Jennifer Topick graduated from Tonawanda High School.