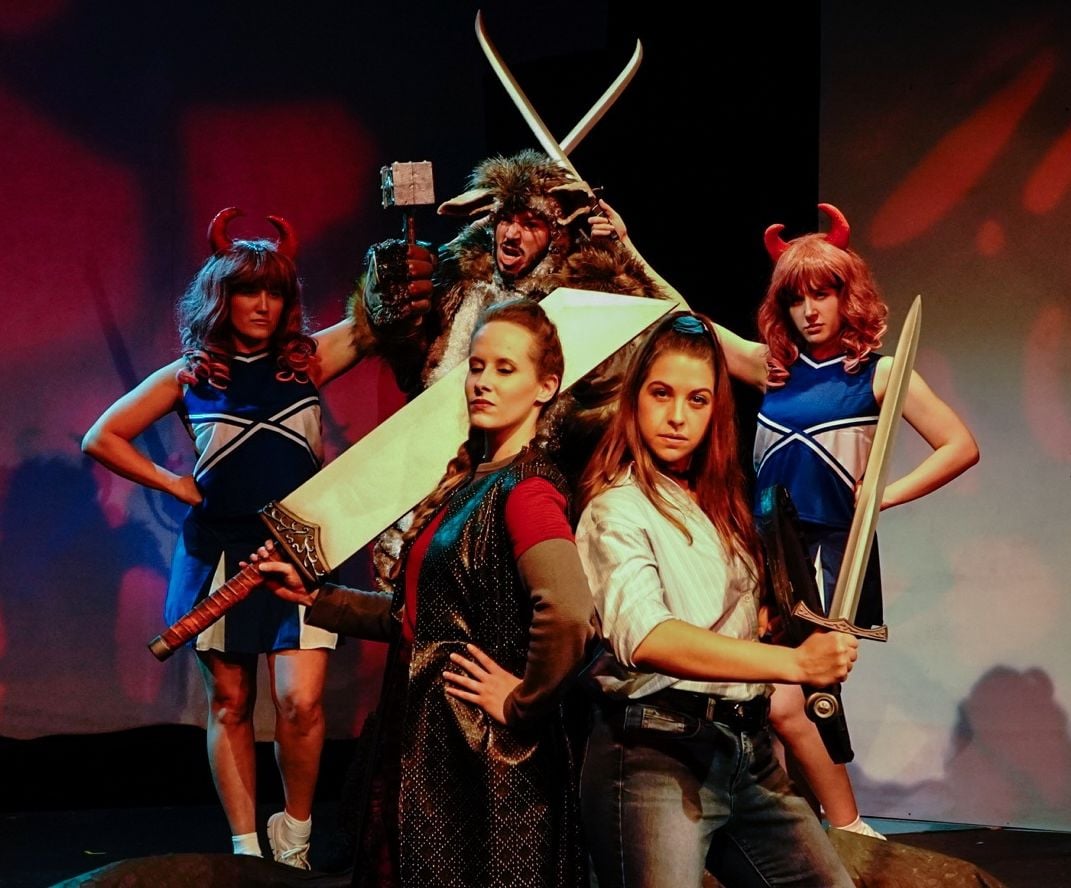 Subversive Theatre's production of the fantasy-inspired "She Kills Monsters" ticks all the boxes, as British baking judge Paul Hollywood might say, and is excellent by every measure. The cast is top-notch, their timing is spot on, the costumes and puppetry are awesome, the fights are furious and the script by playwright Qui Nguyen is a stirring mix of humor and drama.
And in the midst of all the manic action of dominatrix swordswomen, killer cheerleaders, slacker demons and boyfriends who won't commit, there's a message about individuality and acceptance, and facing down real monsters if you dare to be different. What more can you ask for?
Starring in this adventure are two sisters, Agnes (Emily Yancey), a young high school English teacher, and the avatar of her little sister, Tilly (a fierce Jamie Nablo), who dies in a car crash at age 16 but lives on in the role-playing world of Dungeons & Dragons.
Playwright Nguyen smoothly intertwines the overlapping narratives and characters of Agnes's high school and Tilly's Dungeons & Dragons quest, and the cast rises to the challenge of repeated costume and scene changes with equal aplomb. It is a pleasure to watch just for the stagecraft, but that is not why we are here.
As the saying goes, this adventure is about the journey, not the destination. Agnes has found a composition book of Tilly's that contains the blueprint for a D&D quest that Agnes hopes will reveal more about her sister. A novice at the game, Agnes turns to high school Dungeon Master Chuck (perfectly played by David Moran) for help, and discovers that Tilly left behind a whole world of her own design.
As the only adult in the room, Agnes finds herself at a disadvantage. Unfamiliar with the rules of play, she acquires the unflattering nom de game of Agnes the Ass-Hatted, and struggles to keep up with the mix of weaponry and magic. She would give up, if she were not so intrigued by this confident new Tilly, a leader, a problem solver and, to her surprise, a lesbian.
It isn't as though Tilly ever pretended to be otherwise; it is more that Agnes never thought twice about what her sister was or was not. The beauty of "She Kills Monsters" is that Tilly's sexuality, and that of the other inhabitants of her brave new world, does not become the one defining trait for her existence. Tilly is strong, she is creative, she is loving, and, unlike in high school, she is among friends, portrayed beautifully by Sofia Matlasz, Stefanie Warwick and Bekki Sliwa.
While this all sounds oh so serious, "She Kills Monsters" is packed with brilliant and bizarre humor, accented by the puppets of Michele Costa and Gail Argetsinger and scored with smart sound choices by Alley Griffin and Drew McCabe, who also directed. A demon is destroyed and we hear a Pac-Man fizzling out. The Overlord of the Underworld (Rick Lattimer, at his slacker best) is undermined by a suitable ridiculous theme song and Agnes's nothingburger boyfriend (Ryan Kaminski) gets reimagined as a blob of green Jell-O. Jaimee Harmon uses her Shakespearean chops to provide the narrator with an eloquent gravitas, and Mara Westerling-Morris is the guidance counselor you wish you had and the cheerleader you never hope to meet.
You won't see another play like it this year, and you should act quickly to catch this one. It continues through Nov. 16, but shows are selling out.
Theater review
★ ★ ★ ★ (out of 4)
Presented by Subversive Theatre Collective in the Manny Fried Playhouse (Great Arrow Building, 255 Great Arrow Ave., third floor) at 7:30 p.m. Thursdays, Fridays and Saturdays, through Nov. 16. Tickets are $30 general; $25 members, students and seniors. Visit subversivetheatre.org.