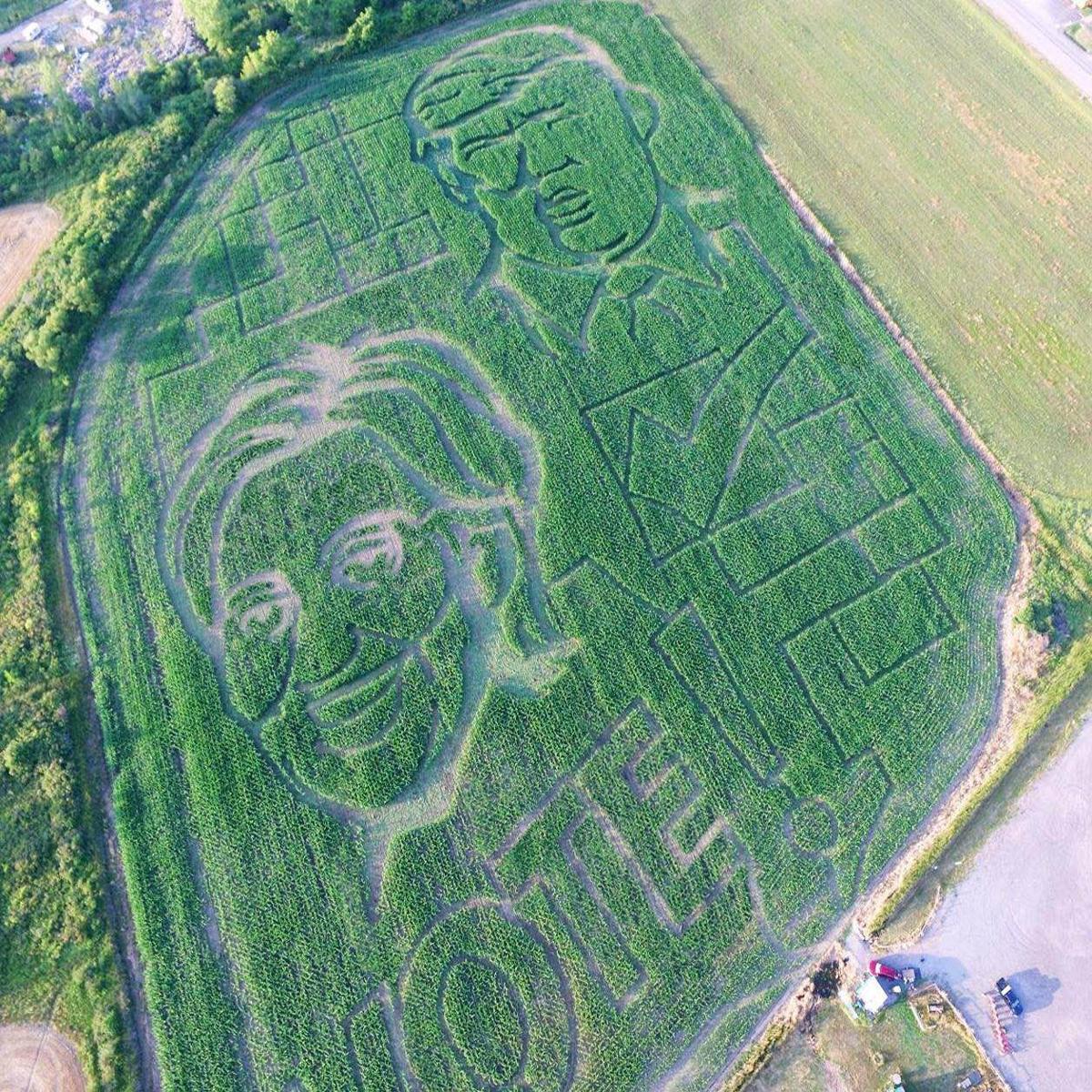 There sure are a lot of fun fall activities for families. One of our favorites are those sometimes-impossible-to-get-out-of corn mazes. My little ones - 20 months and age 4 -  love the small ones, and my big girls, ages 19 and 20, love the big ones. They're fun, you have to use a little brain power, and it gets everyone outside.
First, here are a few things to keep in mind if you're heading out to a corn maze.
Dress weather appropriately - including boots. It can get muddy.
Leave the strollers in the car. They are hard to push through the mud.
Bring a flashlight if it's dark.
Bring cash. Some places don't take credit, plus there may be fresh produce and other goodies to buy.
For a bit of an edge or in case you get stuck, print out the photo on the farm/maze website - or pull it up on your phone - it may help you navigate.
Now, here are some great options.
This corn field is cut in the shape of the lovable character Snoopy as they celebrate the 50th anniversary of "It's a Great Pumpkin, Charlie Brown." It is a challenging maze - and will take an average of about 45 minutes or so to get through.
Cost: $3.50 Monday through Thursday, $4 Friday and Sunday
THE GREAT PUMPKIN FARM, 11119 Main St., Clarence
The maze: This field is in the shape of a monster and takes about 30-45 minutes to get through. It's good for kids and adults and there is a haymaze that is great for little ones. It is free during the week, and part of paid admission ($7) on weekends.
THE MAIZE, 3901 Niagara Falls Blvd., North Tonawanda
The maze: It's cut in the shape of a castle. It is fun, and not super challenging. Good for kids and adults. It takes about 45 minutes to get through.
Hours: 10 a.m. to 9 p.m. Monday through Thursday and Sunday; 10 a.m. to 11 p.m. Friday and Saturday.
Cost: $12 per person, children younger than 3 are admitted free.
The maze: This six-acre corn maze has been around for a few years. All proceeds benefit Roswell Park Cancer Institute.
Hours: 10 a.m. to 6 p.m. Monday through Thursday and 10 a.m. to 5 p.m. Saturday and Sunday. Closed Friday.
The maze: You have to admit, this is super cool and very topical. The maze is shaped like a presidential ticket with the faces of Hillary Clinton and Donald Trump. It takes around 45 minutes.
Hours: 3 to 8 p.m. Thursdays, 3 to 9:30 p.m. Fridays, 10 a.m. to 9:30 p.m. Saturday and 10 a.m. to 8 p.m. Sunday.
Cost: Adults, $15; ages 4-15, $5; children younger than 4 are admitted free.
BONUS - here are some corn'y' jokes to share with your little ones.
Why are corn such good listeners? Because they're all ears.
How is an ear of corn like an army? It has lots of kernels.
What did baby corn say to mama corn? Where's pop corn?
Stay up-to-date on what's happening
Receive the latest in local entertainment news in your inbox weekly!