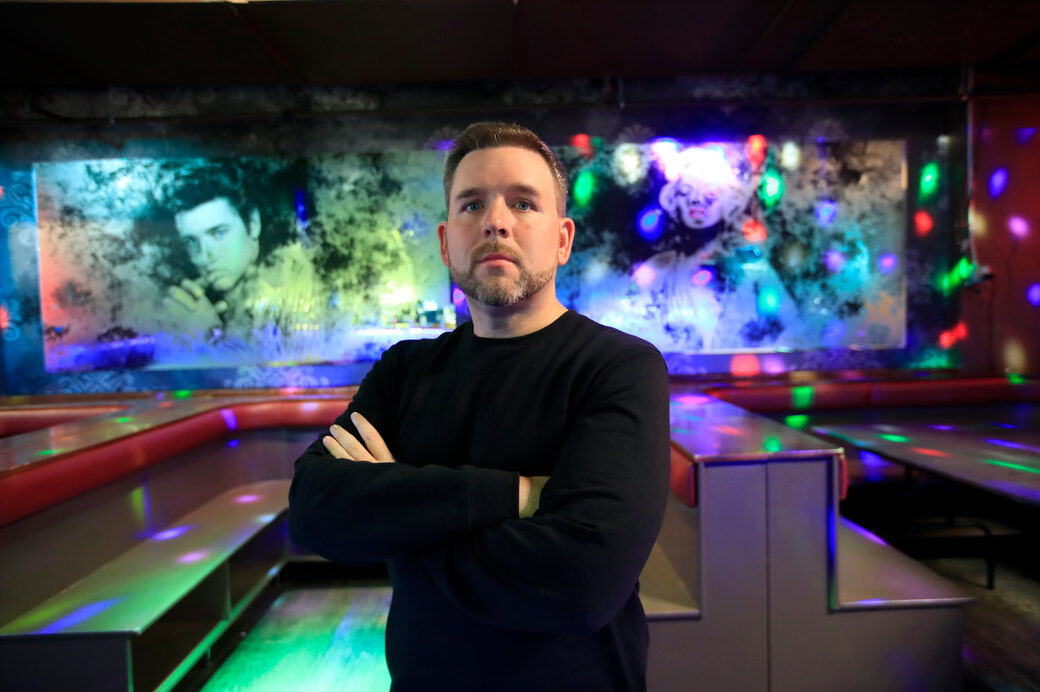 The Shuttered Venue Operators Grant program established by Congress in December was viewed as a godsend for venues, promoters and companies in the crowd business, a sector of the economy dependent on live entertainment for its survival. A sum of $16 billion was earmarked to aid these venues, whose business models had been decimated by the pandemic, all of it to be rolled out in tiers based on level of need, following a detailed application process.
Nearly six months after enactment of the law, roughly a third of the 14,884 grant applications submitted nationwide have been approved.
Chris Ring, regional representative for the National Independent Venue Association and owner of both After Dark Presents and the Rec Room on West Chippewa Street, said the national numbers reflect what's happened here. Only 24 grants having been approved for regional venues, and fewer have received any funds.
Gusto Vinyl Happy Hour will celebrate three seminal albums: the Allman Brothers Band's "Fillmore West 71," Stevie Wonder's "Songs in the Key of Life" and Santana's "Abraxas."
Businesses that form the hub of Buffalo's music scene – among them the Town Ballroom, Buffalo Iron Works, the Sportsmen's Tavern, Mohawk Place and the Rec Room – have not had their applications processed yet. The same goes for major cultural institutions like Shea's Performing Arts Center.
In the local live theater sector, according to the Small Business Administration's weekly report on the program, only Irish Classical, MusicalFare and Road Less Traveled have been awarded grants. The area's Dipson Theatres, North Park Theatre in Buffalo and Aurora Theatre in East Aurora are the movie houses to have received grants at present.
Among the few area music venues to receive grants are Nietzsche's, the Riviera Theatre in North Tonawanda, Williamsville's Infinity on Main and Asbury Arts Center Inc., which oversees Asbury Hall at Babeville. A handful of independent music promoters, including MNM Presents and Empire State Concerts, have also been awarded.
Many of Western New York's most prominent venues are growing increasingly worried further delays could place their businesses in significant jeopardy.
"It's so frustrating, and it just doesn't make any sense," Ring said. "We're hearing so many stories from venues that are just dying right now, knowing this lifeline is out there and they just can't get it. ... You see that people who only qualified for second- or third-tier funding have been approved and in some cases received their funds, while first-tier businesses have gotten nothing. That makes no sense. The first-tier people lost 90% of their revenue. They need to be taken care of first."
Rep. Brian Higgins, a Buffalo Democrat, concurs. In a recent letter to SBA Administrator Isabel Guzman, Higgins said the current "slow pace is becoming increasingly untenable for the small businesses in our districts. Their banks have threatened to call in the full amount of small business loans, they do not have the funds to pay their landlords full rent, and they cannot retain staff. We are hearing from venue operators who are days away from closing their doors if these funds are not sent soon."
Higgins believes his job is to hold the SBA's feet to the fire. 
"Generally speaking, this is bureaucratic inertia," he said. "But it's more than that, too. Congress took action on this bill in 2020, and guaranteed $16 billion nationally. This is a time of emergency. All of the problems the businesses in this sector of the economy are experiencing are no fault of their own. They deserve and need help. There's an economic benefit to these cultural institutions and venues surviving, as well."
Higgins said he believes a trend toward downsizing agencies like the SBA left many such agencies ill-prepared for a crisis.
"It's a result of years of cutting the federal bureaucracy, so that, in a time of emergency like this one, the bureaucracy that you depend on underperforms," he said.  
"This issue is of primary concern to a city like Buffalo. It's unacceptable that you've got $16 billion – which, by the way, is inadequate, relative to the need – and now you've got this bureaucratic holdup owing to the federal government and an agency not prepared to process these applications in a timely manner."
"It has been challenging to accept the fact that other industries – like restaurants, for example – underwent a much less significant level of scrutiny and had a much faster turnaround. Applicants received their funds in the matter of days of application," said Artpark President Sonia Kozlova Clark, whose organization has been awarded a grant.
"To see live arts treated as a high risk for fraud, coupled with continued technical issues, is frustrating. My opinion is that the task might have been better off with an agency like (New York State Council on the Arts), one that is experienced with grant-giving to the live arts. ... The communication from SBA has definitely improved over the past few days, so maybe they're trying to turn this challenge around."
Ring said he has heard the SBA hopes to process all applications by Thursday. The agency briefed Higgins' office in late June, saying processing is being done in the priority order of most need, but grants are not necessarily being awarded in that order. 
In Ring's view, the SBA's language does not match the agency's present reality.
"The SBA hired 500 reviewers for the SVOG program to distribute the funds appropriated by Congress," Ring said. "If each SBA staff member analyzed just one application a day, (all) applications would have been processed by now. ... How does this make sense?"
Higgins is baffled the SBA office in Buffalo is not involved in processing local applications, given the backlog reported by the broader SBA. 
"As you know, these venues are incredibly fragile, financially, right now," Higgins said. "They operate on very tight margins to begin with. So help delayed is help denied. If this is not dealt with and figured out, a lot of these venues will not make it."