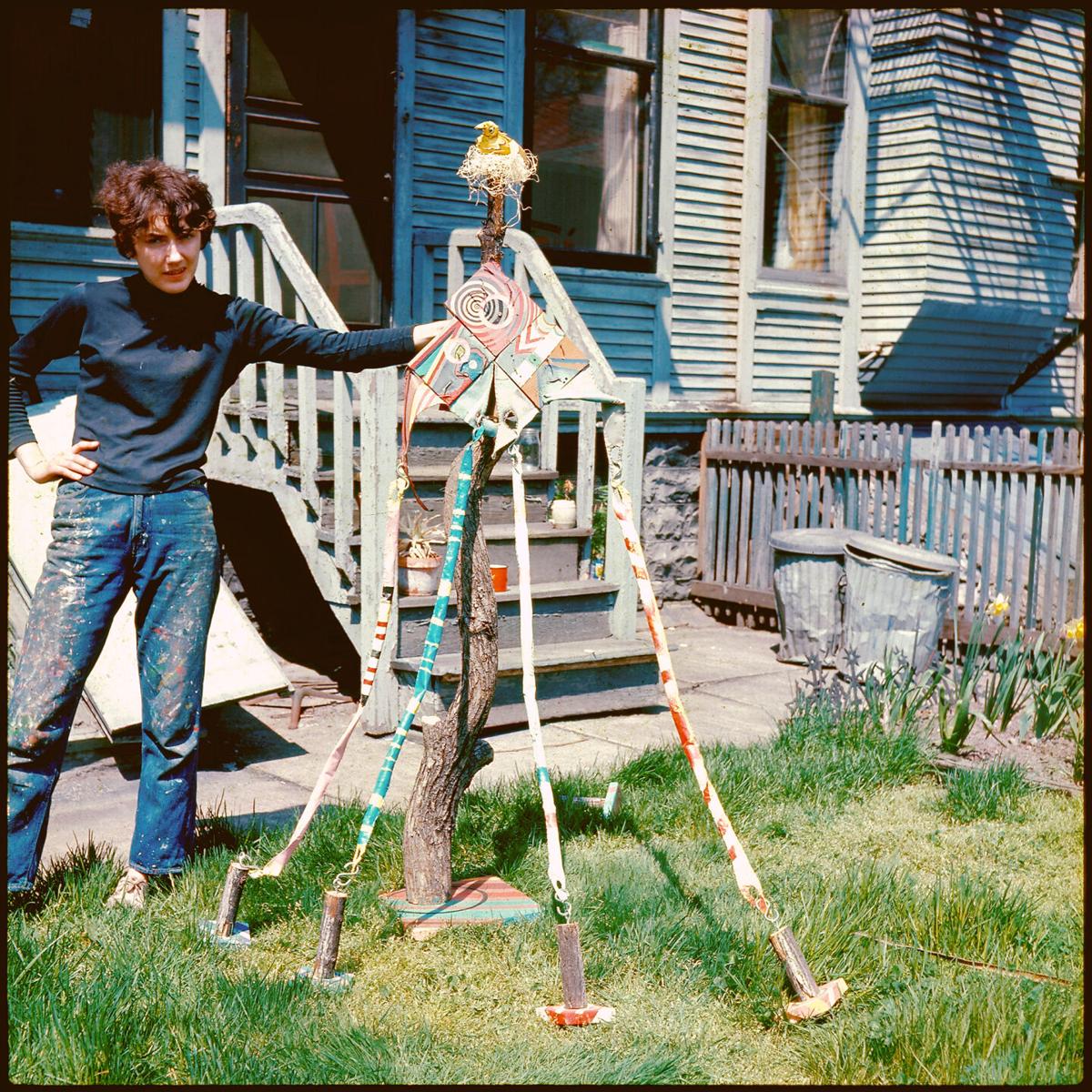 The two academic years abstract painter Elizabeth Murray spent in the late-1960s as a college instructor in Buffalo has long been seen as a blip on her artistic timeline between Oakland and New York City.
It also hasn't helped that little of the art Murray produced during that time survived. Much of it was left on the curb outside her Masten Park rowhouse for the sanitation truck and scavengers to pick up, days before she moved away.
But, as Robert Scalise, the director of UB Art Galleries came to discover, Murray's time in Buffalo was a formative period of artistic growth and experimentation. It also set the stage for the critical acclaim she would later receive for her unconventionally shaped canvases and cartoonish figuration.
Murray's last major show occurred in 2005, two years before her death, when she was just the fifth woman artist to have a retrospective at the Museum of Modern Art.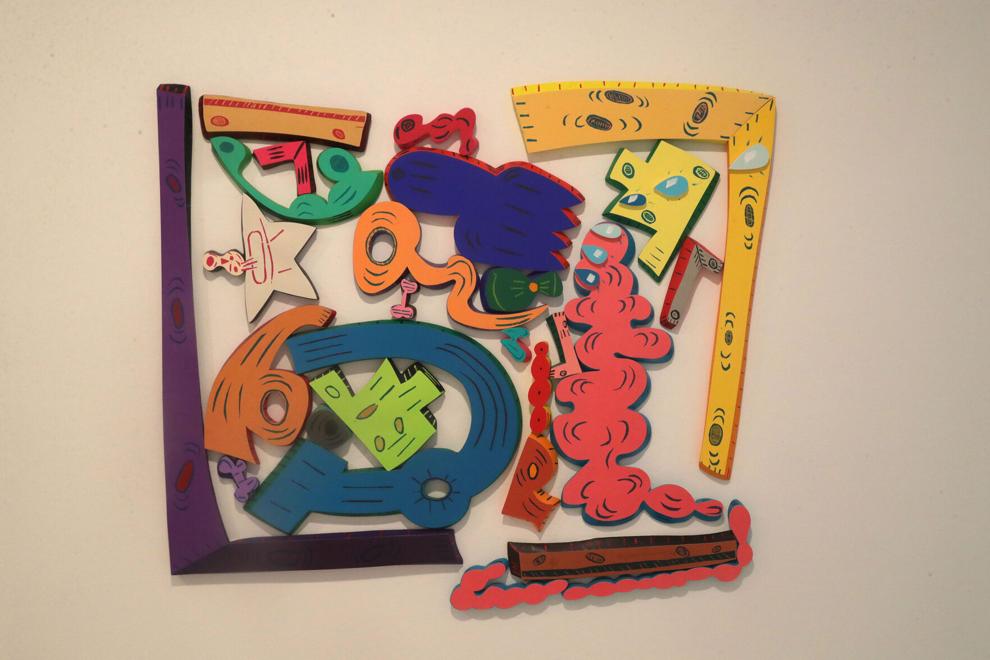 In her first posthumous retrospective, Scalise has curated "Elizabeth Murray: Back in Town" to focus on how Murray's time in Buffalo shaped her artistic style. The exhibition is on display through Oct. 3 at UB Anderson Gallery.
With the Albright-Knox Art Gallery closed for renovations, this survey of Murray's work and new scholarship on the impact Buffalo had on her career has "must-see" written all over it for museum-goers with an affinity for modern and contemporary art.
"Bringing an exhibition of Elizabeth Murray's work to Buffalo has long been a dream of mine," Scalise said.
The gallery director put the show together with help from the Murray estate, access to records of Murray's work that no longer exist and generous loans from other museums and private collectors.
The exhibition includes 71 pieces, with all but one of the show's 21 paintings on the first floor and drawings and prints on the second. It spans the period, chronologically, from 1963, which includes the never-before exhibited painting, "Portrait of Einstein & Charles Proteus Steinmetz," to Murray's last work, "Everybody Knows," in 2007.
An artist timeline and list of exhibitions are also included.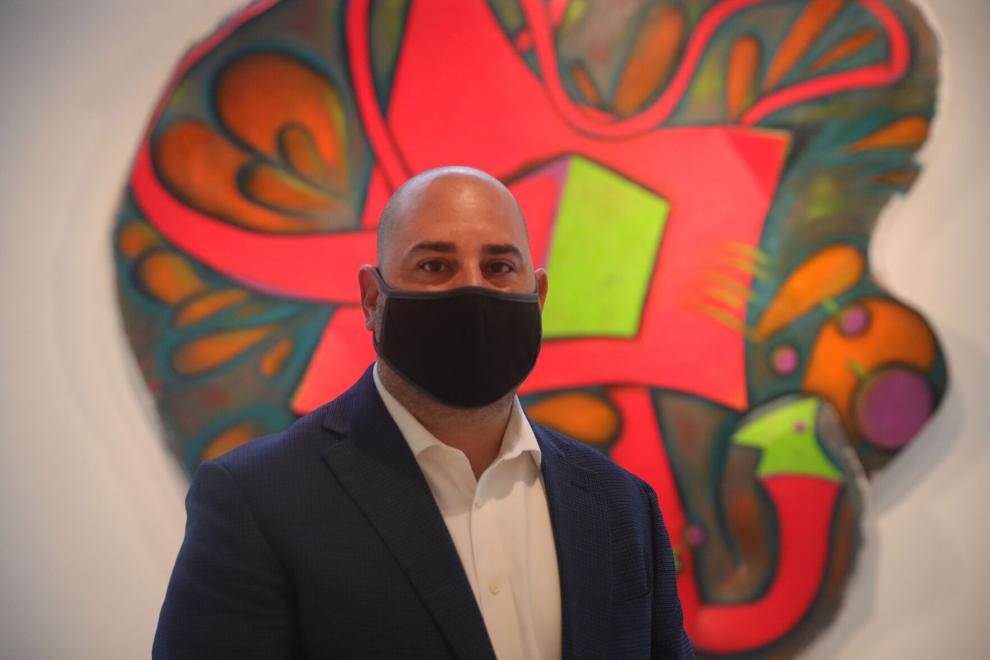 As Scalise recounts in an introduction to the show's forthcoming catalog, he was immediately drawn to Murray's paintings when first seeing them about 20 years ago.
"I felt electrified by her fun, dynamic work that broke boundaries between figuration, sculpture, painting and even the definition and shape of a canvas," Scalise said. "Murray was wildly experimental, fusing elements of graffiti, pop art, cartoons and puzzles into her bold, splashy pieces."
Something else that day stopped Scalise in his tracks: "I looked up Murray's biography and became fixated on a single line: '1965-1967: taught at Rosary Hill College, Amherst, NY.' "
"I couldn't believe it," Scalise said.
Needing to know more, Scalise embarked on his own journey to discover how those two academic years teaching at what is now Daemen College, and living at 77 Woodlawn Ave., near where the Academy of Visual and Performing Arts is today, affected her as an artist.
Buffalo, as Scalise found, was a place of artistic discovery for Murray.
Local museums and galleries are constantly acquiring work. Most often, these pieces flow into the collections of our larger museums and galleries with very little fanfare, seeping into curated exhibitions over many decades. But as budgets for more ambitious thematic exhibitions tighten, more institutions are turning to displays of recent acquisitions. (See: "50 for 50" at the Burchfield Penney
The Albright-Knox Art Gallery had expanded in 1962, the Charles Burchfield Center (now the Burchfield Penney Art Center) opened in 1966 and UB went from a private university to part of the state university system in 1962, and was looking to be "the Berkeley of the east," Scalise said.
"They were bringing in the best writers, poets, musicians and artists to create this large research facility," he said.
The Albright-Knox, thanks to prescient acquisitions in the 1950s and '60s by Seymour H. Knox Jr., president of the Buffalo Fine Arts Academy and a major supporter of the museum, and Gordon Smith, the museum's director, was by then one of the country's greatest repositories of modern and contemporary art.
"They landed in Buffalo when the city was on an upswing," said Douglas Dreishpoon, chief curator emeritus at the Albright-Knox, in a catalog essay by Jason Andrew, the manager of Murray's estate.
"By the mid-1960s, the pristine galleries of the new Bunshaft extension featured probing sculptures and paintings by Marisol, Stankiewicz, Bontecou, Oldenburg, Indiana, Warhol, Lichtenstein, and Dine," Dreishpoon said. "Any one of these artworks, along with earlier, revelatory canvases by Frankenthaler, Mitchell, Pollock and Still, could have activated Murray's creative imagination." 
No human impulse is more basic than the drive to explore. This compulsion — from grand expeditions to aimless wanderings — is at the heart of an ambitious  exhibition set to open Sept. 8 in the University at Buffalo Art Gallery in Amherst and the UB Anderson Gallery. "Wanderlust: Actions, Traces, Journeys 1967-2017," which also features a dozen ancillary events
Scalise said that because it was a time of exploration and experimentation, that may be why there isn't much left from Murray's time in Buffalo. Several pieces lost or destroyed are re-created in an interpretive area after being enlarged from glass slides held in the estate's archive.
The lone known surviving painting is "N.H. Lockwood," shown for the first time. The painting depicts lipstick being put onto a woman's distorted face through a mirror. The arm is collaged with fabric, which is a sleeve from Murray's painting shirt stuffed with newspaper and glued to the front of the painting. Both the face and arm protrude from the canvas.
Murray at the time was experimenting with "soft sculptures" and "environments" influenced by Pop artist Claes Oldenburg and "coated in layers of vibrant paint," as one writer put it.
Murray told an interviewer in 1977 that her "work changed radically" in Buffalo," which Andrew references in his essay.
The UB exhibit arrives 55 years after Murray had a solo exhibition at the Tomac Gallery, which was on Potomac Avenue from 1965 to 1969. It was art that wasn't for everybody, warned Jean Reeves, a Buffalo Evening News writer.
"The traditionally minded had best stay away from the first one-man show here of Elizabeth Murray," Reeves wrote.
In the article, Murray disparaged the work of Clyfford Still, a pioneer of abstract expressionism who had a close relationship with the Albright-Knox, noting many people were then replicating his work.
"What he did is dead now," Murray said.
She also talked about her own work.
"My things have a crude look," she said. "I don't strive for it, but I don't want to fight against it. I don't want mess, but I don't want finish. I'm interested in free, abstract brush work."
Murray counted James Joyce's "Ulysses" – "what he did with words showed me what I could do with forms" – as a major inspiration.
While Murray's influences included Neo-Dada artists Jasper Johns and Robert Rauschenberg, as well as Oldenburg, her work defied easy categorization, Scalise said.
"I'm not willing to put her into one category. Even when she was asked, she considered herself an abstract painter that incorporates a lot of things into her work," Scalise said. 
Murray seemed to take to teaching at Rosary Hill, right after graduating Mills College with an MFA in art and crossing the country for her new job.
"She was warm, open, generous with information, serious about girls finding their power," Carole Leighton, a Buffalo artist who worked as a part-time faculty member alongside Murray, recalls in the catalog.
"She was supportive of the girls making something of themselves, developing a style of art, following through on ideas," Leighton said. "She taught them to believe in themselves."
Later works, many of them large in scale, can be seen on the gallery's walls.
Scalise said they show the brush work, treatment of surfaces and the different use of shaped forms Murray experimented with in Buffalo.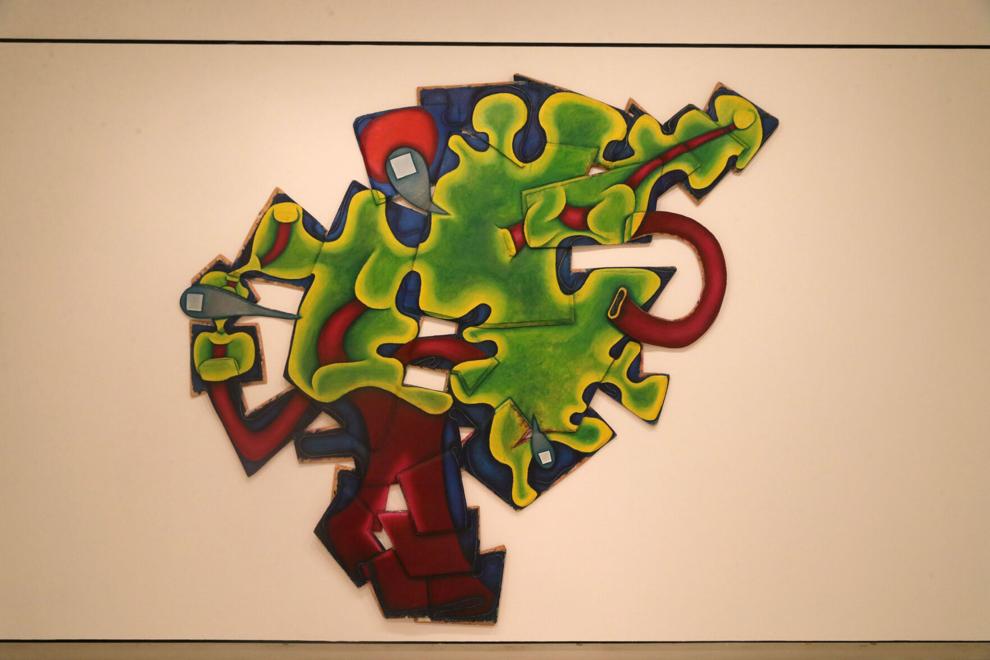 "Riverbank," a 1997 work on loan from the Albright-Knox, is a three-dimensional, large-scale painting brought together in four puzzle-like pieces. It depicts a giant yellow maple tree with water droplets and water or blue sky behind it.
"It's typical of her mature style: Monumental in scale, colorful, high impact," Scalise said. "This tree is coming alive the way the limbs are moving, and the yellow in the leaves is so vibrant and bright coming off the canvas."
Among the most noteworthy paintings, from the 1980s to the early 2000s, are "96 Tears," "Sandpaper Fate" and "The New World."
Becky Brown, a painting professor at UB whose work is also rooted in figuration and abstraction and, like Murray, uses extra-large, real-life objects, is a longtime fan of the artist's work.
Brown likes Murray's use of color and vibrant shapes, together with the sheer physical scale of her work that she finds both playful and celebratory. The exhibit, she said, is a perfect antidote to more than a year of watching art virtually during the pandemic.
Scalise is hoping in July to present "Everybody Knows...Elizabeth Murray," a documentary on Murray's life, and "Talking Pictures," in which Murray's second husband, poet Bob Holman, recites poetry about her paintings with a music score in the background.
On display through Oct. 3 in the UB Anderson Gallery, 1 Martha Jackson Place. Hours are 11 a.m. to 5 p.m. Thursdays through Saturdays and 1 p.m. to 5 p.m. Sundays.
Mark Sommer covers preservation, development, the waterfront, culture and more. He's also a former arts editor at The News.