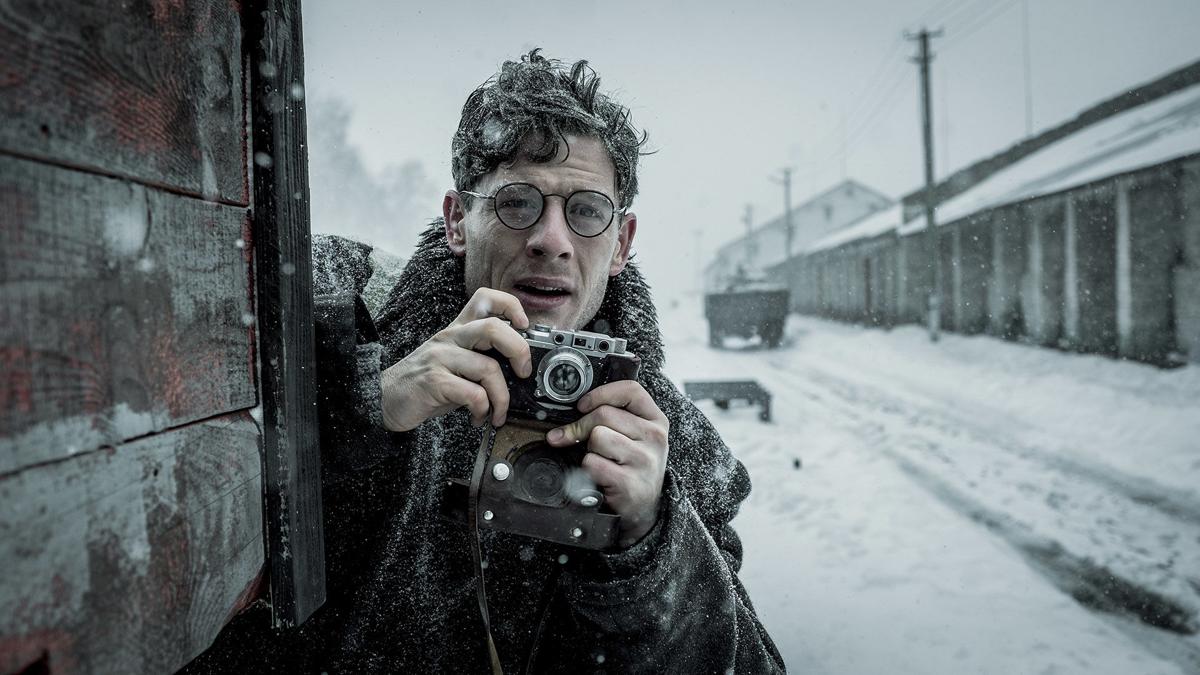 The return of in-person moviegoing appears to be imminent, but that does not mean the virtual cinema lineup is dying down. In fact, the offerings continue to grow. Some recent highlights include a sobering thriller set in 1930s Soviet Union, a character piece about a cop who discovers his late wife was unfaithful, a black comedy exploring the violent marriage of two puppeteers, and a complex mix of drama and documentary.
Participating local theaters are Dipson Theatres (dipsontheatres.com), North Park Theatre (northparktheatre.org), Screening Room Cinema Cafe (screeningroom.net) and the Aurora Theatre (theauroratheatre.com). Not all movies are available through each theater; visit websites to see the titles, which change weekly. For a theater to benefit from your ticket purchase, you must rent through its website.
Here are four recommended new options with the participating theater(s) listed.
"Mr. Jones" (via the North Park Theatre)
A rather grim film about a relatively unknown bit of 20th century history might not top your must-watch list. But "Mr. Jones" is gripping and well-acted from start to finish. James Norton ("Grantchester") stars as Gareth Jones, the British journalist who reported to the world an imposed famine in the Ukraine. This led to outrage from Soviet officials and disbelief in Jones' homeland. "Europa, Europa" director Agnieszka Holland is a pro at emotional historical drama, and brings a nicely epic feel to this harrowing story. It's not always an easy watch, but "Mr. Jones" is a worthy study of an intensely sad subject.
"A White, White Day" (via Dipson Theatres)
This is a genuinely riveting psychological drama with a devastating ending. Writer-director Hlynur Pálmason's mystery is set in remote Iceland, a location that is both beautiful and harsh. While it is ostensibly a film about a police detective who suspects his late wife was having an affair, "A White, White Day" is not an edge-of-your-seat thriller. Rather, it is a character-driven exploration of grief and marital secrecy. Featuring several jaw-droppingly intense sequences, "Day" is a stunner. It might be the finest virtual cinema selection currently available.
"Judy and Punch" (via the North Park Theatre)
Here's the most memorable one-sentence film description you'll come across this month: "In the anarchic town of Seaside, nowhere near the sea, puppeteers Judy and Punch are trying to resurrect their marionette show." While "Judy and Punch" starts as a comedy, it soon becomes an upsetting but watchable tale of revenge. It features domestic violence, public executions and infanticide, yet somehow retains its dark humor. Director Mirrah Foulkes deserves credit for creating this strange stew, and for eliciting tremendous performances from stars Mia Wasikowska and Damon Herriman. Audiences know Wasikowska from films like "Alice in Wonderland," and Herriman was a creepily memorable Charles Manson in "Once Upon a Time in Hollywood."
"The Feast of the Epiphany" (via the North Park Theatre)
Like "A White, White Day," "The Feast of the Epiphany" is a film of thematic and structural complexity. And like "Day," this unique creation from filmmakers Michael Koresky, Jeff Reichert and Farihah Zaman is worth the mental effort. The first half is a conversation-packed dinner party at a young woman's place in Brooklyn. Then, the film takes a sharp turn into documentary and completely turns its attention to the goings-on at a farm. The shift is fascinating, and forces viewers to ponder the significance. That's right – entertainment that makes you think. Now more than ever that's a good thing, and "The Feast of the Epiphany" is a beautiful, thought-provoking film.