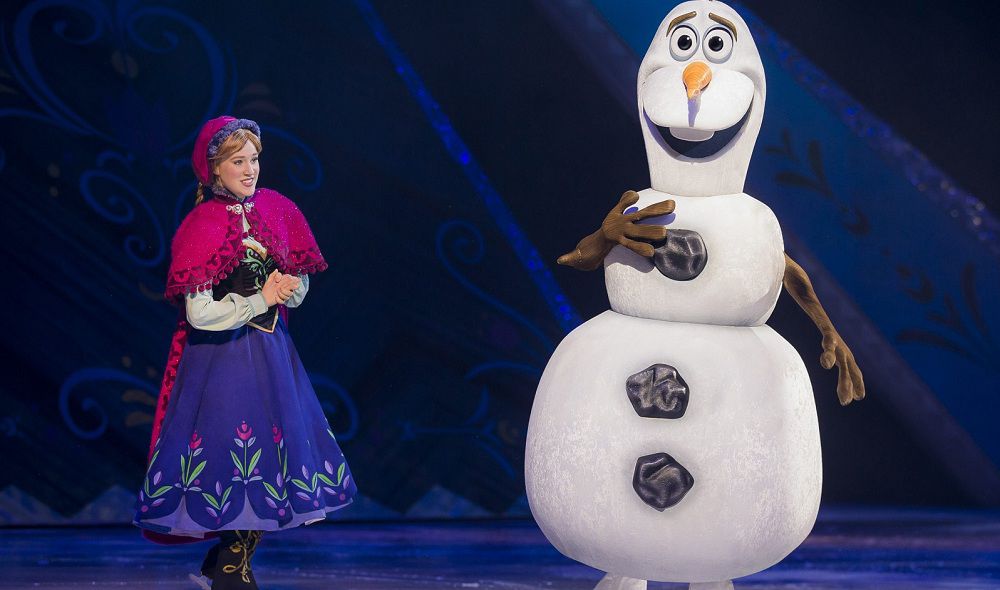 Morgan Bell has one of the most instantly recognizable work uniforms in the world.
Stepping into a traditional Norwegian bunad in blue, she throws a deep fuchsia cape around her shoulders and with braided pigtails is transformed into Princess Anna, half of the royal sister duo from the cultural phenomenon that is Disney's "Frozen."
As a star of "Disney on Ice presents Princesses and Heroes," at the First Niagara Center through Sunday, Bell helps tell the story of Anna – that's Ah-na – and her magical sister, Elsa. And at every performance, she sees the many little Annas and Elsas and Cinderellas and Ariels and – well, insert the name of any Disney princess – staring back at her from the audience.
"I look out every night and, right up to the roof of the building, I see kids decked out from head-to-toe in princess gear," Bell said from a recent tour stop in New Jersey. "Everyone has an inner child in themselves and Disney just brings it out. When the lights go down, the arena goes nuts. Each princess builds on the others and the place goes crazy. The more energy the audience gives us, the more we put out."
Since Snow White stepped out of the darkness of a Brothers Grimm fairy tale and became Disney's first princess in the 1937 classic "Snow White and the Seven Dwarfs," the princesses have been a part of our lives, even during the 30-year gap between "Sleeping Beauty" and the film considered to be the start of the modern princess era, "The Little Mermaid."
Today, the Disney machine is in full royal mode and there's nowhere to hide. Case in point: That 3-year-old in the grocery store shouting an off-key rendition of "Let It Go."
Princesses are, in fact, so ridiculously popular they were packaged together as a brand around 2000. In 2001, the Disney Consumer Products division had a reported $300 million in global sales. Today, the 13 teens – Snow White, Cinderella, Aurora, Ariel, Belle, Jasmine, Pocahontas, Mulan, Tiana, Rapunzel, Merida, Anna and Elsa – account for a staggering $4 billion in sales annually.
Let's take "Frozen" on its own. The film made $400 million in North American box office sales. More than 3 million Anna and Elsa dresses were sold in 2014 – they were even donned by members of the Boston Bruins, who dressed up in "Frozen" outfits for charity. A new film, Broadway show and theme park ride are all in the works.
At Walt Disney World in Orlando, you need to make reservations months in advance for a chance to dine with the princesses in Cinderella's Castle. Ditto for reservations at the Bibbi-Bobbidi Boutique at various Disney parks, where a princess makeover for ages 3 to 12 costs from $55 to $200.
The princess obsession, however, has its critics. Articles headlined "What's Wrong with Cinderella?" and "The Real Problem with the Disney Princess Brand" point out concerns of a lack of diversity, troubling feminine stereotypes and the unrealistic "happily ever after."
But Bell said princesses are more than their looks or playing dress up.
"Princesses like Cinderella or Belle, from classic to modern ones, are so iconic. Little girls love them because of the beautiful dresses, but each princess has her own story to tell. We fall in love with their stories and the obstacles they overcome," Bell said.
Adults may criticize, but they also buy into the princess mystique, buying everything from Rapunzel perfume to Ariel dresses and Belle tank tops plus jewelry, wallets, phone cases and even car windshield covers.
In 2013, Disney introduced an adult makeup line called Beautifully Disney.
Alfred Angelo Bridal began a line of princess-inspired wedding gowns in 2010, adding bridesmaids dresses and Disney Blossoms for the youngest members of the bridal party.
The princesses are increasingly stepping out of their animated fantasy worlds to movies and television, in projects including the film musical "Into the Woods" and the upcoming "Cinderella." The popular ABC TV series "Once Upon a Time" – starring Snow and Belle with visits from Mulan, Elsa and more – is watched by 7.5 million to 10 million adults a week.
Patty Vincent, who has been working for 32 years with Feld Productions, producers of ice shows including Disney on Ice, has witnessed the explosion of princess popularity.
"I've seen it change. I've seen our audience change and our shows change," said Vincent, now director of "Disney on Ice Presents Frozen." Those changes included the addition of "Princesses and Heroes" in 2006 and "Frozen," Feld Productions' 34th Disney on Ice show, in 2014.
For children used to solitary activities like video games and tablets, she said, live events become a shared experience for families.
"They can look out and touch it and be a part of it," Vincent said. "Not only do they dress up, they dance and sing along, too. We can't keep the kids in their seats."
1) "Disney on Ice Presents Princesses and Heroes"
Through Sunday in the First Niagara Center.
The Oscar-nominated musical starring Meryl Streep, above, is now showing in area theaters.
Kenneth Branagh's live-action film starring Lily James ("Downton Abbey"), above, in the title role is released March 13.
ABC series returns with new episodes on March 1.
"Snow White and Seven Dwarfs"
"The Princess and the Frog"
Stay up-to-date on what's happening
Receive the latest in local entertainment news in your inbox weekly!