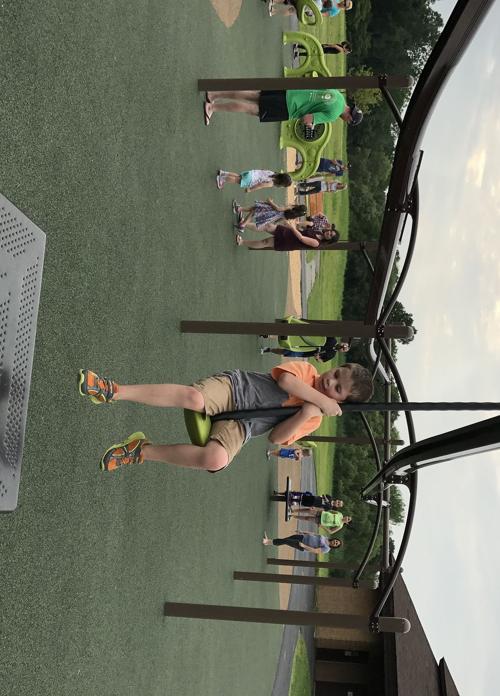 Playgrounds might not be as ubiquitous a sight in Western New York as pizza places, but it's close. That is, if you are looking for them. Parents, grandparents, guardians, and aunts and uncles know how essential it is to find new playgrounds for the little ones. So they are always on the lookout.
Listed here are some favorites of my kids, as well as spots recommended by friends and acquaintances. As one might expect, all of the options here have the playground staples (slides, climbing apparatuses, etc.) unless noted. Swings, you will note, won't be found everywhere.
Ready to turn the kiddos loose on a new playground? You can't go wrong with these.
Billy Wilson Park
1290 Hopkins Road, Williamsville
One of the newer area playgrounds, Billy Wilson Park is also one of the largest -- if not the largest. With two zip lines and a varied mix of play options, it's an impressive and hugely popular pick. Plus, the ground is not covered in wood chips, so there won't be any annoying bits in your sneakers.
Separate play area for little ones? No, and there are no swings, either. This pick is best for older kids.
Any surprises? The sheer size of the playground and the surrounding space is staggering. There is plenty of room for soccer here, as well.
Buffalo Harbor State Park Playground
Known by many as Outer Harbor Park, this is a uniquely designed playground (lots of silver and neon) in a wonderful location, right on Lake Erie. Like Billy Wilson, the ground is wood chip-free. One negative: The site is located in the direct sun, and can get very hot, very quickly. (An adjoining ice cream stand would be ideal.) Make sure to bring some cold drinks.
Separate play area for little ones? Yes, as well as some swings.
Any surprises? It has the most breathtaking playground view in Buffalo, of the grain elevators and the cityscape.
Butterfly Athletic Park
Wales Primary School, 4650 Woodchuck Road, East Aurora
This bright, whimsical playground is a stunner. There is lots to do, including lots of swings and rock walls, and the vibe is unique. I bet the kids at Wales Primary School adore it.
Separate play area for little ones? Yes.
Any surprises? Parents may want to tell the kids about the playground's moving backstory -- it was built in honor of late 9-year-old Katie Durkin. Learn more about Katie and her story at thebutterflyfoundation.net.
Charles E. Burchfield Nature & Art Center Playground
2001 Union Road., West Seneca
My son calls the Burchfield the "Ewok village" playground for its faux-wood, treehouse-like appearance. I call it a local playground like no other. The slides and climbing apparatuses are fun, but what makes it so memorable is the environment: The playground borders a nature trail, and the lovely Art Center.
Separate play area for little ones? Yes, although there are no swings.
Any surprises? Head to the nature trail and you may spot some woodland creatures.
Hamburg Community Playground
107 Prospect Ave., Hamburg
Here is the AT&T/Dallas Cowboys Stadium of local playgrounds. The Hamburg Community Playground makes the Billy Wilson look quaint. It is -- in a word -- enormous. While the size is a plus, it's the number of options that makes this stand out. The zip lines might require some waiting, but even when the playground is crowded, the large space keeps things congestion-free.
Bathrooms on site? Yes, in a community building next door.
Separate play area for little ones? Yes, with a wee Tim Hortons. Swings are plentiful.
Any surprises? That Tim Hortons is adorable, and there's a real one within walking distance.
Smallwood Drive School
300 Smallwood Drive, Amherst
Smallwood's playground is our family favorite. There is so much to do here, and the smaller playground for little ones is larger than most. With lots of swings and several slides, it's hard to top. Let's end on a bit of hyperbole from my 8-year-old: "It's the best playground in the world."
Separate play area for little ones? Yes. There are swings, including a few for infants and toddlers.
Any surprises? A small garden and some picnic tables nearby offer some shade.
Ten more worth visiting
Allendale Elementary School (West Seneca), Charles A. Lindbergh Elementary School (Kenmore), Delaware Park Playground (Buffalo), Eggert Elementary School (Orchard Park), George's Hot Dogs (Boston), Herbert Hoover Elementary School (Kenmore), Maple West Elementary School (Williamsville), Shoshone Park (Buffalo), Sunshine Park (West Seneca), Westwood Park (Lancaster).
Stay up-to-date on what's happening
Receive the latest in local entertainment news in your inbox weekly!