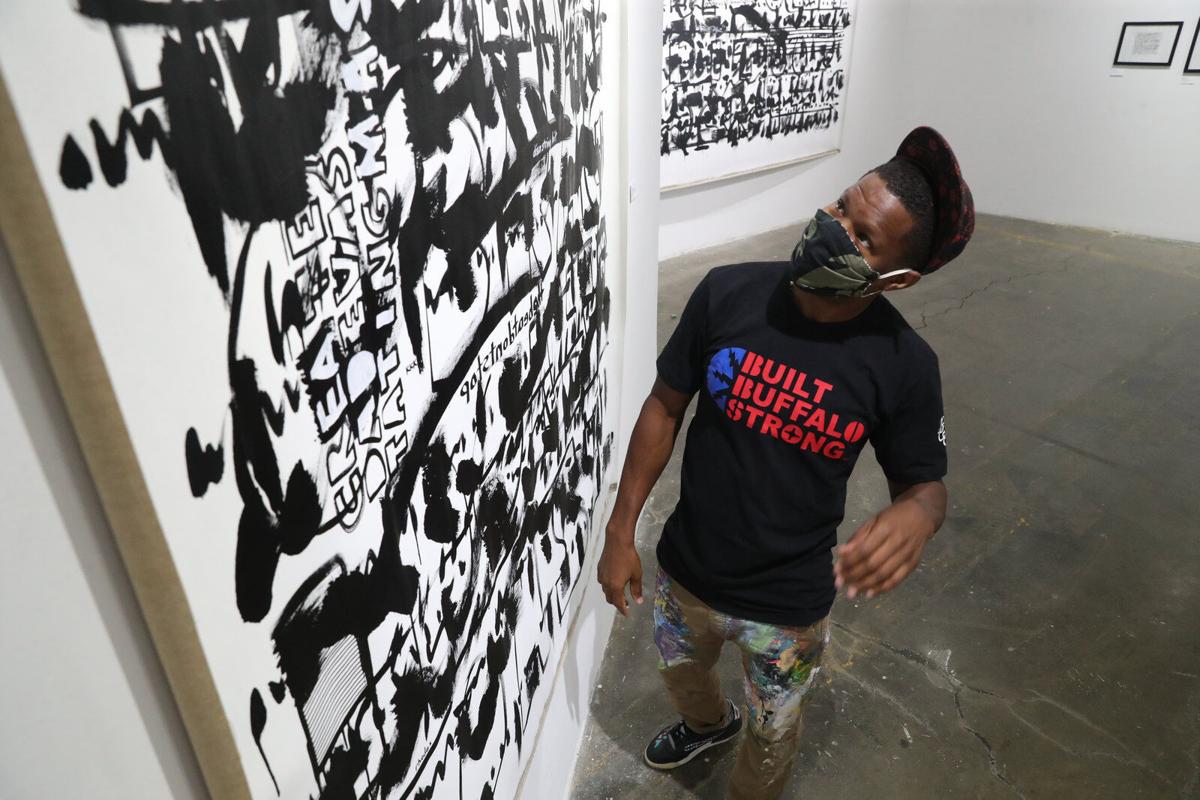 More than a decade ago, Edreys Wajed was a hip-hop artist working under the nom de plume Billy Drease Williams. At that time, I was struck by the willfully interdisciplinary approach he took to hip-hop and art in general.
"Hip-hop is art, when it's at its best," Wajed told me in 2009. "And it is also a significant part of the culture – here in Buffalo, of course, and in the whole country, as well."
That work – much of it made in collaboration with the help of Tony Caferro, a producer, promoter, DJ and head of local indie label Deep Thinka Records – was only the tip of the artistic iceberg.
In addition to his work as a musician, Wajed also is a painter, poet, jewelry designer, entrepreneur and artistic mentor.  
He's a prominent mural artist, with public works including contributions to the Albright-Knox-commissioned Freedom Wall, a visual celebration of civil rights movement icons, at the corner of Michigan Avenue and East Ferry Street.
He's responsible for the vibrant mural honoring the late local jazzman John "Spider" Martin, across from the train station on Main Street in Niagara Falls.
He's done temporary installations and projections at Silo City and on the Peace Bridge.
He runs a stationary boutique and art gallery with his wife, Alexa Joan Wajed, an artist, chef and jewelry designer.
It's no surprise, then, that Wajed is a finalist for Artist of the Year honors in this year's Arts Services Initiative of WNY Spark Awards, where he is in the company of such luminaries as Buffalo Philharmonic Orchestra Music Director JoAnn Falletta and Irish Classical Theatre founder Vincent O'Neill.
Now, Wajed is celebrating the opening of his latest venture – "Wish You Were Here," an installation at the Buffalo Arts Studio in the Tri-Main Center where he shares paintings created in reaction to "the mood and rhythm of popular songs." The exhibit, which runs through Sept. 5, in many ways represents the true apotheosis of all Wajed's inter-disciplinary excursions.
Wajed recently took time for an interview that revolved around the way various artistic disciplines meet, mingle and mesh in his work.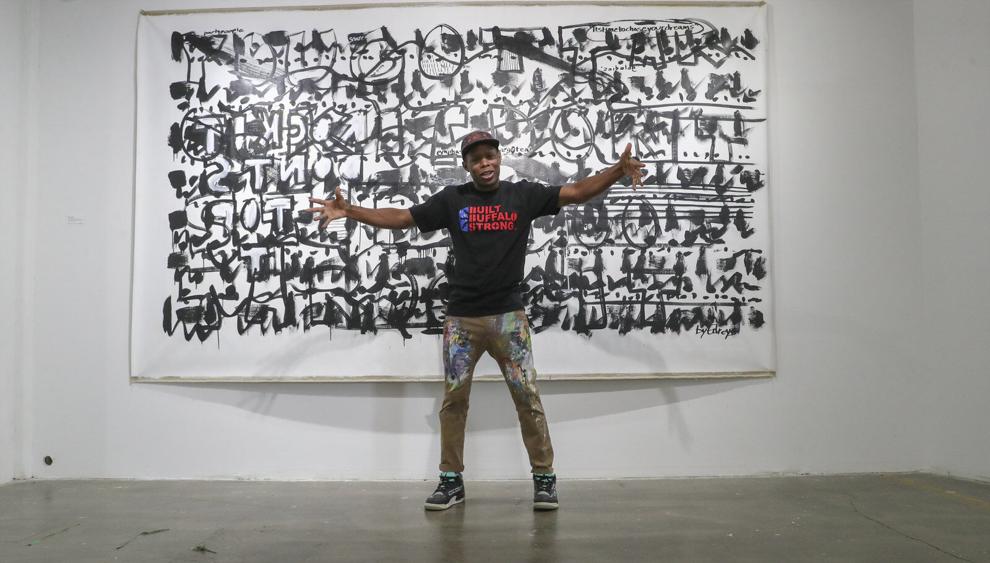 Question: Have you always felt a synergy between music and painting/color?
Answer: I've always felt a synergy between music and strong captivating imagery, which can be seen in some of the videos I've produced. It has always been of interest to me to paint or create scenes, vignettes or graphics that match or visually represent music or sound.
Q: How can rhythm and groove be translated into line, text and color?
A: I've developed my own marking system, similar to music notes on standard sheet music. Each painting is an actual song, placed on repeat throughout the development of the painting. This process isn't me simply jamming out or rocking to the song – I am studying the piece in depth, not just listening recreationally.
I focus on one instrument at a time, isolating it to memorize its melody and then articulate its phrasing through movement that mimics the instrumentation. A long-held note, like a chord sustained, may appear as more of a straight line, whereas an enthusiastic, electrifying horn solo – think Coltrane – will vary greatly in its movement, dancing a lot more around on the canvas. Color is influenced by the sound, mode and frequency of the instrument or sound, as colors have their own sort of visual vibration to them.
Q: Since you're a musician as well as a visual artist, you have insight into how art forms that might seem diametrically opposed are in fact interrelated. Musicians as diverse as Miles Davis, Joni Mitchell and Jerry Garcia all explored the relationship between sound and color. Did you have any specific influences in this area?
A: I didn't have any specific influences for exploring sound and color. I was just aiming to reconnect with music and push myself into uncomfortable spaces, artistically speaking. My artwork for many years was comfortably just black and white, pen and ink, line-driven, hand-drawn images, that were graphically crisp, clean and precise. It was only when I began renting a studio space at Buffalo Arts Studio that I began to experiment with color. It just happened to be the perfect mixture of a frustrated, dreams-deferred hip-hop artist; a resignation from my last place of employment; the need for repair and healing, which came through me falling back in love with music, topped off with the studio space to create uninhibitedly.
Two individuals that are responsible for encouraging me to share my new style of painting were Leah Happi Hamilton and Buffalo Arts Studio curator Shirley Verrico. They both said the paintings spoke to them, because I had found an authentic path, voice and approach that resounded.
Q: You seem to be particularly adept at employing social media to draw people into your artistic process. Tell me how the current times demand that an artist finds new ways of connecting.
A: The way my wife and I saw it, we could either adapt, or fold, under the circumstances. We chose to adapt and evolve. Artists are generally good problem solvers, resilient and scrappy, because if you're a full-time, living artist, survival and adaptation are riding shotgun during your travels.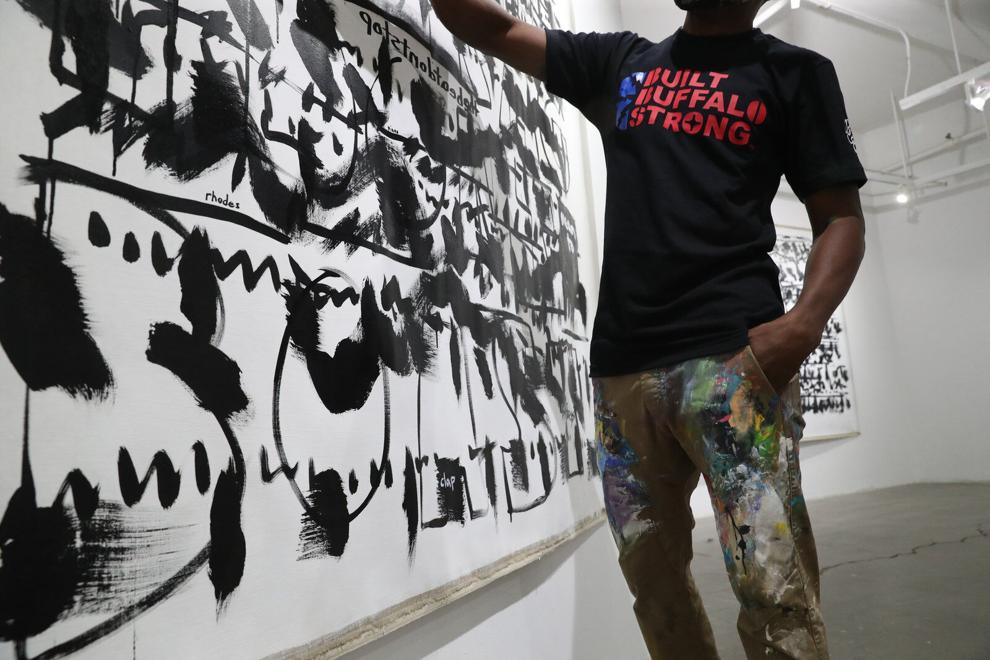 Q: Why did you name the show "Wish You Were Here"?
A: That was a direct, playful response to the pandemic. I was installing a separate exhibit days before the shutdown. I have had paintings on the walls of Hotel Henry since March, which no one knew about, because the pandemic didn't permit for a proper opening. Not wanting to sit still and allow anxiety and worry to fully overcome us, we started to do our live Happy Hour paintings and it was as if the people watching were couch-side in our living room each Friday. This virtual gathering over many weeks became somewhat of a social club, where everyone looked to chat, dance and drink, from the privacy of their homes, while I painted. Seeing as how mass gatherings and human connection are factors that exhibit openings, artists and galleries heavily depend on, I was struck with that title one day.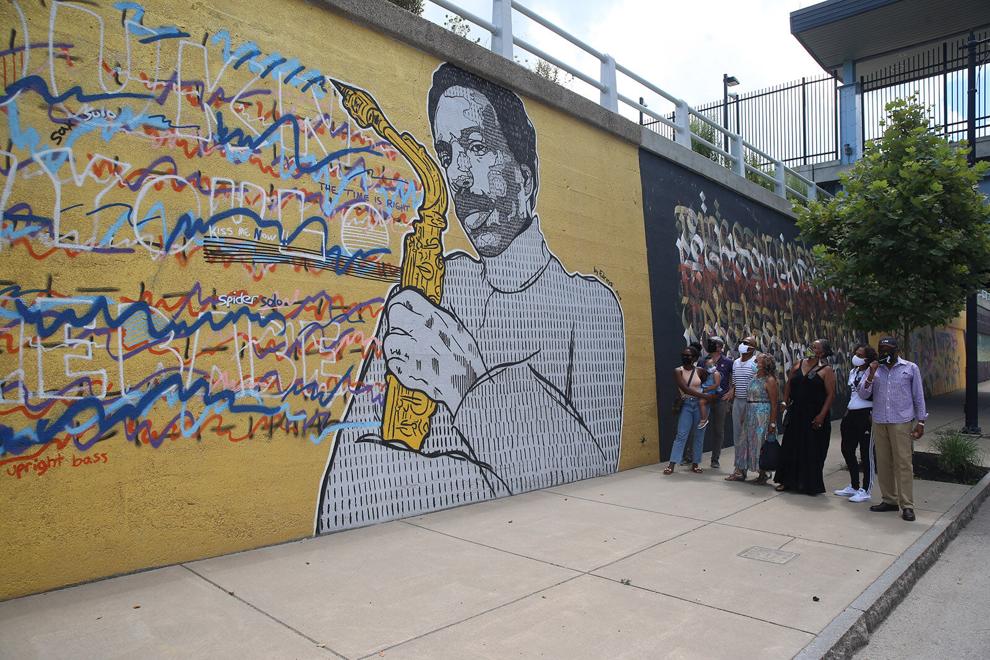 Q: Tell me about your mural honoring John "Spider" Martin, the great tenor saxophonist. 
A: Thanks to the wonderful people with Niagara Falls National Heritage Area development and Niagara Falls Underground Railroad Museum, I had the opportunity to contribute to the corridor murals. I was honored to do a drawing of jazz legend Pappy Martin for the Martin family's annual jazz festival. While I was contemplating what to offer to the Niagara Falls murals project, a good friend of mine, DJ Cutler, contacted me and remarked on how impressed he was with the Pappy Martin rendering. Cutler put the pieces together and suggested that I research Spider Martin, acknowledging that the Martin family had roots there and Spider used to play in clubs around the corner from where the murals were located. It was all serendipitous. That mural represents the first time that I publicly merged portraiture and musical notation.
Q: Can you discuss some of the other public art projects you've been involved with?
A: Regarding the Black Lives Matter mural, in response to the atmosphere throughout the country, many artists propelled into action, one of them being Keith Harrington of Projex. He reached out with the suggestion of collaborating on a project that spoke to activism, awareness and positivity, which led to me illustrating several phrases, mantras or slogans that spoke to humanity and fairness, which were projected onto the Peace Bridge and prior to that, onto an apartment building on West Utica and Elmwood. We also collaborated a year prior by projecting onto the silos at River Works one evening during the Beau Fleuve Festival.
Artists banding together during times like this is crucial – to mend ourselves, as well as heal communities through our offerings.