As professional sports events remain largely crowdless, the significance of fan participation might logically appear diminished. However, you can never really take the fan out of the game.
With the Toronto Blue Jays in full flight at Sahlen Field, and Buffalo Bills season fast approaching, iconic team songs associated with both franchises remain an important means of channeling fan passion into full engagement, even if that engagement is virtual.
Wherever we are, and however we might be watching, these songs – as silly as they might be, on the surface, at least – continue to mean something to us.
Since 1982, the seventh-inning stretch of every Blue Jays home game has afforded the team's fans a chance to sing along with "OK Blue Jays," an old-school chant-along with some giddy and goofy power-pop elements. Though fans have been shut out of the games since the Jays set up shop at Sahlen Field, the stretch still finds the song reverberating around downtown Buffalo this season, as the song's lyrics flash across the massive video screen in center field.
Fifteen miles south of Sahlen Field, when the Bills are playing a home game at Bills Stadium, team theme song "Shout" is, by this point, as much a sacred ritual as it is an opportunity for a rowdy singalong. The tune – a Bills-centric rewrite of the Isley Brothers R&B jumper originally recorded in 1959 – debuted in 1987 and has since served to unify multiple generations of Bills fans through good and bad times. (Mostly bad, if we're being honest.)
Both the Bills' and Jays' theme songs have become iconic signifiers of fan devotion. Let's see how they stack up against each other.
In 1982, the Toronto Blue Jays were a young team without a proven record. Canadian songwriter Jack Lenz, who wrote "OK Blue Jays" with friend Tony Kosinec, recalls being approached by Blue Jays executive Paul Beeston with the idea for a tune.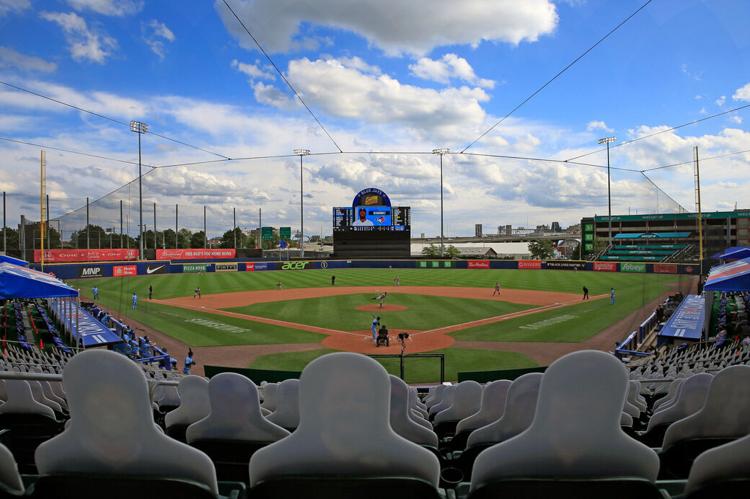 "The funniest thing about it was that he said, 'Look, we're an expansion team,' " Lenz told the Canadian Press in 2015. " 'We don't want to promise too much, but we want the song to be fun and be something people can sing along with. Because we don't want to promise too much, we should just kind of say they're kind of OK.' "
Lenz seized the moment and ran with the "OK" and "Blue Jays" rhyme scheme, in the process, crafting a hook that would endure. Lenz packed the tune with information that, apparently, was meant to at least partially explain the game to a Toronto fan base more enthralled with hockey than baseball. "You've got a diamond/You've got nine men/You've got a hat, and a bat, and that's not all/You got the bleachers, got 'em from spring till fall/You got a dog, and a drink, and an umpire's call/What do you want? Let's play ball!" runs the song's insanely catchy and partly tongue-in-cheek first verse.
The mystery voice that you've heard sing at Bills games since the '80s has never been revealed … until
Musician Scott Kemper had it easier than Lenz, in a sense. He simply took the already established awesomeness of the Isley Brothers tune and changed the lyrics to reflect the maniacal fandom of the Buffalo 12th man. Although the resulting tune is about as lyrically deep as a tailgater's parking lot card table belly flop is intellectually stimulating, it worked. "Let's go, Buffalo!" will last as long as there is an NFL team here.
Advantage: "OK Blue Jays." Lyrically, Lenz's writing takes the prize. It's witty, creative and catchy, and somehow, distinctly Canadian, while still holding appeal for baseball fans on either side of the border.
Lenz crafted his own melody, and it follows a music hall-ish strut and hop, like a less sardonic Randy Newman professing his love for the game with a nod and a wink. It's a well-crafted piece of music, even if it can't help but incorporate the old "football hooligan" chant section that is a mandatory element of all sports anthems (and later-period Coldplay songs).
Kemper used the Isley Brothers' melody, which was already iconic before he added Bills references.
Advantage: "Shout" is an R&B corker. It simply can't miss.
The "OK Blue Jays" were more than OK winning World Series in 1992 and 1993, but hit a postseason dry spell that lasted until 2015, when they lost the ALCS in six games. They have not been back to the playoffs since 2016.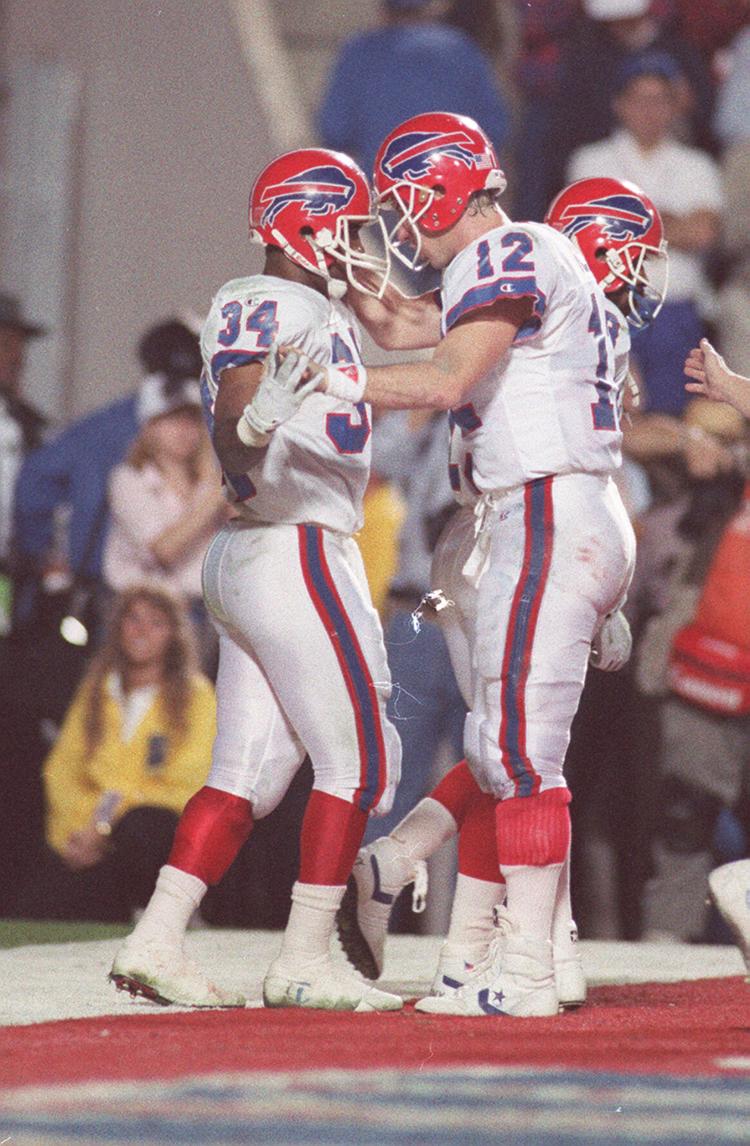 The Bills have been torturing fans consistently since going to four straight Super Bowls between 1990 and 1993. Sure, they lost them all, but who can forget what it felt like to be a Buffalo sports fan during that run? "Shout" was everywhere at all times back then, to the point where, when the team decided to drop the song after the Polaroid Corporation purchased the rights to the song, and a $10,000 royalty came due, fans united to demand that "Shout" be retained.
Advantage: "Shout." The Blue Jays have the championship rings, but Bills fans loved their theme song so much, they refused to let it go. That shows heart, or bullheadedness, or perhaps a blend of both.  
Toronto fans seem to feel about "OK Blue Jays" the way Boston Red Sox fans do about Neil Diamond's "Sweet Caroline." The seventh-inning stretch ritual is deeply embedded in Blue Jays fans' game experience, and so, it has become a part of Canadian sports culture writ large.
"Shout" is a whole different story, however. It's part and parcel of the Bills fans' religion. Because being a Bills fan is such a bittersweet experience for the truly devout, the song is as indelible to the fan experience as the team's colors.
"OK Blue Jays" is an original composition written expressly for the team and its fans. It's catchy, witty, well-written, charmingly Canadian, and by now, a deeply ingrained component of the fan experience.
"Shout" is a reworking of an already classic song, with some fairly slim, but still meaningful, contributions in the lyric department.
It's unfair, really, to compare the two songs. "Shout" had the advantage going in, because it was already part of the public consciousness. "OK Blue Jays" is the more creative of the two, if we consider it solely as a team theme song. But in the end, even the Jays can't beat the Isley Brothers.
"Shout" claims the prize.
Stay up-to-date on what's happening
Receive the latest in local entertainment news in your inbox weekly!