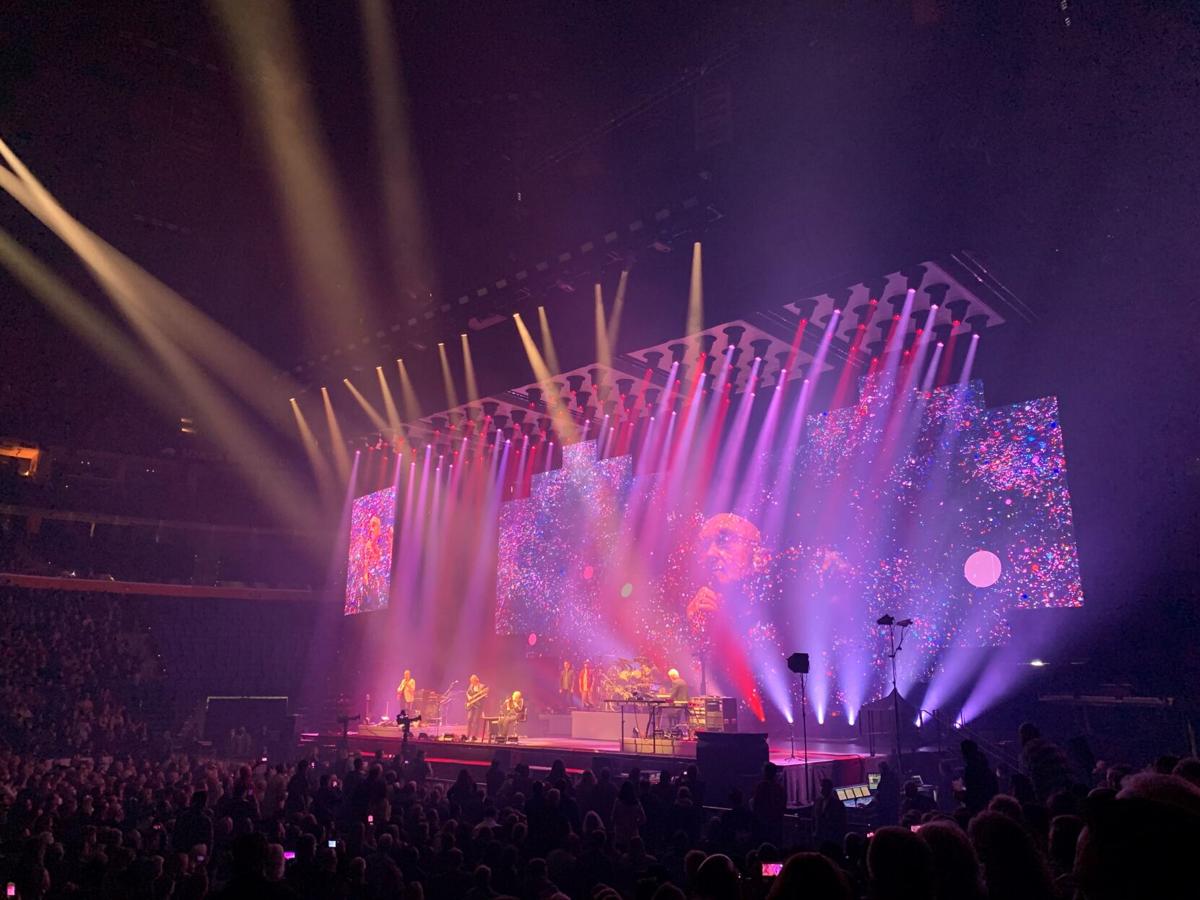 Genesis performed a lush two-hour set of beloved poetical ballads and jaunty, dance-inducing pop tunes at its sold-out KeyBank Center concert on Saturday night, ending a 13-year hiatus. The big love for this band was palpable, opening notes met with jubilant shouts of recognition and sing-alongs, largely encouraged by the gesturing of the man seated and singing front and center, former drummer Phil Collins.
This was a stop on "The Last Domino?" tour of 47 concerts throughout North America and Europe. Genesis released a best-of compilation of same name a month before hitting the road. Making music for more than five decades, the band was last here for the "Turn it On Again" tour in 2007 and Collins played Buffalo for his "Still Not Dead Yet Live!" tour in 2019.
Lines of fans encircled the venue awaiting the opening of the doors in wintry weather, and in great anticipation. In meeting KeyBank Center's "fully vaccinated venue" protocol (outlined in an email sent to every ticket purchaser the day of), attendees showed proof of vaccination before proceeding to digital ticket scanning, and, lastly, a security check. Start time was delayed by about 30 minutes to allow seats to gradually be filled.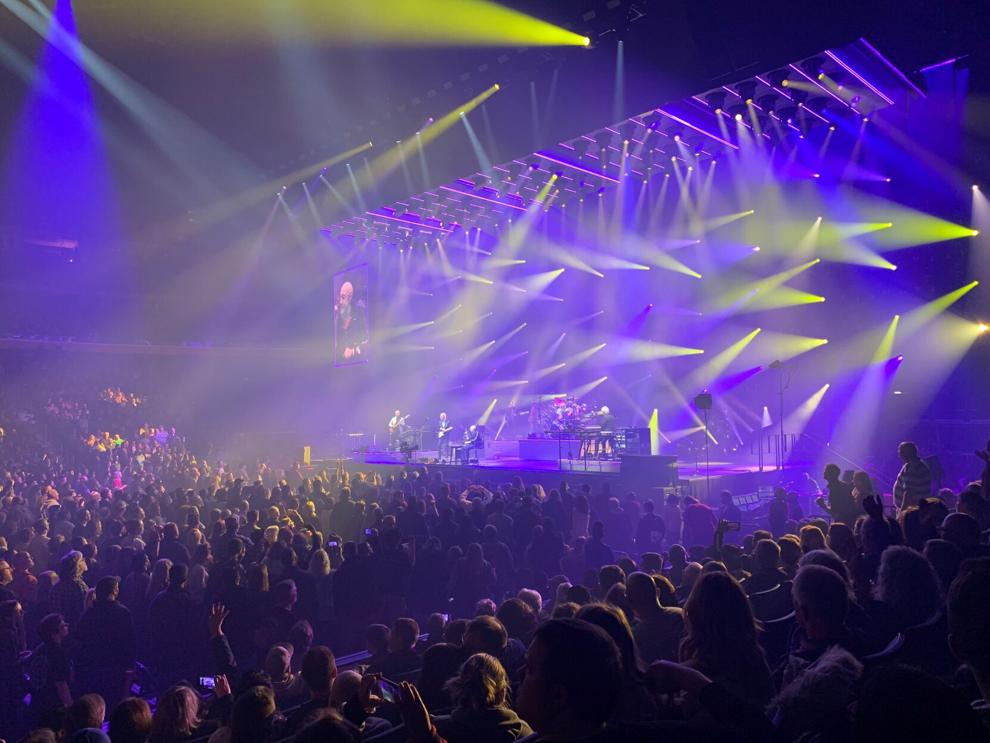 The band today is founding members Collins, keyboardist Tony Banks and guitarist Mike Rutherford, with longtime guitarist Daryl Stuermer (it was also his birthday Saturday night, as Collins announced), and Collins' kid, Nicholas Collins, on drums. The drumming DNA is a mighty thing. Nic, as his dad calls him (also referred to as "boy wonder" during the show) is as expressive a drummer as his father was and a treat to watch. Backup vocalists Daniel Pearce and Patrick Smyth add layers to songs, especially as the voice of Collins strains on occasion.
Continuing a Collins trend of jovial titular death references, the band's walk-out music is "Dead Already" from the soundtrack of 1999 movie "American Beauty." An instrumental warm-up with "Behind the Lines/Duke's End" began the show before the mega-hit "Turn It On Again" and into heavier "Mama." Video screens behind the band showed red layers of imagery looking like swirling magma into close-ups of Collins' face for the song's cackling laughter.
Collins then addressed the crowd. "Good evening, Buffalo. How're you tonight? We thank you for choosing us. We're going to be here a while so don't peak too early."
About halfway though his performance at KeyBank Center on Friday, Phil Collins pulled the chair he'd been sitting on throughout the show right to the edge of the drum riser at the rear of the stage. He bowed his head, placing it inches away from the bass drum, his foot keeping time with the hi-hat, his arms flailing in
"Land of Confusion," a 1980s-era Genesis song, was introduced by Collins as being "quite relevant" for today. Whereas the original video that was in heavy MTV rotation featured puppets modeled after Collins, Banks and Rutherford (plus then-president Ronald Reagan and wife, Nancy), today's on-stage video shows a shower of toilet paper rolls, a roadside "Stay at Home" sign, and an army of matching men in bowler hats and neckties.
Then it was "time for the first Genesis party trick," Collins announced, and that he would get the audience all excited about "a haunted house overlooking the sea" with the back-to-back numbers "Home by the Sea" and "Second Home by the Sea." It was on to a string of more contemplative songs and a stunning, somber "Afterglow," about longing for lost love.
The musicians sat around Collins for the set's acoustic string of hits that included "The Lamb Lies Down on Broadway," "Follow You, Follow Me" and "Duchess." A few songs later, "Firth of Fifth" featured mad licks of Stuermer soloing prominently. The set ended with "Tonight, Tonight, Tonight" into "Invisible Touch."
"I Can't Dance" began the three-song encore. The first verse of "Dancing with the Moonlit Knight" set up one of rock's most gorgeous songs, "The Carpet Crawlers," the band's powerful closer. Collins gestured for the audience to take over the refrain of "We've got to get in to get out."
It's been reported that this is Genesis' final tour, but if the pathos and the tears of joy can sway their collective minds, maybe this will be a gateway to another, future journey.
---
Nov. 27 in KeyBank Center