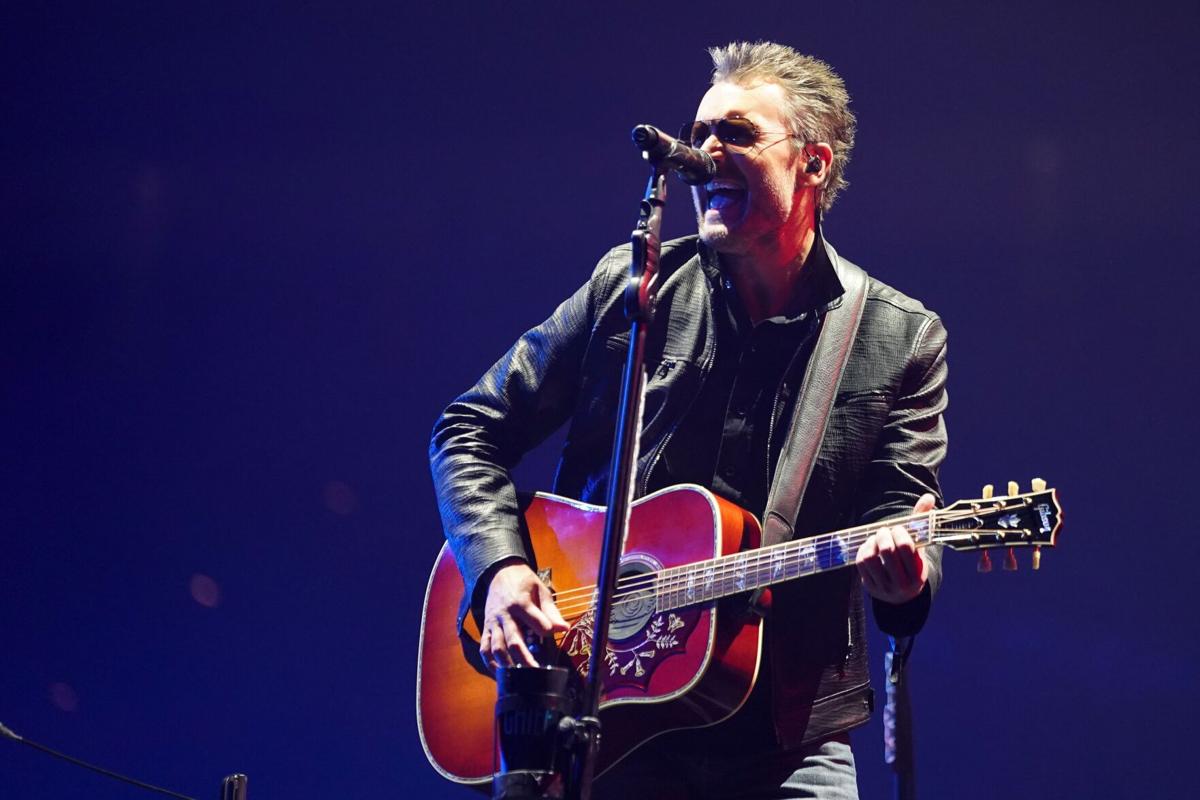 An Eric Church concert commandment: Thou shalt not lose your mind and shove fellow audience members from behind, nearly causing a rumble in Section 103 of KeyBank Center while attempting to approach the country megastar, who had drifted from the stage to mingle with fans during his song "Springsteen" at the end of his flawless three-hour concert.
Some, deprived of live music of such a grand scale for some time (the Lumineers were the last big tour playing KeyBank Center, in February 2020), might need some gentle reminders, refreshers and rebukes. Church did return to the stage, no punches were thrown, and the ardent fan in question, hoping for a selfie with the country star, disappeared into the crowd.
Out on his 55-city, aptly named "The Gather Again Tour" promoting his triple album "Heart & Soul," Church and his crew of six stalwart musicians – and powerful accompanying vocalist Joanna Cotton – played Buffalo on Saturday night. The vibe was celebratory and rowdy.
Church is a vocal proponent of Covid-19 vaccination (the April 2021 Billboard magazine cover shows him getting his shot) and all attendees Saturday night were required to show – via paper cards or Excelsior passes on smartphones – proof of vaccination before entry. After entry, there were the usual large venue security checks; masks were not required, but employees of the venue were all masked.
Arriving for the concert that had an advertised opening time of 7 p.m. thousands were greeted with lines encircling the block. Walking around the building to locate the end of one of two lines (one heading east, the other west), concertgoers found the junction on South Park Avenue, directly across from the Niagara Frontier Transportation Authority maintenance yard.
The doors did open on time and the lines moved along slowly, by yards at a time – but a casual survey showed more enthusiasm than annoyance. A group of friends waited out the lines by hanging out at Buffalo Iron Works on Illinois Street across from KeyBank Center.
"Through My Ray-Bans" began the lyrical journey of Church's Americana – memories, heartaches and automobiles ready for takeoff. Throughout, his signature Ray-Ban aviator frames stayed put, except for one fleeting moment when he lowered them. They, like his sleek black clothing and "Chief" guitar strap, are his look.
The two-set concert of 33 songs flowed beautifully, swinging from booming rock-country to more quiet and contemplative Church compositions. All took place on the tour's well-engineered, in-the-round stage giving ample space for each band member to move about on its two levels. Strategically placed cameras, and four huge vertical screens, ensure that each player has gorgeous closeups aplenty while working country music magic.
"I feel human again," Church said during the show, expressing the joy of being back at the art of collective memory-making at a live show. He would, throughout the sets, insert "Buffalo" into lyrics, a gesture that got as much love as his emphatic cowboy kicks and his smooth moves around the large stage.
Moving off of the stage (hugging and greeting fans along the way), Church performed on two smaller stages, islands amid fans with standing-room-only vantage points. The two small stages were labeled Heart and Soul. During "Mixed Drinks About Feelings" Church and Cotton each played on one of the smaller stages, opposite each other in the huge space, their voices perfectly meshing.
High-energy hits "Smoke A Little Smoke," "Drink in My Hand" and "That's Damn Rock & Roll" were the show standouts. After "Look Good and You Know It," Church said, "You ain't tired, I ain't tired," before "Give Me Back My Hometown," of the lost-love genre.
A bit of Springsteen's "Born to Run," done in full-on country swagger, grooved into Church's tributary and melancholic "Springsteen," the set's closer. Embracing one another, the band bowed in unison. The crowd left as they came in, raucous, loud and happy.