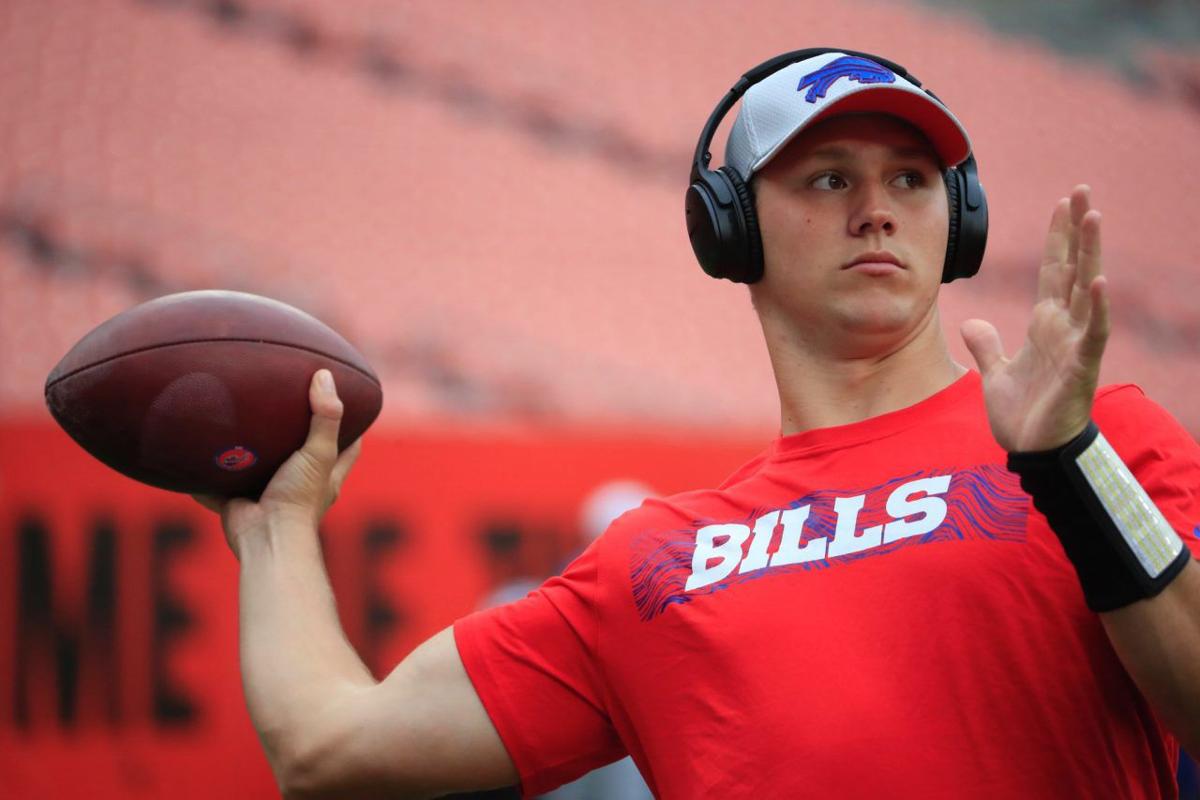 Buffalo Bills fans have long known about Josh Allen's "unusual" pregame playlist. And with the team's success garnering it more national attention each week, Allen's playlist has been thrust in the spotlight as well.
A pair of Elvis Presley nuggets, twin gems from the Frank Sinatra canon, an evergreen Sammy Davis Jr. interpretation, and one each from Billy Joel and Paul Anka currently comprise Allen's musical pregame ritual. When the playlist hit the ether via the Sunday Night Football on NBC Twitter account prior to Sunday's Bills-Kansas City Chiefs game, the "roast factor" among social media respondents was, unsurprisingly, quite high. 
"Bro, this is my grandpas dads playlist…" wrote @MileHigh_Daniel, encapsulating the general feeling among respondents regarding Allen's apparent predilection for songs recorded decades before he was born.
My QB has an old soul & I'm here for it

— Renaissance Man (@Billsfandiehard) October 11, 2021
Other self-appointed arbiters of modernity wondered where all the trap, bro-country and rap-metal nuggets one might commonly assume are employed by mega-athletes to pump themselves up for the game might be hiding.
diggs just posted an instagram story of josh allen in a dead and co shirt, which, given his pregame playlist, implies that the dead is possibly the most modern music he listens to

— tf (@seltzermom) October 11, 2021
Much can be gleaned from his playlist. Allen likes melodies. He has a firm grasp, even if subconsciously, on the fact that "happy" and "sad" share the same ZIP code more often than not. Then again, it might not be all that deep – Allen has claimed publicly that his pregame music is selected based on its calming attributes. 
Elvis Presley, "Can't Help Falling in Love"
When Presley is at his moody, melodramatic best, he is capable of bathing the listener in tear-jerking grandeur. It's sad, it's beautiful and it inspires a ruminative attitude in the listener. Perhaps Allen is seeking that kind of headspace, pregame.
Elvis Presley, "She's Not You"
This is just plain fun, an innocuous, white-washed version of the blues that Presley imbues with a sense of heartbroken urgency. Compared to "Can't Help Falling in Love," this one offers a relative pick-me-up.
Billy Joel, "The Stranger"
The song, following its lovely "Humphrey Bogart in raincoat and fedora smoking a cigarette in the rain under a lamppost" intro, moves along on a propulsive groove, and blends what sounds like righteous anger with deep and abiding melancholy. We can ruminate on our ability to know our friends and lovers, and ourselves. Perhaps Allen is thinking of all of this while he listens. Or maybe he just digs the tune.
Frank Sinatra, "That's Life"
This one makes an awful lot of sense. It sounds upbeat, hopeful and confident. The message? Enjoy the moment. 
Paul Anka, "Put Your Head on My Shoulder"
My assumption is that Allen finds the yearning melodicism comforting and settling, a nice contrast to the roar of 70,000 fans lusting for a victory. 
Frank Sinatra, "Fly Me to the Moon"
The shifting harmony and indomitable swing groove should heighten the mood of anyone with a pulse. As game time draws near, it's easy to imagine Allen grabbing some of the confidence that Sinatra's delivery is dripping with. 
Sammy Davis Jr., "The Joker" 
This interpretation of an Anthony Newley song by Sammy Davis Jr. – culled from his awesome 1965 album "Sammy's Back on Broadway" – might seem like an odd choice for a warrior minutes away from entering the arena. Perhaps Allen uses it to hang on to an air of humility and a recognition of the frailty of fate, fame and the human condition in general.
When it comes to famous people sharing their personal musical taste, haters are gonna hate, and roasters are gonna roast. But I'm with @Billsfandiehard's Twitter post.