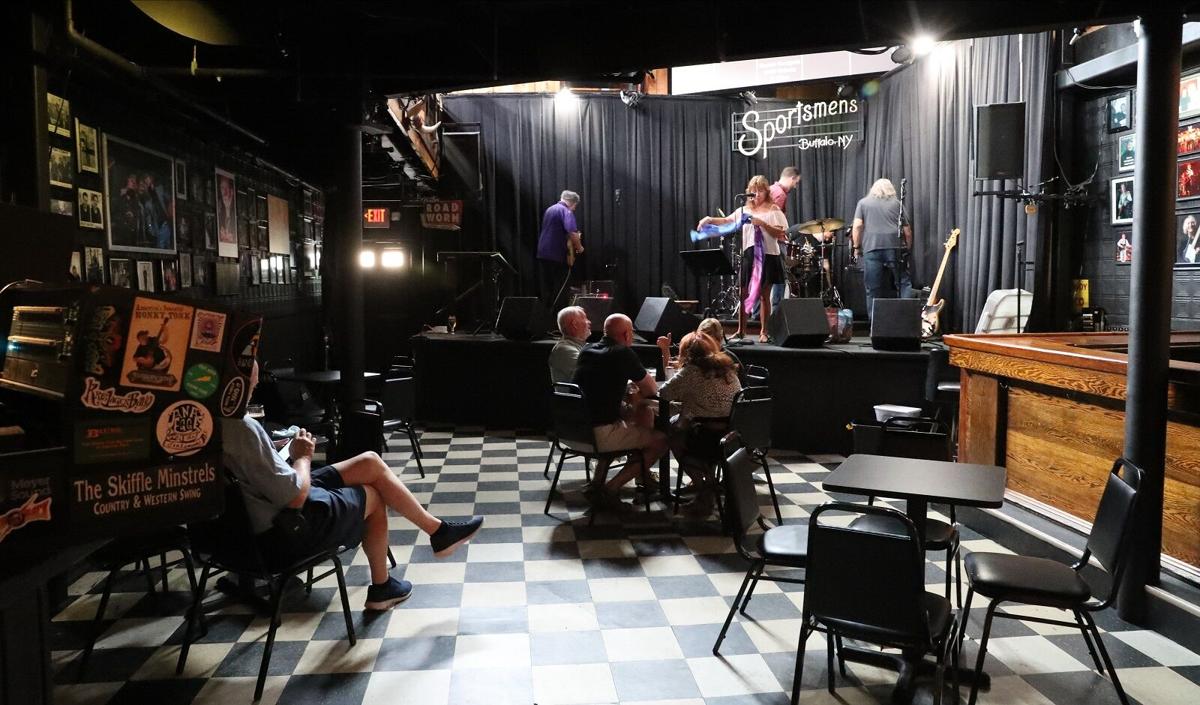 For live music venues across the state, new guidance that appeared on the State Liquor Authority website this week has been received like the loudest screech of microphone feedback.
Language added to the middle of an SLA web page states that "advertised and/or ticketed shows are not permissible," despite businesses having done just that for several weeks. 
One of Buffalo's top local music venues, Sportsmen's Tavern, reopened under new coronavirus shutdown guidelines in June. It has live shows lined up this week and local acts booked through the end of this year. There are other advertised shows scheduled in Buffalo this weekend for the Tralf Music Hall and Milkie's on Elmwood, among others. 
Jason Hall of Sportsmen's Tavern said he had written permission from the SLA to reopen. He has seen the new language but said he has not been contacted by the SLA. 
"We had a show last night. We did not cancel our show. We have a show tonight. We're not canceling. We're not canceling this weekend," Hall said Thursday morning. "We're angry and we're fed up. This completely doesn't make any sense to us whatsoever.
"We've been operating for the two months. We've been inspected by the county; we have had two correspondences with the State Liquor Authority to operate. The SLA knows what we're doing. For this to come now, after they have given us permission, makes no sense.
"I have written permission. How do you take that back? I want to get in front of a judge. They can't shut it down after that same entity gave us permission. It's ridiculous."
Hall said he and his family are talking with their lawyer and will be talking with other venues and seeing what to do next. He said he hasn't posted new shows since seeing the language Tuesday. 
"We're tying to gather information and see what our next step will be," Hall said. "Right now I'm not sure. We'll see what we have to do to stay in business." 
The confusion began when new language was added this week to the State Liquor Authority web site.
"Additionally, please note that only incidental music is permissible at this time. This means that advertised and/or ticketed shows are not permissible. Music should be incidental to the dining experience and not the draw itself."
Word of the new wording spread throughout the state, including via reports out of Syracuse and Rochester.
Hall said he first became aware of the new wording in an email sent to him by an acquaintance. "I didn't think it was real," he said, "I thought maybe it was some old phase three reopening language." 
On Wednesday, Hall's phone wouldn't stop buzzing. He got calls from "musicians, friends, other people involved with venues, asking me what I thought about it."
Hall is very frustrated by the wording that allows "incidental" music while prohibiting "advertised and/or ticketed shows."
"They're not telling us to stop having music, they're telling us to stop selling it," Hall said. "So I can behave the same way, and what, get musicians to play for free? They're telling us to stop selling our business.
"And that has nothing to do with the health of the citizens of this city and this county."
Hall said that Sportsmen's reopened in accordance with the new state guidelines, which includes reduced capacity, tables 6 feet apart, mask requirements, being seated at all times and ordering all food and drinks via wait staff. 
Hall said that Sportsmen's has a "zero-tolerance policy" and that they threw out about eight people in the first few weeks of reopening for not following health guidelines. "If somebody's being stupid, you've got to go." 
"Since then, everyone's following the rules," he said. "People have been great. We control the crowd with our ticketing, and we're spacing them out. ... We're doing everything possibly could to make it safe. ... We've sacrificed to help fight this thing. All sorts of venues have. Restaurants are taking a beating."
Hall said that Sportsmen's, which books 18 months in advance, has probably lost 1,000 shows due to Covid-19, and he mentioned many other area venues who are also struggling, if they have even reopened.
"We're all in the same position; we're all getting hammered," Hall said. "We're working nonstop just trying to keep our lights on."
Those circumstances are why this week's apparent shift in guidance was so troubling, Hall said.
"I could see if there were spikes. I could see if there was a serious health concern. But it's just not happening," he said. "You can't put handcuffs on us after you told us we could reopen.
"Yesterday was over-the-top frustrating. You can't even absorb logically what you are supposed to do when you see a rule like that." 
Concerned about COVID-19?
Sign up now to get the most recent coronavirus headlines and other important local and national news sent to your email inbox daily.