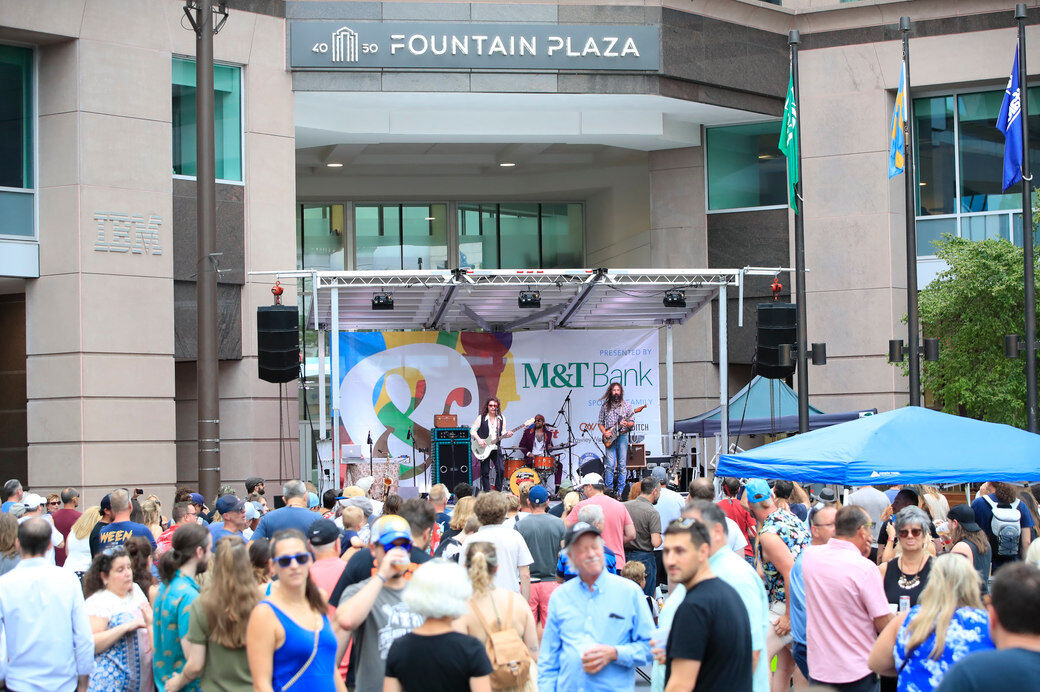 The summer of 2021 might be looked back upon as the year Buffalo bands and artists finally got their due. 
This might sound strange, given the stop-start, herky-jerky nature of this concert season, one that initially looked like it would be bereft of major touring shows. But in the midst of the unknowing, organizers for several local music series' were busy stacking their rosters with all-local fare. As a result, Buffalo bands and artists are being offered something they've often been denied during busier concert seasons: prominent stages upon which to display their wares as headliners and an eager, music-starved audience at their disposal.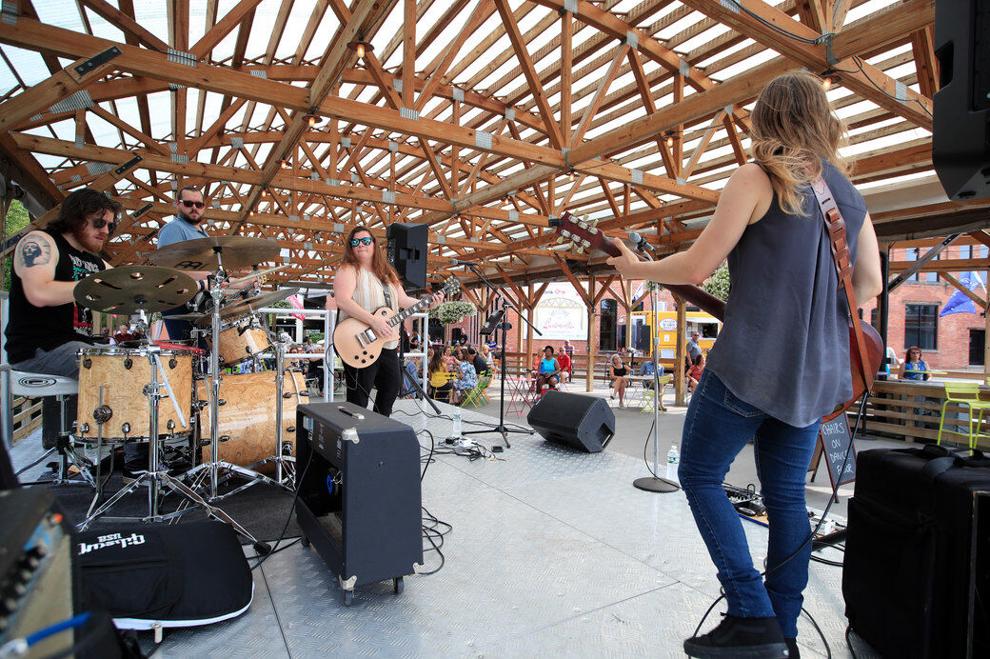 On a recent Thursday evening, as Handsome Jack rocked a sizable crowd at Thursday & Main at Fountain Plaza, the Grace Stumberg Band was playing to an equally strong crowd at Larkin Square, as part of the weekly Thursdays in Larkin Square series.
"We definitely feel like we did ourselves a favor by reaching out to the local artists early in the year, when we were still just pretty much hoping for the best," said Jackie Jonmaire, manager of marketing for Buffalo Place Inc., which presents the free Thursday & Main concert series through August. 
"Back in January, we were doing all of our sponsorship proposals, with the thought that we were hopefully going to be able to pull it off. If you look back to 1987, when Thursday at the Square first came to fruition at Fountain Plaza, the idea was always to have live local music in the core of downtown Buffalo, where it belongs, and to encourage people into the central business district to spend money – not just to cover the cost of our event, but to encourage visitation overall."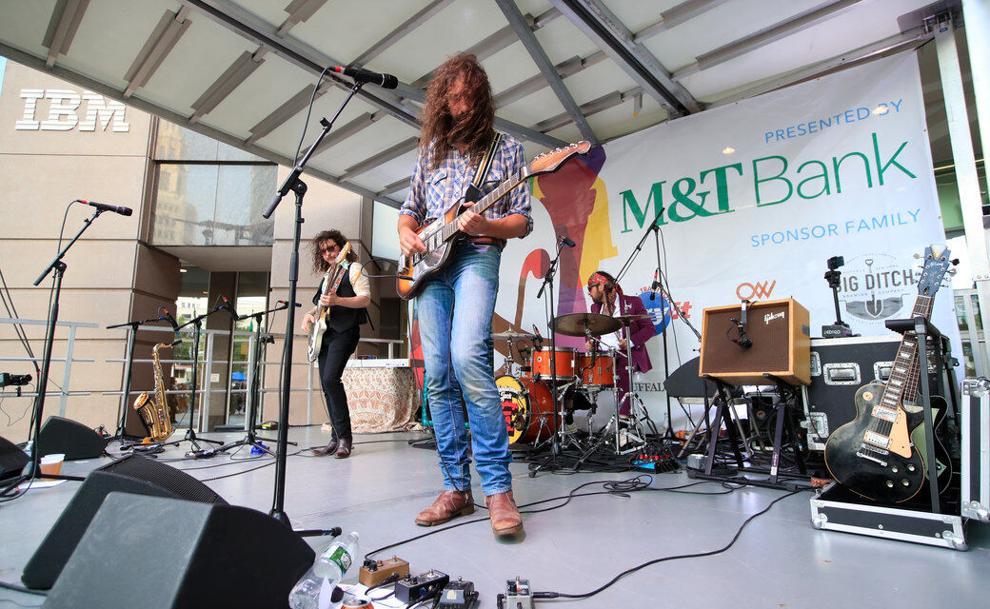 Over time, Thursday at the Square grew into a massive weekly event, eventually moving to Canalside and losing much of its local flavor. Gig opportunities for local bands and artists became much harder to come by as national touring packages were booked, often with their own opening acts. But this year, as the Lockport garage rock trio Handsome Jack showed at Thursday & Main, local music has returned downtown and the audiences are following.
"Our hope was always to be able to present the series this year," Jonmaire said. "So by March, we were reaching out to the local music community, and I was saying, 'I can't tell you if we're going to be able to pull this off, but would you hold the date for us?' And with everyone we spoke to, the answer was an emphatic 'Yes!' "
That initial enthusiasm from the local music community is now a tangible one, taking form as a series that includes Sonny Baker on July 29; Johnny Hart & The Mess with Grace Stumberg on Aug. 5; The Stone Lows with Elsewise on Aug. 12; Grosh with Tedesco Knows Best on Aug. 19; and Ten Cent Howl with Adrianna Noone on Aug. 26. 
For the first time in a good while, it seems that there is enough of an audience for local music to go around.
"I think it's fair to say our population's thirst for quality live entertainment, coupled with some of these live music series, has opened up some more opportunities for us," said Ryan John Nogle, drummer with Funktional Flow, whose band was just added to open for the Spin Doctors at Batavia Downs. "Even the River Rocks, a casual blues-rock band I play with on the side, have played two decently large shows this summer."
Another series that highlights Buffalo bands is "Sounds of Buffalo @ Wilkeson Pointe." The free, all-ages performances at the idyllic outer harbor site are spread throughout July and August with such artists as Miller & the Other Sinners, the Damone Jackson Outcome, Dead Alliance of Buffalo, Grosh and Vitamin D.
"During the pandemic, I started something called the Buffalo Music Club, which is designed to support and promote local artists and help find the best possible way for them to take care of themselves and their families, while being artist-centric," musician and educator Eric Crittenden said, adding that his Wilkeson Pointe series evolved out of that. 
"I've always been the dude who said, 'Hey, instead of bringing in some band from Syracuse, why don't you bring one of these amazing Buffalo artists in?' We're as good as anyone in the country. And in a way, the many cultural roadblocks that exist here and have for so long made it so that musicians here had nothing else to do except create amazing art, and get really, really good at it."
For Crittenden, the slow-burn renaissance we're seeing in this strange summer will only stick if we build it from the inside out, and keep it local as he and others are doing by booking homegrown talent for these series.
"It takes Buffalo to know Buffalo," Crittenden said. "And that's just the end of it, right there. That's all there is to it." 
Here are some of the ongoing music series showcasing local musicians:
Thursday & Main, 5 to 8 p.m. Thursdays at Fountain Plaza (Main at Chippewa Street).
Jazz @ Chandlerville, 6 to 8:30 p.m. Thursdays on Chandler Street (adjacent to Tappo Pizza and Thin Man Brewery).