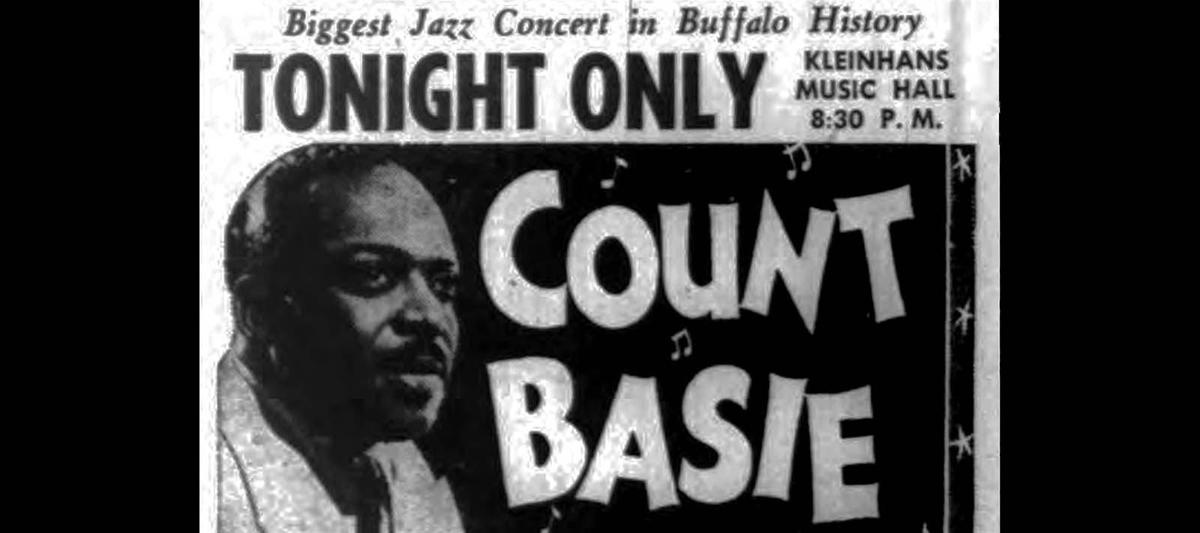 Duke Ellington and Joe Rico are having a convivial private dinner together at Montgomery's Little Harlem after an Ellington concert in Buffalo promoted and produced by Rico.
Rico – more than half-century ago – makes a casual joke about the anonymity that will surely follow "after I'm dead." Nonsense, interrupts Ellington. He'll come to Rico's funeral. And bring the band. And so will Bill Basie (as in Count Basie). And Stan (Kenton). And Woody (Herman). And Sammy (Davis Jr.). And Sarah (Vaughan). And ...
Kidding, of course. But the typically jocular Ellingtonian hyperbole was making a serious point about the grandfather of all Buffalo jazz disc jockeys. Those, Ellington was saying, were Rico's people – friends, of a sort, who all thought of Rico as something of a peer or at the very least a precious and revered co-conspirator.
What you have to remember is that in Rico's pre-internet and cable TV heyday – the '50s and '60s – Buffalo broadcasting reached all the way into Canada, also making great Buffalo broadcasting figures celebrities in Toronto, St. Catharines and Guelph.
That's a story Rico told his wife, Sharon Fischer, just before his death Saturday at 96 after a stroke the previous Monday put him in the hospital. No single person was ever more important to jazz in Buffalo than Joe Rico in his era. His radio shows introduced Buffalo jazz listeners to so much of the best music jazz had to offer.
He produced, co-produced and promoted some of the greatest Buffalo jazz concerts of his time, which brought to Buffalo everyone from Charlie Parker and Dizzy Gillespie and Thelonious Monk to Cannonball Adderly, Dinah Washington, Art Blakey and the Jazz Messengers, Jackie and Roy, Gene Krupa, Chico Hamilton, Louis Armstrong and Dave Brubeck, a teeming world of jazz talent and genius both popular and venturesome and distinguished as any in jazz concertizing.
We heard some of the greatest music we'd ever hear from Rico – not just on his extraordinary radio shows, but in live performance through his aegis as producer and promoter. He was the man who booked acts and advised the owners of the Royal Arms on West Utica when the club became the greatest jazz performance club in the city's history, bringing here Monk, Miles Davis and John Coltrane.
When I first heard of Rico's peaceful death in the hospital after a long, truly grand life, I immediately contacted stormy but eloquent jazz-loving Buffalo-raised writer Ishmael Reed, long a resident in adulthood of Oakland, Calif. This is what he wrote back: "We were such fans of Joe Rico that my friend Carl Tillman and I used to go downtown to his studio and chat with him. We were in awe of him."
I'm not much given to awe – not for even the greatest of local figures whom I have sometimes spotted in passing at local banks, restaurants, grocery stores and movie theaters.
In 1983, a passionate Fort Erie jazz fan named Herb Nelson tried to get a Buffalo Jazz Society started. It wound up having only one event – a celebration of jazz at the Anchor Bar in honor of those who were said to have contributed the most to jazz welfare in Western New York.
I was one of a small handful, deservedly or not. The event was unforgettable, nevertheless, because that's when I met Joe Rico, the man responsible for so much of my teenage jazz education.
Then again, I was far from alone. When I confessed my awe of Rico to the three or four others, we all confessed our awe of the one truly great figure among us who stood out like a sore thumb.
Here's how Reed puts it about his youth with Rico: "Every afternoon we'd listen for the familiar theme 'Port of Rico' designed for Joe by Illinois Jacquet. He spinned cool jazz as well as hot jazz. I first heard Miles Davis on Joe's show. He stuck his neck out playing bebop, a despised music at the time. When I met Max Roach, I told him that he kept us out of trouble because our idea of action-packed recreation was to listen to jazz. Joe played the same role. Keeping us out of trouble.
"He was the original cool cat."
What other jazz disc jockey anywhere had six recorded songs dedicated to him by great jazz figures? That's how many Fischer knows about.
The two most important by far, of course, were Jacquet's "Port of Rico," which was, in its era, one of Jacquet's most popular records after the jazz classic "Flying Home." The other was Kenton's "Jump for Joe," the only tune Kenton ever dedicated to a jazz DJ. BS was not Kenton's style. If he dedicated a tune to someone, he meant it – alone, for all time.
Charlie Shavers wrote "Buffalo Joe" for a Louis Bellson Quintet, a fiercely up-tempo bebop slalom unlike the laid-back bluesy originals by Jacquet/Basie and Kenton. The solos by Shavers on trumpet and Zoot Sims on tenor, along with Don Abney on piano and Bellson on drums are scorching in "Buffalo Joe."
They were a way for modern jazz musicians of two races to play, in Rico's name, music that thanked him for his full-throated espousal of "unpopular" bebop.
Rico was, as Fischer has said, all about the music. He was still all of that many decades later when he took over the club that, decades earlier, had been the Lawson Brothers' original Tralfamadore Cafe at Main Street and Fillmore Avenue.
Rico called it "Joe Rico's Milestones," a reference to the classic Davis piece of bebop minimalism. In its ever-too-brief existence, it was a terrific little jazz club, loved by those of us who patronized it.
I asked his widow, Sharon, who Rico's special favorites were among the many scores of jazz titans he'd worked with closely in his life.
Sammy Davis Jr. was one. Kenton was another. Art Farmer and Jacky Paris were two others. A couple minutes later, she remembered that her late and great husband cried openly upon hearing of the death of Oscar Peterson.
His relationships with some of Buffalo's broadcast elite were little known, but nevertheless, very real. He and Rick Azar lived together in a locally renowned bachelor apartment. He and the equally legendary radio giant George "Hound Dog" Lorenz pioneered the radio syndication business that gave him fans overseas.
When he had a show in Niagara Falls, no less than "Ramblin' Lou" Shriver functioned as his engineer.
"It was all about the music," Fischer said. "Never about him."
It was all about social justice and racial equality for Joe Rico, too.
He once wrote me this in a letter: "I always had problems and I always had to fight the system. Kleinhans would make me bring over a record of the artist I wanted to book and play it for Miss W---, their arbiter of good taste, to get her personal approval before they'd even let me rent the room. (I'd find a record with a nice slow ballad for her and turn the volume down.)
"Then I had to buy the ads, order the posters, print the tickets, and hope they'd sell, pray for good weather, lock heads with the white musicians local, and cross my fingers that the artist would show up. Every booking was a gamble, there was no grant money to back up a promoter, and with all these obstacles I was still considered the most successful promoter Kleinhans ever had in the '50s and '60s."
It was, after all, as he put it, "the finest music hall Western New York had to offer."
"I know only too well the prejudice that existed (and still does) against jazz, most of which was purely and blatantly racist."
The legend of Joe Rico remains, I think, as pure as they come in Buffalo broadcasting – little boy Joe appearing on his father Emmeline's pioneering Italian-American music radio show, grown-up Joe leaving Buffalo for 15 years to appear on and run a radio show in Florida, Joe in later years abandoning radio and music, too, to teach tennis.
And death at the truly loved and revered age of 96.
What's not to be in awe of?