Four years ago, Domi Degalle and JD Beck were our houseguests in Buffalo, rehearsing in our basement studio, and performing a few shows we put together for them during their stay. 
Last week, a massive billboard in Times Square beamed the duo's visage throughout New York City's busiest region. And on Sunday, the two will be at the Crypto Arena in Los Angeles for the 65th annual Grammy Awards, for which they've been nominated in the Best New Artist and Best Contemporary Instrumental Album categories. 
My head is spinning. I can't imagine what's going through theirs.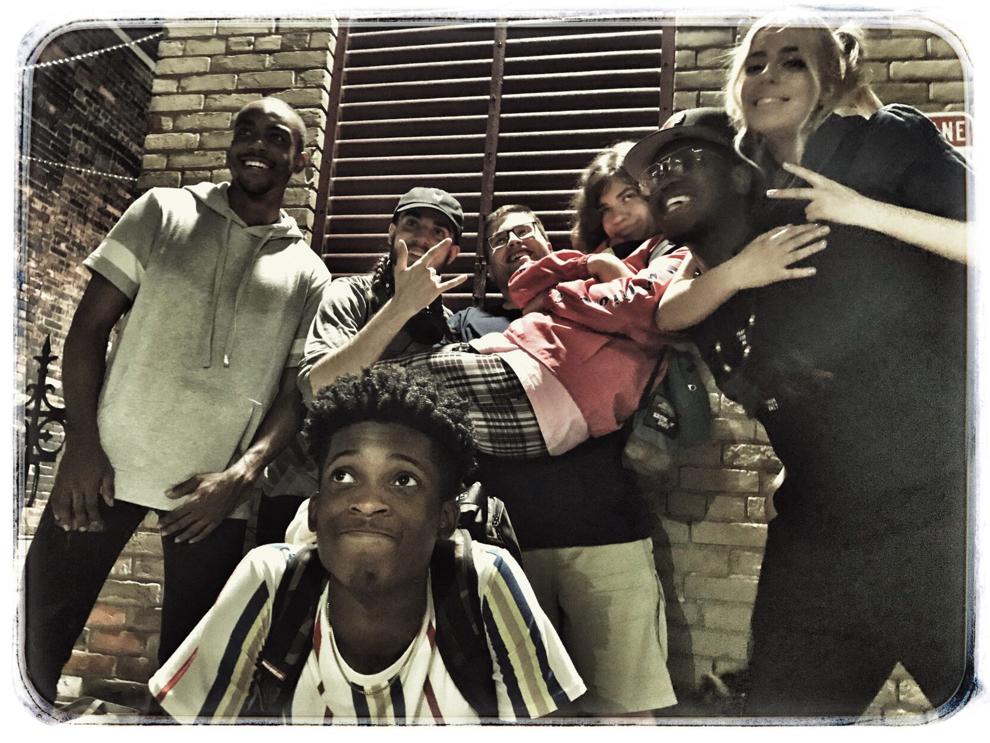 As writer Ryan Bradley noted in a March 2021 New York Times piece, Who Are These Kids, and What Have They Done to Jazz?, the ongoing joke around Domi & JD is "that these two might be aliens, crash-landed on Earth to teach a new form of music."   
I can vouch for that. During their stay with us, I was dazzled by the otherworldly intensity of their talent. Domi would wake up and head for the old Heathkit organ in our living room, offhandedly mastering the bass pedals and tossing off lines that sounded like Oscar Peterson jamming with electro-jazz geniuses Knower, or finding new spaces within the changes to John Coltrane's "Giant Steps" while simultaneously roasting her friends in the room in her French-inflected English. All of this before breakfast.  
How did I end up with a front-row seat to this level of musical brilliance?
Domi is Domitille Degalle, born in Nancy, France, a child prodigy who had completed piano studies at the Nancy Conservatory and the Superior National Conservatory of Paris by her early teens. At 16, she was awarded a full Presidential Scholarship to the Berklee College of Music in Boston. At Berklee, she met my son Declan, also there on a scholarship. The two became inseparable friends. So when the holiday season break of 2017 came around, we asked if they'd like to gather some of their Berklee pals together as a band and come to Buffalo and stay with us. We'd put together a gig and make it a big family-and-friends affair. I drove to Boston, grabbed Declan and Domi, and then picked up saxophonist Yesseh Furaha-Ali and drummer Isaiah "Spoon" Weatherspoon in Philadelphia. I spent the long drive getting to know my son's new friends. I loved them all immediately, and was captivated by their easygoing camaraderie. 
All of these kids – and they were just kids, the oldest being 20 at the time – had a lot of talent, but Domi was clearly their leader, even if she wasn't necessarily trying to be. Her talent and intellect were matched by an unfailingly irreverent sense of humor, and a charming tendency to refer to all positive events, incisive jokes, or sublime pieces of music as "super tight!"
We fell into a routine that involved cooking, laughing, listening to music and then being treated to multiple hour rehearsals and jam sessions in our basement studio, the sounds of otherworldly future-jazz, funk, hip-hop and R&B filling our house. Just before Christmas, Buffalo Iron Works owner Josh Holtzman agreed to book the band of unknowns for a showcase gig, and friends, family and colleagues from the music scene showed up for what was a mind-blowing performance of future-jazz touched by funk and hip-hop. I was in heaven. 
The next summer, the whole troop returned, this time with the addition of keyboardists Bobby Hall III and a teenage drummer from Dallas named JD Beck. If the previous visit had been an inspiring view of the future of improvisational music, this one teetered on the brink of the overwhelming. There were now two drummers and a pair of keyboardists in the already hyper-virtuosic ensemble, and our basement studio was filled to capacity, as the multiple influences of several cities and cultures and music scenes and generations of jazz commingled in a manner that frightened me with its intensity. 
It wasn't much of a surprise when, as the band members went their separate ways – Declan to Los Angeles, Yesseh and Spoon to Philadelphia, Bobby to Boston – Domi & JD headed to Dallas, where they worked up a repertoire, began writing material and performing, became YouTube phenoms, and grew into an inseparable musical unit. They caught the attention of artists like Herbie Hancock, Louis Cole and Thundercat, and found themselves performing with all of them. They became the first musicians to sign to superstar Anderson.Paak's label, and in July of 2022, the pair's debut - "Not Tight," a title which echoed Domi's favored exclamation during her stays with us.
Their time in Buffalo might just be part of the general blur of activity that has been their meteoric rise to the heady heights of modern music. But our music community's embrace of this startling display of young talent surely left some impression. I, for one, will never forget it.