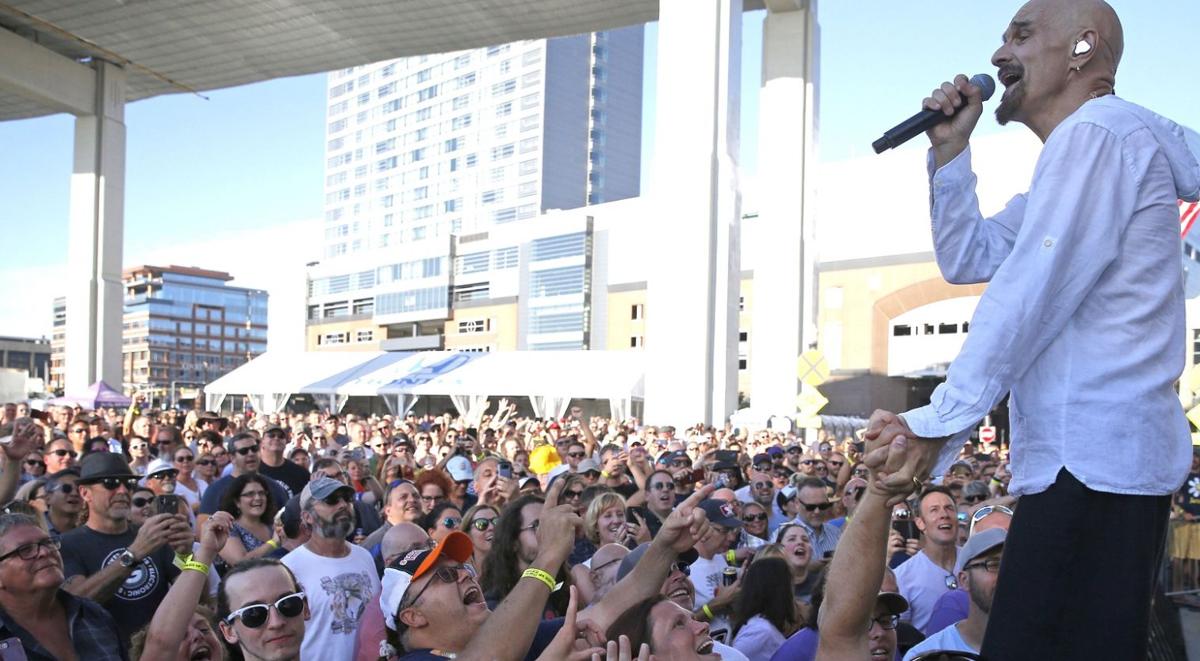 They must have lost my number.
That's the only logical conclusion I can draw from the deafening silence that seems to be surrounding so much of the approaching summer concert season, a silence coming from the same part of the music industry that is normally given to shouting from the rooftops at this time of year.
Don't miss Jeff Miers' recommendations for the best shows of the summer concert season.
If my digits haven't been misplaced by tour publicists and concert promoters, that would mean one of two things. Either no one really knows what's going to happen and therefore is hesitant to go on the record, or they're hoping that you, the concertgoer/ticket buyer/consumer, will continue to purchase tickets for shows that may or may not take place and sit on the tickets you've purchased for shows that might be postponed for another year.
Whatever the reason, the end-game is the same: This is the strangest local summer concert season I've written about in my 20 years at The Buffalo News.
If you glance at Pollstar, the touring music industry bible, you'll find that shows such as Billy Joel and Def Leppard/Motley Crue/Poison/Joan Jett are still on the schedule for Highmark Stadium. Will they happen? Who knows? 
Representatives from Live Nation, the promoter behind both Highmark Stadium shows, have not responded to plentiful requests for confirmation of these two concerts. And yet, one can still visit ticketmaster.com, the ticketing arm of Live Nation, and purchase tickets for both the Joel and Def Leppard/Motley Crue, et al shows, despite no official confirmation that they are happening.
Here's a sample of some songs Miers will be listening to throughout the summer – some new, some old, and some just plain eternal.
Scroll down a bit on the Ticketmaster page, and you'll notice an add-on option. For a $9 charge per ticket, you can purchase what Ticketmaster is calling "Event Ticket Insurance," which will help you obtain a refund, should you not be able to attend the event "for a number of reasons," including "certain Covid-19 claims." Essentially, the deal being offered will guarantee you a refund should you become ill with Covid-19 or are prevented from attending the show due to "traffic accident, mechanical breakdown, (or) weather emergency." But what if the event is postponed yet again and you'd like your money back? Your ticket insurance policy mentions nothing about this. Strange days, indeed.
Live Nation recently added a Korn/Staind double bill to its slim Darien Lake Performing Arts Center roster, which includes some shows rescheduled from last summer, including Luke Bryan and Maroon 5. The Doobie Brothers, Backstreet Boys and Matchbox Twenty Darien Lake shows have been rescheduled for 2022. The Goo Goo Dolls concert originally slated for summer 2020 remains indefinitely postponed. With the exception of the Goos gig, you can purchase tickets to all of these shows, whether they're slated for this summer or next. Will any of these concerts take place? Sadly, your guess is as good as mine.
Batavia Downs CEO Henry Wojtaszek and promoter Kathy Paradowski teamed with Josh Holtzman and Grace Vesneske of Twenty6 Productions, who are presenting three concerts at Batavia Downs, including two in the Rockin' the Downs summer series.
"We were sitting around wondering how we were going to pull this off this year, and Josh and Grace came to see us with some really good ideas, based on the experience they've had doing drive-in shows and distanced concerts," Wojtaszek said. "The idea is to give everyone the best experience we can, with the safety conditions and restrictions being what they are. We are aiming for a 2,500 capacity, which we have the space to do safely. Even if the capacity guidelines change and we're allowed to increase attendance above 25%, we're still going to keep things in that general area."
Batavia Downs will offer on-site Covid-19 testing on the day of each event, and concertgoers must show proof of negative testing or full vaccination to attend.
Jeff Miers takes a stroll down memory lane and recalls some of the shows from Buffalo' rich concert history that left an indelible mark.
Artpark is following a similar model, with the additional caveat that face coverings must be worn at all times when attending. The Patti LaBelle, Buddy Guy, Barenaked Ladies, Tedeschi Trucks Band and Earth Wind & Fire shows that have been on hold have been officially postponed until summer 2022. Its policy on postponed shows has also been made clear: "In all cases of postponed or rescheduled events, patrons are offered options of retaining their tickets for the new performance date, donating them to support the non-profit work of Artpark & Company, or obtain a refund."
Area drive-ins continue to be a concert option. The Twenty6 Productions team has shows the Silver Lake Drive-in in Perry, including consecutive nights with buzz-worthy jam band Goose on June 15-16. The team kicked off its Silver Lake Drive-in season with a sold-out show featuring Mt. Joy in May. The folks at Be Our Guest and MNM Presents have taken a page from the same book with a drive-in-style show at the Buffalo Outer Harbor featuring Sunsquabi, Too Many Zooz and Witty Tarbox on June 11. There has been talk of additional concerts, but at present, this is their sole show. 
If you're not yet ready for concert crowds, you can still immerse yourself in the transformative powers of music this summer, says News Music Critic Jeff Miers. 
One thing you can count on this summer is the opportunity to see local and regional artists performing on a variety of outdoor and indoor stages. In fact, this may be the silver lining during this "season of strange" – local artists will be granted the opportunity to shine, something they have often been denied during what would be overstuffed concert schedules in "normal" times. These bands and artists are lighter on their feet. They can play at a moment's notice, they are often self-contained units, they demand barely a fraction of the costs associated with major tours and their lack of massive overhead makes them one of the few "sure things" going this summer. Most significantly, the best of them are the equal of any touring band you might've been hoping to see this summer. 
So summer 2021 will not be the summer you were likely hoping for, concert-wise. Look at it as a test run. If we do it right, we'll be doing our part to speed along the full-on return of large-scale shows, an abundance of which are likely to be coming our way starting in the fall.
In the meantime, let's do our best to enjoy this "season of strange."