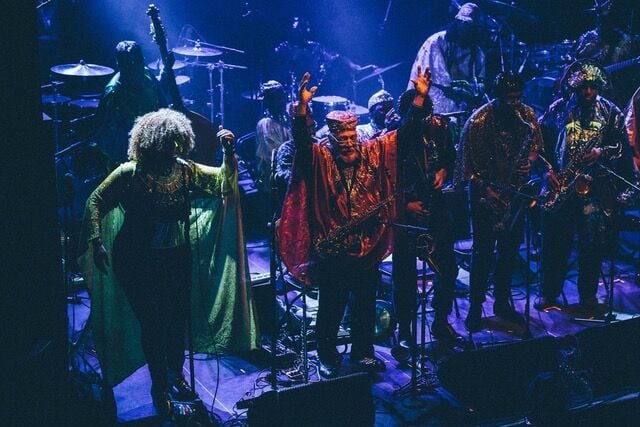 There's something in the way that multiple legacies are set to commingle at Asbury Hall on Sept. 2 that would likely make the progenitor of one of those legacies – the late musical philosopher, bandleader and purveyor of interstellar jazz known as Sun Ra – beam with pride.
On that evening, the Sun Ra Arkestra will bring the well-curated chaos and massive songbook crafted by its namesake to Asbury Hall, the former church at the corner of Delaware Avenue and Tupper Street for a concert birthed by the union of Buffalo's Historic Colored Musicians Club and Hallwalls Contemporary Arts Center. Talk about planets aligning.
The Asbury Hall show is being presented by a collective known as Point9Mile, a union between the two Buffalo cultural institutions made possible by a grant from the Cullen Foundation, awarded a mere few weeks previous to the arrival of a pandemic that put a slew of ambitious plans on ice. Presenting the Sun Ra Arkestra to a Buffalo audience was at the top of the list from the get-go.
But even after the date had been booked and the band was fully on board, the spread of the Delta variant hung like a vague but very real threat over Point9Mile's plans.
"It's hard enough to get things to come together under normal circumstances, and now you have to add dealing with all this information and fear and anxiety on top of it all," said Hallwalls Music Director Steve Baczkowski. "But this concert was supposed to happen when it's happening. And I think it's gonna be incredible, I think it's gonna be beautiful, it's gonna work, and we're going to pull it off without putting anyone in harm's way."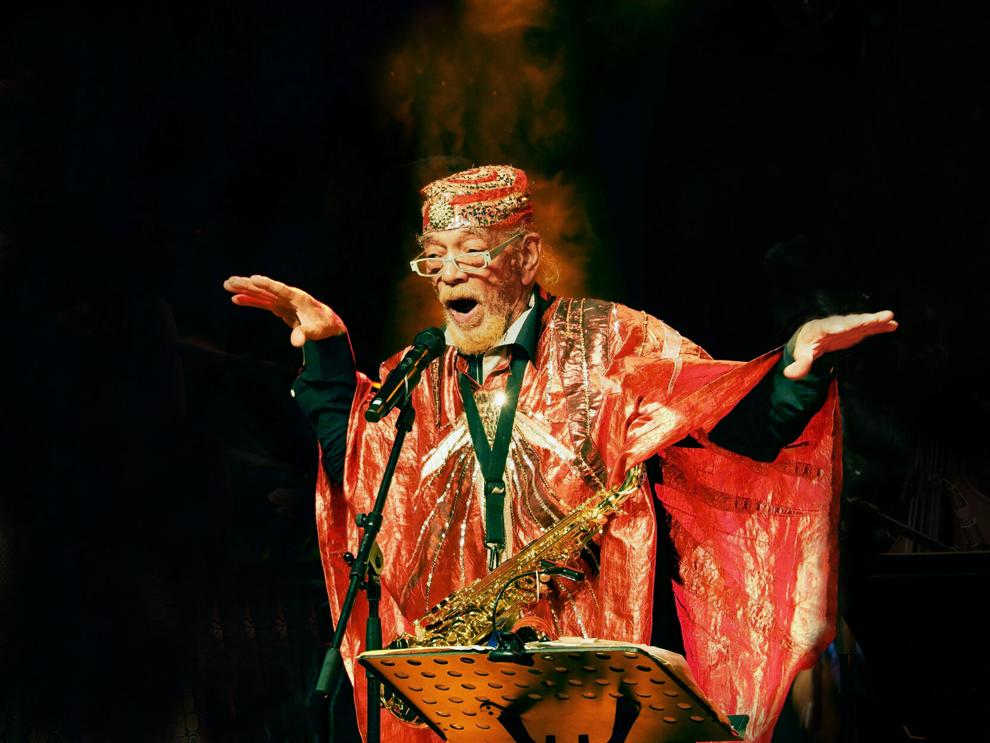 The musicians seem to be operating in a plane above and beyond the fear and anxiety Baczkowski mentions.
"I was first and foremost concerned with how the band members themselves felt about doing this right now. We've been trying to get this to happen since before the pandemic, and with everything going on right now, I offered them an out, if they wanted to take it. But they were emphatic about wanting to do it. No hesitation at all," Baczkowski said.
Sun Ra (born in Alabama as Herman Blount, in 1914) is one of the weirdest, wildest and most wonderful figures in the history of American music. He was a jazz visionary and utopian who claimed to be an alien birthed on Saturn and sent to the earthly plane as an agent of an ideology now known as Afrofuturism. In the words of SFJazz.org critic Rusty Aceves, Afrofuturism is a philosophy that envisions "a positive African-American future through themes of science fiction and interplanetary travel with a basis in African history" offering "a hopeful vision to a population whose existence has been systematically marginalized and largely ignored in mainstream depictions of a utopian future."
Now led by saxophonist Marshall Allen, a vibrant 97-year-old who has been a presence in the Sun Ra universe since the late 1950s, the Sun Ra Arkestra has carried on its late leader's work through several generations of change in timbre and taste, its gorgeous cacophonic tapestry of sound crossing paths with the likes of Solange, U2, Lady Gaga and the clearly indebted young saxophonist Kamasi Washington in recent years.
"Making this show happen is important to me for a lot of reasons," Baczkowski said. "But the primary thing is, this is for the health of our community, in another aspect. This is the kind of thing we really need. People need to celebrate the mystery of it all, you know? To be in a creative environment, and to share in that energy. We become more vulnerable, our resistance is lowered, when we don't have that energy and sense of mystery."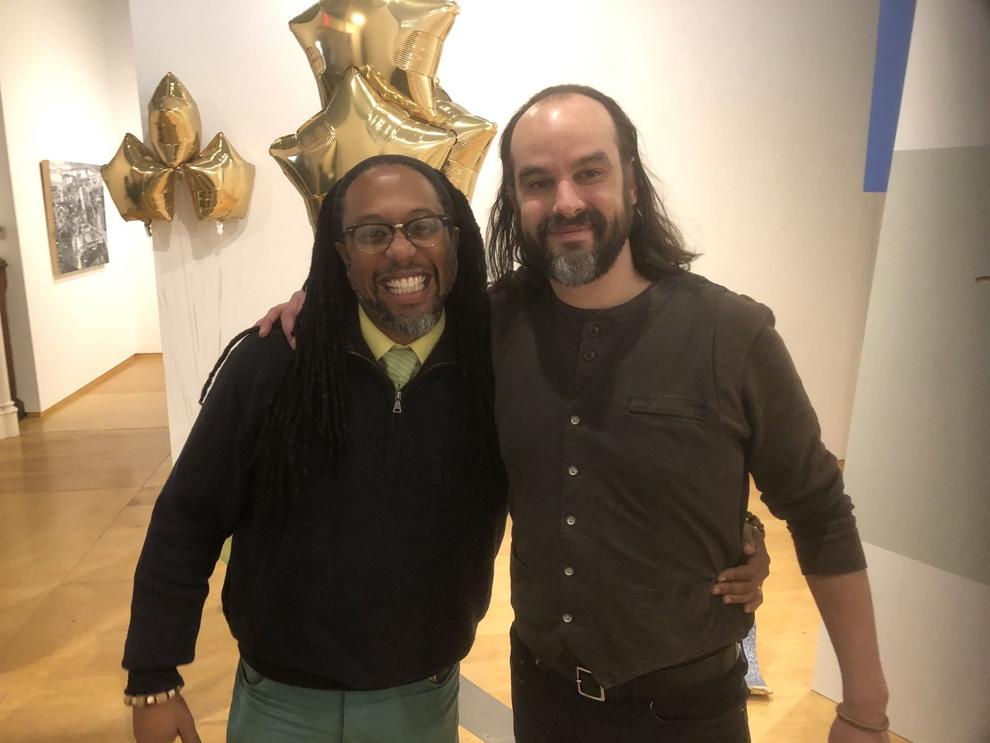 Though the Point9Mile team booked the show prior to the full emergence of the Delta variant, careful consideration and a number of successful test runs over the summer convinced all concerned that it was possible to move forward in a safe and sensible manner.
"We presented (Buffalo-based soul collective) David Jonathan & the Inner City Bedlam in June, as well as a few membership events, at Asbury Hall," Baczkowski said. "And so far, everyone who has shown up has shown proof of vaccination. We haven't had a single person who wasn't vaccinated. So we're requiring proof of vaccination for this show, and anyone who is unvaccinated has to wear a mask for the whole concert. 
"Asbury Hall can accommodate 1,000 people, and we'll be bringing in a fraction of that. It's a massive space with an excellent ventilation system that  has been updated since the pandemic to be even more efficient. As far as indoor venues go, this is about as safe as you can possibly get. And as ridiculous as it may sound to some, I do feel the spirit of Sun Ra in the music is watching over us, and I have faith in that."  
When: Thursday, September 2, 8:00 p.m.
Where: Asbury Hall, Babeville
341 Delaware Ave. Buffalo
Tickets: $35 general admission, $30 students/seniors, $25 Hallwalls & CMC members. Hallwalls.org