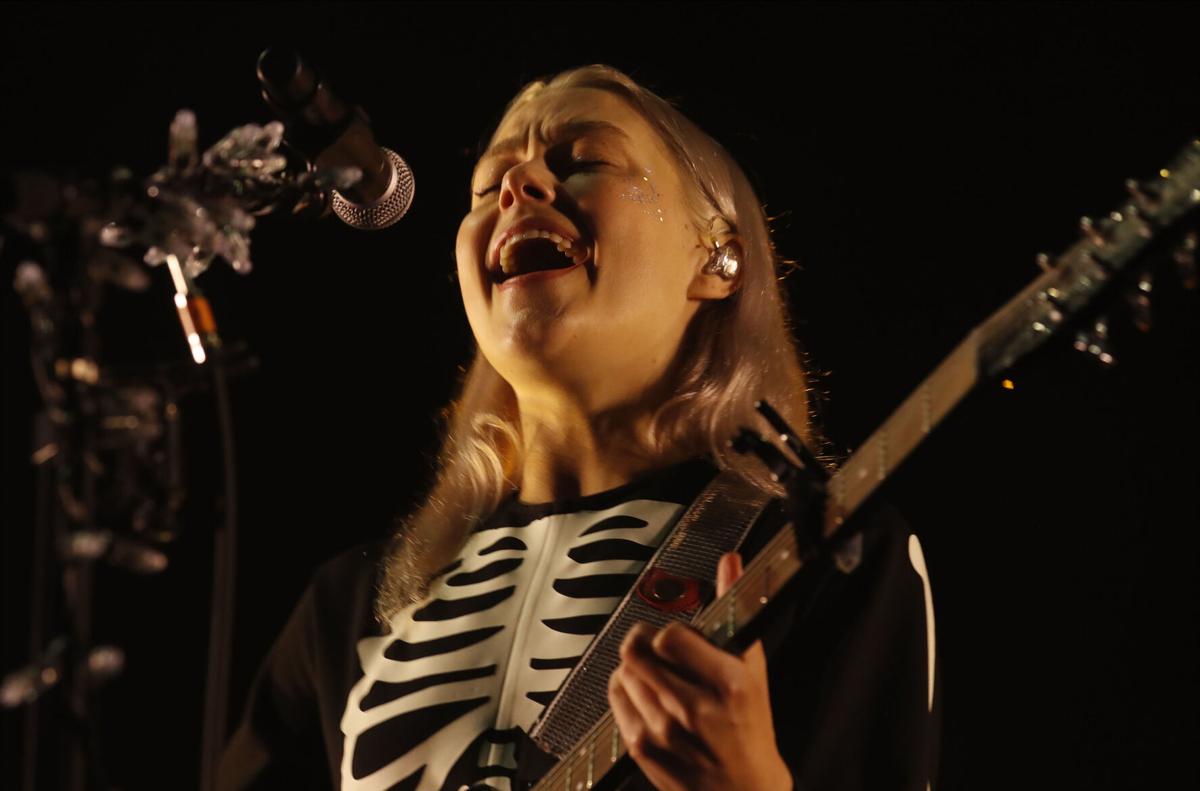 Bounding onstage in their signature concert "Reunion Tour" skeletal look – matching black and bones Day of the Dead onesies – indie rockstar Phoebe Bridgers and band played a magnificently nuanced, cathartic and panoramic concert in the Artpark Outdoor Amphitheater in Lewiston on Wednesday night.
The show, one of 26 outdoor-only gigs performed by Bridgers in September and October, appeared to be about half-capacity. But everyone in attendance came ready to rock – and maybe cry a little.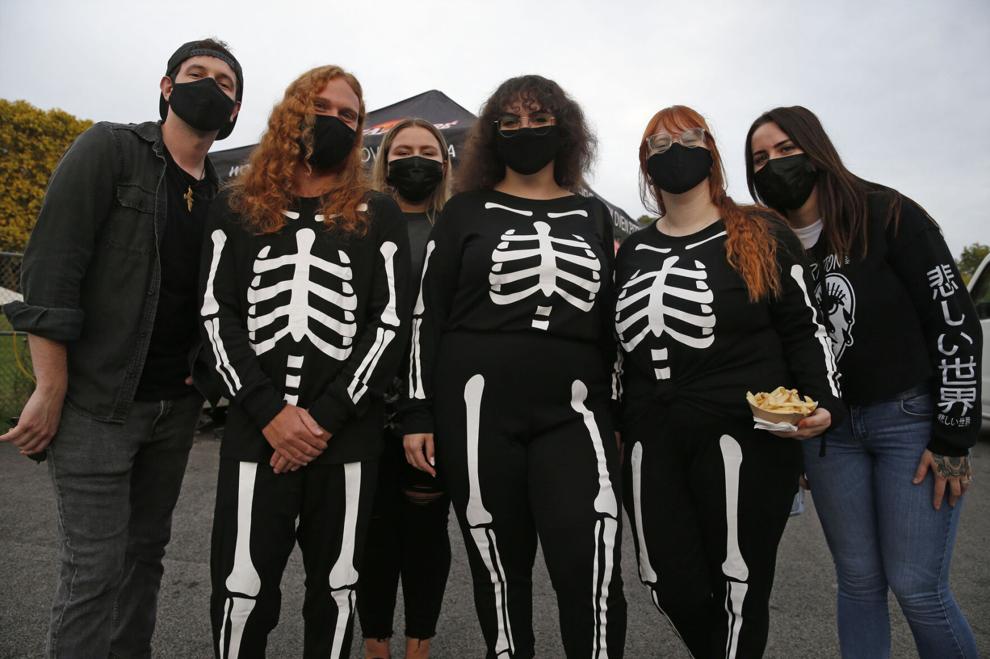 The band's matching skeleton ensembles are a cute detail. But these disembodying X-ray stage uniforms eliminate most sex appeal, creating focus instead on collective musical prowess, every raw and confessional Bridgers lyric, and display an overarching punk-rock irony. Saddest Factory, Bridgers' record label that she launched in 2020 for her second album, "Punisher," has a logo of a human and skeleton hand entwined.
Fans, who largely self-identify as "Pharbz," were required by Bridgers to be fully vaccinated, and had to present proof of such prior to entry. It was the first large-scale local concert to allow only vaccinated attendees. Masking was also required during the concert: brief mask breaks were allowed only while sipping or eating; watchful security, roaming the concession and concert areas, reminded fans to mask up as needed.
There was a three-phase process for entry: vaccination proof by app or printed-out card, then on to a safety check, and finally digital ticket scanning. It appeared to be very organized and each person seemed to not take more than 5 minutes to get through all three of the phases. Ticket holders received an email reminder from Artpark the day before the show to arrive early. At 5 p.m., the upper gate to the amphitheater had approximately 100 in line before the 7 p.m. starting time.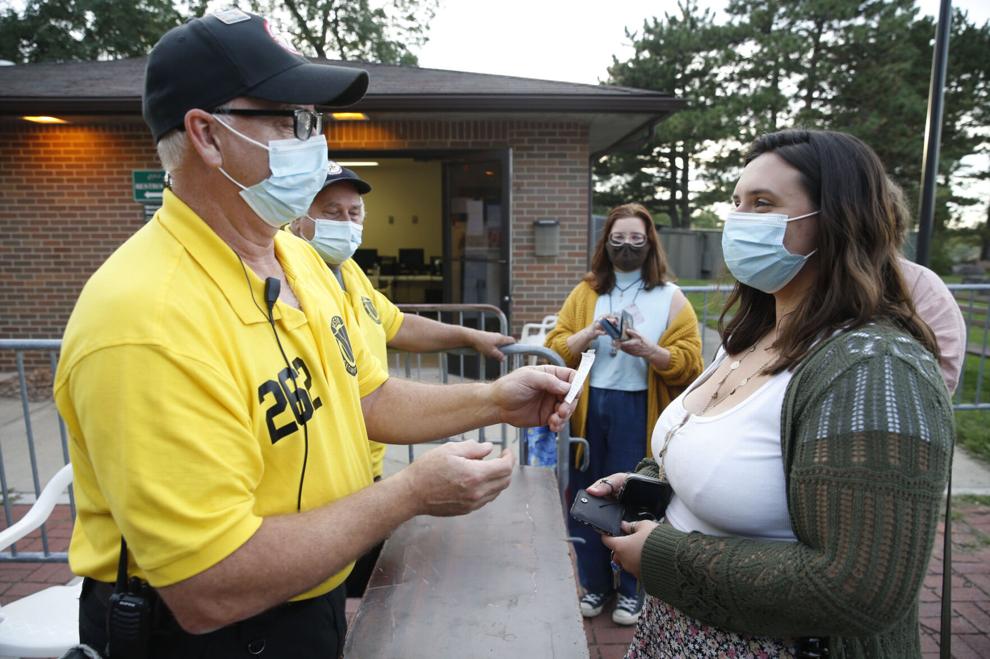 Among the early-arrivers was Otto Heimowitz of Buffalo, sporting great fandom and wearing an ensemble "paying homage to the cover art of 'Punisher.' " "I'm wearing a Day of the Dead outfit I found at Old Navy on the clearance rack, and I'm wearing a mask that's blue with stars on it." About the safety stations, Heimowitz said, "I'm happy to do it. It incentivizes getting vaccinated to see some good music."
Inside, and just done with merch purchases, besties Emilee Schalk and Emma Marzec of Tonawanda were in matching two-piece Day of the Dead pajamas. The pair talked about how Bridgers' music has been their soundtrack for the crushing past two years.
"She sings about heartbreak, and she resonates with our generation. We missed out on senior year of high school, prom, graduation, sports and our freshman year of college," Schalk said.
"We love her musical style and her voice," Marzec said. "Her songs are so cinematic – she helped us get through."
Bridgers' walk-out music, bouncing "I Gotta Feeling" by the Black Eyed Peas, blasted as she strapped on a black guitar with sparkles. She and her five bandmates got down to demonstrative business with opener "Motion Sickness" from her 2017 debut "Stranger in the Alps," and then into gorgeous "Garden Song" from "Punisher." The show hit a snag with amp trouble and Bridgers needing technical assistance.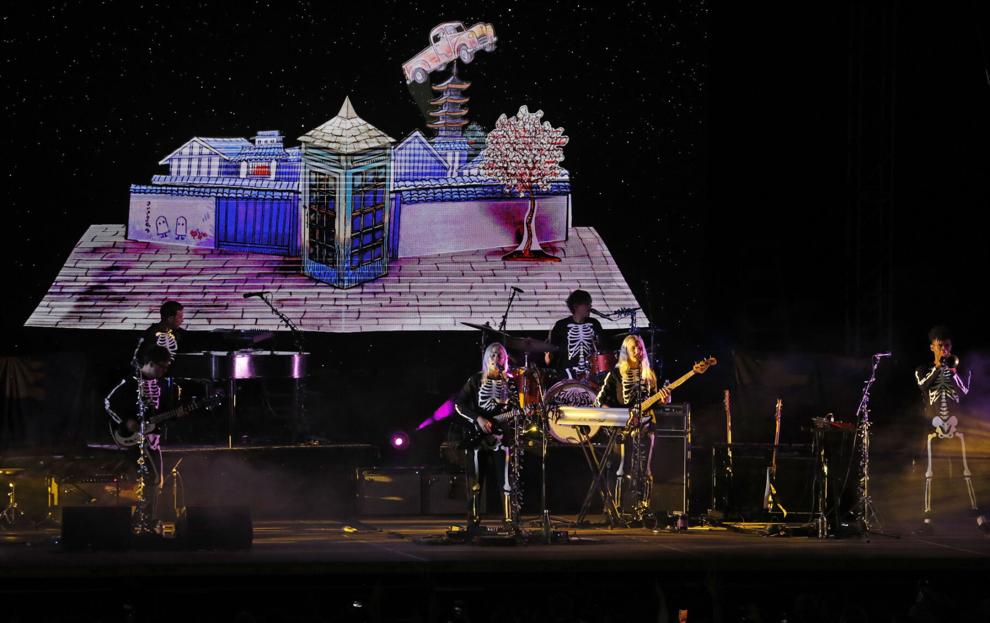 "Thank you, Mark," she said to their stage tech and the adoring audience took up a chant of "Mark! Mark! Mark … !" Enthusiastic chants for Mark resumed at the beginning of "Funeral" when Bridgers needed a brief water break before Mark swapped out her guitar.
"Thank you for coming to this concert," Bridgers said before the night's lush rendition of "Kyoto," that headed into title track "Punisher." For this she sat, guitarless, at stage's edge. A fan handed up a handmade floral crown that she wore for the remainder of the song. Deep bass licks during "Smoke Signals" deliciously rattled everyone's bones, and the perfect set ended with her raucous "I Know the End" that builds into full cacophonous release. Encore song "That Funny Feeling," another focusing on social angst and by actor/comedian/songwriter Bo Burnham, ended the night.
During "Halloween" midset, Bridgers and guitarist Harrison Whitford played forehead-to-forehead, powerfully repeating the song's refrain "Baby, it's Halloween/And we can be anything" as they shared a mic. Earlier, Whitford deftly subbed for the previously scheduled opening act Muna, who is signed to Bridgers' label.
"Hi, I'm not Muna," he said, "I'm Harrison," before performing a solo set of his poetical originals, and a cover of Joni Mitchell's "River."
"You guys want a slow one? They're all slow," he joked.