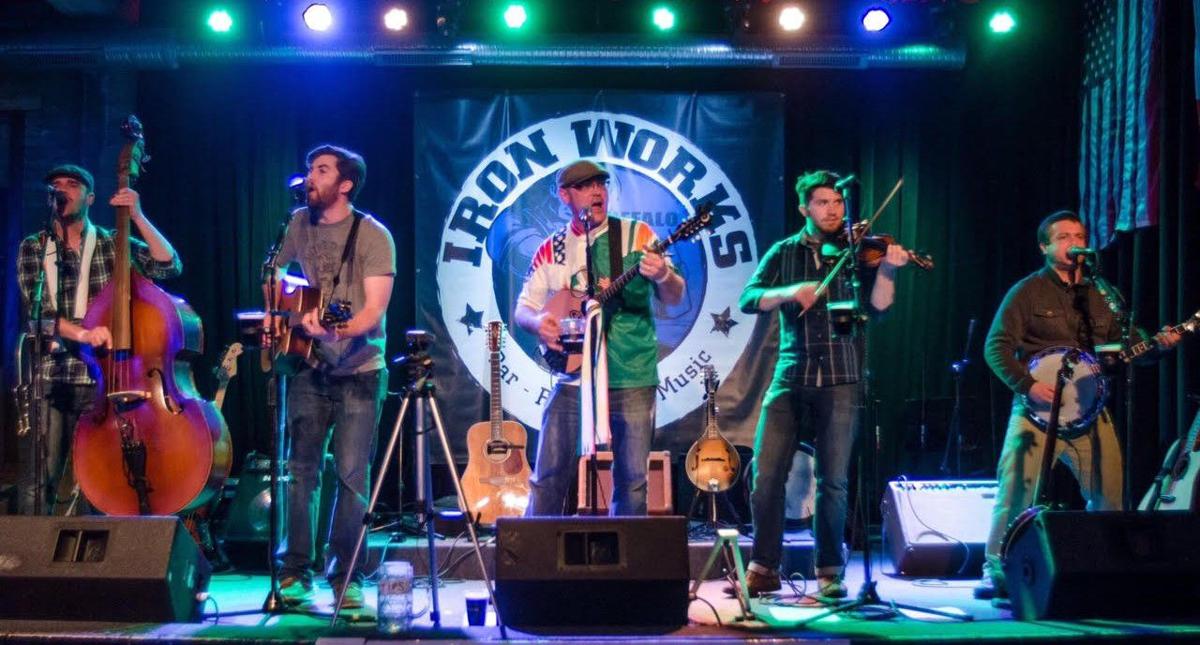 The Irish heartbeat cannot be found in the bottom of a pint of Guinness. It's not revealed by a marching procession of politicians or via the aroma of boiled dinners; and it's certainly not exemplified by a slew of stumbling locals clad in green costumes.
It can be found in the stories and sounds of Ireland's music — and the members of South Buffalo's Crikwater know it.
The multi-instrumental outfit formed in 2010 to embrace its roots and celebrate its collective love of their ethnic pulse. Now, the quintet of Liam Caulfield (guitar, mandolin, vocals), Charlie Coughlin (fiddle), Billy Lewis (guitar, vocals), Matt Sperber (bass) and Peter Zalocha (banjo) has established itself as one of Buffalo's premier purveyors of Irish pub songs, rebel songs or traditional folk classics — which makes it a very busy act in the middle of March.
The band is booked inside neighborhood favorite Doc Sullivan's (474 Abbott Road) at 7 p.m. March 17, St. Patrick's Day before touring through a weekend schedule that will include stops at Molly Maguire's (834 Abbott Road) and Brick Oven Bistro (904 Abbott Road) on March 19, and the Buffalo Irish Center (245 Abbott) on March 20.
Before this run of seasonal gigs, Caulfield took some time to discuss the Clancy Brothers, Crikwater's name, and the band's unintended role as on-stage educators.
Question: If the Clancy Brothers, Pogues and Wolfe Tones were all alive and in their prime, who would you choose to headline a proposed triple bill? 
Answer: The [Clancy Brothers] for sure. They kind of started the whole Irish folk thing in the U.S., and most of what other groups have done since has been largely built on the foundation they laid in the 1950s and '60s.
Together with Tommy Makem, the Clancys took the songs they knew as children and young men, and simply performed them to a wider audience in the states. Many folk groups today still perform those same songs.
Q: For those not familiar with South Buffalo's River Liffey, can you explain where the name "Crikwater" comes from?
A: It's a little shout-out to our neighborhood, and a reference to Cazenovia Creek, a tributary of the Buffalo River that flows through Cazenovia Park and is affectionately called "the crik" by most folks in South Buffalo.
Six years ago, when we were kicking around ideas for band names, a good friend of mine suggested that we call the band CCR—Caz Crikwater Revival. I thought it was clever, but saw the potential for a legal issue with the real CCR. The "Crikwater" part stood out, so we decided to keep it.
Q: Crikwater was formed (in part) because of the need for traditional Irish folk music from a younger generation of Buffalo musicians. Where did the band's love of this genre begin?  
A: Some of the earliest albums I remember hearing were my father's Irish Rovers and Clancy Brothers records. [I also remember] hearing my uncle sing songs with his guitar around the table at my grandmother's house.
When I started playing guitar, that foundation was already established. I know that the other guys in the band have had similar experiences with Irish and American folk music; we just grew up around it.  It's all over the neighborhood and gets passed down through the generations.  Crikwater just wants to have fun while keeping the tradition alive.
Q: Many of the best Irish songs double as history lessons. When covering some of these classics, does the band feel like educators as well as performers?
A: Sure. Again, it's all part of the tradition.  Many of the songs deal with topics that some people may not experience in another context. Songs of rebellion, laments for lost love or a lost homeland, morality tales, comedy, emigration, triumph and tragedy.
The music is truly a way of spreading Irish history and culture. Music has been used for thousands of years as a means of storytelling and spreading news. So yes, in many ways, we're educators.
Q: What's the most underutilized instrument in the Irish folk arsenal, and how does Crikwater utilize it?
A: In folk bands, there are lots of guitars, mandolins and even banjos, but relatively few fiddles, accordions, flutes and pipes. These melody instruments are at the heart of Irish music, giving the songs their characteristic sound and style, their "Irishness."
Unfortunately, there are only a handful of players in the area who play these instruments in the traditional Irish style. We've been very lucky to play with an accomplished fiddle player, our newest and youngest bandmate, Charlie Coughlin. His fiddle has become a huge part of our sound, and it's tough to imagine Crikwater without him.
Q: St. Patrick's season is obviously Crikwater's busiest time of year, but have you ever wanted to grab the microphone in March and shout at a crowd, "You know this music's entertaining all year, right"?
A: We do that already and remind people that they can find us playing throughout Western New York all year long. Many people only identify with their Irish roots for a few weeks in the month of March, and then it's on to the next holiday.
It's the American way; we are a nation of immigrants after all. Some appreciate it all year, some for only a month.
Where: Doc Sullivan's (474 Abbott Road)