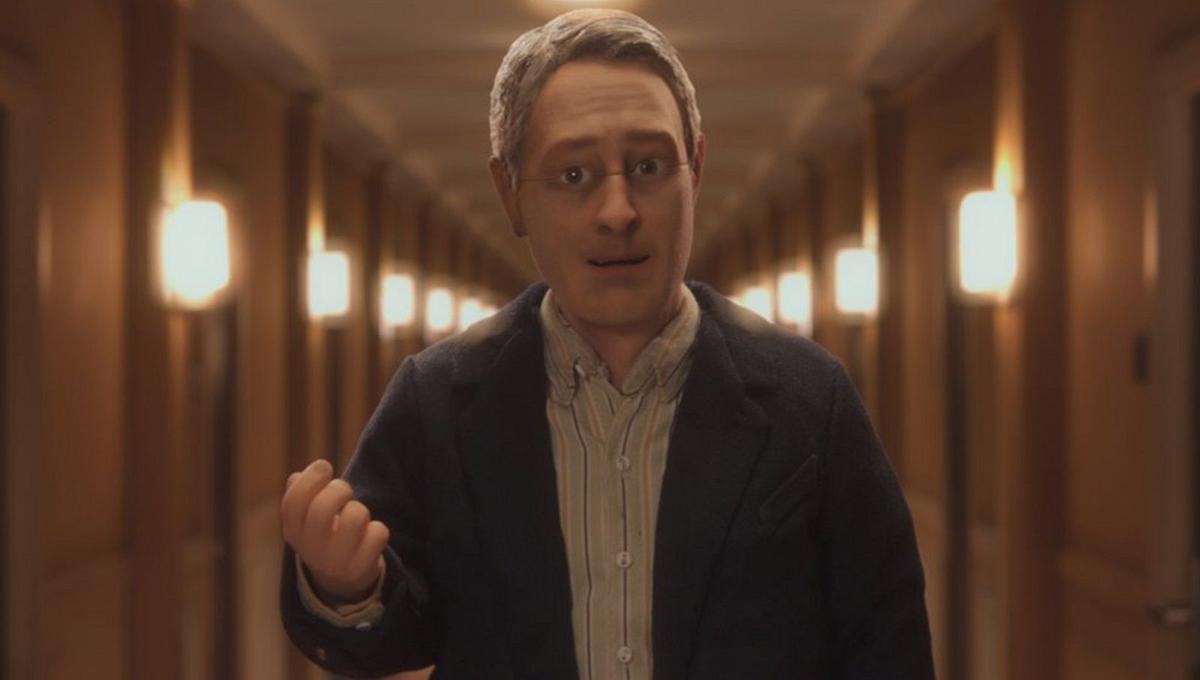 Something is a little off in Charlie Kaufman and Duke Johnson's "Anomalisa." Of course it is, you say. It's a movie written by Charlie Kaufman for pity's sake. But in this case – a movie about a one-night stand filmed in stop-motion animation using puppets – it takes 10 or 15 minutes to catch on to what's subtly off. But when you do, and think again about the cast list, your inclination to marvel at Kaufman's splendidly strange chutzpah is increased that much more.
Please understand, I am not generally one to applaud the omnidirectional snarlings of the Internet's "spoiler alert" fascists ("Don't tell me that Hamlet dies at the end. I've got it on my DVR") but I've now seen two movies in the past six months whose reviewers have no business revealing major plot turns – "Room" and "Anomalisa." I experienced both with an almost-clean slate and I was that much more affected by things that reviewers left and right are pitching at readers heedless of their power when experienced and discovered on screen.
And yet criticism, let's face it, is the life blood of a Kaufman movie. His work is so proudly outside the mainstream of what people think movies are that without all those critical "ooohs" and "aaahs," "Being John Malkovich," "Eternal Sunshine of the Spotless Mind," "Adaptation," and especially his directorial debut with one of his own unique scripts "Synecdoche, New York," might have been in and out of theaters in a week. That they have any life at all is one of the true marvels of the current movie business.
It seems to have been accomplished by a merry band of subversive, unusually brainy performers, film directors and executives.
There are very funny things in "Anomalisa" but don't expect a comedy, despite the puppets. Its a film that swims in a sea of paradox – i.e., it's an energizing film about a depressed man; it's a wildly willful and creative movie about crushing conformity.
And, to get down to noisy and raucous street level, it has the best puppet sex scene you'll ever see. That, I'm afraid, takes some explaining.
The scene, in fact, is the key scene in the entire movie and it's no joke at all. In fact, it exemplifies the extraordinary wit of the film's realism, even though it's stop-action animation involving puppets whose faces are close to masklike.
"Anomalisa" is a film about a one-night stand by two lonely people in Cincinnati. The sex scene, when it happens, is ultra-realistic – not graphic really but actually related to the kind of occasionally awkward sex people actually have in the world. Expect no violently cinematic swoops of passion or erotic posing here.
Which is to say that when Michael and Lisa first have sex, Lisa bumps her head on the bed's headboard. And it's not played for laughs. It's just the accidental clumsiness of people who don't know each other well and who are both dealing with large and different kinds of self-doubt.
It's that very awkwardness, though, that is the essence of the sweetness of this film about people whose love lives both flared up into expectation in a Cincinnati hotel. If they were different, their collision might promise even greater and longer fulfillment.
Alas, realism is the point here.
Michael Stone (voiced snottily by David Thewlis) is a self-help business writer who has written a book about sales people presenting themselves to the world.
He is going to Cincinnati to share his, uh, wisdom. What he hears about his destination is clogged with banality.("You gotta try the Cincinatti chile."he's told before the trip.) That, you see, is the whole point of the puppets. The weirdness of the basic idea only underlines the banality of life as experienced by so many of us. At its most intense, it's either funny or painful.
"I think I may have psychological problems," admits Michael. Once there, he tries to hook up with an old girlfriend. No luck. He calls home – wife and kids. Their disinterest in him is quiet and thunderously self-evident. Their feelings are obviously returned.
And then, stumbling boozily around his hotel floor, he encounters two young women who have driven to hear him. "We both read your book." It is the shy goofy one, Lisa – still wearing her towel from a shower – who hits him. She isn't as conventionally pretty as her friend. But her voice is different. It enchants him. And the way the film is set up, us too. She is voiced by Jennifer Jason Leigh doing a vocal performance worth a dozen of her estimable efforts in Quentin Tarantino's execrable "The Hateful Eight."
They all have a drink. To the women's surprise, it's Lisa who Michael invites back to the room for a nightcap.
No one can write about this movie without mentioning the sweetness and purity of the moment when Lisa, a cappella, sings Cyndi Lauper's "Girls Just Want to Have Fun" and melts every working heart on and off screen in the audience.
There is a great American tradition of canny singers slowing down pop classics full of energy and bounce. Listen to the plaintive, yearning Waylon Jennings' version of Little Richard's "Lucille." Or, the template for so many, Barbra Streisand's version of the campaign song "Happy Days are Here Again."
"Girls Just to Want to Have Fun" has meaning here. Big meaning.She is the anomaly in Michael's barely tolerable life – the anomaly that is Lisa, Anomalisa.She is a gift to the audience but one Michael doesn't understand. The poor schlemiel.
Starring: The voices of David Thewlis, Jennifer Jason Leigh and Tom Noonan
Directors: Charlie Kaufman and Duke Johnson
Rating: R for explicit nudity and sex along with language
The Lowdown: Stop-action animated film in which a business writer and marketer visiting Cincinnati has a one-night stand neither he nor his partner will ever be likely to forget.
Stay up-to-date on what's happening
Receive the latest in local entertainment news in your inbox weekly!