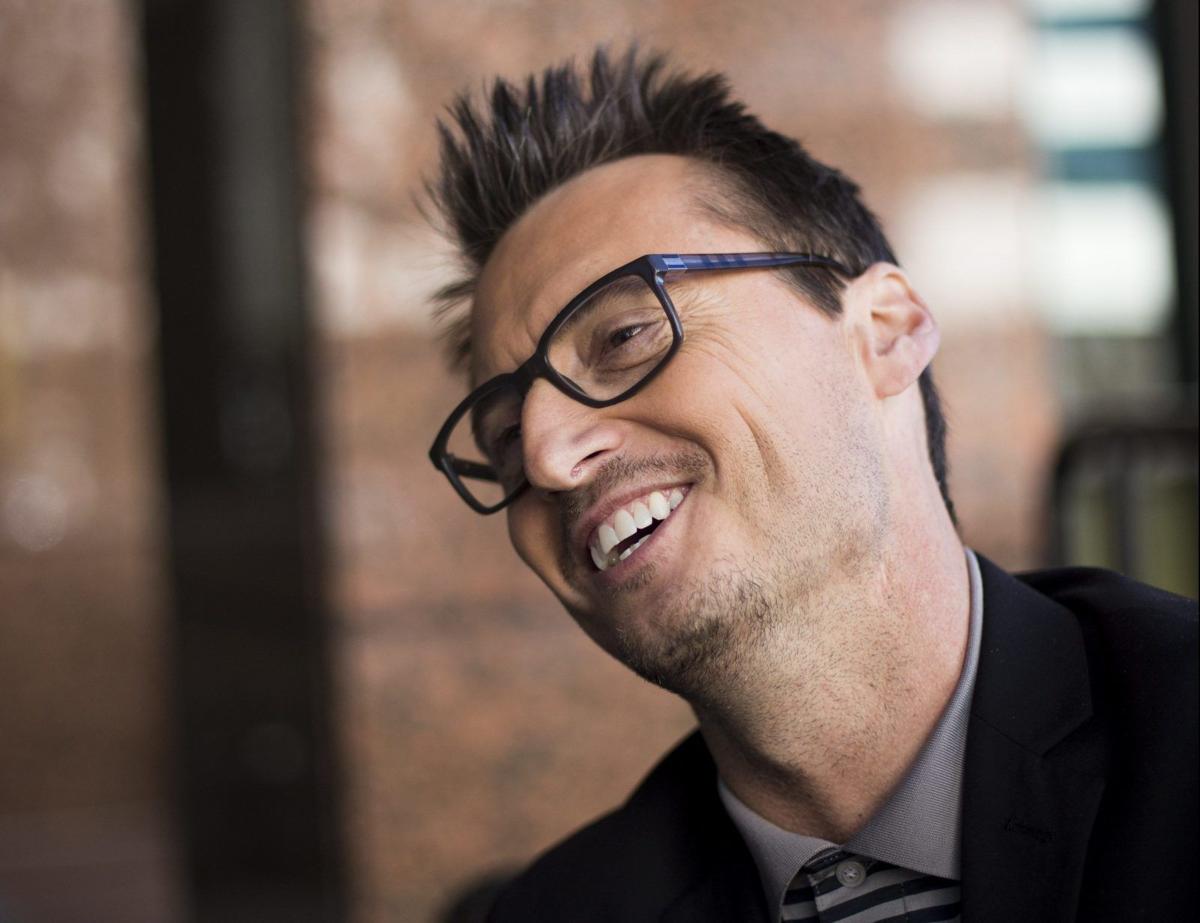 Ken Baker and Jesse Israel met about 15 years ago. It was shortly after the publication of Baker's first book, "Man Made," which told the story of a brain tumor that delayed his development and caused him to go through puberty at age 27.
Israel was then a producer for NBC's "Dateline," which was profiling Baker, who grew up in Hamburg and became a Hollywood journalist. (Today, he's the senior correspondent for E! News.) A few years later, Israel had become a movie producer — and he wanted to turn Baker's story into a film.
After more than a decade in development, that "Man Made" movie is made. But it has a new name – "The Late Bloomer" – and a different approach.
Baker's book – which has been re-released with "The Late Bloomer" title – is a detailed and often harrowing journey through his childhood and 20s. He grew up in a broken home, pursued a hockey career that landed him a scholarship to Colgate but then fizzled, much like his romantic life, because he was carrying a secret he didn't yet understand: The tumor pressing on his pituitary gland was inhibiting the flow of hormones to his body.
The movie, which was released Oct. 7 on demand for a limited theater run, is a romantic comedy. It focuses mostly on what happens after the tumor is removed — a surge of testosterone, and the flood of funny puberty problems in a grown man.
Here's the story of the movie, created through interviews with Baker and the filmmakers:
Ken Baker: I didn't view my story as a comedy. The book was very much a survivor's tale. I knew there were funny things in there, especially at the end with the frenetic feel of what was happening to me. But the book was way more about the journey.
Joe Nussbaum, screenwriter: It's deep, and moving and raw and open. It's about his dad, his brothers, and his feelings on manhood and life. I came back to Jesse and said, "This is a really great book and dives deep into a lot of the mysteries of masculinity and growing up. But you still want to make a hilarious movie about the guy who goes through puberty at a really inopportune time in his life?" He (said), "Yes, I do."
Jesse Israel, producer: I was very careful to say (to Ken), "This movie is not making fun of you. This movie would be to laugh along with you." The whole point was to educate people out there who might be going through the same thing and not realize what was wrong.
Baker: I remember saying to Jesse, "Make a funny movie. Do what you have to do. As long as the message comes across that there's a lot more to being a man than just being male, that's all I care about."
Nussbaum: I started working out the pitch for the movie: What happens in puberty? What could make it terrible? What could make it worse? Breaking out. Voice changing. Starting to stink from sweating when you never needed to wear deodorant your whole life, and of course the endless (erection) jokes.
Though the movie is based on Baker's story, it doesn't mirror it. The main character, played by Johnny Simmons, is named Pete — and he has a very different job than Baker's real-life profession.
Baker: I remember saying early on, "Are you sure you don't want to make the main character a journalist? Because then it's grounded even more in reality."
Israel: In order to maintain the high concept of the movie, I put it to Joe and said, "What would be the most ironic job for a guy who's going through puberty at an advanced age?"
Nussbaum: What if this guy is a sex therapist who's surrounded by the sex addicts who are coming on to him, or going on and on? He's been amazing at it because he's so asexual, and suddenly a switch goes off, and now it's both the best – in some ways – and the worst possible job he could have.
Baker: When you break through all the laughter and through all the funny situations and awkwardness and the sexuality of it, this movie makes an incredibly powerful statement on manhood and the rite of male passages through sexuality — but through humor.
Nussbaum's script went through several revisions as the movie bounced around in "development" — a Hollywood term for the pipeline of film companies, investors, producers and writers who leave their fingerprints on a project that may or may not get made. At one point, Elijah Wood was lined up to play Baker's character. (That eventually fell through.) At another point – several, actually – it looked like the movie wouldn't get made. Ultimately, the noted actor and comedian Kevin Pollak was hired to direct the film. Pollak, whose credibility and contacts reach far, lined up a cast that includes big names like Jane Lynch, Mario Bello and Oscar winner J.K. Simmons alongside leading man Simmons and leading woman Brittany Snow.
Kevin Pollak, director: When we first meet this character that Johnny Simmons amazingly performs, he's not gone through puberty. He's a fully realized adult in every other aspect. He's a Ph.D. We see him with his friends. We see him with the girl across the hall. We see him with his parents. We see him with his boss. But what does that mean, really? What's inside – the secret that he's carried with him all these years?
Baker: I met Kevin at the Montage Hotel in Beverly Hills. We had coffee. He was asking me a lot of questions, almost like a journalist. I told him how happy I was when I found out I had a brain tumor. Then, when I told my family and friends, they were like, "Oh, you're not a freak. We were worried there." I was like, "Wait, you guys thought I was a freak and you never said anything?" Kevin added some things from that conversation.
Pollak: We met and sat and talked for a couple of hours. That was my first exposure to the person and his story. It was all very new and very amazing. It's a ridiculous story but truly amazing as well how wonderfully he came through all of that.
Johnny Simmons, actor: The biggest thing for me was to remember what it was like to be 13. One of the funniest lines is when I say, "You just don't understand me!" and I slam down my fist and run out of the room.
Israel: The most important scene in the movie, and the scene that in a lot of ways is the closest to what happened in Ken's life, is when Pete finally finds out what is wrong with him. I remember you jump into the doctor's arms and (the doctor responds), "You're going to have brain surgery. Why are you so excited?" You said, "At least I know what's wrong with me."
Baker: That's really profound. It was a huge turning point in my life.
Pollak: There's a great little moment that I felt was a challenge to us to execute when we see Johnny Simmons and Brittany Snow in her kitchen. She's just had a break-up. We've established her boyfriend is not great. She's feeling sad, and she relays this to Johnny's character, Pete, by saying, "This is not what I wanted from love; if this is what love is, it's not what I wanted." Something to that effect. It was a very important moment when Pete says, "What does it feel like?" Because this is a guy who's never experienced or fully realized love that involves physical contact, which then leads to the swelling of the heart and the mind and the soul. It's a huge component, of course, to love, and this is a human, who's 30, who's not experienced it.
Baker: What was interesting is it was so grounded in my reality. In my personal life, I would be that guy for women, where I wasn't trying to be sexually aggressive toward them. I would actually listen to them and relate to them and not be trying to sleep with them. And as a journalist, I would be talking to these beautiful women and they'd be telling me things and I wouldn't be having any sort of reaction or intention that frankly I would right after I got healthy. I was like, Whoa, Halle Berry, oh my God, your skin is so soft. I can only think about that. I remember that happening. But I interviewed Halle Berry a year earlier and I wouldn't even think about her skin being so soft.
Baker and his wife Brooke have two children, 12-year-old Chloe and 13-year-old Jackson. Baker doesn't want his daughter to see the movie — "and if she does, I don't want to know about it." But Jackson is into filmmaking. And he's 13. And so he sat next to his dad at the first screening.
Baker: I was like, "You know, I think he can handle this, and it might actually be a good moment for us," because I'm not really the birds-and-the-bees-talk guy. I thought, maybe this will be good for us to talk about stuff. He loved it and was laughing.
One the way home, Jackson said, "Dad, how much of that really happened?" Baker told his son that a third was pure fiction, a third was partially true, and a third was straight out of his life.
Baker: And of course Jackson says, "Which third is true?" And I said, "Read the book."