Quietly and without fanfare, movie theaters in the Buffalo area have slowly been reopening and drawing moviegoers back to the big screen.
The two local AMC theaters, plus Aurora Theatre, the Screening Room, Hamburg Palace and Transit Drive-In are all reopened. The locally owned Dipson Theatre chain and North Park Theatre will begin to reopen April 23. Regal Cinemas announced national plans to open earlier this month, but are now looking toward the end of April.
The theaters have adapted a guarded process that includes limiting the number of daily movie showings and days open (currently Fridays through Sundays) as they look forward with cautious optimism to the much-delayed premiere of the Buffalo-made "A Quiet Place Part II" on May 28.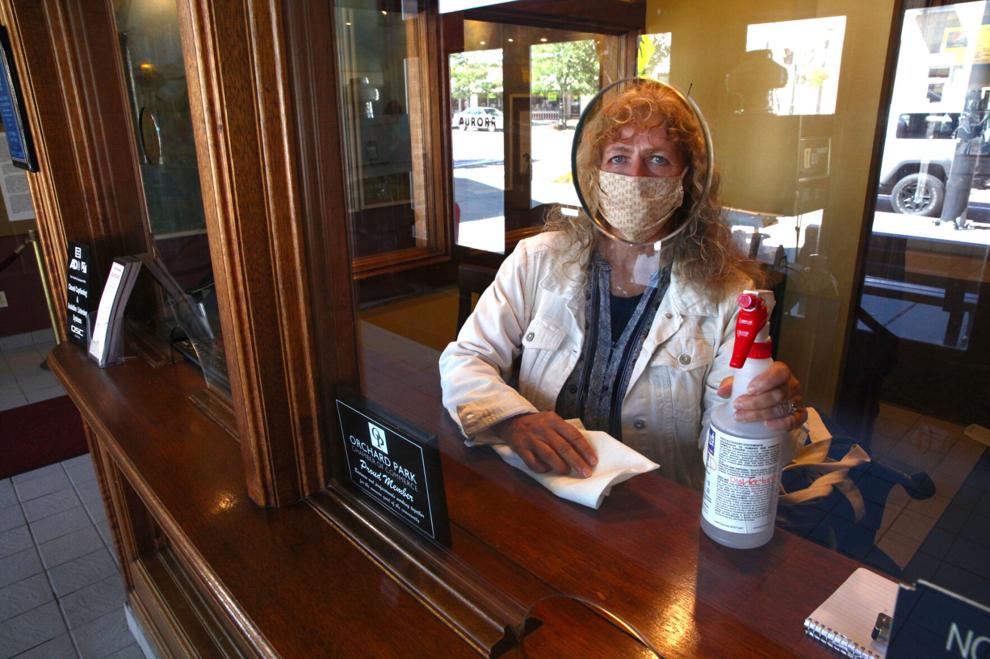 Aurora Theatre owner Lynn Kinsella was happy to see how well her reopening went last weekend when moviegoers came out to see "E.T." and "Jurassic Park" as part of the new TIC (throwback, independent and classics) film series. "We were thrilled. We had a cross-section of all demographics coming back, including families and mature adults," she said.
The chance to see "Godzilla vs. Kong" on the big screen drew Bob Hanley to the AMC Maple Ridge 8 in Amherst. Not only did the film bring out "the 8-year-old" in him, the experience was comfortable enough he would consider returning for a "movie that has all the bells and whistles."
"AMC had it set up responsibly," Hanley said. "It's not an environment with lots of talking and it's a huge room. People were well-spaced and I felt pretty safe."
Movie theaters can reopen at 25% capacity or up to 50 people. At the boutique movie house the Screening Room Arts Cafe in Amherst, tables, chairs and other seating have been spaced 6 feet apart in "pods" with a total capacity of 25 to 30 people. At the larger single-screen Aurora and North Park theaters, capacity is 50 people.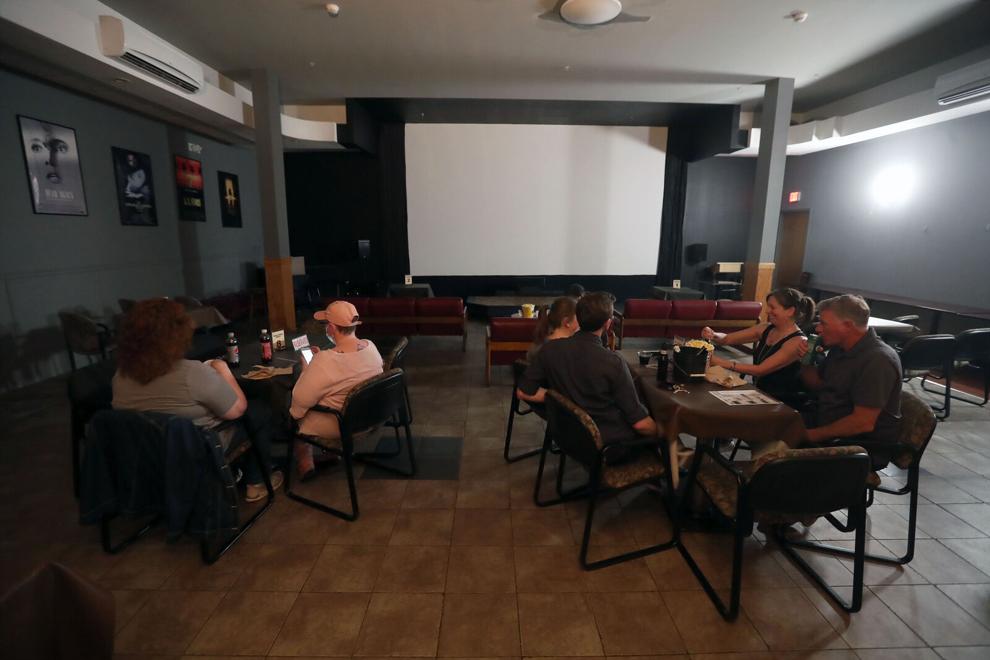 The Transit Drive-In, which has different restrictions as an outdoor venue, is letting in up to 650 cars total across its five screens, instead of the 1,500 it is allowed.
"We made a decision that even though we could open at 50%, we would open smaller to make people comfortable," Transit Drive-In owner Rick Cohen said. "We picked 650 vehicles as a comfortable number for our customers. People are spaced out and vehicles are spaced 10 feet apart. People feel more comfortable. We're still in the midst of this thing."
The North Park Theatre plans to reopen seven days a week, but will take things as they come. "Social distancing is important and we want to keep people safe," General Manager Ray Barker said. "We're better off starting with something less ambitious and have room to grow if things go well and the infection rate goes down. If all the indicators are in the right direction, then we can loosen up the restrictions."
It's a big step forward for the theaters that have been disappointed in the past. They were allowed to reopen Oct. 23, but quickly closed as the combination of low capacity (some theaters were limited to as few as 10 people) and lack of new movies being released by Hollywood made it financially impossible to remain open.
That's one reason why the release of a potential blockbuster like "A Quiet Place Part II" is so important to theater owners.
"It's a question of product," Dipson Theatres President Michael Clement said. "We are reacting to the industry. Our opening hours of operation are more of a result of the lack of mainstream movies. Once 'A Quiet Place Part II' is released, we'll be open seven days a week. The major releases start in June with new movies every week and everything will start full swing."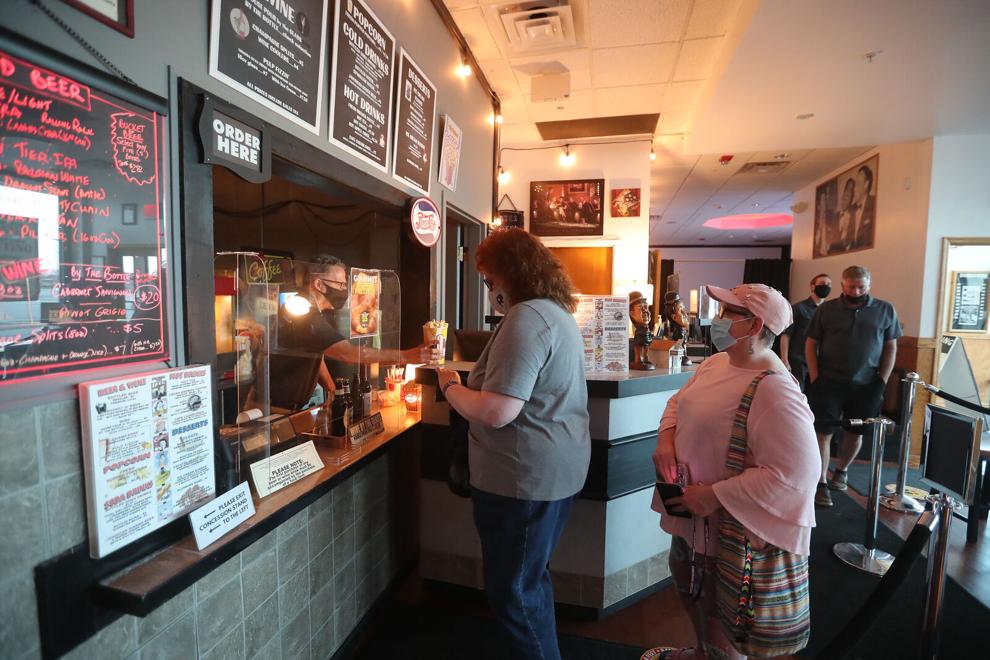 Local theaters have long been ready for crowds by complying with CinemaSafe protocols developed by the National Association of Theater Owners, including the addition of new air filtration and purification systems, sanitizing stations and plexiglass barriers. Dipson, for example, has recently sprayed its seats, concession stands and restrooms again with a product that effectively kills Covid-19 for about three months. You'll notice plexiglass at the theaters separating ticketing and concessions, plus sanitation stations.
The theaters plan to continue some of the extras they have offered during closures, such as theater rentals for small groups to watch a movie and the Virtual Cinema program where half the ticket cost of a film rental goes to a participating theater.
The Transit Drive-In will again host live music, starting with a concert and a movie double feature June 10 with Buffalo singer Cami Clune, who gained national recognition on "The Voice," followed by "A Star is Born" and "Across the Universe." Cohen also volunteered the Transit as a mass vaccination site for Niagara County free of charge, saying "Why would I charge for something that is going to help people?"
All theaters are making it easier for patrons who want "touchless" pay systems such as ordering tickets in advance online, also recommended because of limited ticket availability. Cash is accepted, but cards are preferred. Concessions are available, but choices are scaled back. Masks need to be worn on entry and when moving about (concessions, restrooms), but can be removed while you eat and drink.
AMC Theatres – the Market Arcade 8 in downtown Buffalo and the Maple Ridge 8 in Amherst – have limited showings on Fridays, Saturdays and Sundays. AMC allows you to order concessions in advance on its app for pickup at an express kiosk inside the lobby.
Two area film buffs created the series that doesn't rely on new releases but features popular throwback, independent and classic films. 
Aurora Theatre in East Aurora reopened with a classic film series that will run Fridays through Sundays each week to Memorial Day, when it is expected to become a weekly series as new studio films are added.
Dipson Theatres has a two-pronged reopening approach. Flix Stadium 10 in Depew and Lakewood Cinema 8 in Lakewood are reopening April 23. The Amherst Theatre in Buffalo and Eastern Hills Cinema will reopen April 30. Look for more reopening dates. Movies will initially be shown Fridays, Saturdays, Sundays and Tuesdays (bargain day).
Hamburg Palace has a classic film series with a monthly theme on Fridays and Saturdays. April's theme is Alfred Hitchcock. Curbside concessions also will be offered.
North Park Theatre plans a "soft reopening" on April 23 with movies daily including the Oscar-nominated "Promising Young Woman" and the Japanese anime blockbuster "Demon Slayer the Movie: Mugen Train."
The Screening Room is open at a 30-person maximum with its regular programming of classic, independent and specialty movies and events.
Transit Drive-In in Lockport is open Friday through Sunday with double features on all five screens. Patrons can sit outside their vehicles to watch a movie and don't have to wear a mask if they are 6 feet away from other guests.